BYD Co., Ltd. (OTCPK:BYDDY) has announced a slew of promising worldwide developments in its e-bus (electric bus) product line. This looks like an under-estimated source of future profits. Its flat stock price indicates that the market has not taken this into account.
As my recent article pointed out, BYD's stock price has been becalmed in recent months. This is mainly on the basis of uncertainty on Government incentives for the Chinese EV (electric vehicle) market. There is some logic to this. China is at the center of the company's business as the world's largest EV manufacturer based in the world's largest auto market.
However, the uncertainty has been overstated and BYD is well-diversified. I won't reproduce here the details my article gave of its involvement in battery manufacture, mobile phone components, solar panels and energy storage, as well as its new developments in mass transit and e-buses.
In this, BYD is very much a Chinese version of a New Energy company as exemplified by Tesla (NASDAQ:TSLA) in the USA. Recent stock price rises in that company show analysts have finally understood the value of Tesla as a vertically integrated New Energy company. The stock price of BYD could follow the same trajectory for the same reasons.
E-Buses
E-buses look set to take over from diesel buses and CNG (compressed natural gas) buses quite rapidly. Proterra, a U.S. rival to BYD, forecast recently that one-third of all bus purchases would be electric by 2020. This would rise to 50% by 2025 and 100% by 2030. E-buses, unlike autos, do not have the same problem with autos of matching consumer tastes, and have lesser problems with charging of batteries.
One advantage of the e-bus business for BYD over autos is customer perception. For instance, the company has held back on exporting its EVs to the USA over perceived concerns over quality by the American consumer. Buses are more a commodity purchase than a consumer preference purchase.
BYD's product has the added advantage of using BYD's own manufactured lithium ion phosphate batteries. BYD claims these give 250 kilometers on a single charge, and can be charged over 4,000 times. This is superior to the competition.
BYD sold about 15,000 e-buses in China last year. The market leader there is, in fact, Zhengzhou Yutong Bus Co, but it is not exporting to markets such as the USA, presumably on quality control grounds.
A recent survey by Frost & Sullivan shows the trends for the world's e-bus market: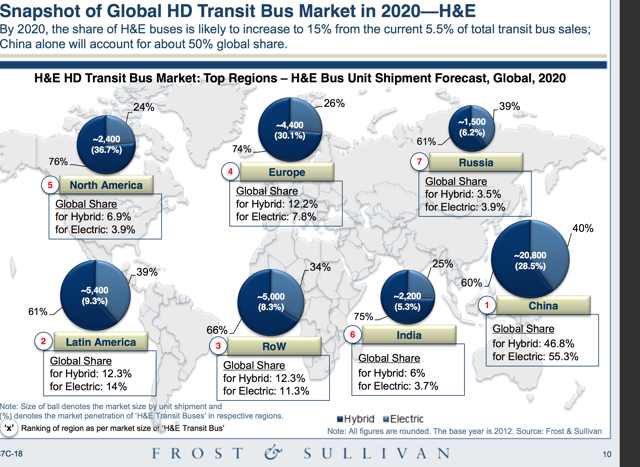 China will have both a huge market share for buses in general, and a huge market share for e-buses in particular. This, of course, explains why Chinese manufacturers have had the confidence to invest in e-bus technology and plants so aggressively. Amongst the top manufacturers, the only non-Chinese brand is Volvo but it, of course, is Chinese-owned anyway.
BYD E-Bus Exports
The number and pace of the company's overseas orders are quite startling. BYD has pursued a strategy of investing in overseas e-bus plants and this is paying rapid dividends.
In the USA, its Lancaster California plant has been successful in several recent order wins. The University of California Irvine recently ordered 20 e-buses at a value of US$15 million. Total e-buses supplied so far in the USA number about 300 units. The company currently employs 400 people at Lancaster. In a move that should presumably please President Trump, the company intends to triple this number within three years. In a sign of the vertical integration that the company represents, it recently won a tender to supply 17,825 LED streetlights to the city. The factory also assembles batteries.
Other players pushing this market in North America include Ebus, Green Power Motor Co, and New Flyer Industries. BYD may well have the advantage in terms of cost and financial muscle.
As well as e-buses, BYD is pushing electric trucks in North America. These include tractors, refrigerated trucks, trash collection vehicles and port handling units. It is working with UPS (NYSE:UPS) to develop a step van, pictured below: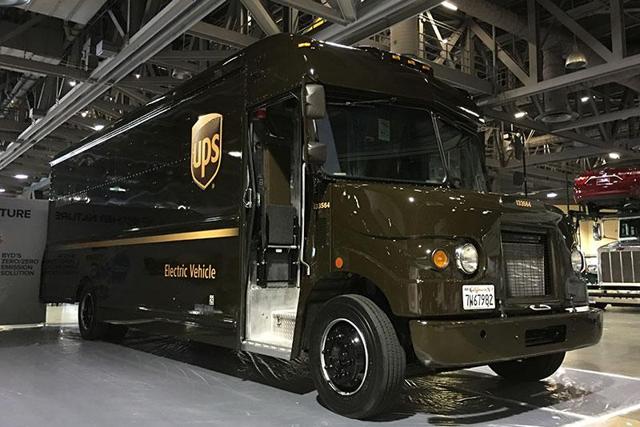 Another major advantage for BYD lies in its control of its own battery production.
The graphic below shows the leading players for manufacturing batteries for EVs in general: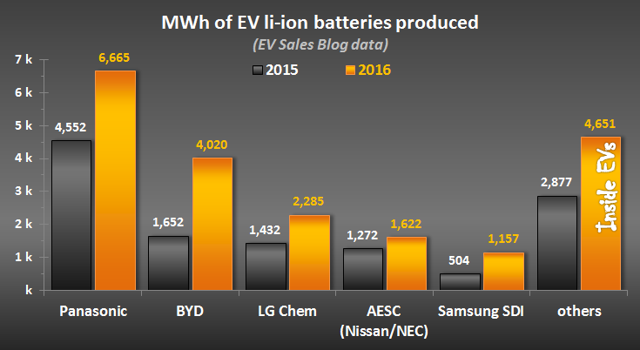 You can see from this that BYD is the number 2 player in the world behind Panasonic (OTCPK:PCRFY) (who, of course, are closely allied to Tesla). It is also the fastest-growing. In pursuing the e-bus and electric truck market, very large size battery packs are needed. BYD is perfectly placed to take advantage of this.
In the Asia Pacific region, BYD recently signed a contract with Carbridge, Australia's largest airport bus company. This was for 40 e-buses with a value of A$28 million.
In Korea, it signed a contract in March with Korean company Suncore. BYD is currently supplying a pilot project on Jeju Island. Its Korean partners are targeting 1000 buses by 2018. This may be optimistic but shows the potential. One of the buses at the launch is pictured below: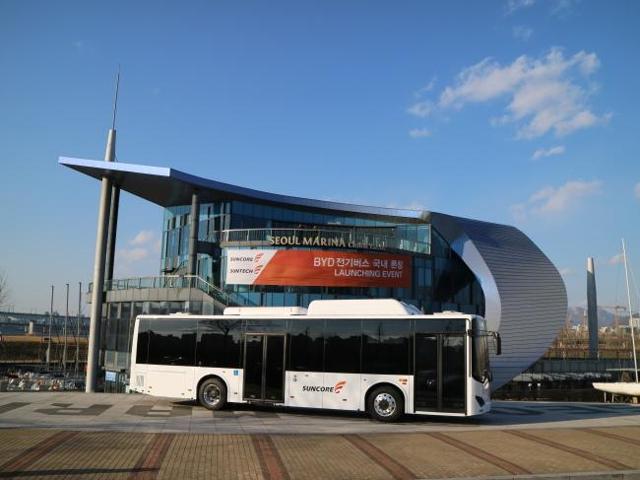 In New Zealand, it is trialling its products with NZ Bus and there is a similar development in Singapore.
In South America, the company has secured initial contract for e-buses for cities in Brazil and Argentina. It is planning a second assembly plant to add to its one in Brazil. Even in a small country such as Uruguay, the company has made inroads. It is trialling its e-buses with the country's largest bus operator, CUTCSA.
In Europe, the company officially opened its new factory at Komarom in Hungary this month. It will have an annual capacity to manufacture 400 buses when fully up and running. BYD will also manufacture forklift trucks and light commercial vehicles at the facility, pictured below: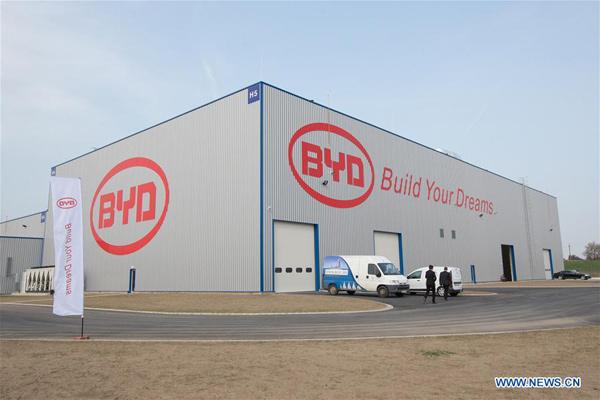 A second European factory, at Beauvais in northern France, is also being set up to be operational in 2018. This is expected to have an annual capacity of 200 buses and to operate also as a European logistics base for the company.
BYD already has secured various e-bus contracts in Europe. These include Amsterdam's Schiphol Airport and buses for London, Nottingham and Edinburgh.
The annual bus market in Europe is estimated to be about 25,000 units. These will become rapidly electrified.
Results
BYD's full-year results which I covered briefly in my previous article were impressive, despite a slower Q4. The earnings history as below illustrates this: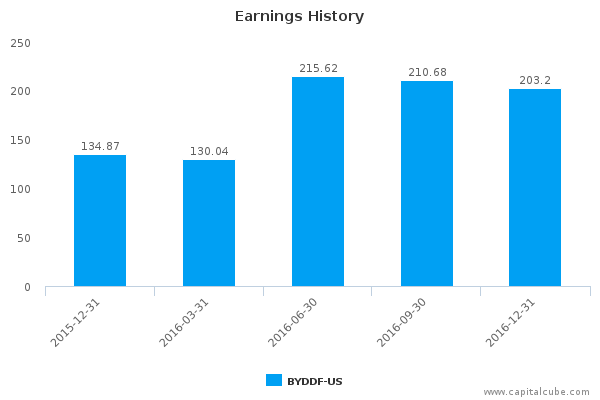 EBIT margins held up quite well, as below: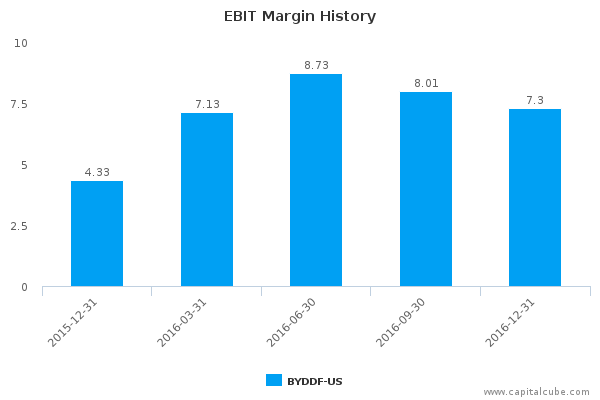 For the fourth quarter:
Revenue growth -9.56% year on year.
Earnings growth +50.66% year on year.
Net margin 4.61% (from 2.77%).
EPS $0.07 (from 0.05).
Gross margins improved but this was countered by an increase in overhead costs. This was a function of increased manufacturing operations.
Many of the financial essentials for BYD look very healthy still. For instance, compared with S&P 500 averages:
P/E ratio of 20.68 (S&P 23.27).
Price/Tangible Book 2.75 (S&P 3.13).
Price/Sales 1.22 (S&P 2.04).
Return on Equity 11.59% (S&P 11.77).
Chairman Wang Chang-fu admitted at the end of March that the Chinese Government's reduction in subsidies for EV sales in China would hit the company's profits short-term. EV sales in China would be lower in the first 6 months of 2017 compared to the comparable period last year.
Q1 2017 profits are estimated to be in a range of 550 billion yuan (US$80 million) to 650 billion yuan (US$94 million). Analysts reckon the company's net profit for the year would rise by about 8%.
The big question for investors is whether the company's stock price has fully discounted this.
Conclusion
I believe that some have over-reacted to the current cut in EV subsidies in China. Currently, it seems there are a lot of negotiations going on behind the scenes between manufacturers, the central Government and local authorities. It is still unclear what the new regulations and incentives will involve. It could be good news or not for BYD.
The Chinese Government has stated that it expects plug-in vehicle sales this year to total 800,000 vehicles. This would be up from 507,000 in 2016. So predictions of a collapsing market for Chinese EV manufacturers appear to be quite wrong. Government initiatives to curb air pollution and to use more renewable energy will undoubtedly continue in the coming years.
Additionally, it is thought that BYD is owed substantial sums by the central Government in rebates for sales for last year. Estimates for the amount owed vary quite widely. My earlier article covered this in some detail. That article also covered the manageable debt position for the expanding company, in which Warren Buffett has a substantial stake.
The e-bus program is but one example of BYD's wide-ranging vertically integrated "New Energy" company model. This is very much on an international level. For instance, it has also recently signed an agreement with French flywheel manufacturer Levisys. This will provide battery storage systems incorporating its battery technology with the French company's flywheel product. Another example is an agreement recently signed for a joint venture in the UAE. This covers solar panel technology for Utilities and Residential, as well as LED lighting and solar powered street lighting.
As with Tesla, the opportunities for a vertically integrated New Energy company are almost limitless. Investors might be wise to invest in such a company before it has a Tesla-like surge in its stock price.
Disclosure: I am/we are long BYDDY TSLA.
I wrote this article myself, and it expresses my own opinions. I am not receiving compensation for it (other than from Seeking Alpha). I have no business relationship with any company whose stock is mentioned in this article.
Editor's Note: This article discusses one or more securities that do not trade on a major U.S. exchange. Please be aware of the risks associated with these stocks.