"A well-designed home has to be very comfortable. I can't stand the aesthetes, the minimal thing. I can't live that way. My home has to be filled with stuff - mostly paintings, sculpture, my fish lamps, cardboard furniture, lots of books." Frank Gehry (Architect).
Well, Leon's, the emerging dominant furniture and appliance in Canada sells a lot of those in the great white north. Leon's Furniture Ltd. (TSX: LNF) (OTCPK:LEFUF) is a Canadian furniture & appliance retailer which first opened its store in 1909 in Welland, Ontario. It's well known to Canadians for its incredibly annoying and stupid TV ads and "don't pay a cent events." The Canadian furniture brand was founded in 1909 by Ablan and Lena Leon, who emigrated from Lebanon to Canada in the early 1900s. The Leon's went on to have 11 children and 63 grandchildren, with many of the clan's members going to work in the family business. The controlling interest in the company (about 70%) is owned by the Leon family. The company is the largest furniture retailer in the country, has stores in all provinces of Canada, and has 20% of the furniture market. In 2013, Leon's acquired the competing furniture chain "The Brick" for $700 million.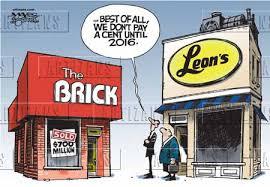 In 2016, Leon's took over 8 Sears (NASDAQ:SHLD) Home stores which allowed it to expand into British Columbia. Three of the five members of the executive team at Leon's bear the family name - a sign that the clan still retains tight control over the business.
Over the last 20 years, the stock has handily outperformed the TSX index. After a somewhat difficult period following the financial crisis, the company has regained its mojo posting consistent EPS increases. Leon's recently increased its dividend by 20% to C$0.12 a share per quarter - and now has a forward yield of 2.87%. Payout ratio is quite low at 40%. Long-term dividend growth has been averaging over 5% per year - making it a good dividend growth stock.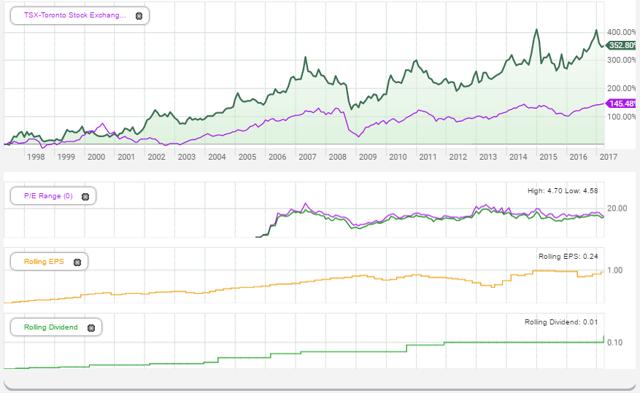 Leon's operates under two major banners and several brand names and e-commerce platforms - Leon's and The Brick. Leon's targets the middle class, while Brick is more focused on the lower class customers. Both banners sell major appliances and electronics. Leon's has several brand names - Leon's; The Brick; The Brick Mattress Store; The Brick Clearance Centre; and United Furniture Warehouse ("UFW"). Finally, the combination of The Brick's Midnorthern Appliance banner alongside with the Appliance Canada banner, makes the company the country's largest commercial retailer of appliances to builders, developers, hotels and property management companies. The company operates three websites: leons.ca, thebrick.com and furniture.ca. The company also has a well-established appliance servicing and extended warranty business. The company has foreign operations in Asia, through its wholly owned subsidiary First Oceans Trading Corporation. These operations relate to the company's import and quality control program for sourcing products from Asia for resale in Canada through its retail operations. A large part of its profits come from financing purchases. It has partnered with Desjardin Group for financing. While Leon's does not carry consumer credit risk, it is exposed to interest rate risk, in that a rise in interest rates would affect its volume as consumers who buy on credit will reduce their purchases.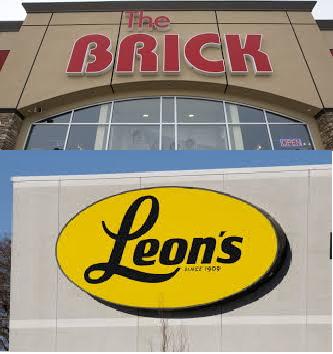 Leon's has 305 retail stores from coast to coast in Canada under the various banners indicated below.
Leon's financial statements are depicted graphically below. The transformational takeover of the Brick in 2013 is readily evident.
As can be seen from the income statement chart above, Leon's operating margins fell substantially (from about 9.5% to around 4.5%) after the Brick takeover. Leon's is still in the process of making Brick more efficient. If it is able to even partially increase its operating margins to previous levels, the increase in the bottom line will be substantial. While Leon's took on substantial debt to fund the Brick acquisition, it is rapidly paying down debt and is committed to reducing the debt completely.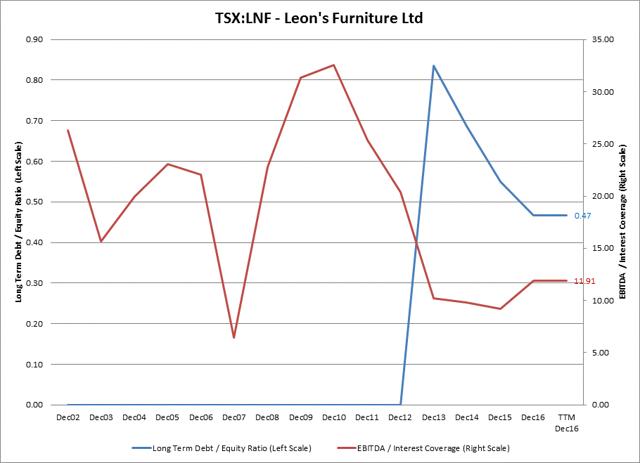 In fact, leverage has been reduced by over 40% since the acquisition. This debt reduction spree will give the company substantial flexibility in making another transformative acquisition if opportunities present themselves in the years ahead. Leon's has substantial "hidden" asset on its balance sheet. Property is carried at book value - which is currently $9.20. This may be understated by as much as 50%.
The following chart demonstrates that Leon's generates a substantial amount of free cash. Cash return is over 10%, which is a superb number by any standard.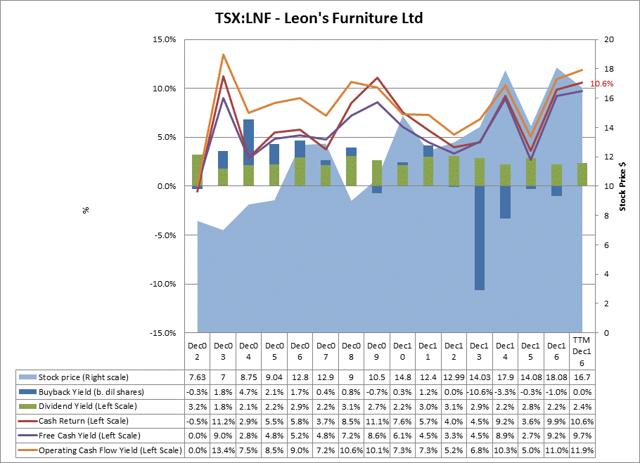 Working capital is well managed, given the size of the balance sheet.
Growth rates have been pretty good. The 10-year and 5-year numbers include the Brick acquisition.
| | | | |
| --- | --- | --- | --- |
| Annual Rates (per share) | 10 yrs | 5 yrs | 12 months |
| Revenue Growth (%) | 13.80 | 25.90 | 4.60 |
| EBITDA Growth (%) | 5.50 | 13.70 | 5.40 |
| Operating Income Growth (%) | 3.60 | 11.30 | 7.20 |
| EPS without NRI Growth (%) | 4.40 | 8.20 | 8.20 |
| Free Cash Flow Growth (%) | 3.60 | 18.60 | 344.90 |
| Book Value Growth (%) | 8.00 | 8.80 | 9.10 |
Source: Gurufocus.com
Valuation:
Discounted cash flow valuation using the Gurufocus.com calculator gives a value of $27.

Valuation using Bruce Greenwald's earning power value method reveals an even more undervalued stock.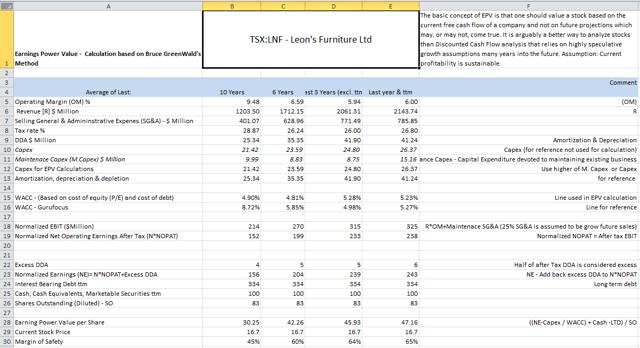 The following chart provides valuation based on median P/E, P/B and P/OCF (operating cash flow). P/E shows a slight overvaluation, but I believe earnings have yet to reach full potential after the Brick acquisition. This view is supported to the burgeoning operating cash flow.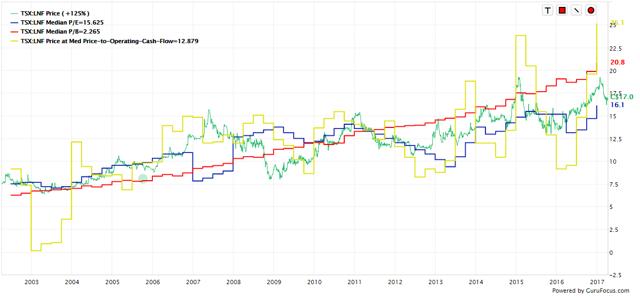 The controlling Leon family have been good stewards of capital. Leon's scores well in one of Warren Buffett's key metrics - return on retained earnings calculated over a rolling 6-year period. Given their past record, retail investors should have no problem investing alongside them.

Net, I believe Leon's is a very well-managed Canadian company, which has done very well in a highly competitive industry, has an enlightened controlling shareholder whose interests are aligned with minority shareholders and most importantly is a good growth stock at current price.
Financial Data obtained from Gurufocus.com. Excel model can be viewed on Microsoft OneDrive by clicking here.
Disclosure: I am/we are long LEFUF.
I wrote this article myself, and it expresses my own opinions. I am not receiving compensation for it (other than from Seeking Alpha). I have no business relationship with any company whose stock is mentioned in this article.
Editor's Note: This article discusses one or more securities that do not trade on a major U.S. exchange. Please be aware of the risks associated with these stocks.