"Sanity and happiness are an impossible combination." ― Mark Twain


Biotech drifted down slightly along with the market last week. The majority of the weakness in the market continues to be the small cap part of equities, which has been the trend throughout 2017 so far. The main biotech indices lost not quite one percent on the week, as once again no significant M&A deals in the sector were struck. We have been meandering along in an unusual tight trading range for the sector since around mid-February. With earnings reports for the major industry concerns not starting to hit until the end of April, we could continue to see some directionless trading in the weeks ahead absent any new & significant catalyst.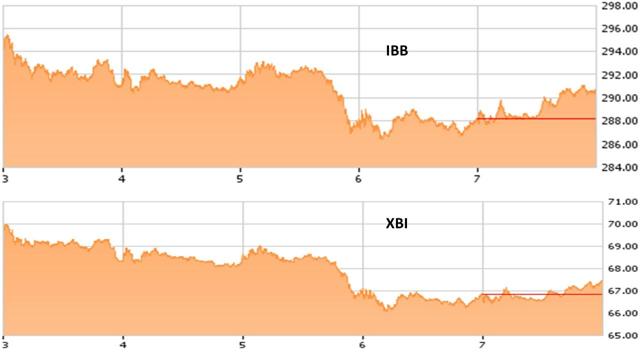 Note: To get these Biotech Forum Daily Digests as soon as they are published, just click on my profile, hit the big, orange "Follow" button, and choose the real-time alerts option.

Speaking of M&A in the sector, generic drug maker Akorn (NASDAQ:AKRX) was up nearly 20% in the regular trading session on rumors that Fresenius (NYSE:FMS) was eying it for an acquisition. The stock rose more than 10% additionally in after-hours trading after Fresenius confirmed these talks. There was a good recent call on Akorn by another SeekingAlpha contributor. If purchase happens, this would be nice mid-cap acquisition that hopefully will help get the "animal spirits" in the sector around M&A flowing again.
Teva Pharmaceuticals (TEVA) is working with Morgan Stanley (NYSE:MS) to sell its Women's Health division for approximately $2 billion. The company's current main focus in integrating the generic drug business of Allergan (NYSE:AGN) it purchased for some $40 billion last year. I am assuming any proceeds from sale brokered by Morgan Stanley would go primarily to pay down some of the debt incurred in that huge acquisition.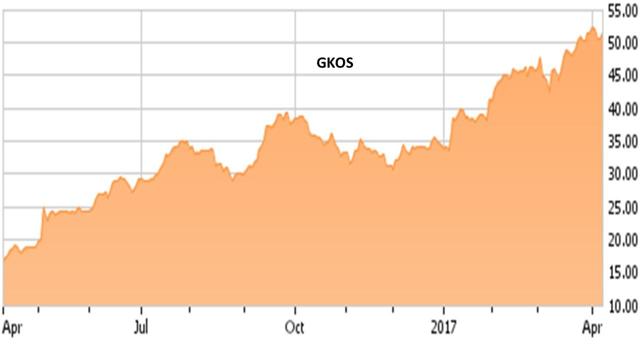 Barron's posts that Glaukos (NYSE:GKOS) might be vulnerable to a pull back after the shares have tripled in the past year. Its iStent has powered 40% sales growth for 14 straight but Barron's notes that the devices ~85% margins could draw in competitors like Allergan and Novartis (NYSE:NVS). Selling for 300 times forward earnings and 10 times expected sales, the stock does seem priced for perfection here.

Roth Capital reiterated its Buy rating and $4.50 a share price target on BioDelivery Sciences (NASDAQ:BDSI) on Fridays. Roth's analyst notes,
"We recently met with the management of BioDelivery Sciences. Our key takeaway is that the share price driver over the coming six months is likely to be prescription data for the pain drug Belbuca. Management remains optimistic and the cash runway has recently been strengthened. Maintain Buy rating. Key takeaways from our meetings with BDSI management include: Business plan update. It appears that the sales operation is already cash flow breakeven."
It is a view I concur with on this high risk/high reward play and I recently articulated why 2017 should be an inflection point for this small cap concern.
Neurocrine Biosciences (NASDAQ:NBIX) saw its first analyst action in several as Oppenheimer reiterates its Buy rating and $60 price target on the concern. Elagolix which the company has licensed to Abbvie (NYSE:ABBV) had some encouraging trial results last week which Oppenheimer's analyst noted in his buy reiteration,
"ABBV, in cooperation with NBIX, announced results from a positive Ph2b trial (NCT01817530) evaluating the efficacy and safety of elagolix alone or in combination with add-back therapy (estradiol/norethindrone acetate) compared to placebo. Elagolix met the primary efficacy endpoint of reduced heavy menstrual bleeding as compared to placebo (p<0.001). The trial successfully replicated the efficacy seen in the Ph2a study presented at ASRM 2016. We see the data for the 300mg dose as most important because it is used in Ph3. Today's news is encouraging because the two ongoing Ph3 trials replicate the Ph2b design".
A lot of analyst action around Incyte (NASDAQ:INCY) in April so far. I am seeing 8 analyst firms chiming in (7 Buys, 1 Hold) on the oncology concern so far early in second quarter. Price targets from the optimists range from $141 at Leerink Swann which up its price target $11 a share to the current trading level of INCY, to $185 at Barclays (up from $135 previously). Raymond James seems to be the one contrarian right now as it downgraded Incyte to hold mid-week.
Note: New analyst ratings are a great place to begin your due diligence, but nothing substitutes for deeper individual research in this very volatile sector of the market. Many of the small-cap names highlighted in "Analyst Insight" will eventually appear in the "Spotlight" section, where we do deeper dives on this type of promising but speculative small-cap concerns.

In today's Spotlight feature, we will revisit what is ahead for Dynavax Technologies (NASDAQ:DVAX) as there was some news around the name last week and I have received numerous inquiries on this small cap concern in recent days.
Last Monday, it was announced that the FDA's Vaccines and Related Biological Products Advisory Committee will review its marketing application for hepatitis B vaccine candidate HEPLISAV-B on July 28. The PDUFA date for the company's lead biologic candidate remains August 10th. The stock initially rallied some 15% in pre-market Monday on this news as investors first interpreted this as a sign of progress in HEPLISAV-B's long running sage to garner approval from the FDA. However, by the end of the day the stock was down. Partly on weakness in biotech overall, but mostly as investors came to a conclusion this was another hurdle the company would have to overcome with the government agency to get HEPLISAV-B greenlighted.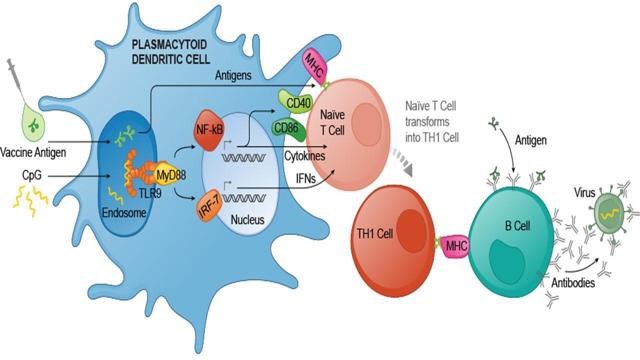 My take is the Ad Comm Panel's sole purpose is to help resolve the numerical imbalance in non-severe cardiac events in the safety database from the ~14,000 person Phase III trial. This was caused by the comparator arm having fewer events than would be expected from a population given the age and co-morbidities present (12% diabetic patients). William Blair after speaking with management believes these results "can be explained by the unusual performance of the comparator arm, and remain cautiously optimistic that the discussion of these events by a panel of experts will be favorable for the application."
Given the Phase III trial showed much better protection by this vaccine to the current standard (~95% versus ~81%) and can be achieved by two dosages over a month timeframe rather than 3 dosages over a half a year, resolution of this one issue should mean the rest of the application will be a "slam dunk".
William Blair is modeling a 70% chance of approval given this view for this BLA (Biologic License Application) and pegs peak sales of HEPLISAV-B at $650 million in the United States. For a company with an approximate market capitalization of $250 million, obviously this would be a huge deal for Dynavax and its stock price.
SD-101 & Funding Needs:
In addition, Dynavax has a promising oncology compound "SD-101" that is being paired in combination with Merck's (NYSE:MRK) Keytruda that will have more trial visibility throughout 2017. It also has an asthma candidate in parternship with AstraZeneca (NYSE:AZN) that is conducting Phase II trials for the compound.
If HEPLISAV-B is approved, the next hurdle the company will have to overcome with be raising funding for the rollout of the vaccine. A buyout seems out of the question given the disparity of Dynavax's pipeline. A secondary offering or collaboration deal with a larger industry player with an established sales force in the space seem the most logical two ways to accomplish this. Obviously, if HEPLISAV-B receives the FDA's blessing finally on August 10th, the company will be in a much stronger position to pursue either funding path.
In conclusion, Dynavax remains a very high risk/very high reward "Tier 4" stock. However, given the potential of HEPLISAV-B and at least a 50/50 chance of approval, I believe its risk/reward profile remains attractive within a well-diversified biotech portfolio.

"The only difference between me and a madman is I'm not mad." ― Salvador Dalí

Thank You & Happy Hunting
Bret Jensen
Founder, Biotech Forum
Disclosure: I am/we are long ABBV, AGN, BDSI, DVAX, NBIX, TEVA.
I wrote this article myself, and it expresses my own opinions. I am not receiving compensation for it (other than from Seeking Alpha). I have no business relationship with any company whose stock is mentioned in this article.
Editor's Note: This article covers one or more stocks trading at less than $1 per share and/or with less than a $100 million market cap. Please be aware of the risks associated with these stocks.