Over the last few years, I have been struggling to find a good virtual assistant.
I used to have an excellent one, not a virtual one, but when my oldest daughter went off to college, things started going downhill.
I tried unsuccessfully to find the perfect enabler, but it seemed that it was impossible to secure a virtual aid to help me with a variety of tasks, ranging from social media, to customer service, to spell checking, to publishing, etc...
I'll be honest: when it comes to technology, I am "old school," but I am beginning to see the power in technology.
A few months ago, I began using Uber (UBER), and now I can no longer travel anywhere without this communication app. I can now get from LaGuardia to downtown Manhattan for half the cost of a conventional yellow cab, and I have saved hundreds already.
Another one of my favorite apps is Hotel Tonight. I recently got hooked on this hotel booking service and much like Uber, I am beginning to see the savings add up to hundreds of dollars. (Check out this CNBC interview with the CEO of Hotel Tonight here).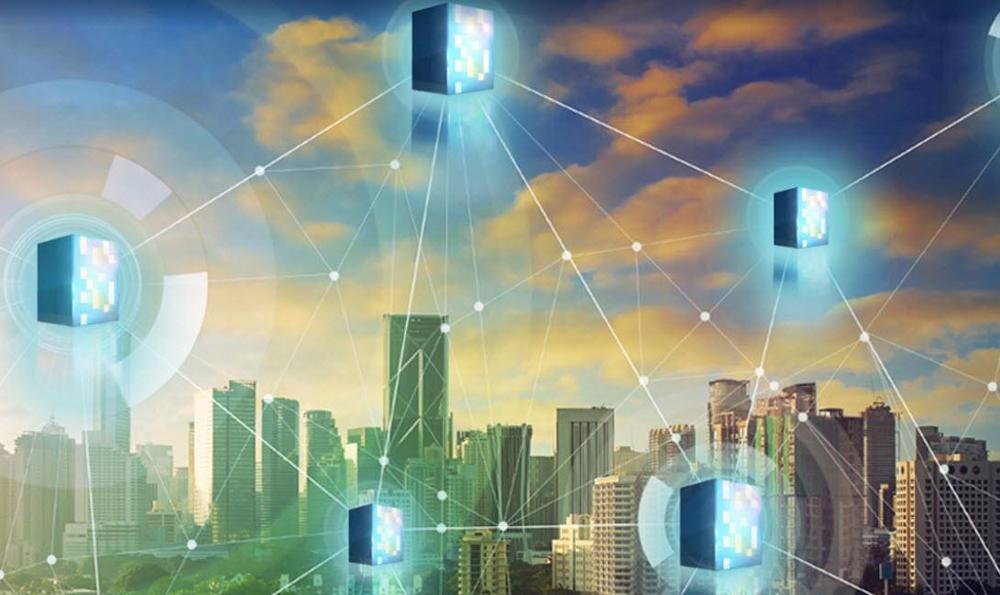 In the April edition of Forbes Magazine, Clare O'Connor wrote an article called "Your Next Assistant: A Cyborg."
Having perhaps found the answer to my virtual assistant dilemma, I signed up for the free cyborg ("part algorithm, part human"). My new scheduler-in-chief, named Clara, now helps me take care of meetings simply copying here (cc:) on an email. O'Connor explains:
Clara communicates exclusively via email entirely in natural language. You can add her to any thread that concerns scheduling, and from her unobtrusive perch on your cc line, she'll take over the tedious interactions that can mar a workday. Give her access to your online calendars and she'll set up meetings, calls, lunches, and coffees. She'll handle back-and-forths with your contacts, suggesting times and venues based on your preferences. You communicate with her as you would with a human assistant.
Don't be surprised if you get an email from my new assistant, Clara (also my mother's name), and I may get hooked on this new tech tool (prices range from $99 to $399 per month).
Digital Realty: No Fake News
As a defensive investor, Ben Graham believed in the importance of being less risk averse and more willing to invest significant time and effort for a return that is somewhat better than satisfactory. Graham looked at the businesses behind the securities as a prospective buyer would of the whole business. Only once he ascertained that did he look at the current price to determine what course of action would be the most advantageous.
As I explained in the Forbes Magazine article, "Data-center REITs turn you into a landlord for the cloud services that will feed our insatiable digital appetite – videos, music, processing power."
Some of the pundits in the Data Center sector argue that companies like Digital Realty (DLR) will not be able to survive due to competition from the big technology companies like Facebook (FB), Alphabet (NASDAQ:GOOG) (NASDAQ:GOOGL), Amazon (AMZN), etc. Over three years ago (when DLR was trading at $50.00), a hedge fund investor targeted Digital Realty, arguing:
Pricing is going lower, competition is increasing, and the company is tapping into capital markets as aggressively as they can.
That was almost four years ago – when Highfields claimed that Digital's fundamentals were deteriorating and that the REIT was a commodity business with no barriers-to-entry. I wrote an article referencing the short-sell strategy:
Remember, that is the motive of a short sell investor and the sad truth is that investors should not condemn Highfields but instead remain aware and act with cautious skepticism in any interactions.
As part of Highfields' short thesis, the hedge fund claimed that Digital had a risk of competition from technology giants such as Amazon, Microsoft (NASDAQ:MSFT), and Google.
In other words, the critics, like Highfields, felt as though Digital's "moat" was shrinking and that the customer base would decline as a result of tech firms owning versus leasing their facilities.
Boy were they wrong!
Take a look at Digital's Tenant Roster as of Q1-13: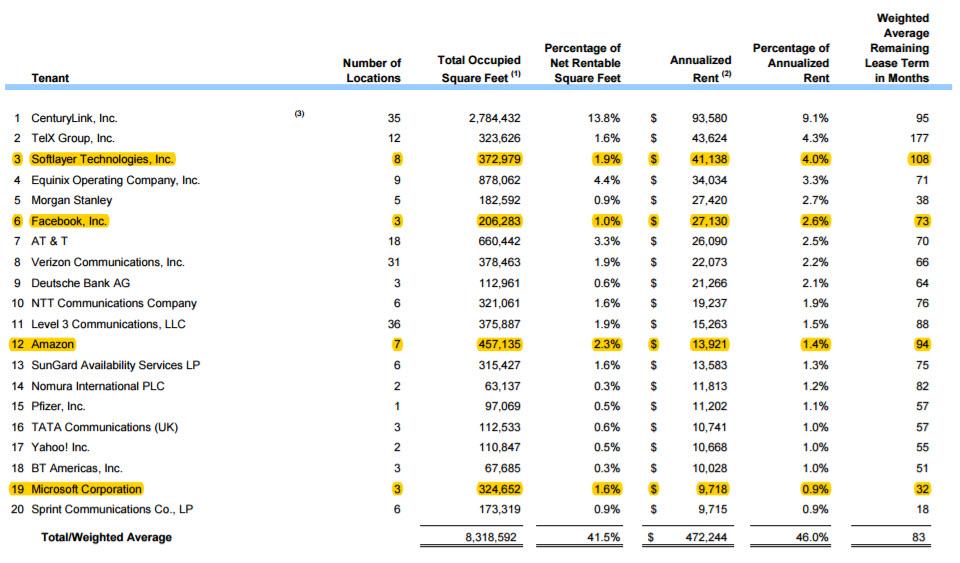 Now take a look at Digital's tenant roster as of Q4-16: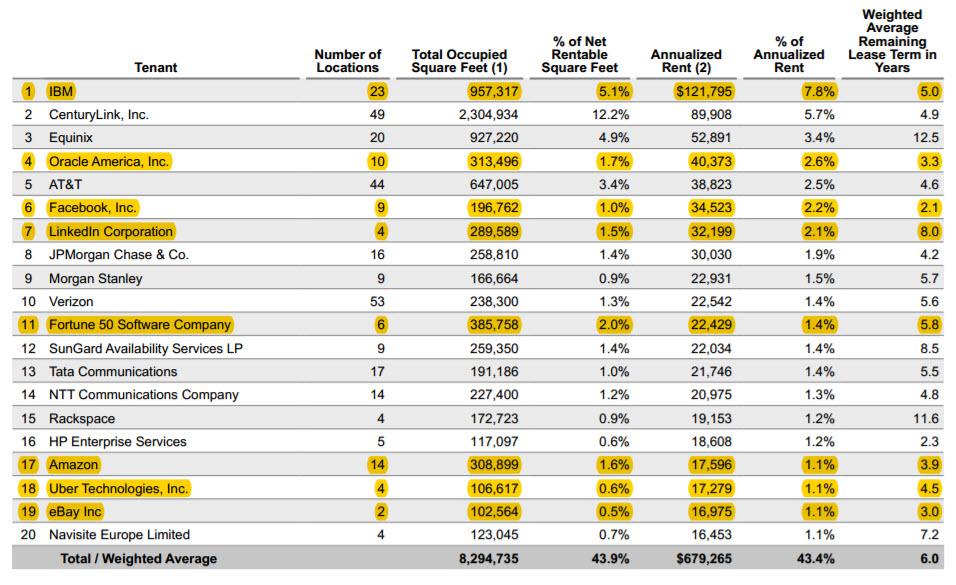 As you see, Facebook generated ~$27 million in annual rent in Q1-13 and now the company pays Digital over $34 million in annual rent. LinkedIn (LNKD) was not on Digital's top 20 list in 2013, and today the company generates over $32 million in annual rent. Amazon had over $13 million in rent in Q1-13, and now the company pays Digital over $17.5 million per year. Uber was not on Digital's top 20 list in 2013, and today the company pays Digital over $17.2 million in annual rent.
It's clear to see that Digital's moat is expanding – it's backed up by the numbers. There are a few reasons that the tech providers prefer to lease from REITs like Digital, instead of owning the brick-and-mortar: (1) Tech firms are not in the business of land banking, nor that of zoning, permitting, and building. It's just their core of competence. (2) Data Center REITs own the product and the tech firms don't have the "time to market" to make quick real-time decisions. It would take too long to build! (3) Tech firms earn higher returns on reconfiguring supply chains (i.e. Amazon bringing a rocket to the moon) and investors (in tech) expect to earn higher returns.
Just scroll back up to the last chart – Digital's top 20 customers are the backbone of the digital economy.
By the way, here's how Digital has performed since 2013: +154% (not a good short idea).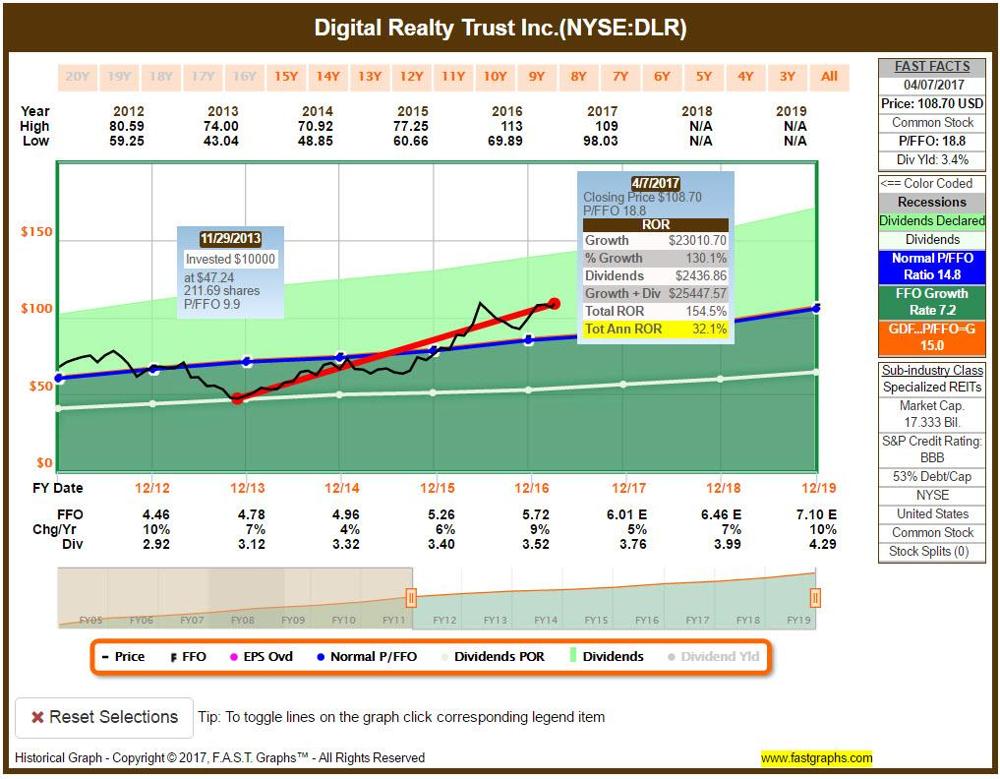 The Digital Dynamo
As of Q4-16, DLR owned 145 properties, including 14 properties held as investments in unconsolidated joint ventures, contain applications and operations critical to the day-to-day operations of technology industry and corporate enterprise data center customers.
The portfolio comprises approximately 23.0 million square feet, excluding approximately 2.0 million square feet of space under active development and 1.1 million square feet of space held for future development, located throughout North America, Europe, Asia and Australia.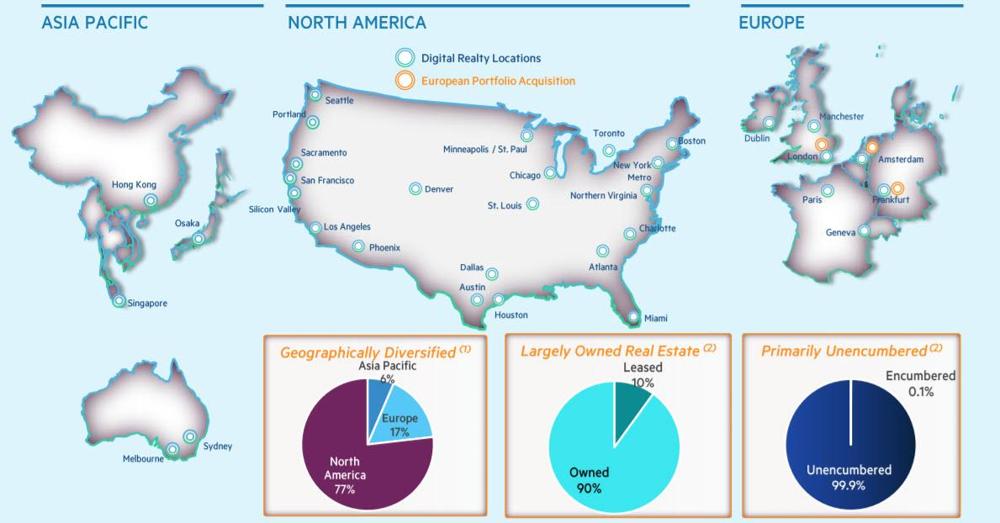 Digital has advanced its goal of diversifying product offerings, with the launch of the Service Exchange in November (2016), the continued growth of the Partners and Alliances Program and the expansion of the colocation footprint beyond the original 20 Telx locations.
Service Exchange is an interconnection platform that facilitates direct, private and secured connections to multiple cloud service providers including Amazon Web Services, Google Cloud Platform, and Microsoft Azure, as well as telecommunications providers and other Digital Realty customers worldwide.
Service Exchange provides more value to Digital's customers by simplifying interconnection and making access between interconnected services, providers and businesses more flexible, more scalable and easier to use than ever before. DLR went live in 43 facilities across eight markets in November and is on track to roll out another 17 sites across another nine markets in 2017.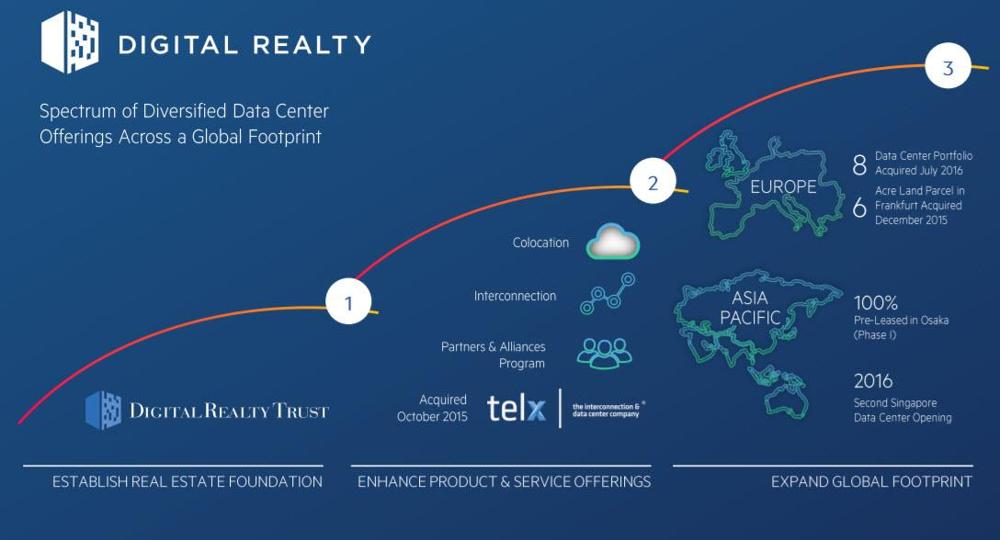 This offering will allow Digital's customers to realize the benefit of the public cloud without the complexity or security issues associated with hybrid cloud architectures. On the recent earnings call, Digital's CEO, Bill Stein, commented:
Service Exchange provides more value to our customers by simplifying interconnection and making access between interconnected services, providers and businesses more flexible, more scalable and easier to use than ever before when we went live in 43 facilities across eight markets in November and we are on track to rollout another 17 sites across another nine markets in 2017.
In addition to the launch of Service Exchange, Digital saw an acceleration of activity in the Partners and Alliances Program during the fourth quarter with a pickup in bookings on the company's Direct Link Colocation offering with IBM Bluemix (NYSE:IBM) as well as a significant back-to-back transaction with a leading IT services provider supporting a publicly traded healthcare service provider.
These programs highlight Digital's unique competitive differentiation with the ability to offer customers a full spectrum of data center solutions from a single cabinet all the way up to multi-megawatt deployments.
As noted above, the long-term data storage trend is clearly marching up and to the right. Current market vacancy rates are in the mid-single digits in most core markets and demand continues to outpace supply.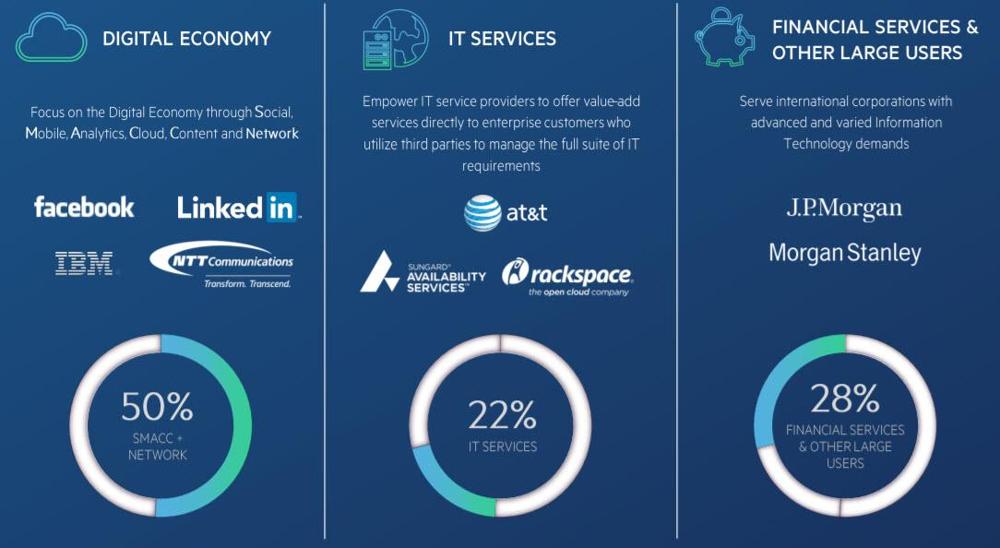 Over the years, Digital has completed a number of M&A deals, and the company is continuing to look for opportunities that are strategic and complementary, that can be prudently financed, and that represent a good investment value (i.e., those that are accretive).
Digital's focus is "to deliver superior returns by capitalizing on the company's core of competence and tailoring to meet them to meet the customers' growing and evolving data center needs."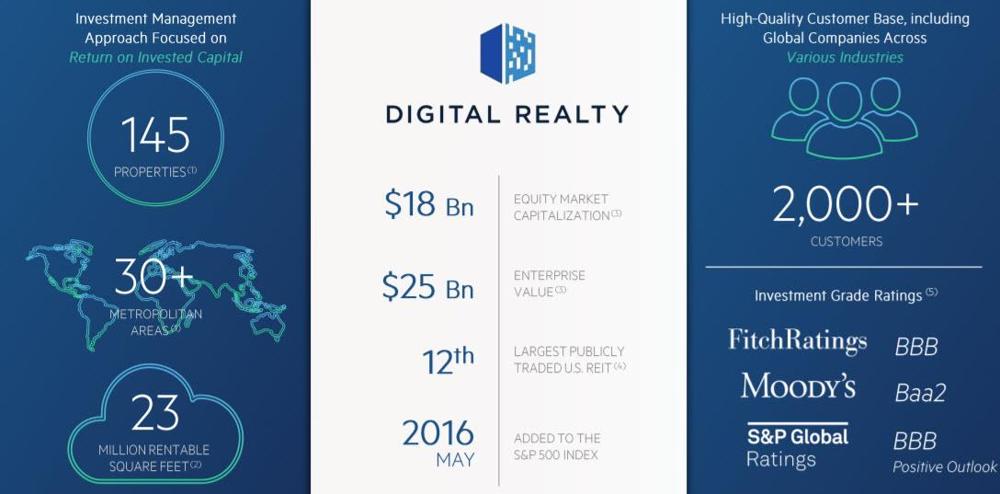 The Fortress Balance Sheet
During the fourth quarter, Digital prepaid $108 million of mortgage debt at a weighted average coupon of a little over 6%. The company now has just $3 million of secured debt remaining or well under 1% of total debt outstanding.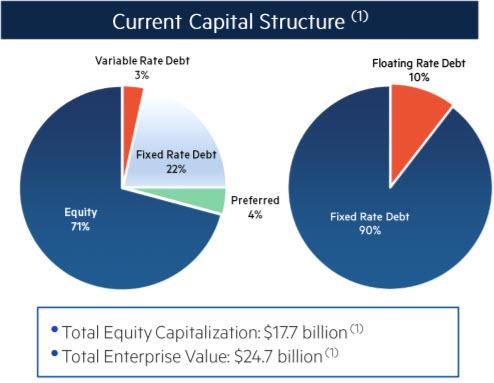 Subsequent to year-end, Digital retired the final $50 million tranche of the 5.73% Prudential Unsecured Senior Notes at maturity in January. The 6.625% Series F of Preferred Stock is callable in April, and the company expects to fund the $182.5 million redemption by settling the remaining 2.4 million shares.
Digital's plan does not contemplate any additional common equity issuance in 2017. The company expects net debt to adjusted EBITDA will remain below 5x throughout the entire year.

Digital expects to capitalize on the current strength of the data center investment sales market by continuing to prune the portfolio and selling up to another $200 million of assets this year. In addition, the company expects to generate approximately $400 million of cash flow from operations after dividends. The company also expects to raise another $500 million of long-term fixed rate financing later this year.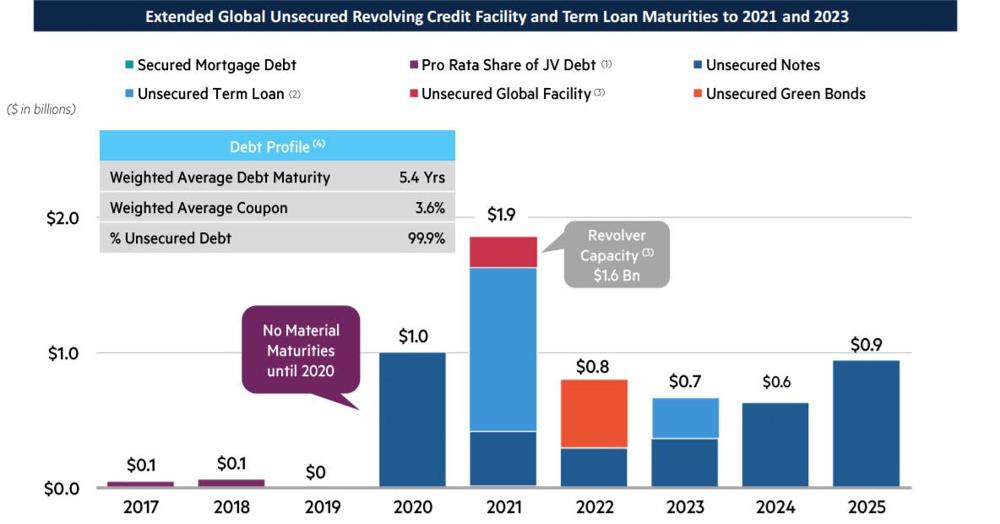 Over the course of 2016, Digital brought its floating rate debt exposure down by more than a half to a little less than 10% of total debt outstanding at year-end. It's apparent that Digital has also cleared the runway with nominal debt maturities before 2020 and no bar too tall thereafter. Digital's balance sheet is primed for growth, consistent with the company's long-term financing strategy.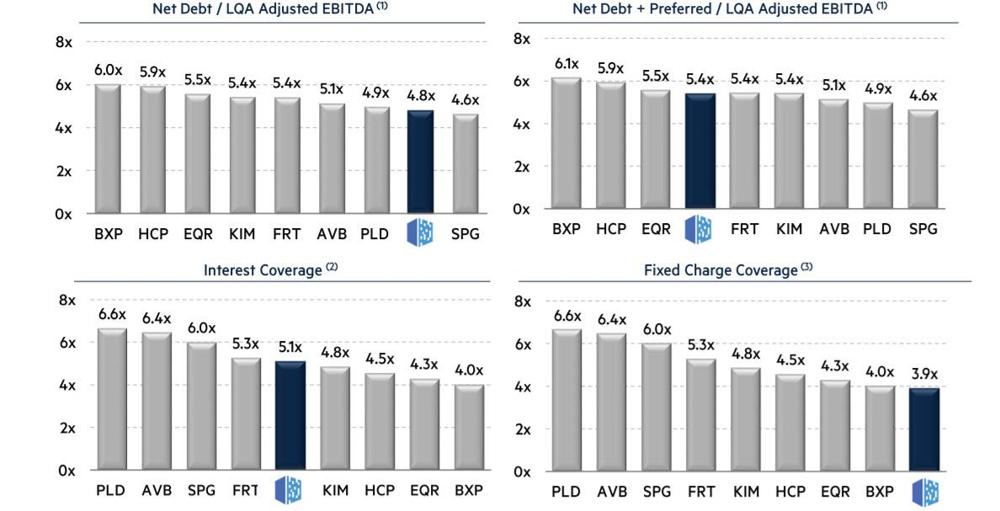 The company has ample liquidity, as evidenced below:

The Latest Results
Digital's total bookings for the fourth quarter were approximately $33 million of annualized GAAP revenue, including a $7.5 million contribution from interconnection. The company signed new leases for space and power totaling $25 million of annualized GAAP rent during the fourth quarter, including a $7 million colocation contribution.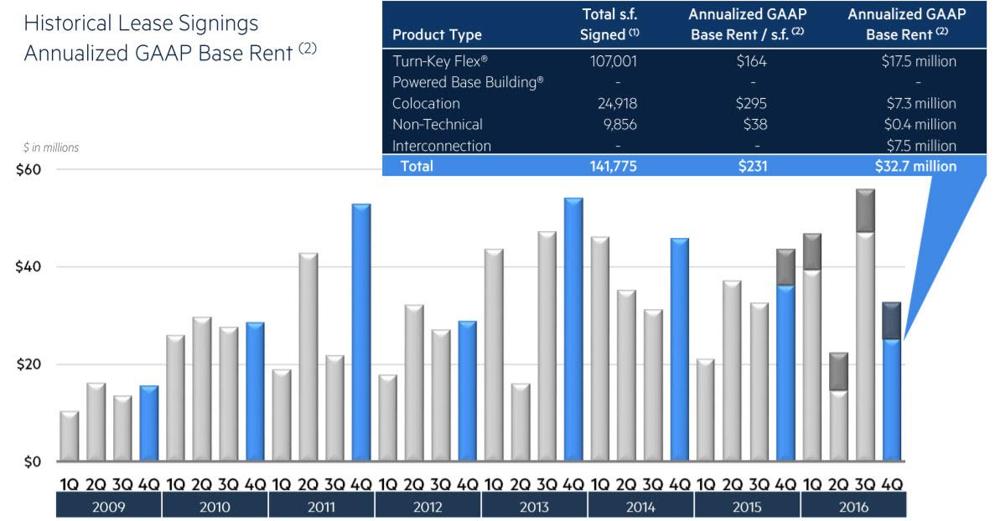 The Telx business generated $99 million of revenue during the fourth quarter, although revenues remain split 50-50 roughly, interconnection continues to outpace colocation with year-over-year revenue growth in excess of 10%.
The current backlog of leases signed but not yet commenced stands at $78 million. The weighted average lag between fourth quarter signings and commencements remain healthy at just three months, well below the historical average of approximately six months.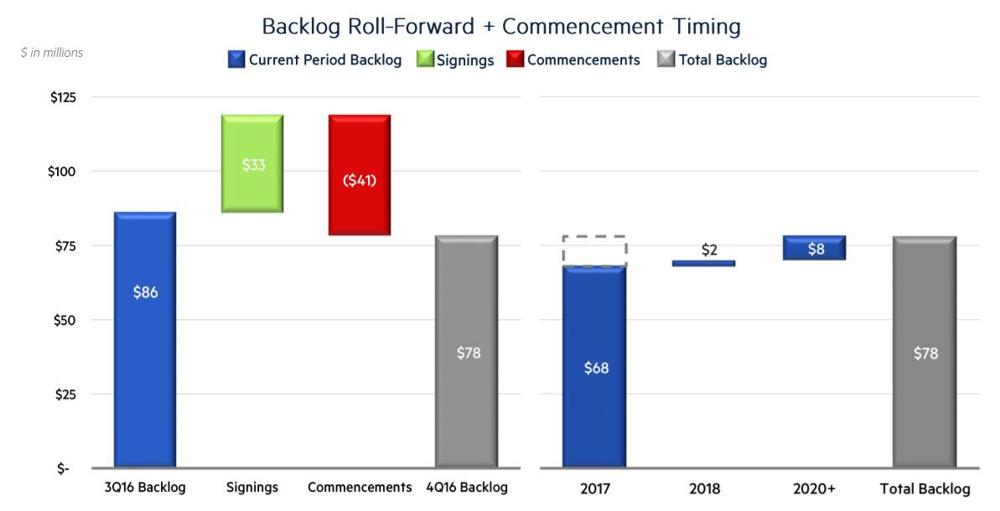 Digital retained 75% of fourth quarter lease expirations, roughly in line with the historical average, and the company signed $47 million of renewals in addition to new leases signed. Cash re-leasing spreads were positive 3.5% for the fourth quarter and positive 2.6% for full-year 2016.

During the quarter cash re-leasing spreads were positive across all property types, including a solid double-digit cash mark-to-market on PBB renewals.
For the full year, Digital's same capital cash NOI growth was a positive 2.7% on a reported basis, and up 3.6% on a constant currency basis.
Digital reported core FFO per share of $5.72 for the full year, an increase of nearly 9% on a reported basis, and up a little over 10% on a constant currency basis.
Growth in AFFO per share was better than 20% for the full year, driven by greater cash flow contribution from the core business, accretion from the Telx acquisition, continued burn-off of straight line rent and lower-than-expected recurring capex spend.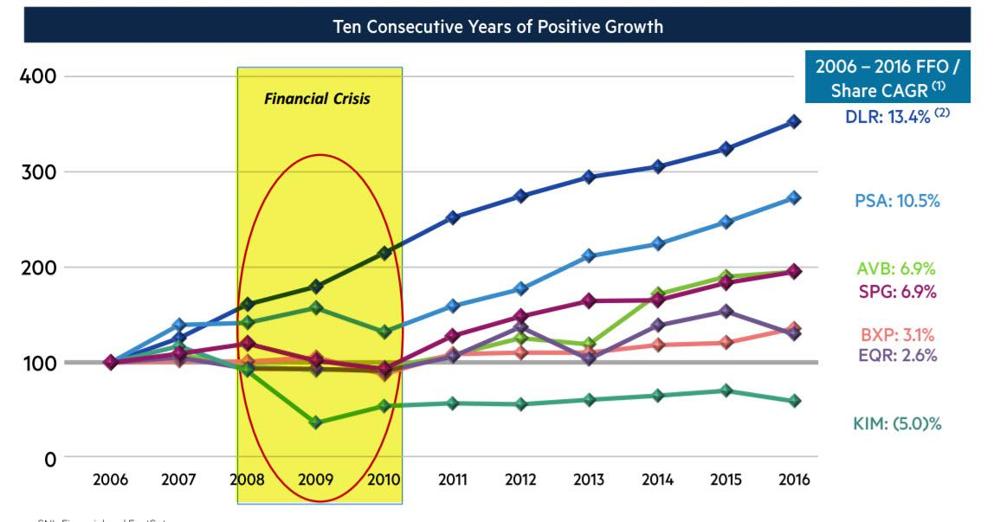 As you can see (above), Digital's CAGR FFO/share is 13.4% (2006-2016), an exceptional record compared to other stalwart REITs (like PSA, AVB, SPG, BXP, EQR, and KIM).
Digital's current AFFO payout ratio is sub-70%, and while the company continues to view retained earnings as its cheapest source of equity capital, the current payout ratio provides flexibility and room for further dividend growth. Digital raised the 2017 common dividend to $3.72 per share (or 5.7% over 2016).

In 2017, Digital expects AFFO per share growth to much more closely match FFO per share growth (~68%). This chart below (source: J. Walter Analytics) provides a good illustration of Digital's exceptional risk-adjusted growth track record: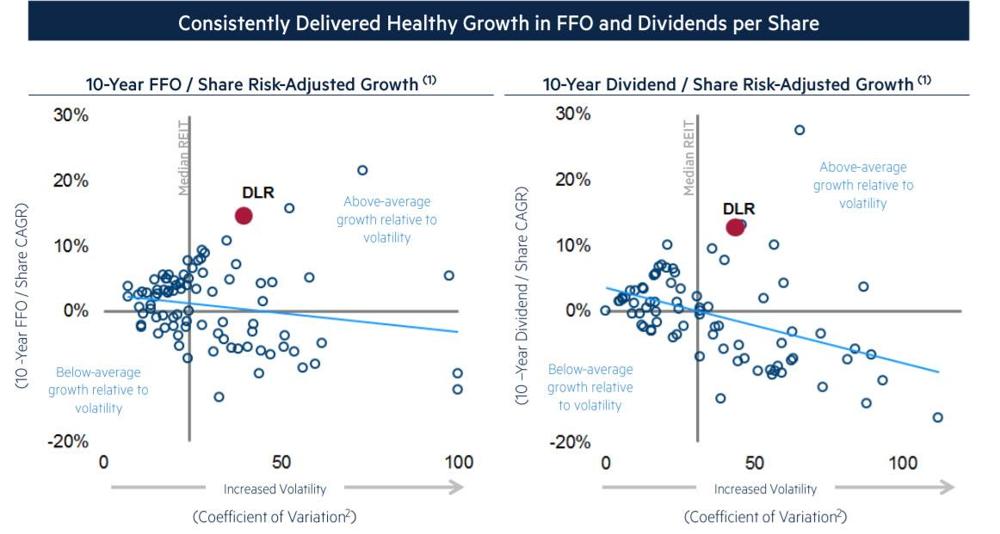 Digital Realty: An Intelligent REIT by Design
In Ben Graham's book, The Intelligent Investor, he wrote:
The Intelligent Investor makes an important distinction between two categories of lay investors: the enterprising investor and the defensive investor.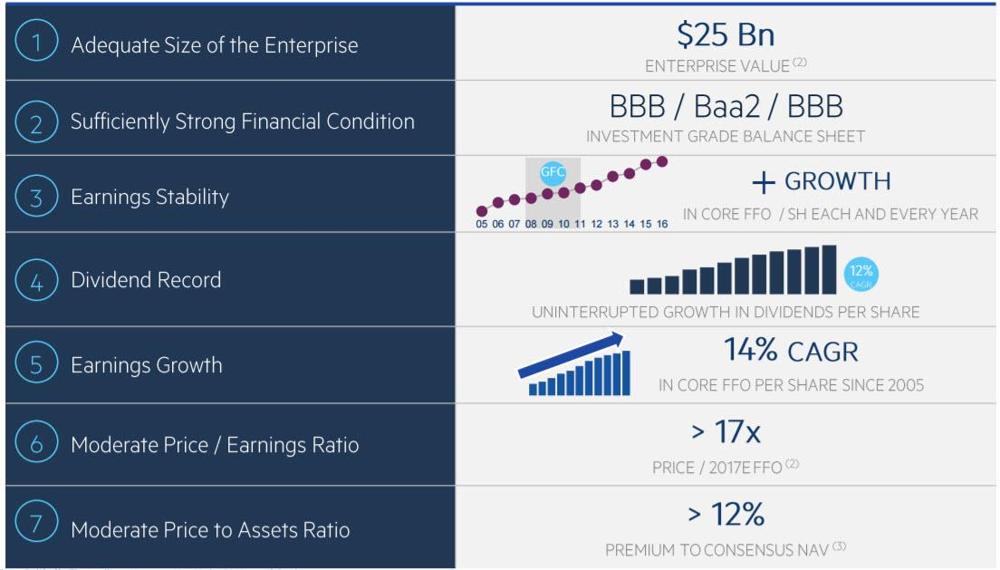 Clearly these 7 traits validate these "defensive requirements" according to Graham: (1) adequate size, (2) strong financial condition, (3) earnings stability, (4) dividend record, (5) earnings growth, (6) moderate P/FFO, and (7) moderate price to assets ratio.
Needless to say, I was able to capitalize on the so-called "margin of safety" in 2013, and I have been pleased with the performance over the last few years. The argument that "Digital is a dinosaur" is also extinct and it's clear that the company has evolved into a world-class REIT.
Does Mr. Market agree with me?

As you can see, Digital's dividend yield is trading in line with the peers, remember that Digital has a much better balance sheet than these peers and also the company has a longer-track record of dividend growth.

As you can see (above), Digital is trading in line, based on its P/FFO. This suggests that the company is soundly valued. Now let's take a look at the FFO/share forecast: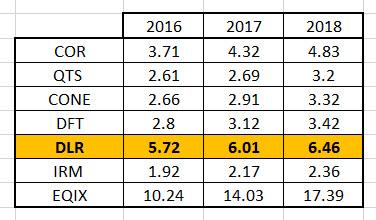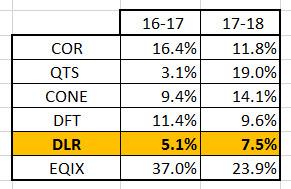 As you can see, Digital is projected to grow more modestly than the peer group, but this also suggests that the company is maturing. Much like Realty Income (O), Digital Realty has become a stalwart by focusing on its low-cost-of-capital advantage. By carefully identifying the best investment opportunities, Digital earns higher risk-adjusted returns – the reward for a long-term shareholder like me.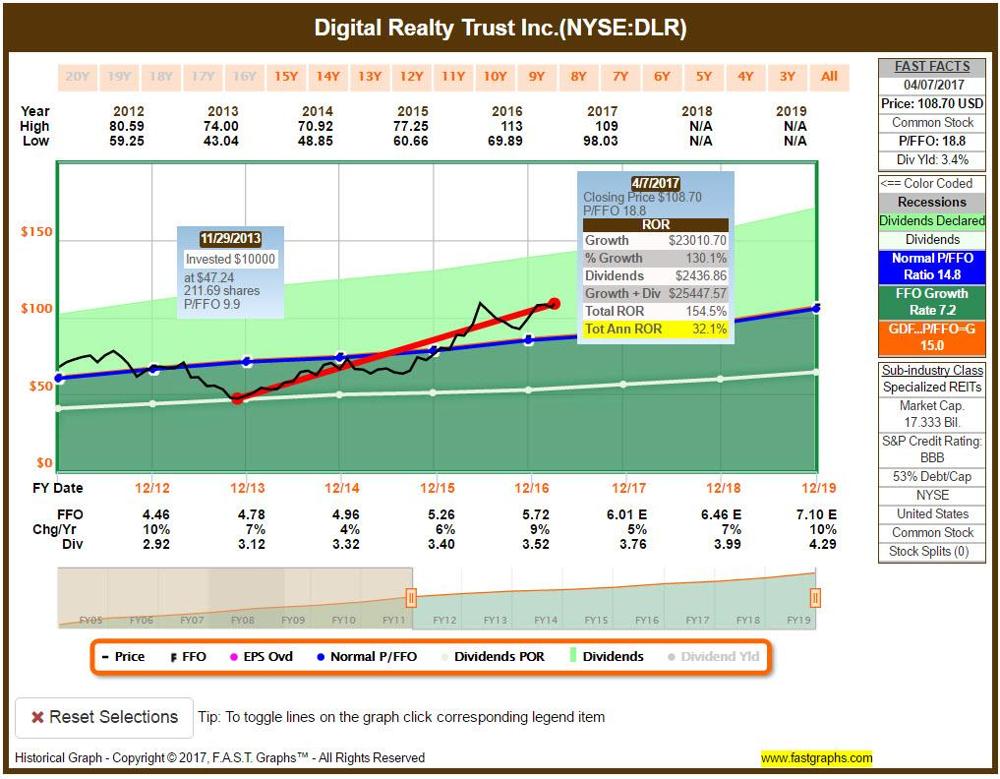 Overall, I believe that the "communications-focused" REITs will outperform in 2017, and while shares in Digital are "soundly valued," I would not argue against nibbling today. In other words, buy a few shares and wait for a pullback for more later. The catalysts to support my recommendation are obvious, thanks to my new virtual assistant named Clara!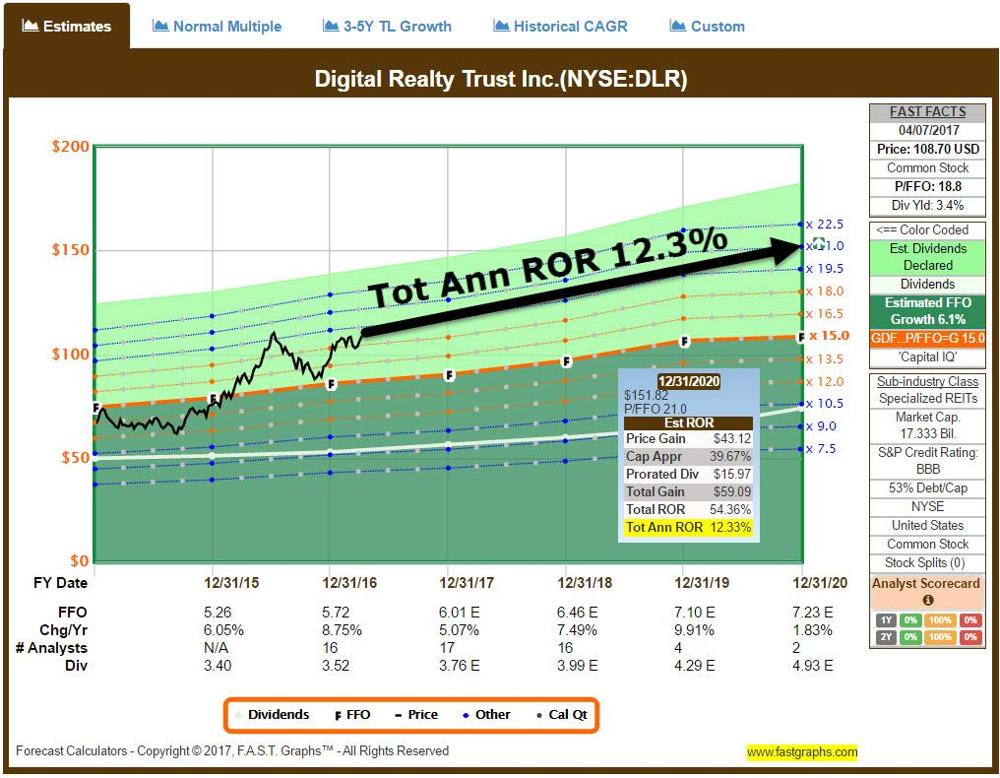 For a complete list of all Rhino Ratings (including DLR) check out The REIT Beat. In a few days I will be providing weekly updates on all of my REOT portfolios as well.
Author Note: Brad Thomas is a Wall Street writer, and that means he is not always right with his predictions or recommendations. That also applies to his grammar. Please excuse any typos, and be assured that he will do his best to correct any errors, if they are overlooked.
Finally, this article is free, and the sole purpose for writing it is to assist with research, while also providing a forum for second-level thinking. If you have not followed him, please take five seconds and click his name above (top of the page).
Sources: F.A.S.T. Graphs, DLR Investor Presentation, and Forbes Magazine.
Disclosure: I am/we are long APTS, ARI, BXMT, CCI, CCP, CHCT, CLDT, CONE, CORR, CUBE, DLR, DOC, EXR, FPI, GPT, HASI, HTA, KIM, LADR, LTC, LXP, O, OHI, PEB, QTS, ROIC, SKT, SNR, SPG, STAG, STOR, STWD, WPC.
I wrote this article myself, and it expresses my own opinions. I am not receiving compensation for it (other than from Seeking Alpha). I have no business relationship with any company whose stock is mentioned in this article.