Investors who took positions in Casella Waste Systems Inc. (NASDAQ:CWST) stock one year ago would have earned a whopping return of 115%. During the same period, the Nasdaq earned 21% in capital gains. Casella Waste Systems has a 12-month low of $6.36 and a 12-month high of $14.28 (CMP $14.03). The firm's market cap is $580.46 million.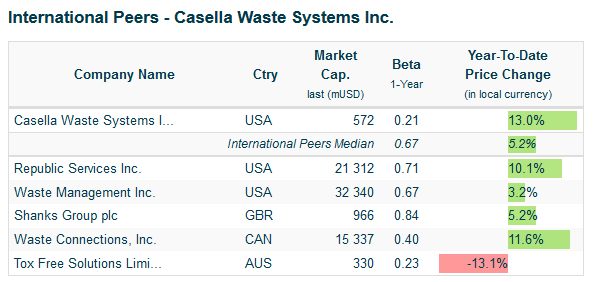 Source: infinancials
YTD (year to date), the stock has outperformed its peers (peers median return 5.2%), and have earned a return of 13%. During the same period, the Republic Services (NYSE:RSG) earned 10.1% and Waste Management (NYSE:WM) earned 3.2%.
Given the stock's recent performance, it seemed like a good time to take a closer look at the company's earnings, peer analysis, valuation, Street expectations, and fundamentals.
Casella Waste Systems last posted its earnings for Q4 2016 on Wednesday, March 1st. The company reported adjusted EPS of $0.05 for the quarter, topping Street estimates of $0.01 by $0.04. The company had revenue of $143.80 million for the quarter (up 2.7% YoY), compared to the Street estimate of $139.74 million. During the same quarter in the prior year, the company posted ($0.04) EPS.
"We had another strong quarter as we continued to execute well against our key management strategies of increasing landfill returns, improving collection profitability, creating incremental value through resource solutions, and reducing leverage through strict capital discipline and debt repayment," said John W. Casella, Chairman and CEO of Casella Waste Systems, Inc. "The progress we have made on our strategies clearly drove positive financial results in fiscal year 2016, with Adjusted Operating Income up 50.3%, Adjusted Operating Income margins up 250 basis points, Normalized Free Cash Flow up 45.6%, and total shareholder returns of 107.5% during 2016."
Management Guidance For FY2017
Revenues between $577 million and $587 million (as compared to $565.0 million in fiscal-year 2016)
Adjusted EBITDA between $124 million and $128 million (as compared to $120.6 million in fiscal-year 2016 )
Better-Than-Expected Earnings (Stock Catalyst 1)

Source: Nasdaq
Casella Waste Systems reported better-than-expected earnings for the consecutive straight quarter due to a strong pricing execution and operating efficiency.
Now, does this trend continue?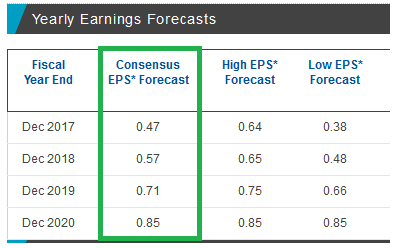 Source: Nasdaq
Analysts are expecting Casella Waste Systems to post EPS of $0.47 in 2017. That represents a rise of 147% from $0.19 in 2016. This implies a 2017 forward P/E for shares at 29x. Analysts are currently expecting 2018 EPS of $0.57 and 2019 EPS $0.71, which implies a 2018 forward P/E for shares at 24x and 2019 at 19x.
Sources of Revenue - Positive pricing trends to continue into fiscal 2017 (Stock Catalyst 2)

Source: Company Filings
In 4Q16, Casella Waste Systems' solid waste system segment contributed 72.6% of total revenue. This segment was followed by recycling segment, which contributed 10.5%, customer solutions contributed 9.8% and organics segment contributed 7.1% of total revenue.
Solid waste revenues were down 0.7% YoY, but for FY2017, management is expecting revenue growth of between 1.0% and 3.3%, with price growth from 2.5% to 3.5% and lower volumes associated with the planned ramp-down of volumes at the Southbridge landfill.
Management believes that in FY2017, recycling revenue will grow between 10.0% and 15.0%, driven by higher commodity prices, partially offset by lower processing fees and lower volumes. In the Other segment, overall revenue growth expected between 2.0% and 3.0%, with growth in the industrial segment for Customer Solutions group offsetting lower volumes in the Organics group.
Income Statement Analysis - Improving financial and operational efficiency (Stock Catalyst 3)

Source: Morningstar
Over the past 5 years, Casella Waste Systems management has improved the operational efficiency of business.
Lower transportation costs, direct labor costs, vehicle maintenance costs, and SG&A improved operating income margin by 1035 bps (negative 2.4% to positive 7.95%) between FY2012 to FY2016. Also, net income margin improved from negative 16.14% to negative 1.21% (1,493 bps improvement). During thesame period, interest expense has reduced from 9.47% to 6.89% (% revenue), highlighting improving financial health of the company.

Improving operational efficiency also contributed to free cash flow. In FY2016, free cash flow was $26 million (FCF per share $0.71), increasing by $29 million compared to FY2012.
Valuation Methodologies
Investors should look at valuation methodologies when deciding whether to enter or exit a stock. Valuation is driven by perceived growth, risks, and investors' willingness to pay. There are various methods available to assess the valuation of a stock.
We used the DCF analysis over a five-year period, with the following assumptions:
Revenue was projected to be in line with the Street's and management's expectations. Currently, analysts expect Casella Waste Systems to generate revenue of $582 million in fiscal 2017 and $600 million in fiscal 2018.
Improving operational efficiency will improve margins. I assumed that operating margin will increase to 17% by 2022.
The company has approximately a $100 million of carry-forward NOLs at the end of '16. Hence tax rate assumed at 0%.
D&A, CapEx, and changes in working capital were projected to be in line with historical levels.
We used a baseline rate of 10% for WACC and a baseline terminal FCF growth rate of 2.0%.
Here's the DCF analysis down to the unlevered FCF: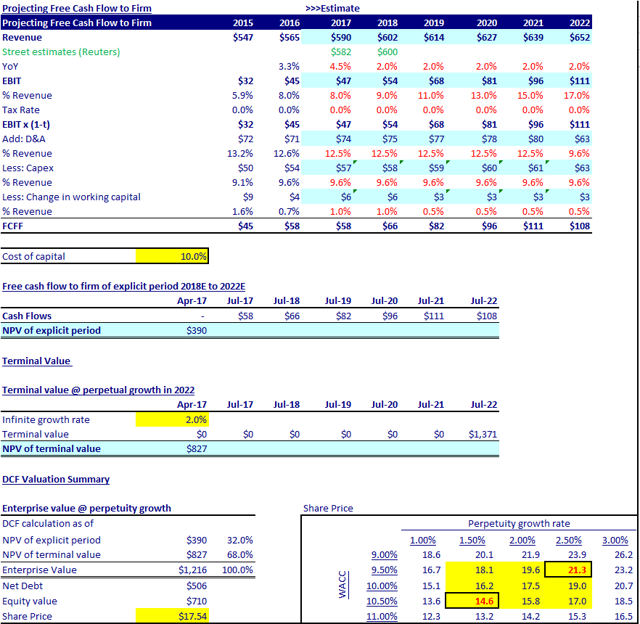 The company's implied share price is $17.54, which is a 25% premium to the current price of $14. The most likely implied value is between $14 and $21 per share, based on this analysis.
Market View - Positive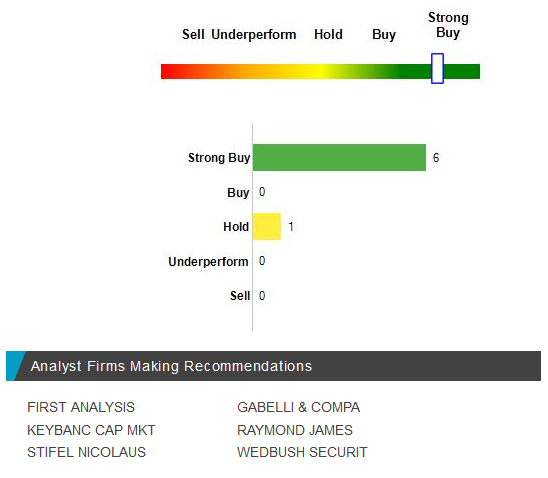 Source: Nasdaq
On April 7, 2017, Casella Waste Systems' stock increased more than 100% over the last 12 months. Analysts' recommendations show a 12-month targeted price of $14 per share. Of the analysts covering Casella Waste Systems, 6 recommended it as a "Strong Buy," and one recommended it as "Hold."
My Recommendation: Buy Rating
I will recommend Buy rating for Casella Waste Systems based on the following factors:
1. Revenue growth due to positive pricing trends to continue into fiscal 2017.
2. Operational efficiency (improving margins) and better management of debt.
3. Based on DCF analysis, implied share price is $17, which is a 25% premium to the current price of $14. The most likely implied value is between $14 and $21 per share, based on this analysis.
4. Market view is positive.
Disclosure: I/we have no positions in any stocks mentioned, and no plans to initiate any positions within the next 72 hours.
I wrote this article myself, and it expresses my own opinions. I am not receiving compensation for it (other than from Seeking Alpha). I have no business relationship with any company whose stock is mentioned in this article.