On April 3, 2017, Alliance Holdings (NASDAQ:AHGP) released an 8K filing with preliminary (non-GAAP) results for Q1 2017. I copied one of the most important paragraphs from the filing below:

Based on this filing, AHGP management is anticipating substantial year-over-year improvement.
As a contrarian investor, I started buying AHGP in March 2016, when major companies in the coal industry were facing a cyclical downturn, as evidenced from Peabody's (NYSE:BTU) March 2016 closing news.
At the time of my initial purchase, AHGP cut dividends from $0.96 per share in Q1 to $0.55 per share in Q2. As you can see from looking at the income statement, the dividend payout ratio - back in March 2016 - was around 185% at the $0.96 quarterly dividend rate - not at all sustainable. Indeed, even at a $0.55 quarterly rate, the March 2016 payout ratio looked high at 107%. Management had no choice, but to cut the dividend nearly in half and hope for a trough to the cycle.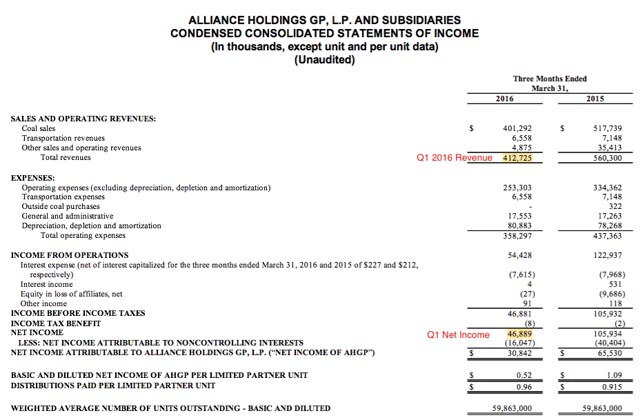 A lot has happened since then, including the election of a pro coal president and the cyclical headwinds returning to the sector. In just twelve months' time, year-over-year Q1 2016 to Q1 2017 progress looks like this:
9% increase in revenue.
111% increase in net income.
Of course, this assumes you are taking management at their word, based on the preliminary 8K filing. This will be verified on May 1st, when GAAP Q1 results are released.
Preliminary projections are not the only factor when considering an investment in AHGP; other fundamental growth indicators are listed below: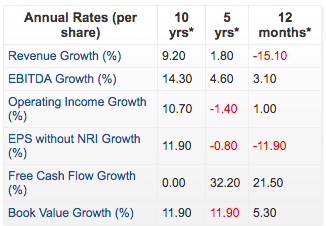 Source: gurufocus
Current P/E is 9.19 and current dividend yield is 7%. Plus, with preliminary management guidance of Q1 2017 net income at $100 on the low end ($110 on the high end), that puts Q1 payout ratio at 60% based on a $0.55 per share dividend, which is significantly safer than Q1 2016's 185% (or 107% based on $0.55 per share)
Since 2002, AHGP has only had one year of negative free cash flows - 2009. For a company in a sector with downward macro trends (see EIA data below), it is - in my opinion - a cigar butt investment with more than a few good puffs left.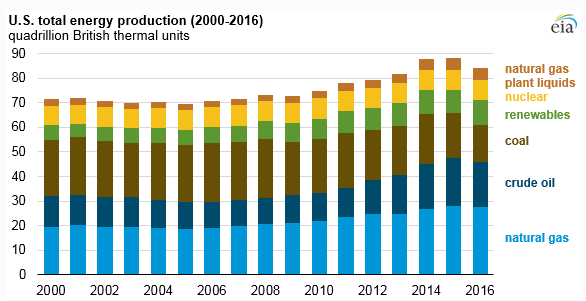 Disclosure: I am/we are long AHGP.
I wrote this article myself, and it expresses my own opinions. I am not receiving compensation for it (other than from Seeking Alpha). I have no business relationship with any company whose stock is mentioned in this article.