No one denies the fact that the retail landscape has been transforming into an industry that serves its customers at their homes, rather than in brick and mortar stores. While this transition began many years ago, it has now accelerated to the point (think Amazon (NASDAQ:AMZN)) where brick and mortar stores can no longer maintain sales, let alone grow them. A particularly good example of a company caught on the wrong end of this shift from brick and mortar to online is The Buckle (NYSE:BKE). This traditional retailer, headquartered in Nebraska, can be found in shopping mall outlets throughout the Midwest. The question at this point is: can this traditional brick and mortar retailer evolve and survive, or will it fall by the wayside to increased competition and online sales? Looking at financial strength, store sales, and its business model, let's determine if BKE is a buy, or if the company is on a path to failure.
Digging into The Buckle's financials, we see the company has done an excellent job of paying down debt and maintaining consistent earnings power. EPS in each of the last 5 years has been between $3-$3.50, and no new shares have been sold on the market. More concerning on the income statement is the loss of roughly 200 million in revenue, indicating BKE's product sales are starting to show significant declines. Turning to the balance sheet, BKE has done nothing short of build a fortress. It has 196 million in cash, and carries no long term debt. In fact, it has enough cash alone to cover all of its liabilities! However, looking at free cash flows, the story of declining sales returns to the picture. FCF has declined by nearly 50% in the last 5 years, and will drop below 100 million in 2017. Given these financial metrics, the Buckle needs to begin repositioning its business now, while it financially has the strength to do so!
While The Buckle has an excellent financial track record - both in maintaining low debt levels and high amounts of cash, along with paying a consistent dividend - the picture is becoming very bleak in terms of store sales and its overall business model. In each of the last three months, same store sales have declined by nearly 20%. This is also against same store sales that declined throughout last year as seen below: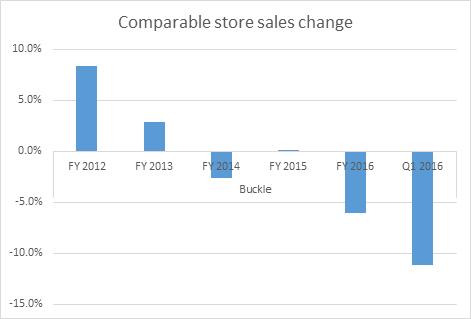 Further adding to The Buckle's problems is that nearly 90% of their sales come from traditional brick and mortar stores, which are most likely in permanent decline. The younger demographic in this country are now buying nearly everything online, from shoes to clothes. The Buckle must shift its business model from one operating in traditional brick and mortar stores to one that sells online at a lower cost (because operating costs should be lower on each unit sold online).
The hard, objective details discussed above suggest The Buckle has time to shift its business focus to one which has a stronger online presence. Financially the company is currently in great shape, but this will not last if a significant change is not made to how product is distributed and sold. I admit he company looks cheap, with a current P/E ratio of only 8 (6 if you back out the cash). However, until the company can shift its sales to online, it will continue to bleed cash and close stores, resulting in declining revenue. The Buckle can be bought, but only once it demonstrates overcoming the continuing decline of its brick and motor sales through increasing its online sales and presence.
Disclosure: I/we have no positions in any stocks mentioned, and no plans to initiate any positions within the next 72 hours.
I wrote this article myself, and it expresses my own opinions. I am not receiving compensation for it (other than from Seeking Alpha). I have no business relationship with any company whose stock is mentioned in this article.