Markets were jarred by the recent decisions to send missile attacks to Syria but these negative media events will only serve to create buying opportunities in the for SPDR S&P 500 ETF (NYSEARCA: SPY) investors that missed many of the initial rallies in equities. The tricky part of the equation comes in when we have to identify specific entry points for trading entries, as this will be the biggest influencer whenever we are looking to maximize returns.
Overall, the earnings outlook remains supportive and situations that seem like 'bad news' should in actuality be viewed as a new opportunity to reassess and structure positions for the next rallies.
Most of the reaction we are currently seeing in the market comes from the fact that US President Donald Trump has previously made it clear that he is against the implementation of large military operations in Syria. Surprises in the political arena that are this significant can go far in terms of the ways sentiment can drop and with nearly all of the major stock benchmarks.
In the short term this is a benefit for those long the SPDR Gold Trust ETF (NYSEARCA:GLD) and the iShares Silver Trust ETF (NYSEARCA:SLV) but this should turn out to be more of a bull trap than anything else.
Chart View: SPDR S&P 500 ETF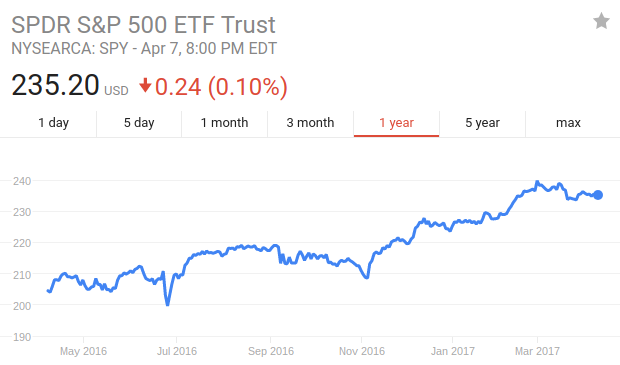 Most of our analysis in the S&P 500 ETF tends to be based on the yearly outlook as this gives one of the best cyclical picture of what is actually happening in the world most influential stock benchmark. This approach should continue to be useful in the current context but it is important to add a shorter-term perspective in order to see the how the current declines will likely extend further.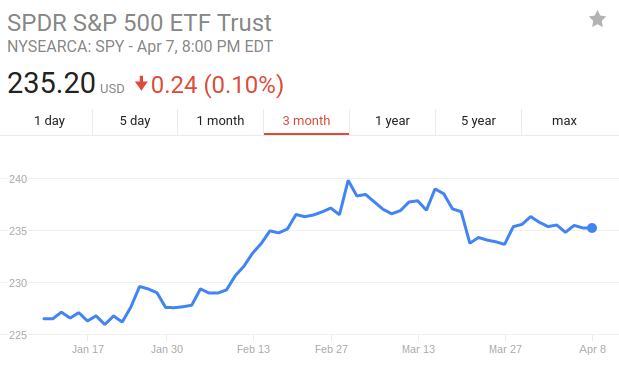 Drilling down to the 3-month chart, we can see that a succession of lower highs will likely put pressure on prior support levels at 233.60. We are already seeing profit-taking at these elevated levels so this indicates much stronger potential for weak, short-term demand levels to give way in the coming sessions. For stocks investors that are currently long, this might sound like bad news. But if we are ready to take preemptive positioning measures, this should actually be viewed as a positive in terms of the broader trading plan.
It is critical to remember that trading or investing is never about one single trade. It is about the fluid approach that is used to capture as much of the dominant trend as is possible. So these negative events (like those currently being seen on the geopolitical front) should actually be viewed in a positive light given the fact that the added volatility is creating a much better potential for gains.
As the short-term technical picture deteriorates, a test of 230 is looking much more likely and we are viewing this as an area that can be used in adding long exposure. This level was a previous breakout point and we should see increased market activity in this area once the profit-taking on news events flushes out of the market.
Disclosure: I/we have no positions in any stocks mentioned, and no plans to initiate any positions within the next 72 hours.
I wrote this article myself, and it expresses my own opinions. I am not receiving compensation for it (other than from Seeking Alpha). I have no business relationship with any company whose stock is mentioned in this article.