What began as one of the most hopeful events of the late 20th century has slowly turned into a depressingly familiar turn of events.
After 28 years in prison Nelson Mandela walked out, negotiated a peaceful change to a post-apartheid South Africa that seemed to be build on reconciliation (indeed, there was a truth and reconciliation commission cataloging the atrocities committed under apartheid).
Mandela led by example, and while South Africa had many problems that were difficult to fix (rampant violence, unemployment, poverty, etc.), he did so on an acceptable time scale with a heritage of the country.
Mandela did something else that is fairly rare. He left power after one turn. His successor did not have the standing of Mandela (who has?) but apart from some curious (and very damaging) ideas about the causes of aids, one could say that he was fairly competent.
The South African economy hasn't gotten in a rut that might have been expected given the often far left ideas of much of the ANC and an understandable demand for a quick fix of the most damaging consequences of decades of apartheid (rampant inequality and unemployment).
That is, there has not been a South African Mugabe. Indeed, many people fled from Zimbabwe to South Africa as the former collapsed economically through mismanagement.
The current South African President, Jacob Zuma is certainly more flamboyant than his predecessor, but stories of corruption have plagued him almost from the start of his presidency. In fact, he came to power largely because the ANC recalled his predecessor who had improperly interfered with the operations of the National Prosecuting Authority in order to get Zuma convicted for corruption.
And in 2009 another case of corruption was dropped by the same agency which cited political interference as a reason. There has been a failed impeachment attempt because of yet another corruption scandal.
So far, from the outside, it looked like just a bad apple, although this too optimistic a reading. Because things have taken a big turn for the worse and many more now realize that the Zuma Presidency, and to a large extent also the top of the ANC is beyond redemption.
Reshuffle
In a wide-ranging cabinet reshuffle, Zuma sacked his widely respected Finance Minister Pravin Gordhan (even the South African Communist Party, of which Zuma is a member, objected) and appointed Home Affairs Minister Malusi Gigaba as his replacement. He also sacked 8 other ministers and 6 deputy ministers.
Who is Malusi Gigaba? He does not seem to have a big public profile, according to CNBC:
Gigaba was an unknown quantity, analysts said. "The market will struggle to digest Gigaba. We think this is bad for the market and for SA," Nomura emerging markets analyst Peter Attard Montalto said in a note.
Stay tuned. This displays a remarkable lack of knowledge. When they figure out who he is, they won't be pleased.
He accepted a job as Minister of Public Enterprises in 2010, a ministry which is rather central in dispersing funds. He wasn't the first candidate, ANC member Vytjie Mentor was asked first.
But according to an article from the a Dutch quality newspaper NRC Handelsblad (there is a shorter English language source here but the NRC journalist managed to interview Mentor), there were a couple of odd things going on in the process:
She was flown in to Johannesburg, but instead of going to Pretoria (the capital), a blinded Mercedes drove her to an industrial terrain from Sahara Computers, founded and owned by three Indian brothers, Ajay, Atul and Rajesh Gupta, now some of the richest people in South Africa. Remember these names.
The oldest brother, Ajay, tells her that Zuma is going to present her as the new Minister for Public Works, a fairly surprising turn of events, given Mentor's rather modest profile.
But he also tells her that there is one condition. As the new Minister, she has to end the flights of South African Airways to India.
Mentor is taken aback, argues that these are Government decisions and the Gupta's don't have any jurisdiction over this. At that time she isn't aware of the fact that the Gupta brothers have a stake in competitor airline Jet Airways.
But Malusi Gigaba apparently didn't have any qualms accepting the job, and he embarked on his new task with considerable gusto. Within a year, he had fired all top managers from all big state enterprises and replaced most of them with people having ties with the Gupta's.
Immediately after his promotion to Finance Minister last week he appointed to advisers which are widely known for their ties to the Gupta's.
Mentor isn't the only one now airing the influence of the Gupta's on public affairs in the open. Former Public Protector Thuli Madonsela issued a report (State of Capture) in which other ministers complained about the influence of the Gupta's. That report has met with considerable resistance from Zuma.
Then there is the deputy Finance Minister, Mcebisi Jonas, who was also fired in the reshuffle. He also had a trip to the Gupta brothers, in the car of Zuma's son Duduzana Zuma, a business partner of the Gupta's.
He was offered to replace then Finance Minister Pravin Gordhan, but again there was a condition, to further the business interests of the Gupta's. He was also promised a grand sum of 50M euros.
He refused.
And he has now even resigned from Parliament in disgust.
What does this all mean?
The Gupta's are, at least for now, untouchable. Zuma has sacked the whistleblowers like Jonas. The State of Capture report is gathering dust. The ANC top is still beholden to Zuma, as is clear because they went along with all this.
The Gupta's have interests in mining, telecom, an airline and run a TV station and a newspaper which are backing Zuma. They financed his 2007 campaign. Zuma's son is their business partner.
It does indeed seem that the state is captured and Mentor (who was interviewed by the Dutch newspaper linked above) received threats.
This state of affairs is serious. If the heart of government is as rotten as it now seems, there is no immediate economic fix available. It's no surprise that South African rand tumbled in the wake of this.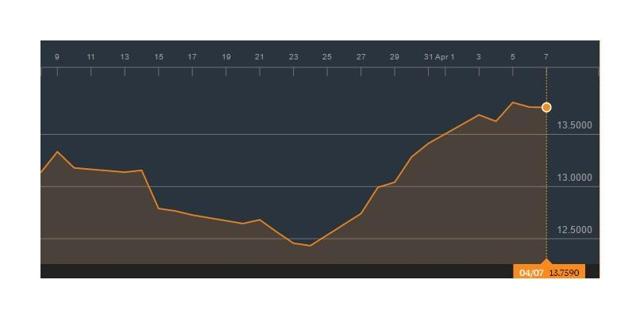 South Africa's debt was downgraded to junk
Stocks have remained fairly firm though: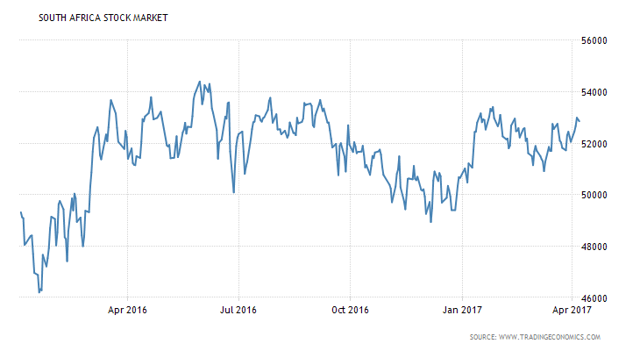 Assessment
Much of this is now coming out in the open and this is leading to street protests and legal challenges. For a country that got rid of apartheid, it isn't beyond the possible to end this with protest. This is probably the reason why the new Finance Minister has struck such a populist tone, arguing the Ministry of Finance belongs to the people, not to the elites (a rather cynical turn of events).
Another thing to keep in mind is that South Africa is not Zimbabwe. It has a free press, open elections and it's still the industrial power of Africa (with a lot of mining to boot). Its politics have been dominated by one party, something which often leads to increasing corruption and decreasing accountability.
But even a large amount of graft does not necessarily impede economic growth, as many Asian countries have shown (like Suharto's Indonesia). But then again, while not being Zimbabwe, South Africa isn't an Asian tiger economy either.
It's probably more comparable to Brazil. Like Brazil, it shared the BRIC epitaph for quite some time, even if this was a bit of a stretch perhaps. Like Brazil, its fortunes have taken a turn for the worse through a major corruption scandal.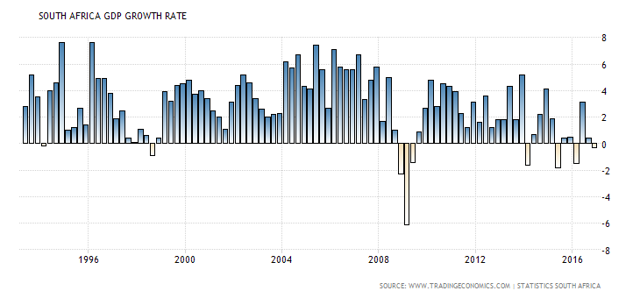 But we don't see a South African Temer (the new Brazilian market friendly President) on the horizon, in fact, with the demise of the highly respected Finance Minister Pravin Gordhan, it looks like they are turning populist left where Brazil turned hard right.
Argentina under the Kirchners comes to mind. While it's often forgotten that Nestor Kirchner (and more especially his inherited Finance Minister Lavanga) manufactured a competent and rather solid economic recovery from the 2001 economic crash, things went south in the later years of Nestor and especially under his wife Christina who succeeded him.
Something akin to this could happen to South Africa. It looks like the power struggle within the ANC has been settled in favor of Zuma and the Gupta brothers.
A more populist policy change could actually revive economic growth in the short-term, which is why stocks didn't budge all that much in the political turbulence. But it will worsen public finances (bonds were cut to junk status already), and affect the currency.
Zuma might even go next year (there are rumors he offered this in exchange for firing Pravin Gordhan) and is now fighting to get some form of protection, which seems to be the main drive for the cabinet reshuffle. General elections are in 2019.
There are some reasons for optimism regarding these elections. Here is what The Spectator wrote in the wake of local elections last year:
The local elections this month were different and immensely hopeful. There has been a large vote against the ruling party, the ANC, bringing an end to the great curse of post-colonial Africa under which the people keep voting for the 'liberation' party however corrupt and incompetent it is. The ANC still won 54 per cent of the votes, but this is the first time its share has fallen below 60 per cent. President Jacob Zuma has taken a battering, but to his credit - another welcome departure from bad African ways - he has taken it gracefully and without complaint. Nobody has challenged the freedom and fairness of these elections.
With the new and explosive revelations about Zuma and the Gupta brothers, there is actually a decent chance the ANC will lose the absolute majority and the main opposition party, the Democratic Alliance is doing well under a new charismatic leader, Mmusi Maimane.
However, the ANC will still be the biggest party and change is pretty difficult. The Spectator summed up the problem in just one line:
ANC politicians will now be taking stock. Each will ask this question: 'If I want to retain my job and riches, should I support Zuma or oppose him?' While he is corrupt and incompetent at running the country, Zuma is skilled at running the party machine and in awarding patronage to important people whose support he needs. The stakes are high. For many black people in South Africa, politics is the only possible career and income; if they lose their government job, they become destitute. During this election campaign, at least a dozen ANC candidates for municipal jobs were murdered, almost certainly by other ANC members who wanted the jobs themselves. If there is a plot gathering within the ANC to topple Zuma, it could be dangerous to join it and dangerous not to join it. But the ANC has already lost too much power and support for it to defy the electorate if it were voted out. For this much thanks.
It's really difficult to reform an economy when many regard the state as their own personal slush fund, under the protection of the powers that be.
It doesn't have to be this way. The Democratic Alliance is generally regarded to manage locally and provincially (for instance in Cape Province under Helen Zille) in a more competent and honest way. But the Democratic Alliance is still small compared to the ANC.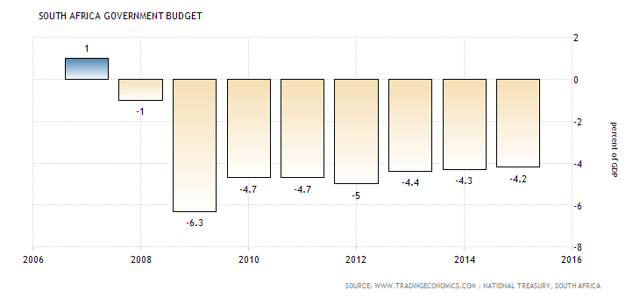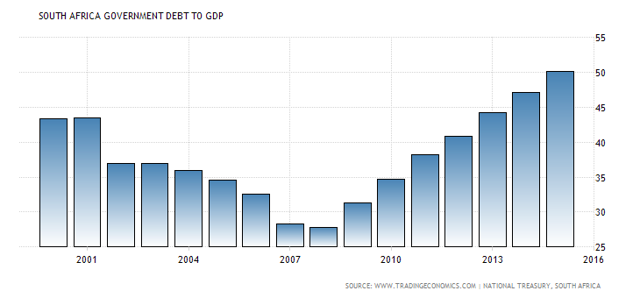 Conclusion
We see increasing turbulence and populism in South Africa, with possible increasing street protests and risks of escalation. Political stability is likely to be bought with government largesse, just at a time when public finances can ill afford these.
We therefore think there is little chance of any substantial recovery in South African bonds or the rand. Stocks might fare a bit better, as many listed companies are more international and populism could actually produce a short-term uptick in the economy.
Disclosure: I/we have no positions in any stocks mentioned, and no plans to initiate any positions within the next 72 hours.
I wrote this article myself, and it expresses my own opinions. I am not receiving compensation for it (other than from Seeking Alpha). I have no business relationship with any company whose stock is mentioned in this article.