Overview
Barnes Group (NYSE:B) is an international aerospace and industrial manufacturer that has been around since 1857 and has a market cap of 2.74B. It has been a strong performing stock over the past decade, outperforming the market in general and nearly doubling the S&P 500 during this time.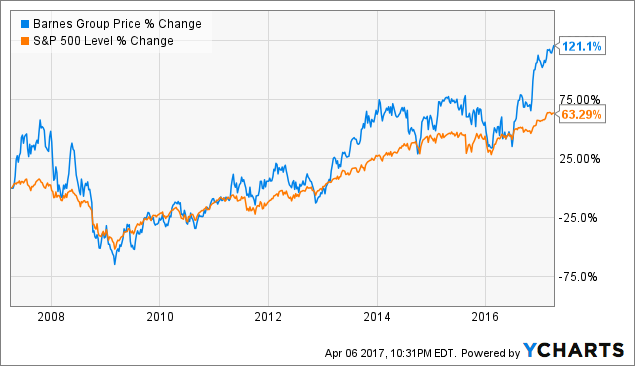 The majority of its gains has come recently with the stock seeing an 88.01% increase in the past five years and a 53.07% increase in the past year alone.
Barnes Group remains near its $51.97 52-week high that was achieved on March 1st of this year, but I feel that the stock has reached its limit at least in the short term. Looking at the charts below, you can see that the stock's price appreciation has already slowed significantly.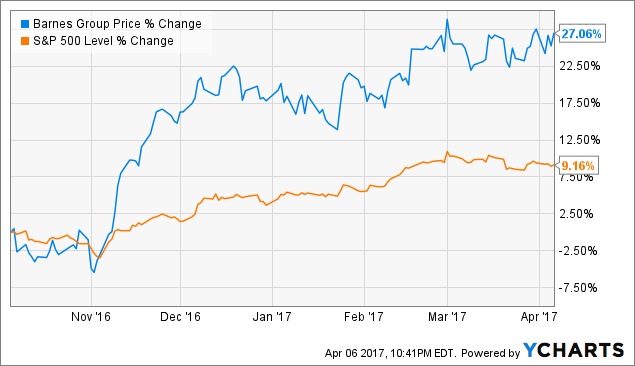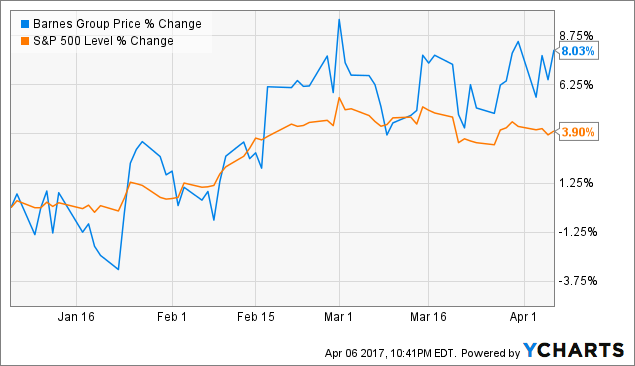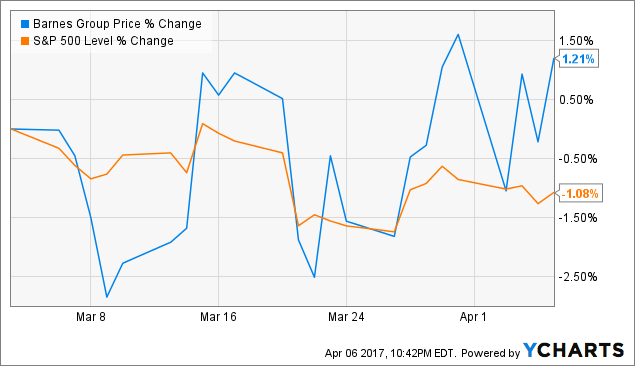 I believe this trend will continue for a variety of reasons.
Valuation
Barnes Group currently has a 20.62x trailing P/E ratio. This appears to be an attractive valuation when compared to several industry competitors such as General Electric (NYSE:GE), 3M (NYSE:MMM), Illinois Tool Works (NYSE:ITW), and Eaton (NYSE:ETN).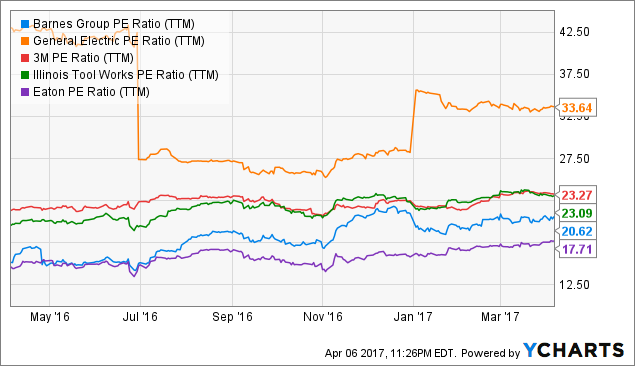 B PE Ratio (TTM) data by YCharts
However, the valuation doesn't seem quite as attractive when looking at the change of value over the past year. Barnes Group's P/E ratio has increased by over 35%, significantly more than the other competitors.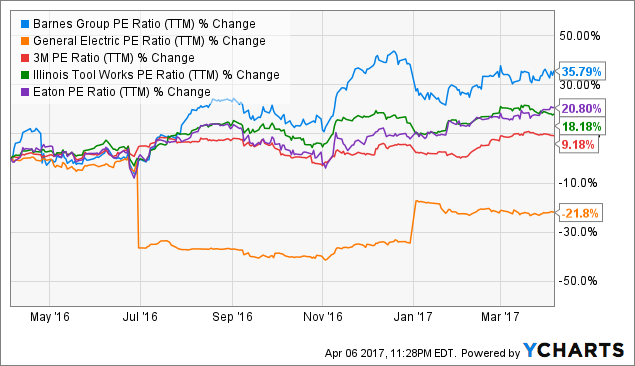 B PE Ratio (TTM) data by YCharts
The company's PEG ratio has increased throughout the year as well, which is an indicator that the stock's price has increased more than its earnings.
Revenue
Barnes Group reported a 12.9% increase in revenue in its latest quarterly report; however, this still missed estimates by over $4M.
This has been an ongoing trend for Barnes Group, which has missed several of its last quarterly revenue estimates.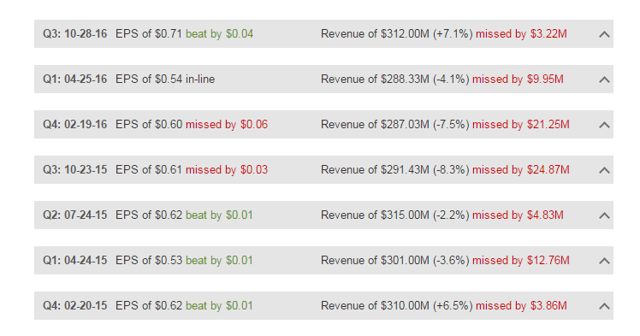 Looking at the charts below, you can see that the stock's revenue growth has been up and down over the past three years with an overall decline over the past ten years.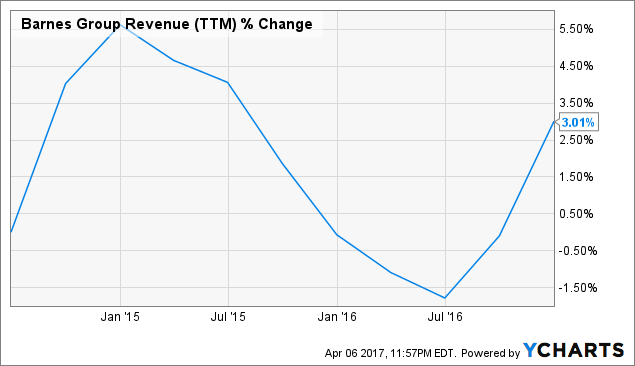 B Revenue (TTM) data by YCharts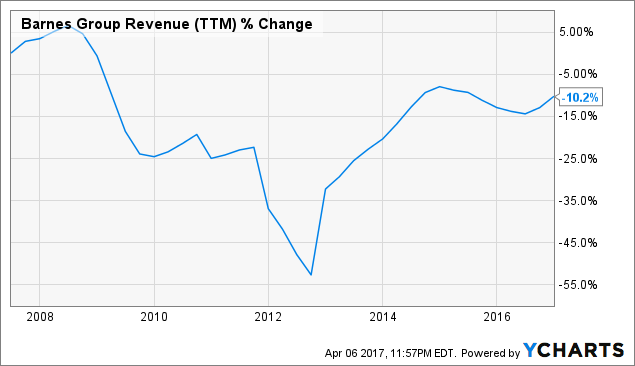 B Revenue (TTM) data by YCharts
The most worrisome aspect of the company's revenue growth in my opinion is flat organic growth, which was shown in the company's latest earnings call. The company's full year sales growth was 3% in 2016 (5% in industrial segment and negative 1% in aerospace), but the company's organic sales growth was a net of 0%.
Both the industrial segment and aerospace segment have positive looking markets with strong demand, but I believe this has already been priced into the stock, leaving any failure for the company to meet revenue estimates (which it has done often in the past) as a strong potential driver for the stock to see a significant slide in price.
Dividend
Barnes Group currently pays a 1.02% yield, and even though it maintains a low payout ratio of just over 20%, dividend growth has been lackluster. The company has paid a $0.13 dividend for its last four quarters, and paid $0.12 for six quarters prior to that.
According to the company's 2016 annual report, the company returned $48 million of capital to shareholders in 2016 through dividends and share repurchases. In 2015, that number was $78 million.
Conclusion
I believe that Barnes Group remains a solid long-term investment option, but I don't believe the stock has much potential in the short term. I feel the stock is already priced at perfect condition results with the market expecting the company to meet future revenue and earnings forecasts. Looking at history, we can see that this has not always been the case, and I feel that any earnings/revenue miss could send this stock significantly lower considering the appreciation it has seen this past year.
Besides the poor revenue growth, increased valuation and poor dividend growth, Barnes Group faces a large number of risks that it outlined in its annual report. While many of these are risks any company within the industry faces, some are significant factors that could lead to a declining stock price if things don't fall correctly in place for Barnes Group.
Some of these risks include:
Much of Barnes Group's revenue and earnings come from a small number of customers. In 2016, net sales to General Electric accounted for 17% of the company's total sales and 51% of its aerospace sales. Rolls-Royce (OTCPK:RYCEY) and United Technologies (NYSE:UTX) accounted for another 13% and 11% of sales respectively. Looking at the recent earnings of these companies does not install a lot of confidence in the future spending habits they may be making.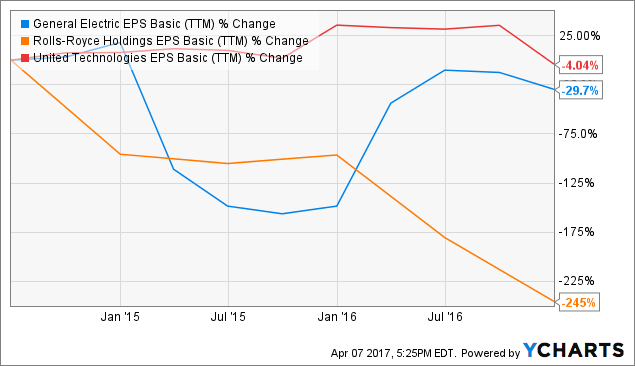 GE EPS Basic (TTM) data by YCharts
Barnes Group has a significant amount of debt. As of the end of 2016, consolidated debt represented about 30% of its total capital.
The company's current national collective bargaining agreement along with some local agreements are expiring this year. Any disputes, strikes, or work stoppages caused by the negotiation of new agreements could potentially have negative impacts on the stock price and overall financial results.
Current consolidation in the industries Barnes Group operates in on both supplier and customer sides are likely to increase competitive pressures that the company faces. These could negatively impact the company's margins moving forward.
Barnes Group has been able to increase its earnings with fairly flat revenue growth. This may change if oil/energy prices increase significantly, leading to larger operating expenses.
I still believe Barnes Group is a solid long term investment option, but I think the combination if its current price, its poor revenue and dividend growth, along with the several risks the company faces outnumbers the positive factors the company has going for it in the short term. I expect the stock to underperform the market in general over the next 12 months and believe it will be at or below $45 at this time next year.
If you're looking for a short-term investment, there are more attractively priced dividend stocks out there right now that offer both more growth and higher yields with less risk than Barnes Group. As always, I suggest individual investors perform their own research before making any investment decisions.
Disclosure: I/we have no positions in any stocks mentioned, and no plans to initiate any positions within the next 72 hours.
I wrote this article myself, and it expresses my own opinions. I am not receiving compensation for it (other than from Seeking Alpha). I have no business relationship with any company whose stock is mentioned in this article.