Another week is in the books and it was filled with a lot of geopolitics, but not much drama on the market front. Another boring week with the S&P 500 index closing fractionally lower, although there were some short-lived fireworks when the Fed released minutes from the last meeting. VIX index increased on the order of 4% or 0.5 points and is still below 13.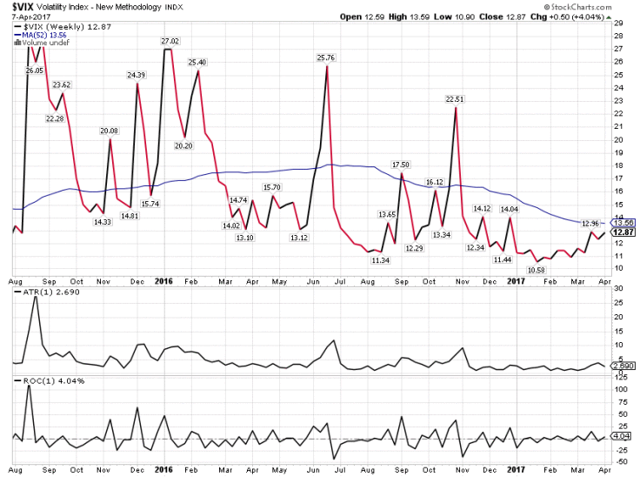 ProShares Short VIX Short-Term Futures ETF (NYSEARCA:SVXY) followed suit and mirrored VIX index with a similar 4% decline.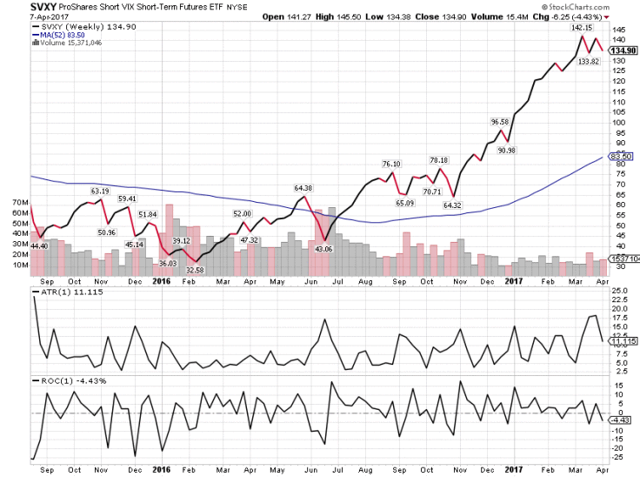 The curve is getting flatter with November VIX moving below 17 as traders are unwilling to buy protection for future months given still very low realized volatility despite major geopolitical uncertainties.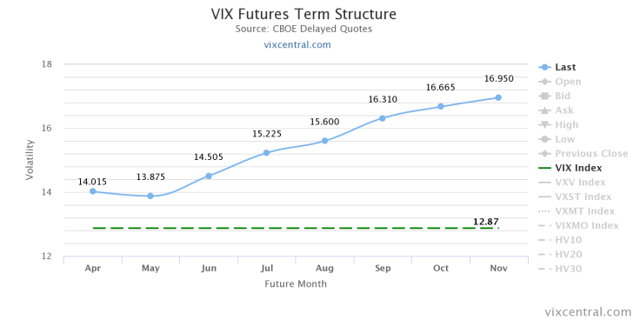 Market internals remained healthy, but I am wary of S&P 500 sticking around the 50-day moving average for a long time. At some point, a break lower will be inevitable if current action continues and markets do not bounce forcefully to the upside and take out previous highs. I am absolutely sure we will witness new all-time highs in indices, but timing of the breakout is uncertain. If I were to make a wild guess, S&P will trade at all-time highs within the next four weeks.
Trading scenarios for me are as follows, should the S&P 500 break lower over the coming weeks, I will slowly scale into short put positions in SVXY in anticipation of an eventual break higher in the markets. Another possibility I'm seriously considering should SVXY move lower on any market weakness is closing down some of my hedges and potentially re-establishing them at higher strike prices.
If markets turn themselves higher and 50-day moving average holds, then in all probability, the VIX index will average less than 12 for most of the summer providing sufficient fuel for SVXY/XIV to move towards $160 by the end of July. In such a scenario, I don't foresee any changes to my current positions.
The question many would ask how low do I believe SVXY goes. I don't care how low it goes would be my simple answer. In my personal view, odds of the S&P 500 correction exceeding 10% are minuscule and I don't see SVXY moving and staying below $100 for a significant period of time.
Cumulative $NYAD was positive this week, $BPNYA remained flat as did $NYA200R and $NYA50R. All internals I track are in no-man's land telling me nothing bullish or bearish is going on within the markets themselves. Sentiment on the other hand as tracked by AAII once again is firmly bearish, and as many of my followers know, I consider that to be a contrarian indicator for mid-term market direction.
Positions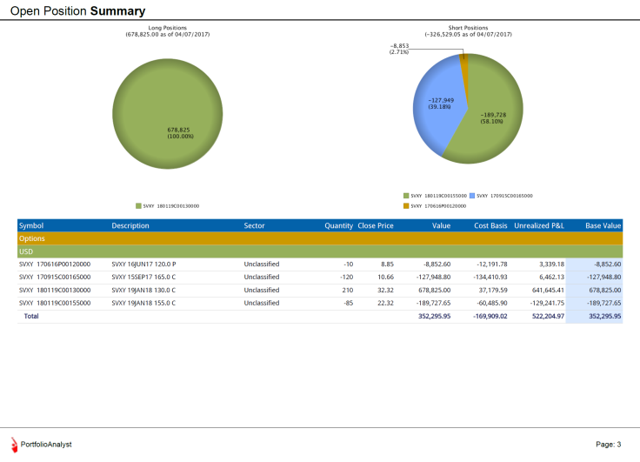 To sum it up, I hope for a selloff in indices to enter some short put positions in SVXY and/or modify existing hedges. I think further selloff is a coin toss given flat market internals; however, whatever correction ensues, I think will be short and shallow. I've been adamant in my view that corrections will be shallow since early December and there is nothing to indicate there is change on the horizon. I've been equally adamant since summer of 2016 that markets will keep grinding higher for the foreseeable future; that view of mine has not changed either.
Account performance YTD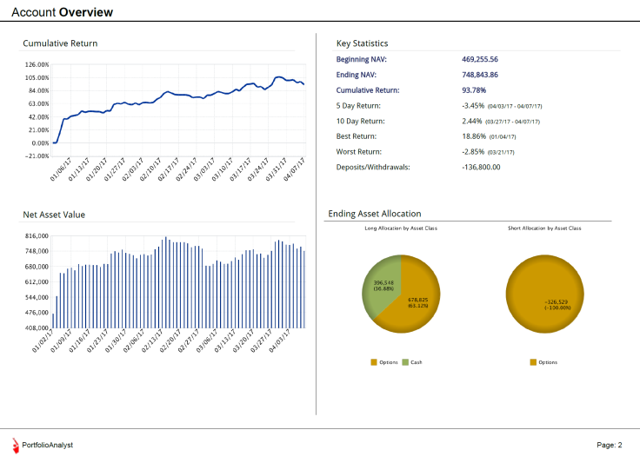 Disclosure: I am/we are long SVXY VIA OPTIONS.
I wrote this article myself, and it expresses my own opinions. I am not receiving compensation for it. I have no business relationship with any company whose stock is mentioned in this article.