GoPro: A Few Quick Points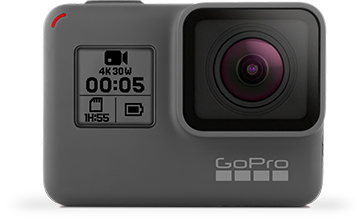 Once upon a time GoPro (GPRO) was an up and coming investor favorite, being pushed to radical valuations most stocks can only dream of. However, after some bad quarters and some poor business decisions, this once-upon-a-time investor favorite has dropped from highs of nearly $87 a share to a measly $8.70 as of recent close.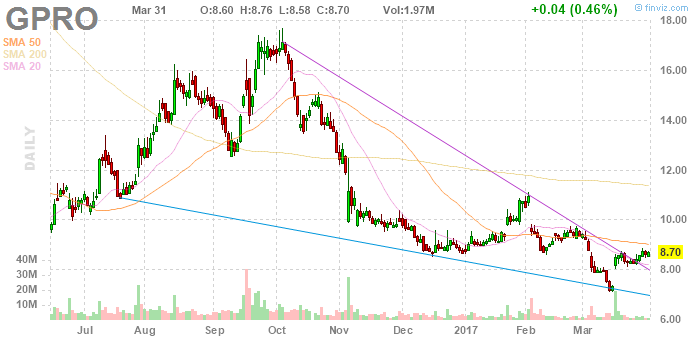 Source: Finviz
However, I think while GPRO may have recently found a bottom, GPRO is going nowhere fast
GPRO recently missed on Revenues
To get back to a higher price, GPRO will need to resume increasing sales and growth. Recently GPRO missed on their revenues by $33.94M. This is a telling sign for me that the recovery in sales may take longer than expected as GPRO turns to refocus on their core business OR increasing competition is beginning to eat away at GPROs market share. Higher YOY revenues for the 4th quarter are regardless a strong start for GPRO though
2. Weak Comparative Margins Will Hurt Earnings Short Term

GPRO also still needs time to continue executing on their restructuring plan to get the company back to peak performance after its dramatically negative quarters in 2016. The margins of the company are still down from peak levels and it will take some time to see if the company fully recovers. Improving their margins through layoffs and cost cutting as well as refocusing on the core of the business should boost margins and lower OE but only time will tell.
3. Layoffs will Drive Uncertainty
In any company, when employees begin to get laid off and turnover increases, there is usually a noticeable hit to the productivity and the bottom line until the dust settles. Continued layoffs will present negative headwinds in the immediate future but will improve in coming quarters. Also the sharp and sudden swings in hiring/firing patterns make it extremely difficult for the employees of any company to do their job 100%
4. A Different Type of Investor
GPRO's negative downturn and expansion mistakes will not be easily forgotten. A once darling stock of growth investors should start to slowly turn into a strong value play in a saturated industry. The immense value and barrier to entry GPRO brings is its trusted brand in the industry and a very slight and shrinking technological and quality advantage that will quickly decay. GPRO will survive but even after it starts to show promise it will take some time for the money to follow and it will never flow in troves like it once did when GPRO was new and exciting. Value Investors will need time to buy in
5. Liquidity of Necessary Capital
GPRO recently announced their sale of $150M in 5-year convertible senior notes. It is very easy to see that the company is strapped for cash because cash flow recently has been abysmal. If the turnaround takes longer than expected, GPRO's cash burn will require them to continually seek capital at the expense of dilution and/or increased risk to shareholders. Analysts have been downgrading the stock as well citing the cash burn as a potential risk factor as well.
Disclosure: I/we have no positions in any stocks mentioned, and no plans to initiate any positions within the next 72 hours.
I wrote this article myself, and it expresses my own opinions. I am not receiving compensation for it (other than from Seeking Alpha). I have no business relationship with any company whose stock is mentioned in this article.