Ionis Pharmaceuticals (NASDAQ:IONS) is a biotech company which develops RNA-targeted therapeutics and has been operating for over 26 years. The company has recently filed to spin-off its Akcea Therapeutic segment, focused on Volanesorsen and other drugs related to cardiometabolic diseases originated by lipid disorders.
Ionis Core, the company core segment, has developed a broad pipeline of drugs for the company and its partners.
Ionis has been recently in the news following its spinning off of the Akcea segment. Akcea is going to raise $100 million from its IPO and Novartis, already a partner, will at the same time add $50 million of equity investment.
This strategic decision has puzzled many analysts, as it reduces Ionis Pharma's opportunity to profit from the successes of the Akcea division. The official explanation for such spin-off is fresh money to commercialize Akcea's main drug (Volanesorsen) and more investments towards research for new products.
It is not yet clear what is the stake Ionis is going to keep in Akcea after the IPO.
Last December Spinraza - a treatment for spinal muscular atrophy - has been approved from the FDA and could be a big profit-generating hit.
We consider Ionis a very promising growth stock despite - or maybe because - it is still not consistently profitable. Its business model is solid. Indeed, much more than several other clinical-stage biotech stocks around.
It exhibits more than 10 promising and prestigious partnerships, with names such as Novartis (NYSE:NVS), Biogen (NASDAQ:BIIB), GlaxoSmithKline (NYSE:GSK), OncoGenex (OGXI) and Achaogen (NASDAQ:AKAO). This is a wise move as it guarantees regular milestone payment revenues to fix liquidity issues so frequent in similar companies. Besides, as some analyst points out, such partnerships could give a small pharmaceutical company like Ionis some hedge against hypothetical future restrictive price controls thanks to big names contracting power. On the other hand, this kind of partnerships clearly limits the potential earnings from developing new therapies. Furthermore, the company can claim more than 20 drugs in clinical studies in its pipeline and above 10 in pre-clinical, which increases the probability of developing a blockbuster.
The company has a proprietary antisense development platform, through which it can test its drugs in lab, pre-clinical and clinical settings.
Antisense therapy deals with pathological genetic sequences of some genes; these genes can be "inactivated" by a synthetic strand of nucleic acid which binds with their mRNA.
The company evaluation by multiples could be done only using forward EV-to-revenues as forward PE and forward EV-to-EBITDA are negative values. In this case, Ionis is trading at a multiple of around 12.6x.
Its peers Incyte (NASDAQ:INCY) trades at 18.8x, Innoviva (NASDAQ:INVA) at 8.9x and Gilead (NASDAQ:GILD) at around 4.3x. Industry guidelines report average multiples of Price/Revenues around 5.82x and EV/revenues in the likes of 6.57x, which might suggest that Ionis is indeed overvalued.
I am not convinced, however, that this should be considered an appropriate peers group for this company.
Hence, I have tried to re-group some similar mid-cap companies which focus on orphan diseases or RNA-therapeutics and to compare them, according to price/revenues and R&D/revenues ratios. I also consider interesting a rough comparison of their pipelines.
Company

Activity

Market Cap

Price/

Revenues

R&D/

Revenues

Employees

#

Ionis

(IONS)

Rna-targeted therapeutics;

Rare diseases; Oncology

4.81B

12.44

0.9934

435

Alnylam

(NASDAQ:ALNY)

Rna-targeted therapeutics;

Genetic diseases

4.11B

87.17

8.1086

514

Bluebird

Bio

(NASDAQ:BLUE)

Genetic diseases; Oncology; Rare diseases

3.468B

563.40

33.2697

328

Horizon

Pharma

(NASDAQ:HZNP)

Rare diseases; Rheumatology; Primary care

2.343B

2.39

0.0619

1.05K

Intercept

Pharma

(NASDAQ:ICPT)

Rare diseases;

Non-viral liver

2.699B

108.18

6.1678

456

Ultragenyx

(NASDAQ:RARE)

Rare/ ultra rare diseases;

Genetic diseases

2.445B

18383.46

1377.4737

376
Company

FDA

Approvals #

Clinical stage

Drugs #

Pre-Clinical stage Drugs #

Ionis

3

25

12

Alnylam

---

5

15

Bluebird

---

4

5

Horizon

11

---

---

Intercept

1

4

1

Ultragenyx

---

6

---
Ionis shows a consistent and efficient use of its resources, and seems slightly undervalued with regards to its revenues compared to these peers, especially after having examined its solid and extensive drugs pipeline.
The graph below shows the revenues' trend and estimates for 2017.
Revenues in 2016 exhibited a growth of 22% from the previous year ($346.6M vs $283.7M). Estimated revenues for 2017 are +6.4%, as $368.7M according to analysts.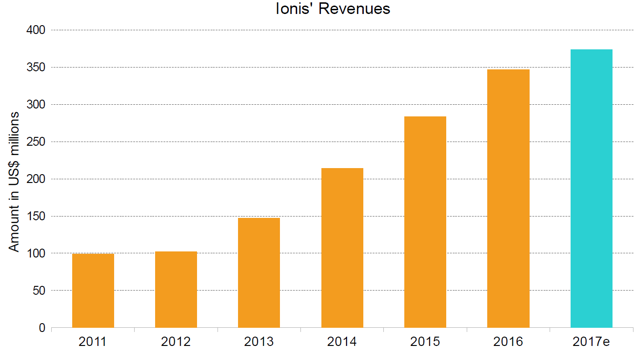 Pipeline's highlights
Ionis has 3 drugs that have already been approved by the FDA. They are Spinraza, developed with Biogen (BIIB), Kynamro and Alicaforsen.
In late-stage development we find Ionis-TTRRx, Volanesorsen, Custirsen and Plazomicin. All of them are focused to tackle diseases with limited or no therapeutic options.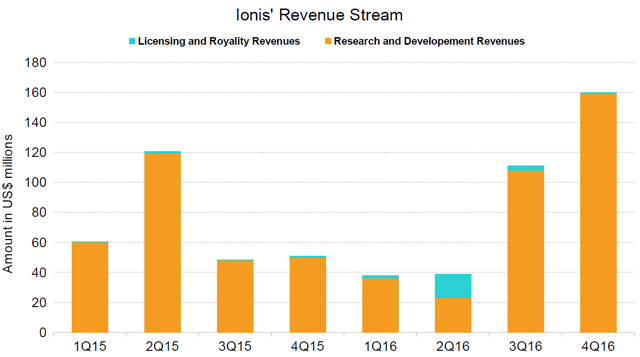 The graph above shows the sources of revenues. They originate from R&D under collaborative agreements and from licensing and royalty revenues.
Financials
Current price is $38.85 per share (7th April). One year price target has been estimated at $46.73.
Ionis has 52Wk Low of $19.59 and a 52Wk high of $57.00.
Price/book is 47.47 and market capitalization is $4.81B.
Quick ratio is 5.91 and current ratio is 5.96, which both show a consistent liquidity.
| | |
| --- | --- |
| Total Revenues | 346.62M |
| Gross Margin | 16.56% |
| Net Profit Margin | -24.97% |
| Operating Margin | -14.52% |
| ROI | -10.97% |
| ROE | -57.64% |
| ROA | -9.31% |
| Cashflow per Share | -0.6379 |
| Total Debt/Total Equity | 5.92 |
| Market Capitalization | 4.81B |
| Total Debt/Total Capital | 0.8554 |
| Book value/Share | 0.8186 |
| Tangible Book value/Share | 0.6511 |
| Beta | 2.6215 |
| Shares Outstanding | 121,203,000 |
Earnings

Estimates

Current qtr.

(March 2017)

Next qtr.

(Jun 2017)

Current year

Next year

No. of Analysts

10

10

12

11

Avg. Estimate

0.04

-0.34

-0.5

-0.23

Low Estimate

-0.56

-0.54

-1.36

-2.34

High Estimate

1.15

0.18

0.76

2.94

Year Ago EPS

-0.52

-0.47

-0.69

-0.5
| | |
| --- | --- |
| Growth Estimates | IONS |
| Current qtr. | 107.70% |
| Next qtr. | 27.70% |
| Current Year | 27.50% |
| Next Year | 54.00% |
| Next 5 years (per annum) | 41.00% |
Over the last year the stock has fallen -10.93%. Short interest data for 03/15/2017 show an interesting decrease of 14.53% since the 02/28/2017. The stock has been downgraded at the beginning of March by Goldman Sachs to Neutral, which has led to an adjustment in price.
Currently Ionis has a 9.4% float short and a short ratio of 5.87.
Analysts consensus recommendation is 2.80 in a range from 1 to 5, where 1 is a strong buy and 5 is a strong sell.
Share Price Forecast:

12 month price target

Change %

Target price

High

69.9%

66.00

Med

21.0%

47.00

Low

-56.2%

17.00
The median estimate is a 23.98% increase from price of 38.85.
Summing up, it has to be said that despite exhibiting a well-rounded and diversified pipeline, the risk of not achieving successful trial results is still strong. As a plus, the ability to profit from an hypothetical blockbuster is limited by its partnerships. Furthermore, the unstable political situation increases uncertainty in healthcare regulations. Lastly, we should not forget that most analysts forecast negative profits for this company well over the next year.
However, I do believe that Ionis Pharmaceuticals stock has a solid growth potential, due to a sound and smart business model, its highly experienced management, important strategic alliances, its proprietary antisense drug development platform, a very promising pipeline and the help of the recent price adjustment.
Disclosure: I/we have no positions in any stocks mentioned, and no plans to initiate any positions within the next 72 hours.
I wrote this article myself, and it expresses my own opinions. I am not receiving compensation for it (other than from Seeking Alpha). I have no business relationship with any company whose stock is mentioned in this article.
Editor's Note: This article covers one or more stocks trading at less than $1 per share and/or with less than a $100 million market cap. Please be aware of the risks associated with these stocks.