MannKind (NASDAQ:MNKD) stock rose early in the Friday session when investors mis-interpreted the monthly sales numbers for the weekly numbers. The irrational exuberance that followed what appeared to be great numbers drove the equity to as high as $1.55 before reality set in and the stock gave back almost all gains. The reality is that MannKind stock is now dipping to a point where thoughts about de-listing worries are beginning to creep into the minds of the street just one month after the company conducted a 1-for-5 reverse split to remedy its previous bout with NASDAQ listing requirements.
For the week ending March 31st, Afrezza scripts came in at just under 290. This is progress from the 256 delivered in the week prior, but is still multiple times below what is needed to really excite the street. The week over week move was better than this company had seen in weeks.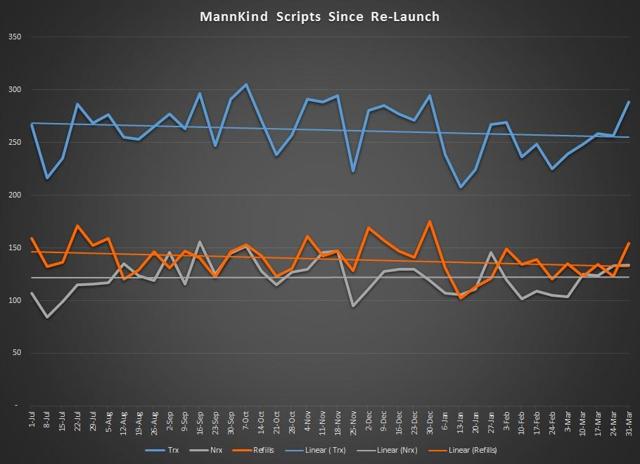 Chart Source - Spencer Osborne
On a quarter over quarter basis the news is not so good. Despite reporting the highest level of scripts for the quarter, the 288 scripts for the week ending March 31st were not enough to keep the company from its worst full quarter of sales in the last two years. Afrezza finished Q1 with just 3,204 scripts sold. This performance is dismal when one considers that Q1 has fewer holiday interruptions than Q4. Sales in Q1 of 2017 were 10.33% lower than what was delivered in Q4 of 2016. The company did shift its sales force strategy in Q1, but that is not any measurable consolation for the low level of sales that have been delivered since the company took control of Afrezza sales 9 months ago.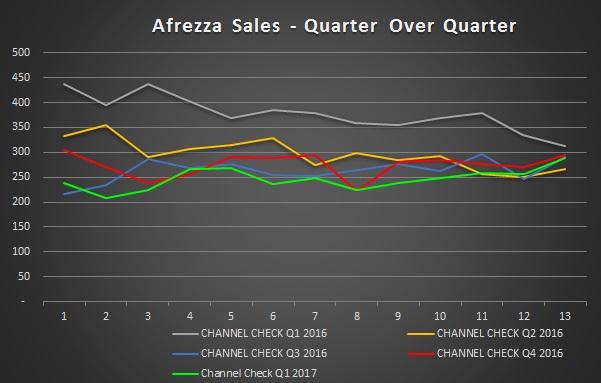 Chart Source - Spencer Osborne
On a year over year basis the sales in Q1 of 2017 were over 1,700 scripts lower, or a full 34.92% lower. This is an improvement fromsales that have been nearly 50% lower, but any time the year over year number is negative it is not something to be satisfied with.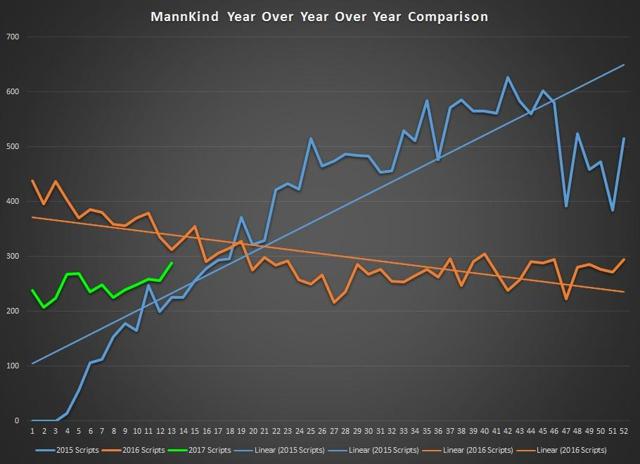 Chart Source - Spencer Osborne
In terms of projections, Afrezza is now actually above the model I laid out. I would like to say that this is impressive, but my model was for what I felt would be the realistic sales trajectory As stated, MannKind has to do multiple times better than my model to impress the street. Afrezza sales in aggregate remain below my projections, but the trajectory is seeing a decent match to what I outlined for a realistic sales model.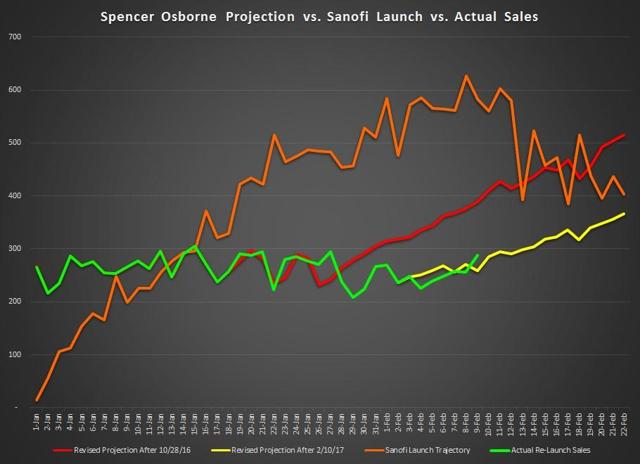 Chart Source - Spencer Osborne
The cash situation at MannKind remains desperate. Why sugarcoat the reality? I estimate that MannKind has about $41 million in cash remaining and another $31 million in credit. The company has $20 million in debt payments due in the months ahead, and essentially has enough cash to get into early July. In my opinion this company needs to address its cash situation in May or the cash tallies will give away all leverage. Some investors hope to see a partner, but none have materialized as yet, and if the company must dilute, I anticipate it to be a substantial blow to current shareholders.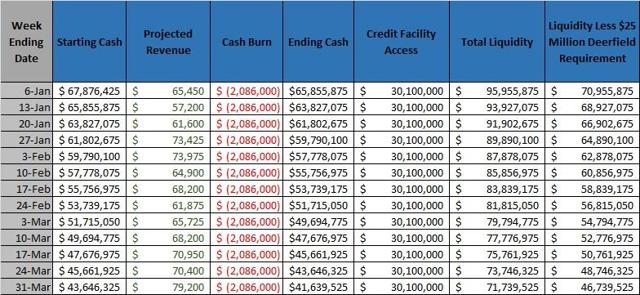 Chart Source - Spencer Osborne
The last item to cover this week is the SEC filing that the company foisted upon shareholders as the market closed on a Friday. I call this filing the golden parachute filing. Essentially management is seeking to give certain executives some guarantees just in case there is a change of control at MannKind. Change of control could be triggered by several things, but obvious ones are a buyout or a bankruptcy.
The filing today give seven senior management people a pretty good golden parachute.
Matthew J. Pfeffer, Michael E. Castagna, David Thomson, Ph.D., J.D., Raymond Urbanski, M.D., Ph.D., Joseph Kocinsky, Rose Alinaya and Stuart A. Tross, Ph.D. have all been presented with the following golden parachute terms:
Each Change of Control Agreement provides that during the two-year period following a change of control of the Company, the Executive will (NYSE:I) have a position and duties commensurate to those of the Executive prior to the change of control, (ii) perform his or her services at the same work site as before the change of control, (NASDAQ:III) receive an annual base salary at least equal to the Executive's annual base salary in effect during the year in which the change of control occurs, (iv) be eligible for an annual performance-based bonus equal to the average annual bonus paid or payable to the Executive for the three years prior to the change of control and (NYSE:V) receive other benefits.

In addition, each Change of Control Agreement provides that in the event the Executive's employment is terminated other than for cause or if the Executive resigns for good reason during the two-year period following a change of control of the Company (or prior to, but in anticipation of, a change of control of the Company), the Executive will be entitled to certain severance benefits, consisting of the continuation of base salary for 18 months following the date of termination, (ii) the payment of an amount equal to 1.5 times the average annual bonus paid or payable to the Executive for the three years prior to the change of control, a pro rated annual bonus amount for the current year if the performance criteria for earning such bonus is met or if the Company's board of directors determines that all such criteria could have been satisfied if the Executive remained employed for the full fiscal year, (iv) health and dental insurance benefits for up to 18 months following the date of termination, the immediate vesting of all of the Executive's equity awards and (vi) the extension of the time to exercise vested stock options following the date of termination.

The term of each Change of Control Agreement is for a period of two years and will be automatically renewed for additional one-year periods unless either party gives notice to terminate at least 90 days prior to the end of its initial term or any subsequent term. - SEC filing
The bottom line here is pretty simple. Do not read this as something other than it is. Certain management members are basically receiving additional benefits if a change of control happens. It is pretty clear that a change in control in the form of a buyer in these desperate times, or a bankruptcy is the avenue that the Board and management team are trying to protect themselves from. Essentially these people have certain guaranteed protections, while shareholders are left simply hoping to get something rather than nothing. This SEC filing should deliver with clarity a message that shareholders should have understood long ago. The situation at MannKind is getting desperate and options are running out. Stay Tuned!
Disclosure: I/we have no positions in any stocks mentioned, and no plans to initiate any positions within the next 72 hours.
I wrote this article myself, and it expresses my own opinions. I am not receiving compensation for it (other than from Seeking Alpha). I have no business relationship with any company whose stock is mentioned in this article.