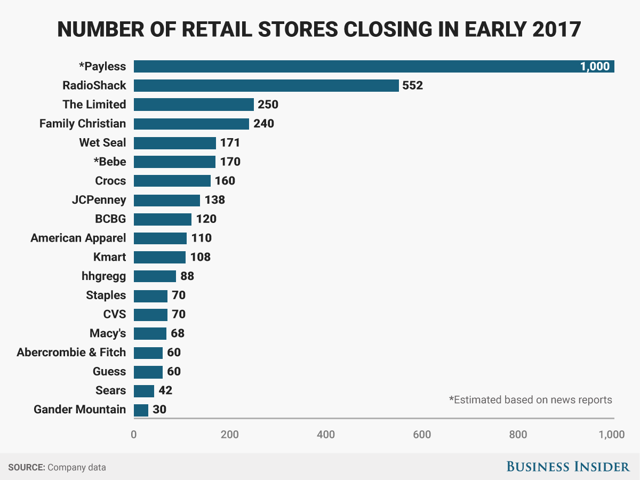 Why was job creation down 50% on Friday?
Perhaps it has something to do with over 3,000 retail stores shutting their doors in the first quarter of 2017 alone. Not small retailers, mind you, but big box retailers, notably Payless Shoes (bankrupt), Radio Shack (bankrupt), KMart, Sears, Macy's...
"This is a forever trend," Mudrick Capital Management told Bloomberg, referring the retail industry's struggles. "When you think about how things are going to look 10 years from now, or 20 years from now, our parents will be dead, our kids will be adults - you think more people are going to be shopping online or less? This is the Amazon effect, and it's here forever."
Now, if you are in the Top 10% and you shop at a mall where there are Nordstroms or Neiman Marcus, you may think things are great because those high-end malls are not in trouble. The rich have plenty of money and have been benefiting from the stock market rally. The rest of America though - not so much.
"This year will be the year of retail bankruptcies," Corali Lopez-Castro, a bankruptcy lawyer told Business Insider after she attended a recent distressed-investing conference in Palm Beach, Florida. "Retailers are running out of cash, and the dominoes are starting to fall."

About $48 billion in loans backed by mall properties are at risk of default, according to Morningstar and that then has a domino effect that hits the banks and, ultimately, investors. Once malls lose anchor tenants and begin to fall apart - they are very hard to turn around, see DeadMalls.com for gory details.
Still, as I noted over at the Nasdaq last week, it's a fantastic stock-picking environment in Retail as a lot of those stocks are now oversold as the babies are being thrown out with the bathwater in retail. 5 stocks on our Watch List are retailers and we've already added long plays on L Brands (NYSE:LB), Macy's (NYSE:M), Sunoco (NYSE:SUN), Supervalue (NYSE:SVU), Target (NYSE:TGT) and Whole Foods (NASDAQ:WFM) - all of which seemed cheap enough to us to begin working into long-term positions.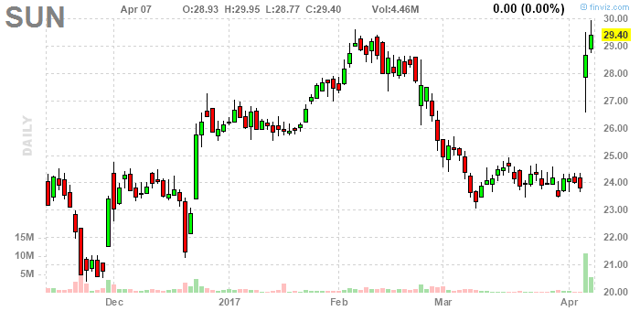 As you can see from the chart, Sunoco already took off last week. The trade idea we shared on March 23.
Buy 1,000 shares of SUN at $24
Sell 10 Sept $22.50 calls for $2
Sell 10 Sept $22.50 puts for $2
The net of that spread was $20 and, in Sept, we will get called away at $22.50 for a quick 12.5% profit in just 6 months AND we get to also collect two (2) 0.826 dividends ($826) for another 8.25% profits so net/net 20.75% profit in 6 months and all we did was buy an excellent dividend-paying stock and hedge it down to $20 for a 20% cushion at the time (and that wasn't anywhere near as good as our 3/9 original entry!).
If you'd like to learn to trade like that, you can follow our Options Opportunity Portfolio, over at Seeking Alpha
Earnings begin this week and that's always fun for some short-term trading. Janet Yellen speaks after the close today at 4:10 pm and we have a lot of Bonds to sell this week so expect them to talk tough about the markets and herd investors into bonds as this sale will be the first test of the Fed's attempt to taper their own purchases.
Neel Kashkari speaks tomorrow at 1:45 pm, just after the 10-year auction and ahead of the 30-year on Wednesday. We get Small Business Optimism on Tuesday and that should be in decline and the Atlanta Fed releases their inflation expectations on Wednesday followed by Consumer Comfort and Sentiment on Thursday and CPI and Retail Sales Friday along with those Big Bank Earnings but the US Markets are closed for Good Friday so that's a bit crazy with all that data coming...
It's going to be an interesting week - stay tuned!
Disclosure: I am/we are long SUN, LB, M, SVU, TGT, WFM.
I wrote this article myself, and it expresses my own opinions. I am not receiving compensation for it (other than from Seeking Alpha). I have no business relationship with any company whose stock is mentioned in this article.
Additional disclosure: Positions as indicated but subject to RAPIDLY change (currently mainly cash and an otherwise slightly bearish mix of long and short positions - see previous posts for other trade ideas). Positions mentioned here have been previously discussed at http://www.Philstockworld.com - a Membership site teaching winning stock, options & futures trading, portfolio management skills and income-producing strategies to investors like you.