McKesson (NYSE:MCK) is one of the largest corporations from the United States that many of its residents have probably never heard of. In fact, it might surprise you to learn that among all companies in the S&P 500, McKesson has the 5th highest revenue over the last 12 months (trailing only Wal-Mart (NYSE:WMT), Exxon Mobil (NYSE:XOM), Berkshire Hathaway (NYSE:BRK.B) and Apple (NASDAQ:AAPL)). Of course, the margins in the drug distribution business are not quite as high as those enjoyed Apple, but nevertheless, McKesson has been a solid free cash flow generator over the last decade.
However, after several years of strong share price performance, concerns about declining drug prices have caused shares in McKesson to fall from a high of $240 nearly two years ago, to their current level just above $140 today. In fact, whether one looks at a trailing price/earnings ratio or a forward price/earnings ratio, McKesson seems undervalued relative to its recent history: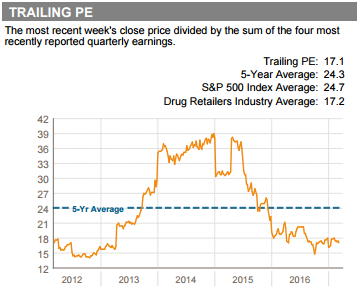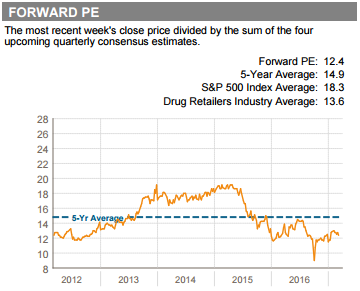 This article analyzes McKesson's past performance to see how efficiently it can turn sales into free cash flow and then uses a discounted cash flow [DCF] model to determine a fair value for the company's shares. It also includes a sensitivity analysis to help give a sense of a range of different outcomes based on modifying two key assumptions.
DCF Model
Note: I invite you to read my original article that outlines the DCF sensitivity analysis methodology. The basic idea is that since the results of a DCF analysis can be heavily skewed by making minor changes to the terminal growth rate or firm's cost of equity, I have used a range of long-term growth rates and discount (cost of equity) rates in my analysis below. By using one's own estimate of long-term growth and an appropriate discount rate, each individual investor can come up with their own target price for the security in question.
To get a sense of how effective McKesson is in turning sales into free cash flow, the past 5 years of data is analyzed:

As previously mentioned, drug distribution is a notoriously low margin business. Therefore, one should not be surprised to see that McKesson is only able to generate an average of a little over 2 cents in cash flow for every dollar in sales it achieves. However, capital expenditures are modest - an average of less than $500 million annually over the last 5 years (equal to just 0.32% of sales). The DCF model will use these two averages moving forward to estimate future operating cash flows and capital expenditures.
While analysts predict that sales will grow nearly 4.5% this year, future sales growth is expected to slow in 2018. Based on this forecast, I am a assuming a (fairly modest) long-term revenue growth rate of 1%. The model assumes that revenue growth rises in a linear fashion from 2018 through 2022 (when it reaches the 1% long term rate). Using the ratios calculated above and after adding back the after tax interest expense, the following free cash flows are estimated:

These free cash flows (along with a terminal free cash flow estimate) are then discounted back to the present time using McKesson's projected cost of equity. Various different estimates of its beta are available depending on the time frame used, but as per my explanation in this article, the "adjusted beta" of the stock was calculated to be 1.05. Based on a 8% market risk premium and risk free rate of 2.5%, McKesson's discount rate is estimated to be 11%. If you feel like a lower or higher discount rate is warranted, you can see how changing that variable impacts the results of the model in the sensitivity analysis at the end of the article.
After subtracting the firm's approximately $6.7 billion in net debt, the model reaches the following conclusion: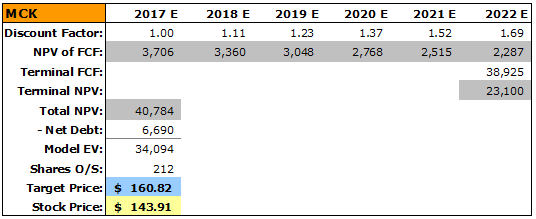 Using several fairly conservative assumptions (including no improvement in margins and a mere 1% long-term growth rate), the cash flow analysis suggests McKesson's shares are currently undervalued by a fairly significant margin of 12%.
Sensitivity Analysis
However, my favorite part of this DCF model is the sensitivity analysis. The below table allows the reader to view the results of 35 different iterations of the McKesson model using a range of long-term growth estimates and discount rates. The target prices range from a low of $133 to a high of $232 - the cells highlighted in green are more than 10% above the current share price:

One particular aspect about this chart that interests me is the lack of any red cells (which would suggest a scenario where the stock is currently overvalued by 10% or more). Even assuming zero future sales growth, McKesson shares appear reasonably priced. Once any sort of future revenue growth is accounted for, significant upside emerges.
While current McKesson investors might be disappointed to see only 12% upside to the target price in the base case scenario, they should be excited about this sensitivity analysis, which suggests limited downside and the potential for shares to surpass the $200 level once again if growth expectations rise even a little bit.
Disclosure: I/we have no positions in any stocks mentioned, and no plans to initiate any positions within the next 72 hours.
I wrote this article myself, and it expresses my own opinions. I am not receiving compensation for it (other than from Seeking Alpha). I have no business relationship with any company whose stock is mentioned in this article.