Construction Spending
The construction spending report includes the total value of all new construction activity for residential, non-residential and public projects. Overall construction spending rose 0.8% in February, and the year-over-year rate of growth was 3.0%. The construction of single-family (+1.2%) and multi-family homes (+2.0%) made progress, while non-residential construction continues to be soft, as businesses remain cautious with respect to capital spending.
Spending by federal, state and local governments continues to decline on a year-over-year basis, dragging down overall construction activity. A Trump administration's success in enacting a major infrastructure program would have a meaningful impact on this segment of the economy. Hope remains eternal, but hope is not one of my forecasting tools.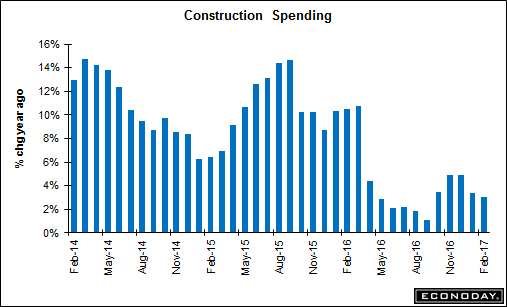 Factory Orders
Factory orders measure the change in dollar value for both durable and non-durable goods orders. This report updates the most recent durable goods report with more information.
The increase in factory orders is all about transportation (aircraft). Orders rose 1.0% in February, but excluding transportation they rose just .04%, and core capital goods (excluding defense and aircraft) declined 0.1%. What is discouraging in this report is that inventories have risen in seven of the past eight months, while unfilled orders, which saw no change last month, declined in the previous three months. These developments do not bode well for future production or employment.
Business investment, as measured by new orders for non-defense capital goods excluding aircraft, fell 0.1% in February, which runs completely contrary to the surge in business confidence evidenced by surveys.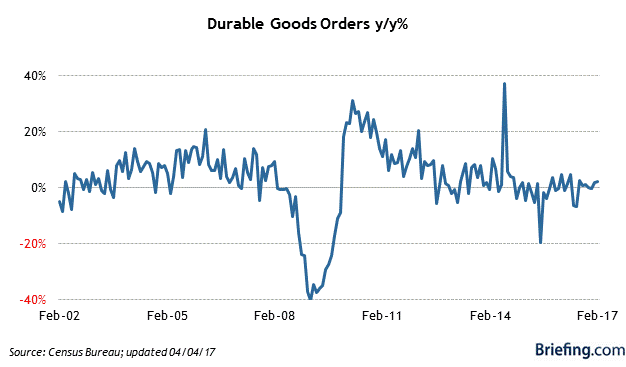 Auto Sales
Nothing concerns me more about the rate of economic growth than the ongoing decline in auto sales, which is a huge factor in overall retail sales. The chart below indicates that the current sales cycle is over, as year-over-year sales declined 1.6% in March. Inventories are at the highest level in a decade, incentives have reached a level not seen since the financial crisis, and financial conditions for borrowers are beginning to tighten. This segment of the economy will undoubtedly be a drag on growth in 2017.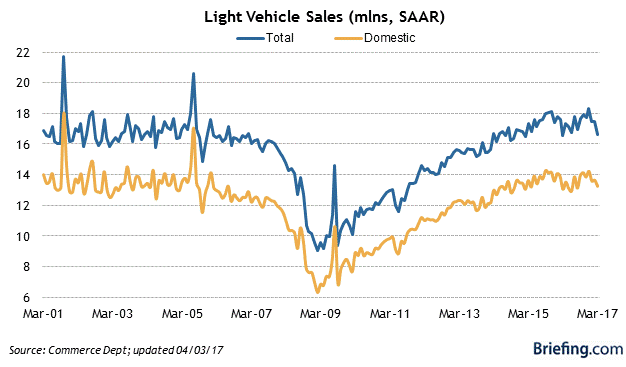 ISM and Markit Services Indices
The Institute for Supply Management's service sector survey declined to a still respectable reading of 55.2% in March, which indicates continued growth for the service side of the economy. Readings above 50 indicate expansion, while readings below 50 indicate contraction. The weakest category of this report was the employment sub-index, which was an early warning sign that job creation for March would disappoint.
The ISM indicates that a reading of 55.2 corresponds to an annualized rate of economic growth of 2.4%, based on historical analysis, but this appears to be an overestimation in my view. Because this index is a survey of purchasing managers, with no weighting as to the size of the firm or measurement of how much better or worse off business conditions may be, it has limitations. Yet it is closely followed by economists and market participants. It is likely that many of the pro-growth proposals from the Trump administration could be impacting the survey results.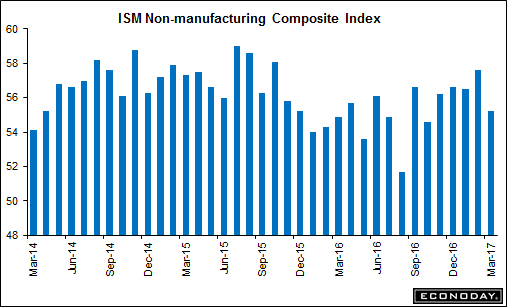 Markit's PMI Services index fell to a six-month low of 52.8 in March, down from 53.8 in February, wiping out all the post-election gains. Yet this survey still indicates a continued modest level of growth for the service sector.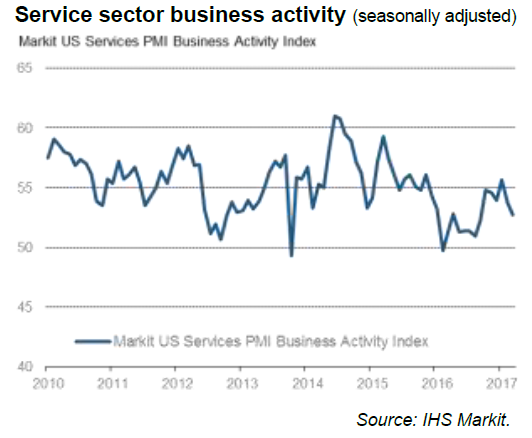 ISM and PMI Manufacturing Index
The Institute for Supply Management's manufacturing index edged lower to 57.2 in March from 57.7 in February, which was the first monthly decline since August. Still, this is a very strong report across the board and indicates continued strength for the manufacturing sector. A key source of this strength is the rebound in energy exploration and production. What remains troubling is that the hard data has yet to catch up with the level of strength we see in this survey. The ISM suggests that current readings are consistent with an economy growing at an annualized rate north of 4%, but that is clearly not happening.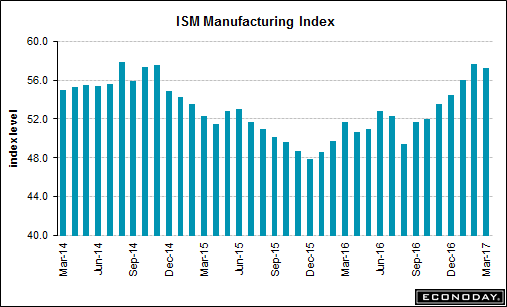 Markit's PMI Manufacturing index continues to show less strength than the ISM report, falling for a second month in a row, from 54.2% in February to 53.3% in March. The new orders index was a five-month low, while inventories, output and employment all weakened as well.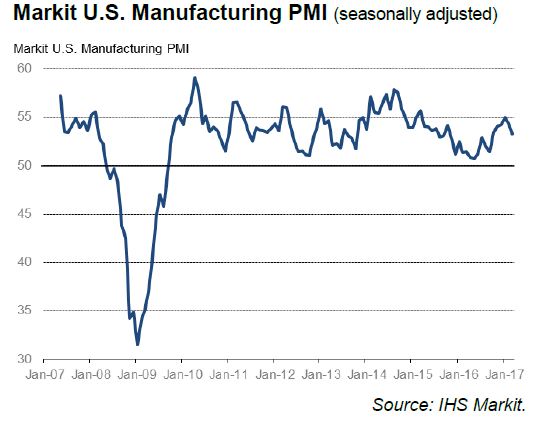 The Jobs Report
Investors, including President Trump, celebrated the initial estimate that 235,000 jobs were created in February. Little attention was paid to the fact that the unseasonably warm weather was a significant factor. The payback came in March, during which just 98,000 jobs were supposedly created, while February's figure was revised lower by 16,000 and January's figure was revised lower by 24,000. In ten of past twelve months for which we have a final estimate, that number was lower than the initial estimate, which indicates to me that the rate of job creation is slowing demonstrably.
As all who follow my work know by now, I place far more emphasis on the income workers earn rather than the number of new workers entering the workforce. It is income growth that fuels consumer spending more so than additional jobs. On this count, the data does not look good. Average hourly earnings in March rose 2.7% on a year-over-year basis, down from 2.8% in February, and the length of the workweek shortened from 34.4 hours to 34.3. This leads me to believe that inflation-adjusted weekly take-home pay, which is the bottom line, continued to decline on a year-over-year basis for the third consecutive month. I believe this explains why we have seen a decline in real personal consumption expenditures, otherwise known as consumer spending, for the first two months of the year. It also explains why we are approaching a rate of economic growth of zero for the first quarter of the year.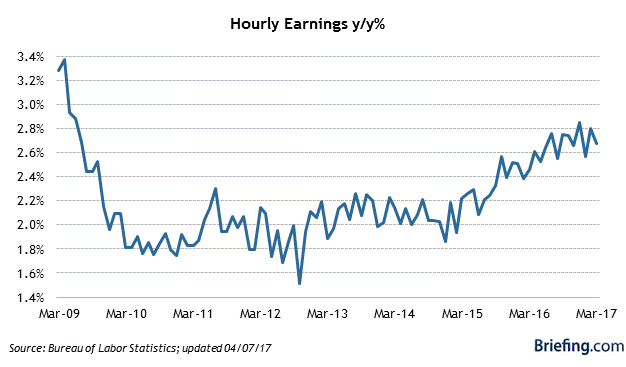 Conclusion
As I prognosticated at the beginning of this year, the rate of US economic growth continues to decelerate despite the strength in consumer and business sentiment surveys. That survey strength was never a factor in my forecast, as it is in the NY Fed's Nowcasting model. Nor do I place a great deal of weight on the ISM and Markit PMI indices, which are also surveys. I am focused solely on hard data that leads, which I think separates this weekly economic analysis from most others.
I anticipated a rate of economic growth of just 1% in 2016, which was measurably below the consensus expectation for a reacceleration in the rate of growth to 2-3%. The final number was 1.6%. The difficulty in forecasting for 2017 is that several significant pro-growth fiscal policies have been proposed, which if enacted could have a very positive impact on economic activity, but they haven't materialized yet. Based on what I have seen year-to-date, I think the chances of fiscal stimulus are waning by the day. Therefore, I continue to expect a deceleration in the rate of economic growth from what we saw in 2016. The narrowing spread between long- and short-term interest rates clearly concurs with this outlook.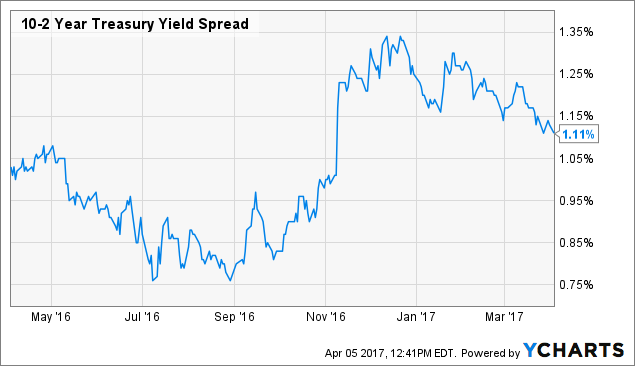 The consensus of economists again expected an acceleration in the rate of economic growth to 2-3% at the beginning of this year, but the incoming hard data has dashed their hopes. After last week's economic reports, the Atlanta Fed lowered its expectations for the first quarter to just 0.6%. Until we see pro-growth policies enacted that result in an increase in aggregate demand in our economy, it will be very difficult to realize an acceleration in the rate of economic growth. The current trajectory has us on course for zero growth.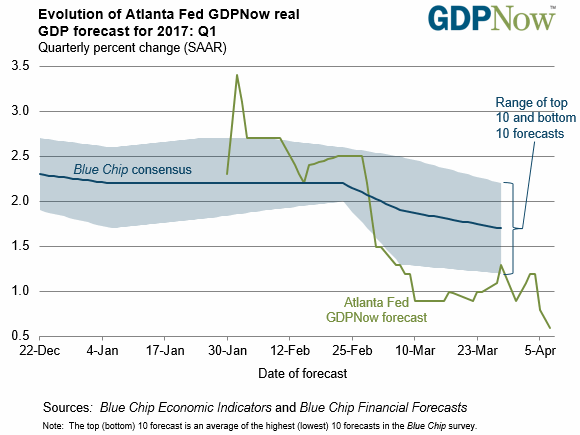 Disclosure: I/we have no positions in any stocks mentioned, and no plans to initiate any positions within the next 72 hours.
I wrote this article myself, and it expresses my own opinions. I am not receiving compensation for it (other than from Seeking Alpha). I have no business relationship with any company whose stock is mentioned in this article.