When looking at high-yielding companies to invest in, investors should look at several things to avoid being caught in a value trap. First, the company should be growing in terms of revenue, earnings, and margins. Second, the company must have a healthy dividend payout ratio. Ideally, I prefer companies with ratios below 50%. A negative ratio or a ratio above 100% raises a red flag. Third, the company's free cash flow should be growing. Also, the company should be in an industry that is growing. In this article, I will highlight five high-yielding companies that investors should avoid.
Frontier Communications (FTR)
FTR has been under siege, with its stock trading near its all-time low. Investors are worried that a dividend cut is imminent. In February, I warned income investors looking for growth to avoid the company because of this issue. Earlier on, in November, Moody's had downgraded the company's credit rating to B1 status. Frontier faces several challenges. It has about $17 billion in debt, and its $10 billion acquisition of Verizon's (VZ) California, Texas, and Florida (CTF) wireline operations is not working out. At the time of acquisition, CTF had 3.3 million voice connections, 2.1 million broadband connections, and 1.2 million FIOS voice subscribers. Unfortunately, most of these subscribers had stopped paying for the services. In July, FTR started a cleanup to weed out the non-paying subscribers. This process is both expensive and time consuming. In the past few years, FTR's revenues and margins are weakening too.
FTR has a dividend yield of 20% which is one of the highest in the market today. In 2016, it spent more than $700 million in paying dividends. It has a payout ratio of -189%, which is not a positive sign for a company. They are simply borrowing money to reward their shareholders. In March, I pointed out that the board should meet and slash or eliminate the dividend. It is their only choice, and I believe that investors have already priced in this scenario.
As I wrote in my previous article, FTR is currently oversold. I also mentioned that a ray of hope exists if the company cuts or halts its dividend or if it starts selling some of its assets. However, because of the risks that exists in the company, I would not advise anyone to invest in the company for the long term.
StoneMor Partners (STON)
StoneMor Partner's stock is currently trading near its all-time low. This is because of several factors. First, most people are today opting for cremation, which is relatively cheaper than burial. Second, there are concerns about its financial health after the company delayed its 10K filing again. Third, just yesterday, the company announced that its CEO and founder was resigning. Also, in November, the company reduced its distribution to partners leading to a downgrade by Moody's. Finally, although the company's revenues have grown in the past few years, the increased costs have led to increased losses. It last made a profit almost ten years ago.
Amidst all the challenges, STON has continued to reward its shareholders generously. In the past five years, the company has spent over $300 million in distributions. It has a forward dividend yield of 16% (down from a whopping 24%) and a payout ratio of -240%. Its free cashflow has also declined sharply. Based on the company's declining fundamentals and the customer shift to low-margin cremation, I believe STON presents more challenges than opportunities for investors going forward.
Stage Stores (SSI)
This is another company trading near its all-time low. This is a company whose market valuation has fallen from $1 billion in 2007 to the current $60 million. During this time, its dividend yield has moved from about 0.5% to the current 23.5%. Its payout ratio has moved from an impressive 8.8% to the current -44%.
Stage Stores finds itself in a difficult position. Its revenue has seen a sharp decline in the past few years. It blames its reducing revenues on its exposure to the oil belt, which has been affected by the declining oil prices. Its pivot to e-commerce is not working either. Although online sales are growing, they only contribute less than 3% of the company's total revenue. Large companies like Amazon (AMZN) and Wal-Mart (WMT) have encroached its market by offering similar brands at a lower price. They have bundled their e-commerce services with other services like music and movies to attract the young demographics that SSI targets. Also, they have reduced the challenge of shipping by introducing fast and at times free shipping. As a result, most people are not visiting the shopping malls as they used to do. Last week, SSI agreed to acquire leases from the bankrupt Gordmans Stores using cash and available credit facility. The company's cash has declined from $17 million in 2015 to $13 million this year.
Investors should ask themselves whether there is a path to growth for this company. Personally, I believe its best days are gone and that investors should ignore the attractive yield.
Cato Corp (CATO)
Cato's growth has stalled. In fiscal 2016, its revenues declined to $956 million from $$1 billion a year earlier. In the past five years, the revenues have ranged between $920 million and $1 billion. Net income too has ranged between $46 million (in 2016) and $65 million in the previous year. Free cash flow has fallen from a high of $88 million in 2015 to $44 million. Comp sales have followed the same trend.
The biggest challenge facing Cato, just like other retailers is competition from e-commerce companies like Amazon and eBay (EBAY). As more people move online, retailers too are trying to create an omni-channel model where they are available in all mediums. For Cato, this is not playing out well. In the past two years, e-commerce sales were less than 2% of the total revenue. They are not growing. Competing with e-commerce companies is challenging because they have simplified the delivery process. Amazon offers same-day delivery for customers in certain areas. Its prime package gives customers additional services.
Cato has been growing its dividend yield and payout ratio. It has a dividend yield of 6.48% and a payout ratio of 75%. The chart below shows the company's yield and payout ratio.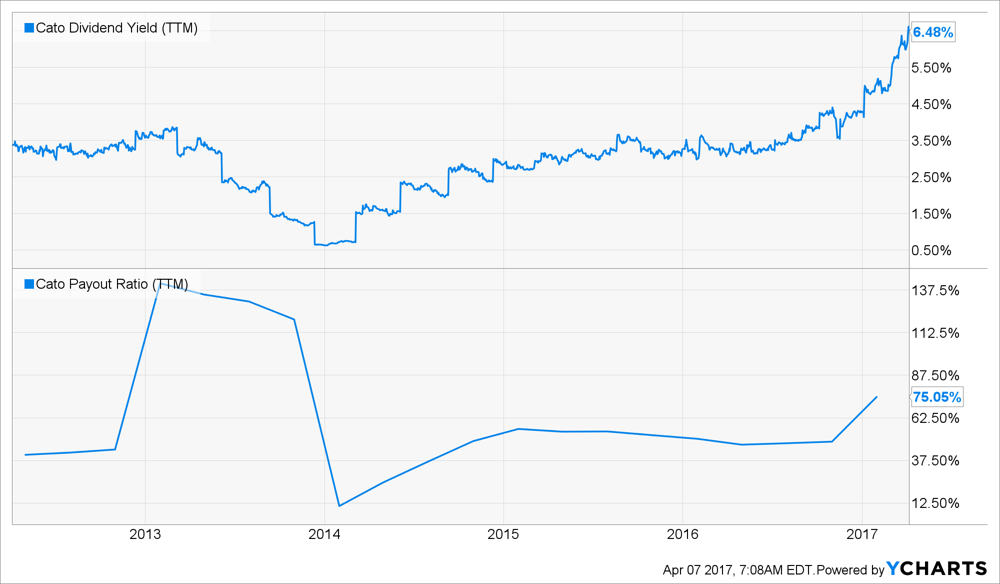 The company's fundamentals are weakening and the it seems that more people are moving to online shopping, I would not recommend this company for a long-term investment.
Guess? Inc (GES)
Just like other retailers, Guess? is having a challenge maintaining the growth it used to years ago. The company's revenues have declined from $2.6 billion in 2013 to $2.2 billion in fiscal 2017. At the same time, net income has declined from $177 million to $22 million. Free cash flow has declined from $169 million to -$19 million. Just like most retailers, GES has turned to e-commerce and store closures. In the past two years, the company has closed 62 stores and plan to shut down 60 more stores soon. Most of these closures are in the United States where the company intends to focus on e-commerce. In Asia and Europe, Guess? is seeing double digit growth.
Guess? has been generous to its shareholders. Its dividend yield has grown to 8.44%. However, its payout ratio has increased from an acceptable 44.5% in 2014 to the current 336%. This means that the company is paying more dividends than it makes in net income. In the last fiscal year, the company paid a total of $76.5 million in dividends against a net income of $22 million.
Although the company's stock price is near its 10-year low, I would not advice any long-term investor to buy the company. As the FCF declines, the board will be required to either slash the dividend or raise money through debt or equity.
Disclosure: I/we have no positions in any stocks mentioned, and no plans to initiate any positions within the next 72 hours.
I wrote this article myself, and it expresses my own opinions. I am not receiving compensation for it (other than from Seeking Alpha). I have no business relationship with any company whose stock is mentioned in this article.
Editor's Note: This article covers one or more stocks trading at less than $1 per share and/or with less than a $100 million market cap. Please be aware of the risks associated with these stocks.