Intel Corporation (NASDAQ:INTC) is a dominant technology company. I think that it has now turned the corner in dealing with mobile computing. Even with only 4 years of increasing dividend payments, dividend growth investors should consider adding it to their portfolios.
Is INTC a good investment partner?
Intel has been a dominant force in the computer world since at least the 1980s. Even today, what Intel does (or even fails to do) has a huge impact on direction of any industry that is dependent on computing power. I am tempted to say, it's Intel, so of course it's a good investment partner. But given that the PC market Intel still dominates is undergoing profound changes and the large place that mobile devices now have in the market, I don't think it's prudent to just rely on Intel's past dominance. I may come to the same conclusion, but it's a worthy exercise to see if Intel's markets are growing, its profits are growing, its debt is well managed and it is able to pay and increase its dividend.
I like a company that recognizes the importance of the items I use to evaluate whether or not to invest. Intel did give me most of this data at its February 9th investor meeting. At these meetings Intel likes to showcase their senior management team, so the information I want is spread across several of different presentations.
First I looked at this presentation by Stacy Smith. Two slides from that presentation address Intel's market and its plan to grow profits in the future.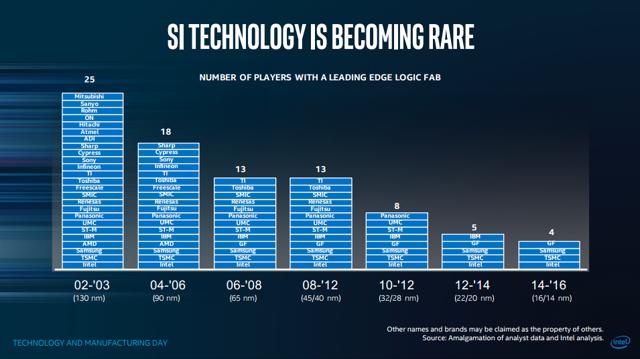 With the smart phone and PC markets both close to saturation, this slide shows that Intel still has the potential to grow its market share as more competitors drop out of the market to produce chips. With sales in the two biggest market segments being mostly replacements, fewer competitors gives Intel the chance to grow its market by taking a larger share of the total market. And with the cost for a new FAB being around $10 billion, not many new players will be able to enter the market.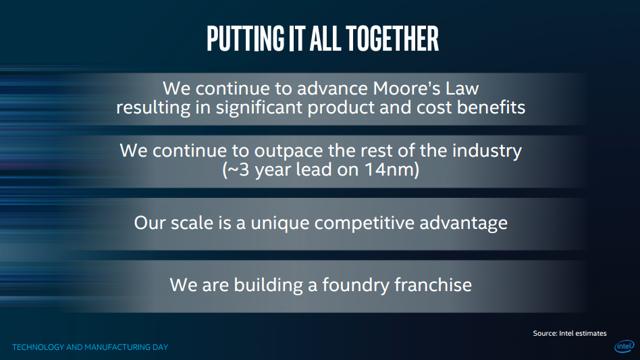 The slide above shows Intel's plan to use its current strengths to grow its market, and likely profits too. Intel still has a significant lead in feature size, so it makes sense to leverage that. Also with fewer chip makers around, it also makes sense to use some of its existing but older FABs to do custom foundry work.
CEO Brian Krzanich is up next with this presentation.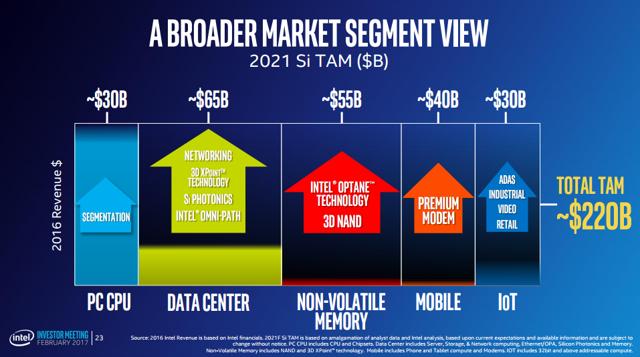 The slide above shows Intel's plan for the future. You can see each segment that Intel plans to be competing in in 2021 and how much it sold in those segments in 2016. While the PC market is the dominant segment today, Intel doesn't see much growth there. With so little growth this once dominant segment will be reduced to the smallest segment by 2021. I think its ambitious for Intel to think it can get $40 billion of revenue from mobile given its past history, but I like that it is willing to try. I have no doubt that this effort will change the direction of modem development, even if Intel doesn't manage to hit its target. If nothing else other modem chip makers will have to take Intel's plans into account in developing their own chips.
Next I looked at Bob Swan's presentation.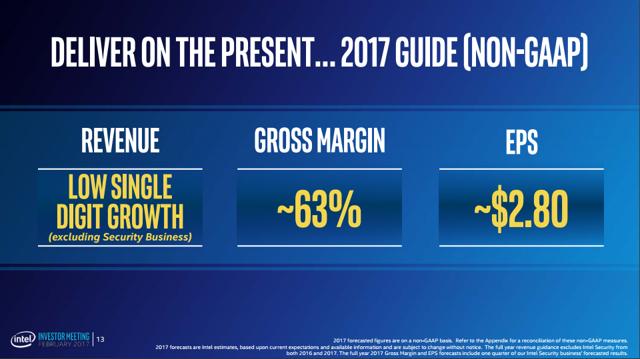 The slide above is guidance for 2017. Revenue growth is modest, but the EPS is just short of a 3% increase from the $2.72 earned in 2016. While I'd like stronger guidance, this is good enough.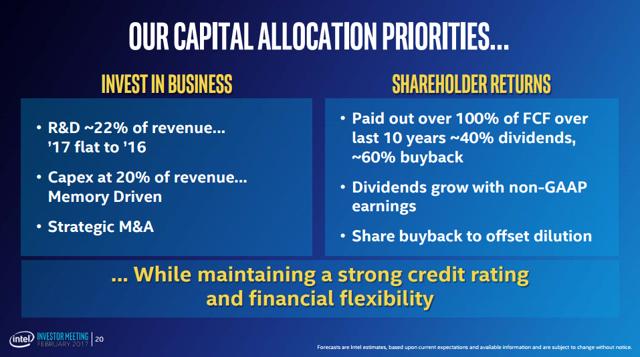 The slide above shows how Intel plans to spend its capital budget. I like that management has chosen an R&D budget based on a percentage of revenue. This will have the effect of pushing management to invest in cost effective research, as that is what will grow the budget. This slide also confirms that the non-GAAP EPS that Intel reports is the more important number for determining future dividends.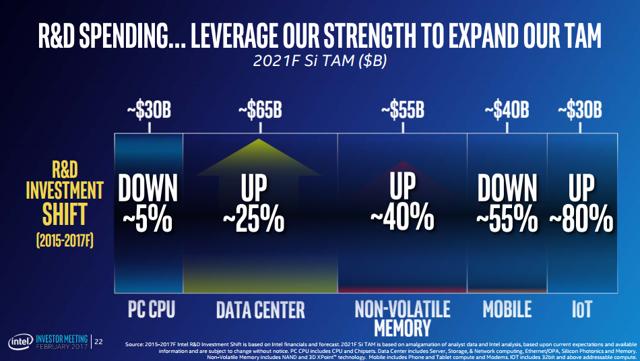 This final slide compliments the slide from Krzanich's presentation by showing the R&D spending for 2017.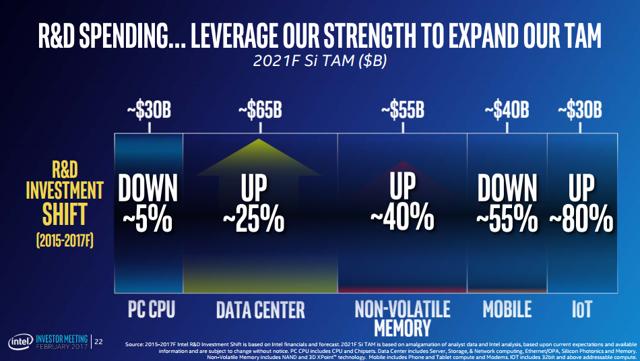 Notice that in PC segment, where they expect little growth, the R&D budget is down. All the segments that management expects to see a lot of growth also get big increases in their R&D budgets. The exception to this is the mobile market. I suspect the decline is due to the 7360 LTE modem entering large scale production (and so not needing R&D funds) and possibly that Intel has a number of partners on the 5G modem development.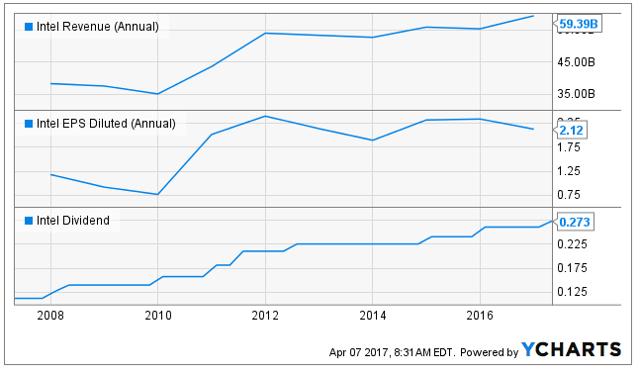 While Intel's presentations do a good job of showing plans for the future, which is important, I also want to see historical trends. The chart above, from YCharts®, shows Intel's revenue, EPS and dividend history over the last 10 years. I very much like the growing revenues over time. EPS also mostly increases over time, with periodic hard times that are fairly short in duration. The latest EPS number does show a decline, but Intel pays its dividends based on its non-GAAP EPS figure rather than the GAAP number. With the dividends I see good growth trend, although there are periods where growth is frozen. I do note that the periods of flat growth happen when EPS is declining, and while they don't make me happy, management has not cut the dividend either.
Checking with Moody's, I see that Intel has an A credit rating. With managements capital spending plan that is enough to show me that Intel is handling their debt well and spending it wisely.

The latest earnings report, released on January 26th, shows a beat on both earnings and revenue. I see no red flags here, so I am not sure why the after-hours market responded negatively. On March 23rd, Intel announced the latest dividend increase. Based on all of this information, I think Intel makes a good investment partner. Yes, there is some risk that dividend increases will not come every year, but I think they are robust enough that INTC is worth the consideration of dividend growth investors. At the right price, I think INTC can be a worthwhile addition to a dividend growth portfolio.
What's a good price?
To figure out a good price, I do a DDM calculation using my Excel® based DDM calculator (pictured below, you can see the web-based calculator I based it on here and read a discussion on how the formulas were developed here). While I normally like to look at the David Fish's CCC List(which contains data on companies that have raised their dividend each year for 5 or more years), Intel hasn't yet raised its dividend payment 5 years in a row. The latest dividend increase, bringing the annual dividend payment to $1.09 is the 4th increase.
Looking at FinViz.com I see that analysts expect Intel to increase earnings by 8.16% a year over the next 5 years. Based on that, and the expectation that earnings will grow about 4.68% in 2017, I will use 5%, the rate of the last dividend increase, as the short term dividend growth rate. Subtracting the current dividend rate of 2.89% from the discount rate and rounding to the nearest number between 0 and 3, I will use 3% for the long term dividend growth rate. This will push one of the terms in my price calculation to a value that will result in a yield of around 3%. If I divide the current dividend of $1.09 by the 4 year average yield of 2.88%, I get a share value of $37.89.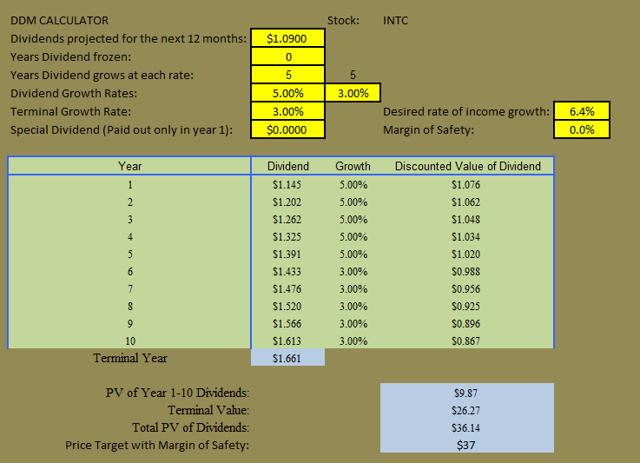 Using the numbers explained above, I calculate that the present value of the dividend stream is $36.14. That gives me a price target of below $37. INTC is currently selling for just under that value, so it's a buy at the current market price.
Can options help?
With my buy price target so close to the actual market price of INTC, I want to try and find some help from options to improve the price I pay of shares of INTC.
To write a cash secured put contract, I want a premium that is higher than the pro-rated dividend with a strike price that is at or below my target buy price. So for INTC, I want a contract with a strike price at or below $36 and a premium of more than $0.10 for each month of the put contract (plus commissions).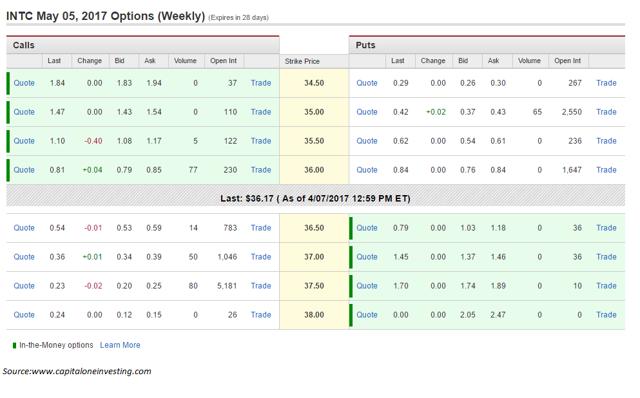 The May 5 th (this is a weekly option rather than a monthly) expiration date offers a pair of interesting possibilities. The $36 and $36.50 strike price puts are both attractive. The $36 put gets a slightly better price if the shares are assigned, but the $36.50 contract has both a better chance of expiring ITM and pays more if the shares aren't assigned. With a Delta of -0.55 I think the $36.50 is just a little better than the $36 with its Delta of -0.45.
The May 5th expiration date also has two very nice call contracts. To write a covered call, I want a strike price that is above my buy price and a premium that exceeds half of the prorated dividend for the time till expiration. Pick either the $37 or $37.50 strike price call. It's again a tradeoff between upfront cash and purchase price. The Delta for the $37 call is 0.34 and it is 0.24 for the $37.50. Since it's more important to me to keep the shares than to get a one-time payment of cash, I like the $37.50 call better but if the INTC share price stays below $37, the $37 strike price contract will give the investor more money.
Conclusion
Intel has been a dominant technology company for many decades. It now seems to have repositioned itself to compete in the new landscaped shaped by mobile computing. Even though it has not yet increased the dividend for 5 years in a row, I think its current price is such that dividend growth investors should consider having Intel inside their portfolios. I will put INTC on my watch list, and if it is still at a good price when I get more cash, I will consider opening a position.
Note: I hope you all got something out of this article. I do appreciate the time you took reading it. If you are one of those who follow me here, I appreciate it; if you'd like to include yourself amongst those individuals, please hit the "Follow" button next to my name as well as following other contributors whose work you enjoy. As always, please leave any feedback and questions you may have in the comments below.
Disclaimer: This article is intended to provide information to interested parties. As I have no knowledge of individual investor circumstances, goals, and/or portfolio concentration or diversification, readers are expected to complete their own due diligence before purchasing any stocks mentioned or recommended. The price I call fair valued is not a prediction of future price but only the price at which I consider the stock to be of value for its dividends.
Disclosure: I/we have no positions in any stocks mentioned, and no plans to initiate any positions within the next 72 hours.
I wrote this article myself, and it expresses my own opinions. I am not receiving compensation for it (other than from Seeking Alpha). I have no business relationship with any company whose stock is mentioned in this article.