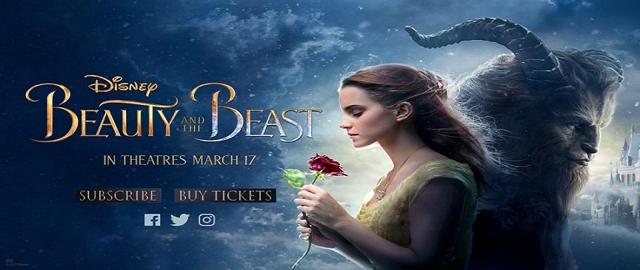 In my previous article just over a year ago I noted that Disney's (NYSE: DIS) growth would be coming from its Studio & Theme Park segments, helping to diversify from its Media Networks segment.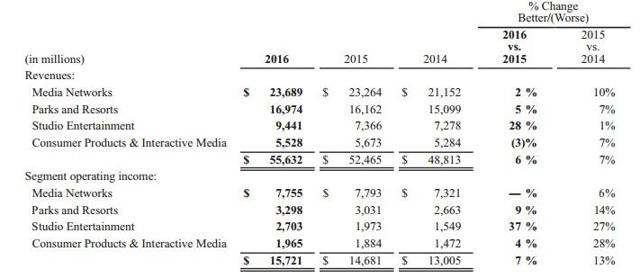 In the company's 2016 annual report on page 31, the Studio Entertainment segment's revenue grew by 28% and operating income by 37%. By dividing the Studio Entertainment figures from the total brought in by the other 3 segments, we can see it amounted to 17.19% of the company's income in 2016, compared to 13.43% the previous year. Due to the nature of the movie business the profit margins are also much higher, we can see this as the company's return on invested capital has been slowly growing over the past 5 years, this will be shown in the historical data below.
Movie List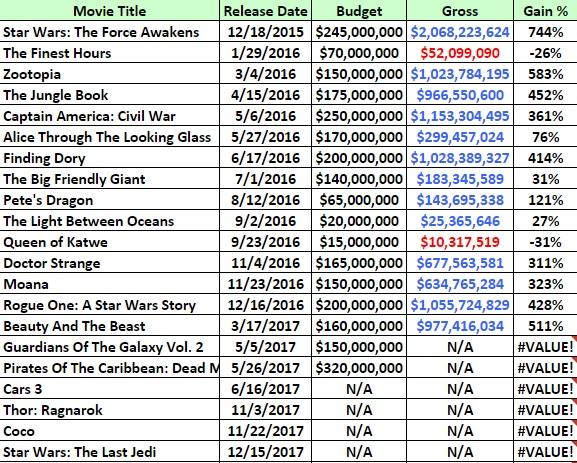 All information in the table is provided by BoxOfficeMojo.
With Disney's acquisition of LucasFilm for $4 billion back in 2012, the company has already grossed more than $3 billion in both The Force Awakens and Rogue One, with merchandise and a Star Wars Land theme at Hollywood Studios in Orlando, it has already proven to be a lucrative investment.
Out of the strong lineup in 2015 including Avengers: Age of Ultron, Inside Out, Cinderella, Ant-Man, Tomorrowland & Bridge of Spies. It should have been obvious that The Force Awakens would have performed the best for Disney, grossing more than 7 times its original investment.
In 2016 it was Zootopia that produced the best return albeit some controversy concerning a claim that Disney ripped off Zootopia from screenwriter and producer Gary Goldman. The federal lawsuit is pretty damning for Disney if there is evidence to substantiate his claim of his visit in 2000 and 2009 to pitch the Zootopia idea with his characters, closely resembling those seen in the Oscar winning animation movie.
In just over 3 weeks Beauty And The Beast has returned more than 5 times its budget, thanks to an all-star cast that gave a stellar performance in the musical. The movie had to deal with repulsive views from senior figures in Russia and Malaysia claiming that homosexuality was being promoted in scenes where LeFou shows his adoration/admiration for Gaston. It's unfortunate that in the 21st century there are cultures that display unacceptable behavior and simple mindedness. Disney had even threatened to pull the movie from Malaysia completely, and I applaud that decision. The movie will most likely end up grossing more than Captain America: Civil War, the highest grossing movie in 2016, only time will tell!
Historical Data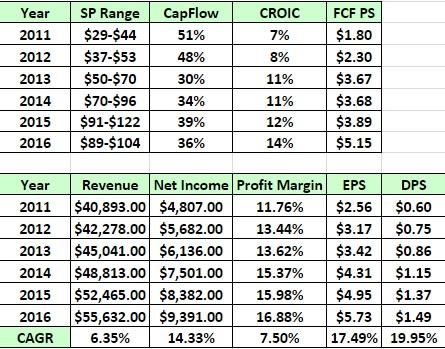 All data has been taken from the 2016 annual report referenced earlier in the article. We can see that the company's top and bottom line is growing at an impressive rate considering the company was founded 93 years ago. The double digit growth in earnings and dividends is sure to continue into the foreseeable future.
The CapFlow metric is simply capital expenditure divided by operational cash flow, we can see that every year cash flow needed for expenses has decreased allowing the company to spend the rest on reducing debt, buyback shares, make acquisitions or increase the dividend. The company's free cash flow return on invested capital has also slowly increased due to margin improvements throughout the business.
The company's free cash flow of $5.15 per share and a dividend of $1.49, means the company only pays out 28.93% of what it can easily afford. This means dividend growth is certain to continue, boosting shareholders total returns.
Conclusion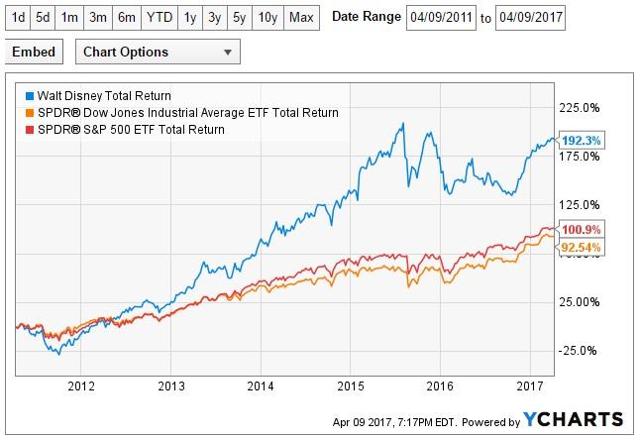 Disney has nearly doubled the performance of both the Dow Jones Index ETF (NYSE: DIA) and the SP500 Index ETF (NYSE: SPY) over the past 5 years. Though the company had underperformed over the past 2 years with a stagnant share price, this gave investors an opportunity to load up and I highlighted that last year.
Due to the current share price of $112.58 and free cash flow of $5.15, I'm unwilling to pay a ratio of 21.86. I'm recommending a HOLD at this time, with a price target of $130.
Disclosure: I/we have no positions in any stocks mentioned, and no plans to initiate any positions within the next 72 hours.
I wrote this article myself, and it expresses my own opinions. I am not receiving compensation for it (other than from Seeking Alpha). I have no business relationship with any company whose stock is mentioned in this article.