Lattice Semiconductor (NASDAQ:LSCC) shareholders voted to approve a $1.3B merger with Canyon Bridge Canyon Bridge Capital Partners, (a private equity fund) on February 28 that values the stock at $8.30 a share. So why are the shares selling today for $6.95? Most importantly, is it a reasonable bet that, sometime in the next 90 days, Lattice will see a completed merger and $8.30 per share price tag. To get a better picture of the situation, it is worthwhile to look at some history, both recent and long term.
Lattice was founded in 1983 and has primarily been in the business of field programmable logic devices. For most of that time, they have run a consistent third place in that market segment, being increasingly eclipsed by Xilinx (NASDAQ:XLNX) and Altera (Now part of Intel (NASDAQ:INTC), both technically and in market share. To understand this market segment, programmable logic devices consist of two types - FPGA (Field Programmable Gate Arrays), which can perform larger and more complex (100K+ gate equivalents) logic operations, and smaller, simpler (and cheaper) PLDs (Programmable Logic Device), which are typically limited to a few thousand gate equivalents. Without getting into technical specifics, programmable logic while having diverse implementation is a very mature technology, with very well understood architectures and applications.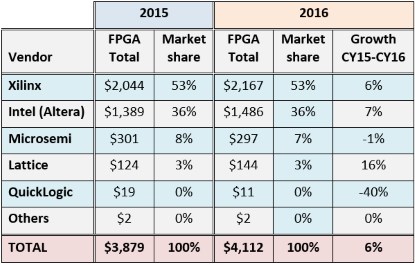 Source EEtimes 3/5/2017
Like many smaller semiconductor companies, there were always ongoing rumors that Lattice Semiconductor was in acquisition talks. However, life got interesting for Lattice investors on November 3, when Canyon Bridge Capital Partners (Canyon Bridge) and Lattice management announced the $1.3B acquisition. It got even more interesting in December when 20 U.S. Congress members wrote to U.S. Treasury Secretary regarding blocking the acquisition of Lattice over security concerns. It appears that Canyon Bridge is funded partly by cash originating from China's central government and has indirect links to its space program. Lattice has countered that it no longer has a significant military business.
The merger received additional attention in February when CJ Rogers, ex-CEO of Cypress Semiconductor (NASDAQ:CY), referenced that Cypress has attempted to acquire Lattice in the past as part of a conflict of interest proxy battle with current Cypress Chairman Ray Bingham (who is also a managing partner at Canyon Bridge). Most recently (March 27), Lattice has announced that they have refiled their review process with the Committee on Foreign Investment in the U.S. (CFIUS) due to "senior level vacancies at different government agencies." Refiling the review process starts the whole effort over for another 75 days, so realistically, the drama will go on until early June.
So, a messy situation, but then again, neatness, while a virtue, is rarely profitable. Right after the merger announcement, Lattice stock hit $7.50-plus, but as a result of the follow-on news it has drifted down to a current steady state price about $7.00 for the last few months. I have taken a position in Lattice at that level, so my opinion is that it can end happily. My reasoning is as follows:
Technically, Lattice is not a leader or even a significant innovator in its major FPGA and PLD business. FPGA technology has been around for 25-plus years, and PLDs have been around for at least 35 years. Xilinx, Intel (via its Altera acquisition), and MicroSemi (via its Actel acquisition) (NASDAQ:MSCC) are all recognized as competitors having generally superior FPGA solutions. PLDs, also produced by Xilinx and Altera, are largely commodity parts. While mediocre technology is rarely a selling point for a tech company, in this case it may be key point for CIFUS' analysis.
The issue of being a military supplier is probably moot, as Lattice has stated it is no longer in the military semiconductor business and in any event there are other well understood options and alternate suppliers for legacy parts if needed.
The CFIUS approval question is obviously the major X-factor, having both political and well as business considerations. It is worth noting in precedent, that other acquisitions of US technology companies of similar size and (lack of) technology impacted by Chinese entities have been approved by CFIUS. The fact that the review had to be refiled due to lack of qualified personnel in CFIUS is troubling in principle, but also gives an indication of the priority of this review. If there were clear and obvious concerns, they should have come to the fore early in the review.
If CFIUS approval does not emerge, Lattice stock will probably take a hit, but it is known that they have been in merger discussions with several other entities, so it is very probable that a comparable successor acquisition bid might be made.
If the merger does not happen, Lattice will receive $58M as a termination fee from Canyon Bridge, not insignificant to a company of its size. As a point of reference, Lattice 2016 EBITDA was $59M.
Assuming the worst case where the deal falls apart and has no other offers, the longer term downside is probably fairly limited. LSCC is currently selling for less than 10% over its price prior to the merger announcement. 2017 is generally a strong environment for technology stocks and Lattice's 2017 forward estimated PE is under 16, in line with its peer group.
So that is the argument. Not something I will bet my retirement on, but if you have some speculative cash, Lattice may be a quick 20% in the next couple of months.
Disclosure: I am/we are long LSCC, INTC, XLNX, CY.
I wrote this article myself, and it expresses my own opinions. I am not receiving compensation for it (other than from Seeking Alpha). I have no business relationship with any company whose stock is mentioned in this article.