The Giant's Awakening
Alibaba (NYSE:BABA) is quickly approaching its 52 week high of $110, up nearly 20% since our last coverage article on Jan 8th 2017. The stock has wholly recovered from an unprecedented drop to a 6 month low of $86 in late December 2016 following threats of fake goods and an US-China trade war. The recovery has been fueled by a strong Q3 2017 earnings reports, strong management guidance, and confident price target upgrades from numerous analysts on the street. The company's e-commerce growth continues to be extraordinary while its high growth cloud service platform, Aliyun, is on pace to become an EBITDA positive segment as soon as next quarter. We believe BABA's recent run towards its 52 week high is only just the beginning for this Chinese internet giant. To support at our thesis, we'll run a discount cash flow model (free cash flow based) to calculate BABA's intrinsic value.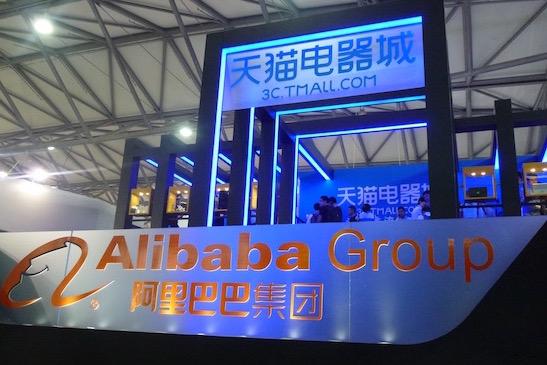 Source: Mobileworldlive
DCF Assumptions
We will use the past 5 year revenue, operating cash flow, and capital expenditure to determine the operating cash flow to revenue margin and capex to revenue ratio for our free cash flow projections. We calculate the average operating cash flow to revenue margin to be 49.8%. This 49.8% operating cash flow to revenue margin is likely on the conservative side because it has gone up every year from 41.9% in 2013 to 56.2% in 2016. We decide to use the conservative CapEx to revenue ratio of 10.8%, which is the highest capEx to revenue ratio for BABA in the last 5 years.

Source: Bloomberg
Our FY 2017 revenue of $22,643 million, which represents 42.3% y/y growth, is derived from the average of 39 analyst estimates via Bloomberg. This 2017 y/y growth rate is far below management's recently upgraded guidance of 54% (it is important note that BABA's FY 2017 ended on March 31st 2017). Our FY 2018 revenue of $29,862 million, which represents 31.9% y/y growth, is pulled from the average of 39 analyst estimates via Bloomberg. We assume revenue growth to decline annually by 5% for FY 2019 to 2021. This linear decline will have revenue growth lower to 15% as soon as 2021. We project terminal growth to be 8%, which accounts for slowing domestic e-commerce growth in combination with BABA's long term growth factors such as Southeast Asia investments (Lazada) and cloud services (Aliyun).

Valuation
For our discount rate, we used the weighted average of capital (WACC) of 13.1%, which is the highly conservative WACC calculated by FinBox.io. We discounted the next five-year growth stage cash flow projections with our chosen WACC and summed them up to arrive at a growth stage FCF total of $54,799 million. Next, we used the Gordon Growth Model (GGM) to calculate BABA's terminal FCF. Our GGM assumes that BABA's business will be valued as a perpetuity with an 8% growth rate (offset by our conservative WACC).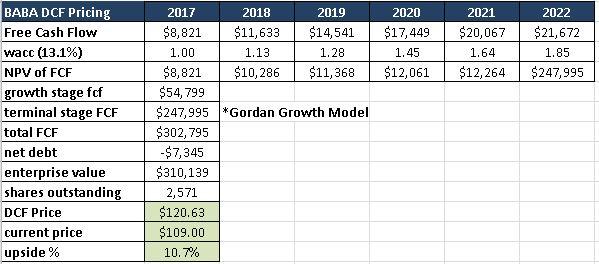 Using the GGM, we calculate a terminal FCF total of $247,995 million (after WACC discount). Together with our growth stage FCF, we project total FCF to be $302,795 million. We subtract BABA's net debt (long-term debt + short term debt - cash and cash equivalent) of $-7,345 million to arrive at an enterprise value of $310,139 million. Given the current 2,571 million shares outstanding, we calculate a stock price of $120.63 using this DCF model, which represents a 10.7% from the stock's current price of $109. (Keep in that our DCF utilized fairly conservative assumptions)
Sensitivity Analysis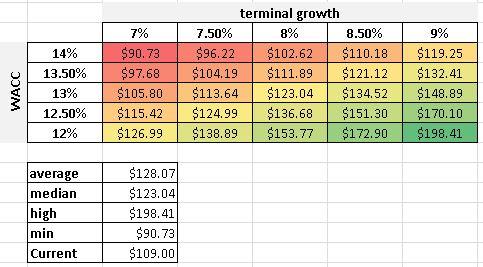 Assuming terminal growth at 7% and discount rate is 14%, we arrive at the low price of $90.73, which signals a worst-case downside of 17%. If the terminal growth rate is 9% and discount rate falls to 12%, we hit the bullish price target of $198.41, which represents a 82% upside from the stock's current price. The average stock price from these 25 scenarios is $123.04, which presents a 13% upside.
Analyst Consensus
Based on data from Bloomberg, 41 of 45 analysts covering BABA have a buy rating while the other 4 analysts have a hold rating. The average of 38 analysts' price target for BABA is $127.09, which represents a 16.6% upside from the current price. Every one of the more recent analyst upgrades (since February 2017) has been a buy, with an average price target of 129$. Based our own analysis, management confidence, and the positive street consensus, we continue to recommend BABA as a conviction buy.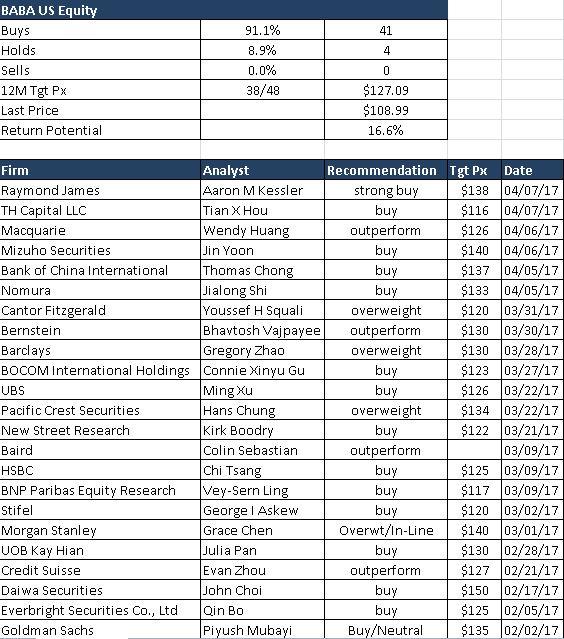 Source: Bloomberg
Disclosure: I am/we are long BABA.
I wrote this article myself, and it expresses my own opinions. I am not receiving compensation for it (other than from Seeking Alpha). I have no business relationship with any company whose stock is mentioned in this article.