(Editor's Note: Investors should be mindful of the risks of transacting in stocks with limited liquidity, such as KNYJF and KNYJY. Kone Oyj's listing in Helsinki, KNEBV.HE, offers stronger liquidity.)
Kone Oyj (OTCPK:KNYJF) (OTCPK:KNYJY) is a global leader in the elevator and escalator industry. The company provides elevators, escalators and automatic building doors, as well as solutions for maintenance and modernization. Kone has been owned by the Herlin family (one of Finland's wealthiest families) since 1924. The current Chairman of Kone's Board of Directors is Antti Herlin (the grandson of the company's founder). Antti Herlin owns 70,561,608 class A shares and 46,191,776 class B shares, representing approximately 22.2% of the total number of shares and 62.0% of the total votes.
Kone makes profits both from selling the new equipment and servicing it over its lifetime. The business model is relatively asset-light, as most of the products are assembled using components outsourced to third party manufacturers. As a result, the level of tangible and intangible assets is relatively low in the business. Capital expenditure is mainly related to R&D, IT, production and business operations. Furthermore, Kone begins working on a client order only after a down payment has already been made; therefore, Working Capital is typically negative. Looking down at the exhibit we can see sales by business and sales by area. New equipment sales account for 55%, while the biggest area is Asia-Pacific. The largest individual countries in terms of sales are China (30%), the United States (15%), France (5%) and Germany (5%).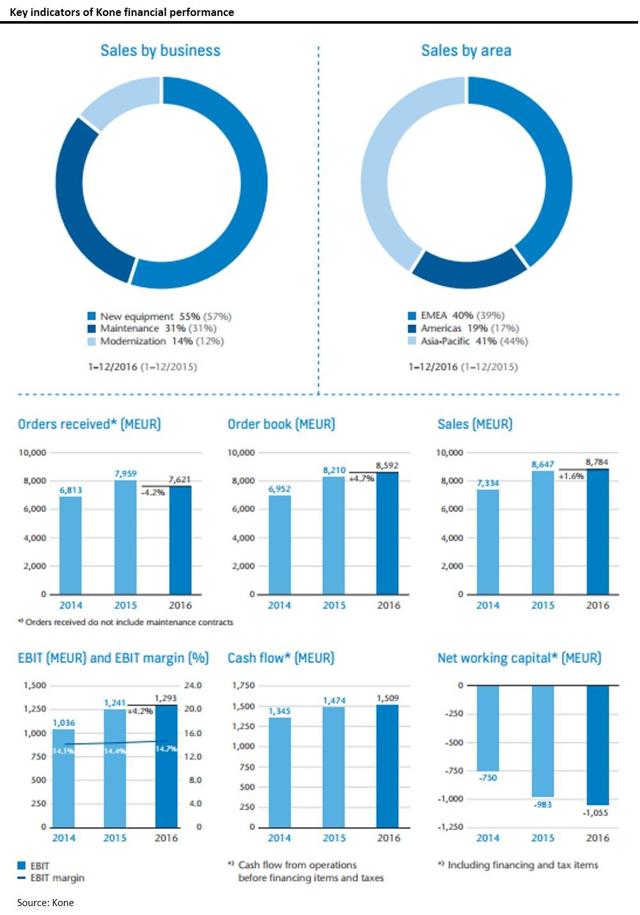 Secular trends
The growth of the elevator and escalator industry is driven by several key mega trends:
Urbanization - significant number of people move to into cities each day (around 200,000). That drives demand for new equipment, which results in the growth of installed base. According to WHO, the urban population in 2015 accounted for 54% of the total global population, up from 30% in 1950 - it is expected to increase to 60% of world population by 2030. By 2015, 70% of the world's population will be urban.
Middle income and aging population are growing rapidly. These two factors contribute to the increasing demands towards housing and infrastructure. People aged 60 and older make up 12.3% of the global population, and by 2050, that number will rise to almost 22%.
Safety and environment - more than 50% of all European elevators and escalators are over 20 years old. Taking into account that the average useful life of an elevator is typically 20-30 years, this means a large potential over time. Buildings account for significant amount of the world's energy usage (around 40%). Despite the fact that elevators account for single digit amount of a building's energy consumption, there are constant efforts for reduction of energy consumption.
Competitive position
There are several factors which make Kone stand out from its competitors: brand, know-how, relationship with clients, position in China, and innovation.
A key tenet of value investing is a competitive advantage. The idea behind competitive advantage is that businesses need to be protected by barriers to entry to earn a return on capital above their cost of capital. Examples of competitive advantages are brands, switching costs and network effects. The dilemma facing value investors today is that whilst competitive advantages continue to be a prerequisite to earning excess returns on capital, it no longer seems sufficient. The pace of change is too fast. Value investors may prefer not to give too much consideration to innovation. However, no matter how strong a company's competitive advantage is, it is unlikely to be sustainable unless it goes hand in hand with innovation. Kone has been recognized as one of the most innovative companies. In 2016, it was ranked 56th out of the top 100 most innovative companies in the world by Forbes, and it was the only company from that sector on the list.
Risks
As an investor, the way I perceive investment risk is not the volatility or beta of the stock, but rather the probability of permanent loss of capital. Although there are many operational and financial risks I will focus on a few that are most pronounced in Kone's case. The first risk is related towards the macroeconomic environment. Given its high exposure to China, Kone's sensitivity to improving or deteriorating macroeconomic conditions in China is significant. Further, failure to anticipate changes in the market environment (new customer requirements and competition). It should be clear and say that Kone operates in a competitive market with strong competitors (Otis (NYSE:UTX), Schindler (OTC:SHNDY) and ThyssenKrupp (OTCPK:TKAMY)). At the end, the fluctuating performances of the euro against the US dollar and many EM currencies pose both upside and downside risk.
To Sum Up
Based on Kone's guidance, net sales should grow by -1% to 3% at comparable exchange rates as compared to 2016. The operating income (EBIT) is expected to be in the range of EUR 1,180-1,300m, assuming that translation exchange rates would remain at approximately the average level of January 2017. Looking into more details, the new equipment market in China is expected to decline by 0-5% in units ordered while in the rest of Asia-Pacific the market is expected to grow and the market in North America and Europe, Middle East and Africa region is expected to grow slightly; (ii) the modernization market is expected to grow slightly in Europe and in North America, and to develop strongly in Asia-Pacific; the maintenance market is expected to see the strongest growth rate in Asia-Pacific and to grow slightly also in other regions.
Putting it all together, Kone is a high-quality company underpinned by strong secular trends. For investors seeking an attractive cash story, Kone may be a smart choice.
Disclosure: I/we have no positions in any stocks mentioned, and no plans to initiate any positions within the next 72 hours.
I wrote this article myself, and it expresses my own opinions. I am not receiving compensation for it (other than from Seeking Alpha). I have no business relationship with any company whose stock is mentioned in this article.
Editor's Note: This article discusses one or more securities that do not trade on a major U.S. exchange. Please be aware of the risks associated with these stocks.