ReWalk Robotics (NASDAQ:RWLK) and Ekso Bionics (NASDAQ:EKSO) are two of the key competitors in the field of supplying robotically-enhanced assistance for walking to those who have either suffered spinal cord injury or stroke. However, the similarities do not end there, as each appears to be dealing with similar struggles to turn cash flow positive, and shareholders of both have felt the pain. Each company recently has required attracting new capital and securing new debt in order to keep afloat. This combination of increased leverage and dilution of shares has pushed down the valuation for both firms, making me wonder if the fledgling field of exoskeletons is a reasonable market segment for retail investors to consider at the moment.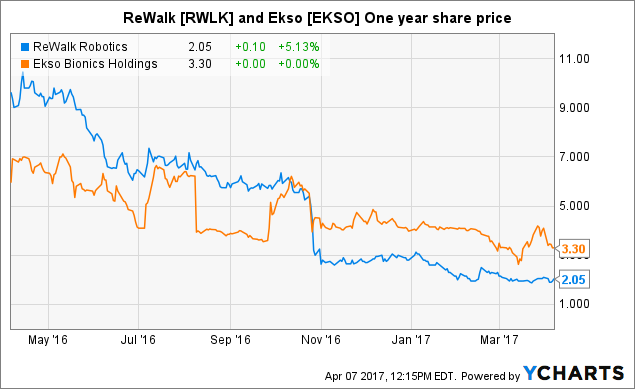 RWLK data by YCharts
As the chart shows, establishing a long position in either of these companies a year ago would not have paid off yet, with ReWalk declining around 80% and Ekso by at least 50%.
While the two have advanced with different strategic priorities and slightly different points of focus, those differences are starting to fade. For example, Ekso Bionics has been focused primarily on serving stroke and spinal-cord injury victims receiving rehabilitation services (making it a more business-to-business model, selling to the rehabilitation centers) while ReWalk has pursued individuals recovering from spinal cord injuries needing something to use at home (more consumer focused, dependent on getting commercial insurance approvals). However, these distinctions are far from black and white; ReWalk sells to rehab centers and hopes to develop a new device approved for stroke victims and those living with multiple sclerosis, while Ekso is preparing to enter the individual, in-home use market. While the technological capabilities and FDA approvals are not completely identical, there is momentum towards greater convergence. Perhaps the single greatest point of differentiation is that Ekso Bionics does have products that are intended for industrial use, for example allowing people greater freedom to handle heavy tools, a category of products ReWalk does not offer.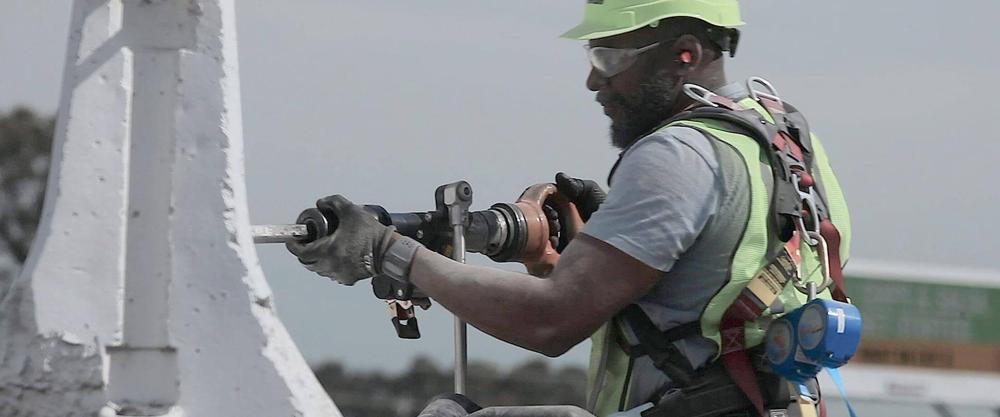 As noble a purpose as their respective products serve, both ReWalk and Ekso Bionics are far from being operationally cash-flow positive. Ekso starts from the larger revenue base - $14.2M compared to $6.9M in 2016 for ReWalk - but it make little difference; ReWalk reported $27.5M in negative operational cash flow in 2016 compared to negative $25.0M for Ekso, and both are almost certainly at least two years away from turning positive (and that is under highly generous assumptions). As a result, both turned to the capital and debt markets recently (information from respective companies' SEC filings and financial statements)
ReWalk Robotics
Ekso Bionics

New debt,

last 6 months

$5.3M of new long-term debt,

added during Q4 2016,

total long-term debt $18M

$6.789M of $10M available,

drawn January 2017

no other long-term debt

Total debt/equity ratio
2.18
1.04

New shares issued

last 6 months

3.250 million common shares,

issued October 2016

3.732 million common shares,

issued April 2017

Dilution effect
Share count grew by 25%
Share count grew by 17%
By these metrics, neither seems particularly appealing, although Ekso Bionics would look to be in a better position - less total debt, lower D/E ratio, and less dilution resulting. Nevertheless, with any positive cash flow something like a distant dream at the moment for either company, there is reasonable potential for more of the same steps in the future, which does not bode well for either current or prospective shareholders.
As the two companies compete more and more directly, the headwinds will not change quickly, and Ekso will come up against the same commercial insurance reimbursement headache that has plagued ReWalk. Technical breakthroughs will certainly continue, and the medical evidence in favor of such exoskeleton systems for patients is quite likely mount as the studies continue. Whether the pressure will eventually tilt the insurance decisions in favor of these kinds of systems is probably not in question, but rather if it will happen in time to benefit these two "first-moving" companies. One possible winner in the space could turn out to be Parker Hannafin (NYSE:PH), a conglomerate that introduced its own FDA approved exoskeleton system, the Indego, into the market last year. The finer points of the three platforms aside, the Indego has the distinct benefit of having a highly diversified, multi-billion dollar company behind it that does not depend on its exoskeleton business for its survival. In other words, it can probably afford to operate at a loss while a more profitable market materializes. The Indego will not even necessarily have to be the best solution from a medical treatment perspective - it just has to outlast the alternatives.
Conclusion
Of the two options, ReWalk looks to have more unique reasons in addition to its fundamentals that suggest further caution:
it is counting the days until June when it could find itself delisted from the NASDAQ due its market cap being under the minimum (see 12/20/16 8-k filing); the stock is already light on daily trading volume, and this move could conceivably drop that average even lower
While analyst opinions are a dime a dozen, Barclays did recently downgrade the stock to underweight, with specific reference to increased competition from Ekso and others
ReWalk has had a lawsuit filed against it pertaining to its September 2014 IPO, claiming misleading information in its prospectus at the time
Regardless of ReWalk's special challenges, the chances of either company creating value for shareholders is questionable, and I do not believe the risks justify an entry for retail investors in general in these specific companies.
As always, please take care to do your own research and due diligence prior to any investing decision.
Disclosure: I/we have no positions in any stocks mentioned, but may initiate a long position in PH over the next 72 hours.
I wrote this article myself, and it expresses my own opinions. I am not receiving compensation for it (other than from Seeking Alpha). I have no business relationship with any company whose stock is mentioned in this article.
Editor's Note: This article covers one or more stocks trading at less than $1 per share and/or with less than a $100 million market cap. Please be aware of the risks associated with these stocks.