All in all, March was another successful month for my dividend growth portfolio. I made 9 purchases during the month, 8 of which added to my income stream. My March dividends were up 81.5% y/y and up 33.6% sequentially from February's total. As I've mentioned before, these increases are so large because I'm continuing to put cash to work as a part of a portfolio restructuring process that began more than a year ago. Throughout 2017 I should continue to see outsized growth as the dividends produced by the purchases I've made over the last year or so settle into my income stream. Right now my cash position sits right around 21%, so I've still got a little way to go before the shopping spree ends.
Here's a list of the purchases I made during the month of March:
| | | | |
| --- | --- | --- | --- |
| Date | Company Name | Ticker Symbol | Purchase Price |
| 3/3 | Kroger | KR | $29.50 |
| 3/3 | Financial Select Sector SPDR ETF | XLF | $24.98 |
| 3/7 | Hannon Armstrong Sustainable Infrastructure | HASI | $19.14 |
| 3/13 | Intel | INTC | $35.14 |
| 3/20 | Novo Nordisk | NOV | $34.24 |
| 3/21 | Facebook | FB | $138.86 |
| 3/23 | FedEx | FDX | $190.75 |
| 3/28 | iShares Core MSCI Europe ETF | IEUR | $44.05 |
| 3/28 | iShares Core MSCI Eurozone ETF | EZU | $37.76 |
Kroger:
I bought shares of Kroger simply because I believed shares had fallen too far. The grocery industry is fiercely competitive and any investment in this space comes with risks, especially related to pricing, margins, and the potential headwind involving continued food deflation. Wal-Mart's grocery volumes are huge and seem to be growing. As a Kroger investor, I worry more about this than I worry about e-Commerce threats this the food space; I expect that digital sales of packaged foods will continue to rise but I think we're a good ways off from people having perishable/frozen items shipped to their homes on a regular basis. With that said, Kroger remains one of the power players in the space, and the best grocery pure play, in my opinion.
KR recently reported Q4 earnings and they were a bit disappointing. The company's full year GAAP earnings were down a penny from the previous year's total. Reported EPS for the year was up 2.8%. The company broke its impressive streak (over 50 consecutive quarters) of rising same store sales, potentially pointing to the fact that the competition is getting the best of them (in the short-term, at least). With that said, the company is trading for 13.3x forward earnings estimates, offers a 1.65% yield, a 5 year dividend growth rate of 15.92%, and a very conservative 22.6% payout ratio, pointing towards the fact that even if sales slow and earnings compress in the short-term, the company's dividend remains safe and could even grow through operational weakness without overly leveraging the balance sheet.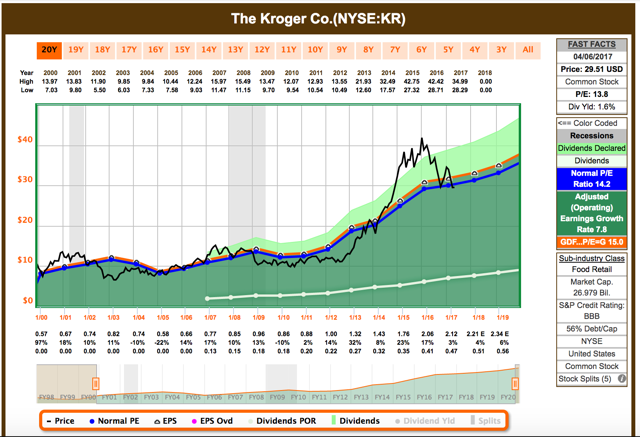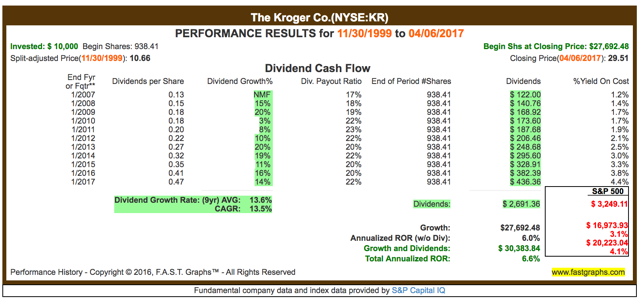 Source: F.A.S.T. Graphs
As you can see above, KR's share price has recently come back down from lofty valuations and now presents a fair value. This is a company that I've owned for years and don't plan on selling anytime soon (everyone has to eat, right?). I actually did sell KR shares in the past though. I originally bought KR for a split adjusted price of $17.79 in February of 2014. One the F.A.S.T. Graph you see that this is the previous time the black line crossed below the blue line, marking an attractive valuation. I then sold roughly half of that position in July of 2015 (right before the recent split) for a split adjusted price of $37.87 for a gain of over 100% in little less than a year and a half. At those elevated prices I thought the stock had become overvalued and I decided to sell shares so that I was playing with 100% house money with regards to my KR position. Well, now that shares have traded back down to fair value (or better), I felt comfortable adding to my KR position again. While I don't expect to see another 100%+ gain over the next 18 months, I do expect to build wealth slowly and steadily with this up and coming DGI star.
Financial Select Sector SPDR:
I recently covered this trade in more depth in this piece. In general, I wanted to continue to build my exposure to the financials as we move forward into the Trump presidency. Although this sector has cooled off a bit recently, I think the value offered broadly here remains attractive and I expect the financials to become market leaders again in the coming months/years.
Hannon Armstrong Sustainable Infrastructure Capital:
I finally bought shares of HASI after watching the company for over a year. I almost pulled the trigger and bought HASI in early 2016 when shares sold off drastically alongside many of the other REITs. I'd been hoping to have a chance to buy shares of this company in the $15/share area for months, but as time moved on I began to realize this may never happen and when shares dipped below $20 recently I decided to initiate a position. I'd be more than happy to add to my HASI stake on further weakness, but in the mean time, I'm happy to have exposure to this company whose values seem to be aligned with my own in terms of sustainable energy and collect 6.65% yield moving forward. HASI has some issues, for sure. Investors are concerned about its ability to maintain REIT status moving forward and how a corporate structure switch would affect the company's operations and balance sheet. There are also concerns about spending in the sustainable infrastructure space, especially under a new political administration that may not incentivize it like the previous one did. Admittedly, HASI is a complex operation that is difficult to understand. This isn't your typical triple net REIT. I'll refer readers to one of Brad Thomas's recent articles focused on HASI; he's a much better resource on HASI than I am. Brad remains bullish on shares at these depressed prices, highlighting the fact that HASI projects double digit core earnings growth (and therefore, above average dividend growth for this sector) when not one triple net company has such bullish projections in the short-term.
Intel:
I added to my Intel stake after the recent news of their Mobileye (NYSE:MBLY) acquisition. I know that not everyone was bullish on this use of cash, but I was. I am happy to see INTC attempting to gain a solid foothold in long-term growth markets, even if it costs them billions of dollars in M&A deals. I think the autonomous vehicle/robot space has the potential to the HUGE and if INTC can effectively integrate MBLY's tech and IP into its current operations and maintain leadership in the space, I think this purchase of the Israeli driverless tech company will pay dividends (literally). I covered this trade in more detail here.
Novo Nordisk (NYSE:NVO):
NVO is one of my worst investing decisions (regarding short-term performance, at least) in the last year or so. This company had been on my watch list for some time; I wrote a couple of bullish articles here on SA back in 2013 but didn't have cash on hand at the time to buy shares, so when the stock experienced a double digit sell-off last August, I initiated a long position. A few days later I added to that position when the stock sold off another 5% or so. I've thought on NVO as a blue chip company in the Diabetes space for years now and I've wanted exposure due to the increased prevalence on this disease worldwide. In general, the dietary trajectory within westernized countries isn't a good one and I suspect that the continued over consumption of processed foods and sugars will continue to make the Diabetes epidemic worse. I believed that NVO had situated itself to benefit from this terrible trend, though I admit now that underestimated competition within the industry. 8 months after my first two purchases I was sitting on a near 30% loss. The share price seems to have established a floor in the $35 area, trading in a tight range since last December. Because of this apparent support, I decided to average down, buying shares at $34.24. I continue to believe that NVO is a blue chip type bio-tech and I plan on sticking with these shares for the long-term. One of my favorite healthcare/bio-tech focused contributors, DoctoRx, recently wrote a piece focused on NVO, comparing its recent share price performance to Apple's (NASDAQ:AAPL) back in 2013. This piece helped to inspire my decision to add to my underwater NVO position; I'd say it's worth a read for investors considering buying shares of this company.
Facebook:
As I continue to dedicate funds towards a more growth oriented basket of stocks within my overall DGI portfolio I wanted to add to my FB position. As odd as this might end up sounding, I think FB is one of the best values in the market today. The stock is trading with a 25x forward EPS multiple, which seems steep; however, the company is expected to continue to post very strong double digit growth into the foreseeable future and carries a premium similar to many of the DGI aristocrats that I follow that are expected to post flat/low single digit growth. When you factor in FB's expected growth rate into the relative valuation argument when looking many of the highest quality companies in the market today, it begins to look very attractive. Alphabet (NASDAQ:GOOG) (NASDAQ:GOOGL) is in a somewhat similar boat here regarding its valuation and growth expectation, though the recent snafu surrounding YouTube and the ad exodus due to subpar quality control had led me to believe that FB is likely to take away a bit of GOOGL's market share in the digital ad space. I already have an overweight GOOGL position within my growth basket, so adding shares of FB made sense to me. The opportunity that FB has with video and eventually virtual reality within the evolving media/entertainment space is huge and I feel very comfortable putting money to work in this company at today's multiples due to the company's stellar management and seemingly bright future.
FedEx:
If you've followed my investing career at all you've probably noticed that I like to own all of the leaders in a potential space, rather than attempting to pick or choose just one of them. I own Coca-Cola (NYSE:KO) and PepsiCo (NYSE:PEP). I own AT&T (NYSE:T) and Verizon (NYSE:VZ). I own Visa (NYSE:V) and MasterCard (NYSE:MA). I own Disney (NYSE:DIS), Time Warner (NYSE:TWX), and Comcast (NASDAQ:CMCSA). I own CVS Healthcare (NYSE:CVS) and Walgreens Boots Alliance (NASDAQ:WBA). This type of list could go on and on. I own nearly 80 positions but many of them are pairs or triplets within an industry that I'm bullish on. Well, after recently initiating a position in United Parcel Service (NYSE:UPS) on weakness, I decided to do the same thing with FedEx when it sold off a bit on recent earnings. UPS pays a much higher dividend than FDX, though it appears that FDX is in a better position to grow its dividend. FDX is currently trading for ~16x forward earnings and is expected to post double digit bottom line growth in 2017. This seems cheap to me, especially in relation to the broader markets as a whole. I believe that the secular shift going on in retail right now from traditional brick and mortar to digital sales serves as a long-term bullish tailwind for the shipping and logistics companies. Both FDX and UPS are working on efficiency measures to deal with higher volumes (not a bad problem to have, in my opinion). There are fears that Amazon (NASDAQ:AMZN) is entering the shipping market and may actually want to become more of a logistics company than a retailer. I think these fears are well placed; when you think about AMZN's business, it's not really the goods that make or break its success, but instead its ability to conveniently deliver goods in an ever quicker manner. I'm sure that AMZN will continue to invest money into its own logistics operations which could potentially take away market share from the likes of UPS and FDX, though in general, I think the e-Commerce related volumes are going to be so high in the future that there will be more than enough room for 2 or 3 large competitors; I'm bullish on this industry as a whole and remain happy to own all of the blue chip players within.
European ETFs:
I bought IEUR and EZU because I was looking to increase my international holdings as a means of diversification. European markets offer attractive relative value to U.S. markets at the moment and it appears that earnings growth is picking up across the Atlantic. What's more, these funds offer yields higher than the major U.S. indexes. I covered these two purchases in greater detail here.
March Income Update:
Here's a list of the 4 dividend increases that I received in march.
| | | | |
| --- | --- | --- | --- |
| Company | Ticker | Increase % | Increase Streak |
| Digital Realty | DLR | 5.70% | 12 years |
| W.P. Carey | WPC | 2.14% | 20 years |
| J.P. Morgan | JPM | 4.17% | 6 years |
| Intel | INTC | 4.81% | 3 years |
None of these increases were huge; however, none of the companies giving increases during march carried exceptionally high income growth expectations. I was happy to see Intel announce an increase when many thought they wouldn't after the Mobileye acquisition. INTC recent froze its dividend, so it's nice to see them beginning to put a new streak together.
In closing, I'll leave you with my long-term monthly dividend income graph. This is the graph I refer to whenever I begin to experience anxiety about the market. This is how a DGI portfolio's income chart should look; it's easy to take solace in these positively trending monthly income totals. I'm looking forward to watching this monthly stair case pattern continue into the future!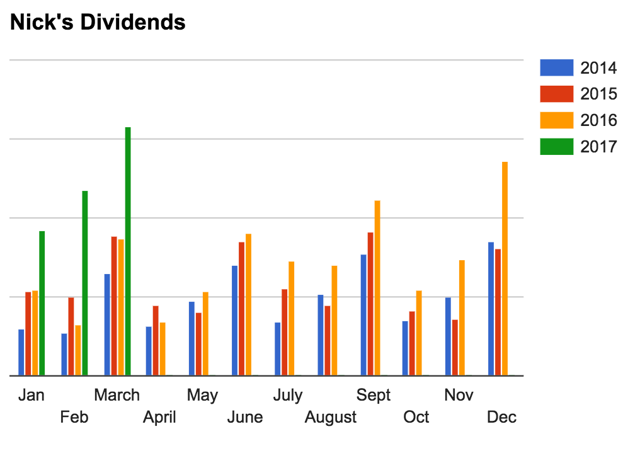 Disclosure: I am/we are long AAPL, DIS, GOOGL, KO, IEUR, EZU, INTC, XLF, NVO, TWX, WBA, CVS, UPS, KR, HASI, AMZN, CMCSA, FB, MA, V, PEP, FDX, T, VZ, WPC, JPM, DLR.
I wrote this article myself, and it expresses my own opinions. I am not receiving compensation for it (other than from Seeking Alpha). I have no business relationship with any company whose stock is mentioned in this article.