Business Bears the Cost and Makes the Big Bucks
I wrote an article last January for Seeking Alpha investors about the worldwide scope of sleep disorders citing ResMed (NYSE: RMD) (OTCPK:RSMDF) as a strong investment. It both provides relief to sufferers, and pockets full of money to investors.
Since then, a slew of articles about the impact of sleep disorder on human behavior and costs to businesses inspired me to dig deeper. The American Academy of Sleep Medicine and Rand Corporation reports cover sleepless nights and the drain on the business economy:
· 23% of Americans suffer serious sleep deprivation
· Only 10%-20% are being treated
· 9M Americans reportedly take sleeping pills
· Lost productivity at work amounts to $63B annually
· 11.3 work days a year are wasted by sleep sufferers
· Absenteeism is higher among this population putting the total cost of poor sleep in the US at $411B or 2.8% of the GDP
· They experience more short term and long term health problems
· Lack of sound sleep affects memory, creativity, critical thinking, multi-tasking, response time and focus, all critical for an effective worker
· Treatments average $1,200 annually but insomnia costs an employer $2,280
Several semesters back, I was asked to teach my new crop of international university students a course on retail marketing. Naturally, I addressed a good bit of the course to social media marketing, which includes high tech wearables and low tech environmental adjustments. Wearables are imperative accouterments of the wellness, fitness and healthcare industries, among overworked, anxious millennials. ResMed is a leader in sleep wearable technology, but it is not without competitors.
Concomitantly, the big dollar therapies are in anti-anxiety medications to induce ataraxia. For instance, sleep-inducing drugs were introduced by
Bayer A. G. (OTCPK: OTCPK:BAYZF) in the early 1900s. Pfizer (NYSE: PFE) branded Atarax, and began marketing it in 1956. The digital age ushered in the plethora of sleep wearables and apps.
ResMed is Still My Choice
I recommended buying RMD in my January article when shares sold in the low $60s. Since then, share price nearly touched the 52-weeks high at $73.46, though pulled back to about $69 presently. I still recommend RMD, because they are leaders in an underserved worldwide market that is expanding.
The company market cap is approaching $10B. RMD pays a dividend yield of almost two percent. Driving ResMed's 10% share price increase was its earnings report at the end of January:
· Revenue for the quarter was $530.4 million, a 17 percent increase compared to the same period of the prior year.
· Excluding the contribution from the Brightree business acquired in April 2016, revenue for the quarter was $496.6 million, a 9 percent increase.
· "We had a strong quarter with 18 percent constant currency revenue growth led by solid growth in our Brightree software offerings and global device sales," Mick Farrell, ResMed's chief executive officer is quoted saying.
· Be aware that ResMed officers and board members have reportedly been selling shares in 2016 and 2017 though admittedly at very high share prices
ResMed faces plenty of competition.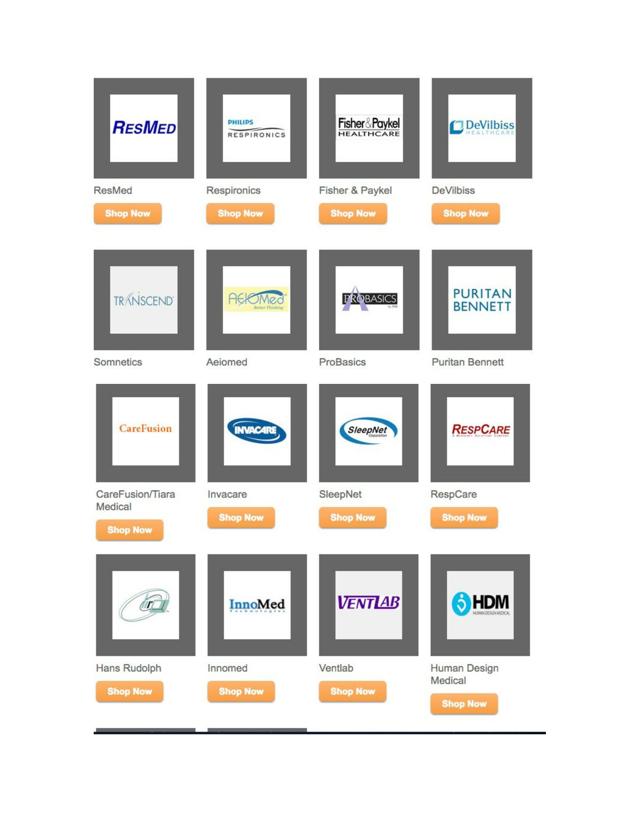 Source: April 6, 2017
A study report from ResMed just released from data collected on nearly 200,000 individuals indicates the (ASV) adaptive servo-ventilation therapy device is a promising treatment option for sleep distressed patients: they use "their therapy longer and had significantly fewer apneas (breathing stoppages or reductions) during sleep."
RMD is furthering enhancing revenues with greater R&D investments in cloud connected patient devices. In February 2017, ResMed announced sleep, ventilator, diabetic, cardio and other therapies patients remotely monitored number 7.1M patients worldwide. ResMed alone, according to mHealth & Home Monitoring, monitors 2M. That's a 45% increase since the end of 2015.
I recommend a "buy" for investors
· Envisioning steady share price gain from increasing revenues and possibly having its products covered and reimbursements expanded under healthcare reform
· Appreciating a respectable dividend yield
· Investing in a growth company reaching rapidly expanding middle-classes in BRICS nations; they suffer the same sleep disorders and anxiety-driven lives as those in developed countries where RMD devices are increasingly popular, they preferring and can increasingly afford devices less bothersome like AVS, and the growing health and wellness conscious forefending drugs
· Investing in a growth like RMD that continues M&A like Jaysec, Curative Medical, Inova Labs, and Brightree
· Because RMD might become a target itself from others in the home medical healthcare equipment business
Two Competitors
New Zealand based Fisher & Paykel Healthcare (OTCPK: FSPKF) designs, manufactures and markets respiratory humidifiers that deliver gases during ventilation of patients and oxygen therapy. Company products for neonatal care include infant resuscitators and CPAP systems.
Shares currently sell midway for $6.63 between the 52-weeks high of $7.87 and low of $5.59. It pays a dividend yield over two percent. It employs some 2,000 fewer than ResMed's 5,000 employees. Only one percent of product sales are in New Zealand. The company benefits from the overall aggressive efforts by the New Zealand government to expand exports into Asia and the Middle East, but there seems little reason to recommend investing in this relatively sleepy company that has no major institutional stockholders and investors.
At the other end of the spectrum is Dutch Koninklijke Philips (NYSE:PHG). PHG is devoting greater attention to healthcare now that it sold its lighting division. One of the best reads about PHG is from Gertjan Menten on Seeking Alpha, April 5, 2017. In the Healthcare sector of PHG is experiencing high growth; however, the Connected Care unit contributed in 2016 far less (184M euros) to the overall EBITA than Personal Health (381M Euros) and the Diagnosis & Treatment (269M euros) units. Philips most recent acquisitions were made in population health management software solutions, digital pathology image analysis, workflow software, and ultrasound imaging to assess blood flow with nothing of significance reportedly invested about expansion of its Respironics (PR) subsidiary.
What is missing from the acquisition list, the web site, and from analyses in financial articles, is much mention about Philips Respironics. This subsidiary of PHG began (1976) as a manufacturer of anesthesia masks in Pittsburgh, Pa. and later CPAP machines and others for chronic obstructive pulmonary disease. In 2008, a buyout of PR was completed for $5.1B by PHG.
Suffice to say that PR is a small unit in the Philips Healthcare sector. The latter employs more than 37,000, while Respironics reportedly employs 4,900 today, or about the same number as ResMed. Let me suggest two options investors ought to keep in mind going forward in light of PHG's commitment to expanding its Healthcare sector:
· Respironics seems a relatively small contributor to PHG HealthCare sector, and PHG might consider selling it
· Expansion will come with more resources dedicated by PHG to R&D and marketing more quickly through acquisitions of companies like RMD; after all, it's cheaper to buy assets than build them
Sex or Sleep
All this talk of sleep is getting me tired, and readers too? Perhaps it will be more fun, if nothing else, to examine the raging debate whether consumers and investors choose sex over sleep or vice versa? Enter the mattress war between Select Comfort (NASDAQ: SCSS) and Temper Sealey (NYSE: TPX). Let's look at this sui generis another day.
Disclosure: I/we have no positions in any stocks mentioned, and no plans to initiate any positions within the next 72 hours.
I wrote this article myself, and it expresses my own opinions. I am not receiving compensation for it (other than from Seeking Alpha). I have no business relationship with any company whose stock is mentioned in this article.
Editor's Note: This article discusses one or more securities that do not trade on a major U.S. exchange. Please be aware of the risks associated with these stocks.