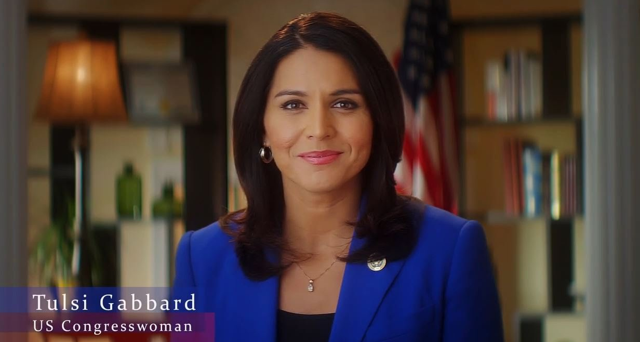 Reconsidering The "Peace of Trumphalia"
After shares of Raytheon (NYSE:RTN) and Lockheed Martin (NYSE:LMT) jumped following Donald Trump's election win, we warned that investors shouldn't overestimate the new president's hawkishness. Referring to an article by Joe Persinos at The Street, where he claimed that:
Trump plans to populate the Pentagon with neo-conservatives who advocate a more aggressive stance in the Middle East.
We wrote (The Peace of Trumphalia),
There were plenty of reasons to doubt that claim at the time, starting with the recollection that Trump defeated Jeb Bush last February by arguing that the Iraq War had been a disaster. President-Elect Trump's meeting with Democratic Rep. Tulsi Gabbard (pictured above) on Monday is another reason to doubt it. Gabbard has been a vocal opponent of regime change in Syria and elsewhere in the Middle East.
In that article, we also mentioned Harvard Professor Stephen Walt's speculation that Trump might pursue a foreign policy modeled on the Peace of Westphalia, where powers agreed not to interfere in internal matters of other states. We concluded:
None of the above is meant to suggest that Lockheed Martin or Raytheon are bad investments. The Portfolio Armor website is currently somewhat bullish on both stocks, estimating potential returns of about 9.5% for LMT and 10.5% for RTN over the next six months (for an explanation of how our site calculates potential returns, see the section titled "Calculating A Potential Return For Amazon" in this article). It's meant to suggest that expecting the Trump administration to be the third term of George W. Bush is a) likely to be wrong, and b) not a good reason to own either stock.
Since we wrote that, both Raytheon and Lockheed Martin are up, though they have lagged the SPDR S&P 500 ETF (NYSEARCA:SPY).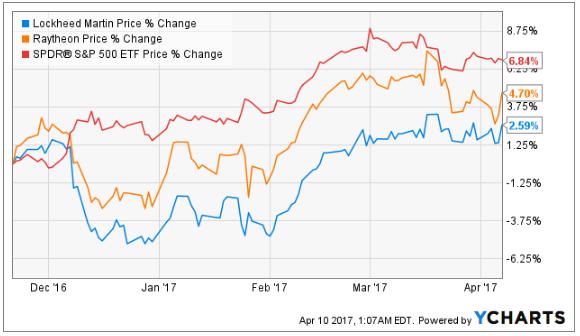 But how does our conclusion hold up now, after President Trump has launched 59 cruise missiles against Syria in response to the Syrian government's alleged use of chemical weapons (Rep. Tulsi Gabbard has opposed the President's missile strike)? Seeking Alpha contributor Victor Dergunov (Raytheon - The Future Trump Trade) argued the Syria strikes portended greater military spending than may be priced into the stock. This passage in particular jumped out at us:
Whether we like it or not, we live in a world filled with adversaries. Mainly Russia, China, North Korea, and Iran. The U.S. is, essentially, continually being challenged by these countries, and I feel most can agree Donald Trump is not someone who would typically back down from such a prominent confrontation. Military spending should increase greatly over the next few years to expand and optimize existing forces, and to keep up with the rapid expansion of rival nations.
The image that came to mind when reading that was this: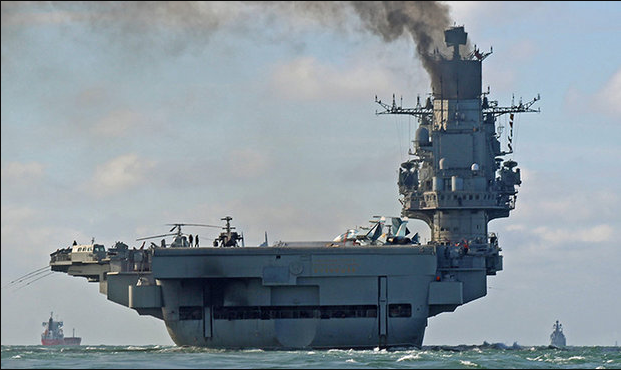 That's the Admiral Kuznetsov, Russia's lone aircraft carrier. According to Naval Technology, it has a displacement of perhaps 67,500 tons. Our Nimitz-class carriers have a displacement of 97,000 tons each, and we have 10 of them. Not only is the Kuznetsov smaller, but it's kind of pathetic. Here's how the New York Times described its passage through the English Channel last fall:
Belching thick black smoke, the Soviet-era warship, previously known more as a threat to its crew than anyone else, led a battle group of eight vessels, including an ocean-going tug that traditionally accompanies the carrier, which has a reputation for breaking down.
How much does the United States need to increase military spending to keep up with that? Two facts about U.S. defense spending seem obvious:
The U.S. has an enormous advantage in armaments over its putative nation-state rivals.
Despite its advantage in armaments, the U.S. has "an inability to win wars against tribal, sub Third-World foes" as Trump aide Michael Anton memorably put it in his pseudonymous "Flight 93 Election" essay. And it's unclear how more military spending would change that.
Granted, if President Trump goes on to spark World War III in Syria, or somewhere else, military spending will go through the roof. But our view is that, seeing his base's reaction to the Syria strike, as exemplified in the tweet below, by one of his biggest early supporters, Trump will try to rein in the more hawkish elements in his administration.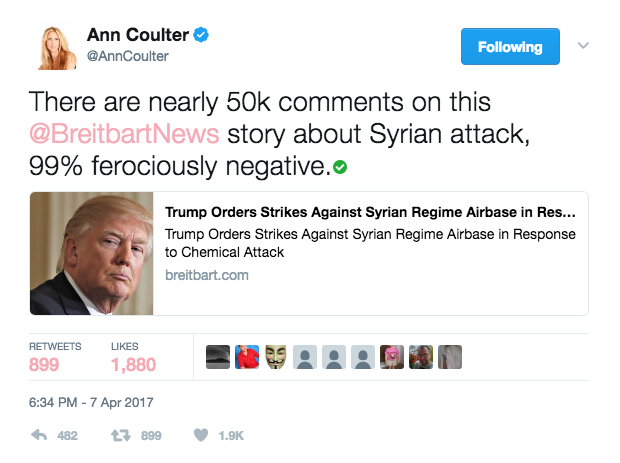 So, for now, we are sticking with our post-election view that President Trump will not be a third term of President George W. Bush in terms of foreign interventions. And President Trump may at some point wonder whether some funds earmarked for defense might be put to better use giving his supporters the kind of healthcare some of them are advocating for.
Our Current Outlook For Raytheon
Our site currently estimates a potential return of about 9% for Raytheon over the next six months. This is higher than the potential return of about 4% implied by Wall Street's consensus 12-month price target (via Nasdaq, below).

Adding Downside Protection To Raytheon
If you want to strictly limit your risk in the event of world peace breaking out, a broad market correction, or anything else that might knock down your Raytheon shares over the next several months, we'll post a few ways of doing so below.
We pulled up these optimal hedges with the Portfolio Armor iOS app, but if you are a do-it-yourself sort, you can use the method here to find optimal hedges manually. Each of the hedges below is designed for investors unwilling to risk a drawdown of more than 14%. You can use different parameters on your own, but the cost will vary.
Uncapped Upside, Higher Cost
These were the optimal puts, as of Friday's close, to hedge 1,000 shares of RTN against a greater-than-14% drop between now and mid-November.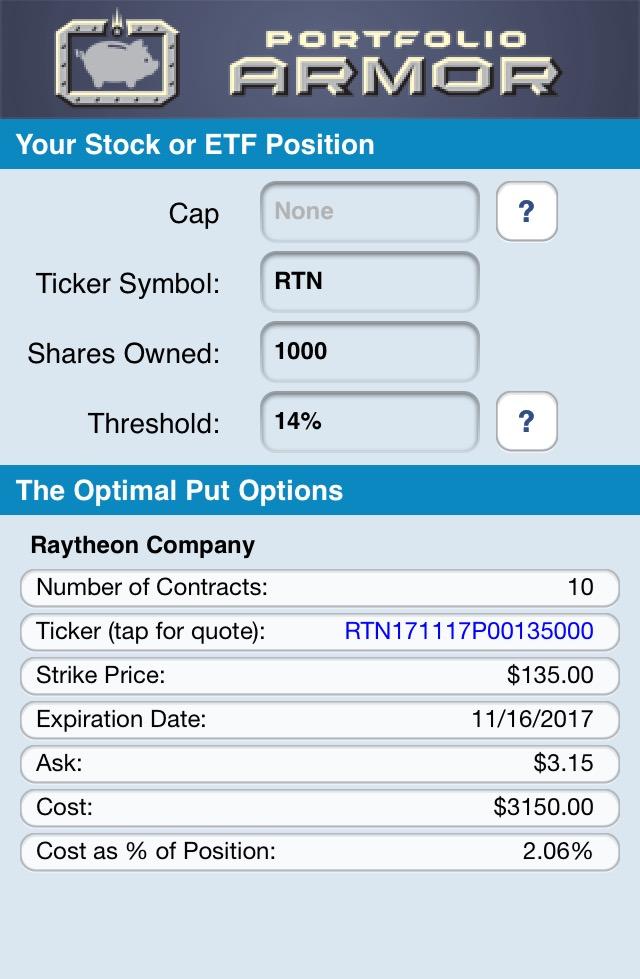 This protection would have cost you $3,150, or 2.06% of position value, as you can see above. Note, though, that cost was calculated conservatively, using the ask price of the puts. Note also that the 14% decline threshold includes the cost: this hedge would limit you to a decline of 11.94%, not counting the hedging cost.
Upside Capped At 11%, Lower Cost
This was the optimal collar as of Friday's close to hedge 1,000 shares of RTN against a greater-than-14% decline by mid-November while not capping your possible upside at less than 11% by then.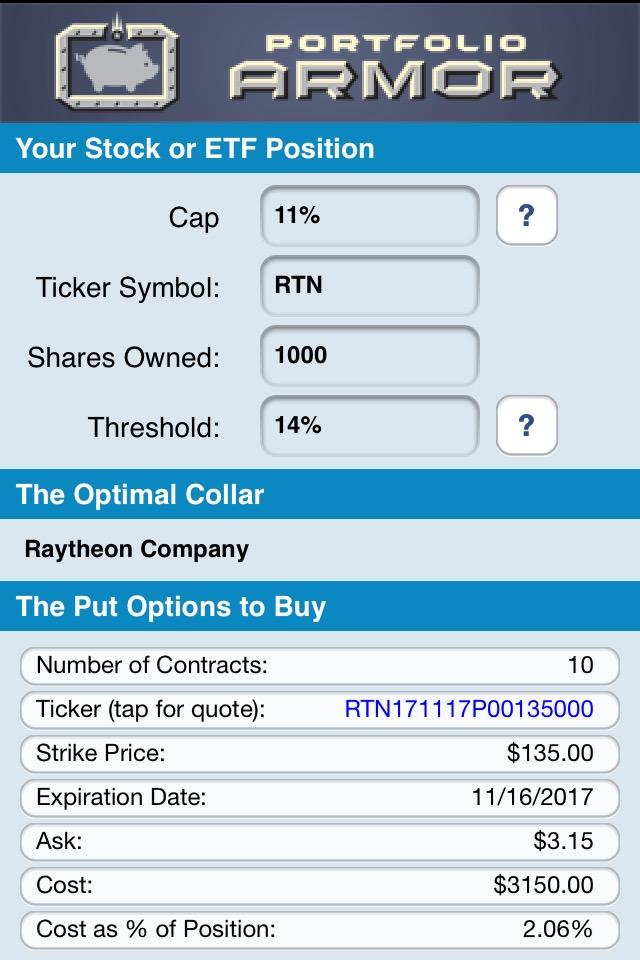 The put leg uses the same strike as in the first hedge, so the cost is the same: $3,150, or 2.06% of position value. The call leg generates an income of $1,910 though (calculated conservatively, using the bid price of the calls).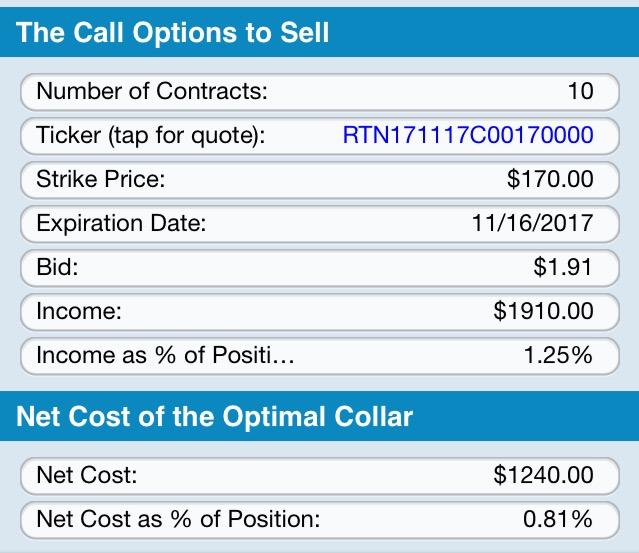 So the net cost was $1,240, or 0.81%, calculated conservatively.
Upside Capped At 7%, Even Lower Cost
Finally, this was the optimal collar to hedge 1,000 shares of RTN against the same greater-than-14% decline by mid-November while not capping your possible upside at less than 7% by then.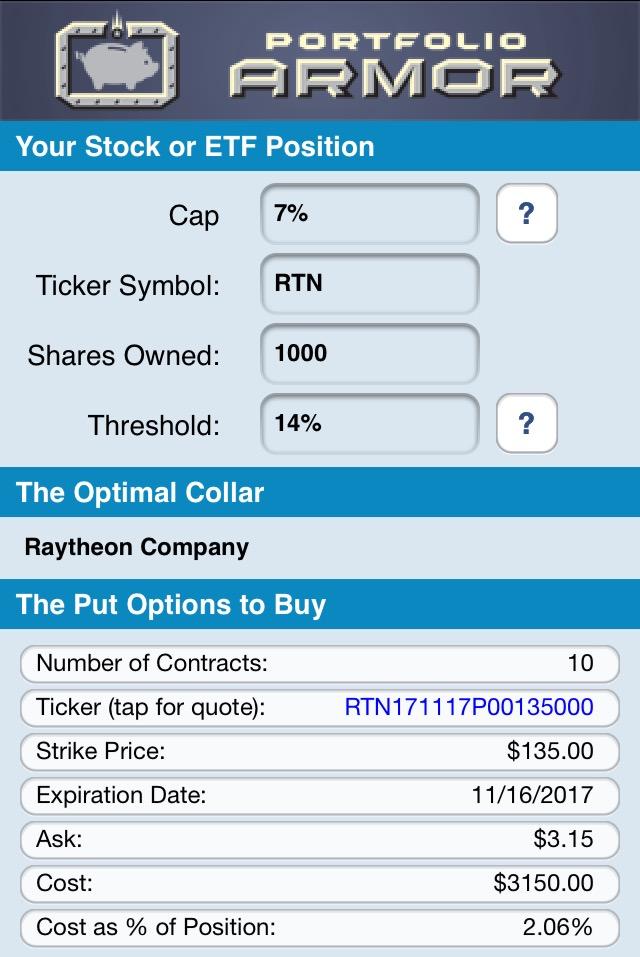 Once again, the put leg uses the same strike so its cost remains $3,150, or 2.06% of position value. But the call leg this time generates an income of almost as much: $3,050, or 1.99% of position value.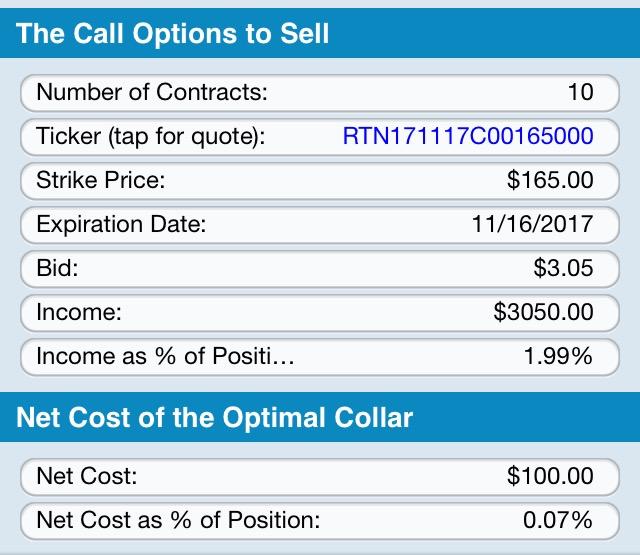 So the net cost of this one was $100, or 0.07% of position value. And since that was calculated conservatively, assuming you placed your trades at the worst end of the spread, the actual cost for this hedge could well have been $0, or it may have generated a small net credit.
Disclosure: I/we have no positions in any stocks mentioned, and no plans to initiate any positions within the next 72 hours.
I wrote this article myself, and it expresses my own opinions. I am not receiving compensation for it (other than from Seeking Alpha). I have no business relationship with any company whose stock is mentioned in this article.