Without question, Bed Bath & Beyond (NASDAQ:BBBY) has been negatively impacted by the secular trend toward online commerce, compressing margins and reducing profits, per below.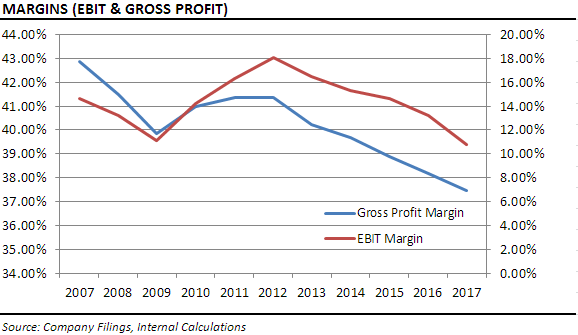 With lower margins and lighter foot traffic comes lower returns on capital, eroding shareholder value.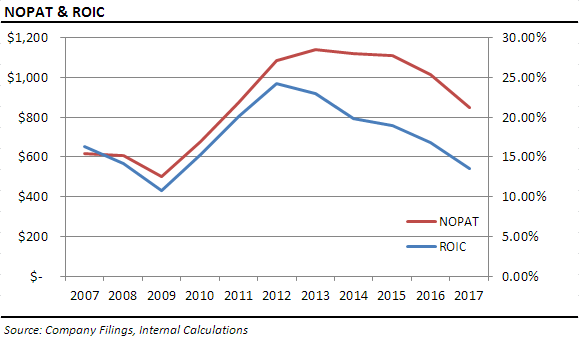 Not surprising, the share price has participated in the decline, shedding more than half of its value since January 3, 2014, dropping to a near 52-week low of $39.49, per Google Finance.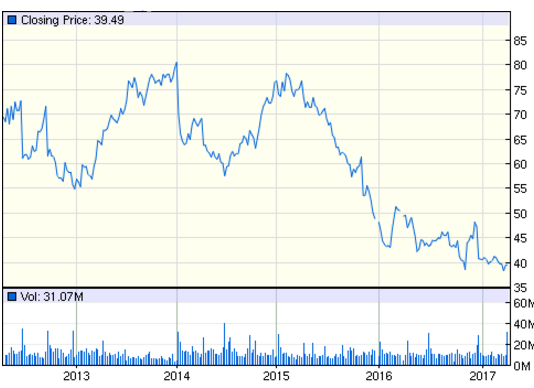 And, herein lies the opportunity. Borrowing from Howard Marks, Co-Chairman of Oaktree Capital, risk is a function of price:
"when everyone believes something is risky, their unwillingness to buy usually reduces its price to the point where it's not risky at all…since all optimism has been driven out of its price."
I submit that shares of Bed Bath & Beyond provide an attractive opportunity to a long-term investor.
Delivering On A Seamless Omni-channel Customer Experience
It is clear from reading the Company's filings and listening to its earnings calls that this management team is singularly focused on delivering a tailored customer experience, offering an assortment of differentiated products via any channel, be it a visit to a local store, a call to a contact centre, or through using a desktop, tablet, or smartphone. Management wants consumers to view Bed Bath & Beyond as the expert for the home, there to assist at all stages of life that make a house a home, such as marriage, having a baby, going to college and moving to a new place.
To achieve this, the Company continues to invest heavily in its IT and online capabilities. It has kept busy re-tooling its websites, creating apps for its concepts, integrating digital capabilities such as scan-for-more digital tools, enabling customers to read customer reviews on products, and adding digital product advisor tools to assist customers find products through a filtered assortment based on responses they provide to questions.
The Company is also spending resources to develop its predictive modeling tools and analytics to better target and deliver a personalized consumer experience. Management points to recent successes with direct mail and print campaigns.
In support of its growing online presence, the Company has had to invest in expanding its distribution network, now reaching 90% of the US population with 2 day delivery.
Bed Bath & Beyond views its brick-and-mortar operations as complementary to its online presence - its physical stores are critical to its overall strategy. Here, consumers are able view the latest product assortment and schedule appointments for help to set up a registry. Items purchased online can be picked up and/or returned to a physical store. Finally, a number of online purchases are fulfilled directly from its stores, increasing the logistical efficiency of its distribution network.
The right mix of physical/online might stave off the threat posed by online-only. Incidentally, as the Company expands its online product assortment, it increasingly relies on vendor-direct-to-consumer, which is product delivered directly by the vendor to the consumer that does not need to be handled directly by Bed Bath & Beyond, minimizing costs and markdown risks.
All of this, of course, requires capital, which the Company has been deploying for the past several years.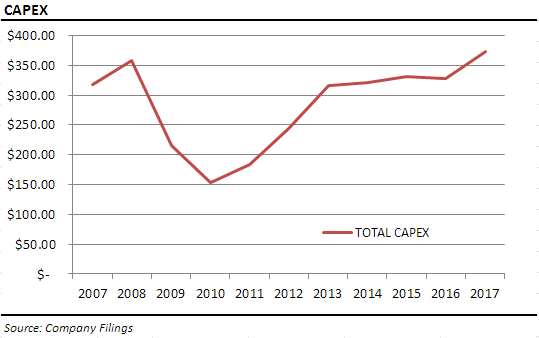 Unfortunately, as evidenced by the declining margins and profits alluded to earlier, these investments have not begun to pay dividends. Moreover, heavy discounting via coupon usage, dropping the free-shipping threshold to $29, and higher depreciation owing to these investments continue to weigh on margins. That said, there are signs that stabilization is on the horizon.
The Company continues to report exceptional performance from its online operations, with comparable sales growing in excess of 20%. Comparable overall top line sales showed growth in the latest quarter. Moreover, as the heavy investment period subsides, free cash flows might get a lift.
Understandably, shareholders are losing patience, and management's 2017 guidance of low-single digits to 10% decline for 2017 net earnings per share does little to alleviate concerns.
Risk is Priced In
I am interested in knowing how much shares of Bed Bath & Beyond are worth assuming margins continue to contract and top line growth ceases to grow. Below, I maintained revenues at $12.2 billion per year and used a lower EBIT margin of 8.50%, compared to the 9.29% observed over the previous twelve months.
The 150 bps adjustment to margins is the result of capitalizing operating leases. The equity risk premium is derived from data obtained from NYU Professor Aswath Damodaran's website. To compute, I employed his adjusted payout approach, updated for the current value of the S&P 500 and the long-term risk free rate, which were obtained from Bloomberg.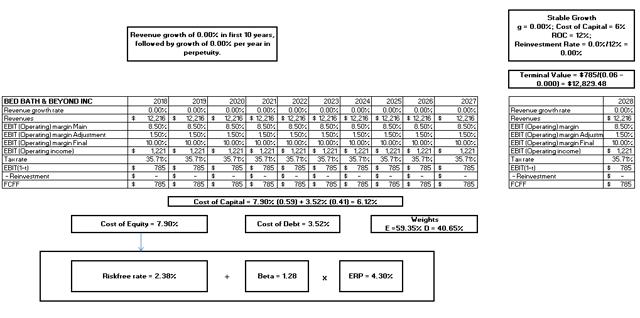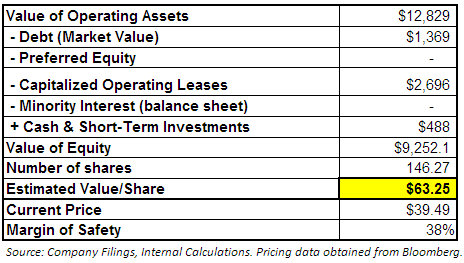 I estimate the intrinsic value per share to be around $63.25, under a no-growth, margin compressed scenario, offering a substantial margin of safety of 38% and wide value across varying assumptions.

It is evident the market is pricing in continued deterioration to the Company's operations. However, early indications show the Company is able to compete online. And, should recent investments begin to yield better results, shares could rally from here.
Value Enhancing Buyback Program
The Company reports the remaining balance of its authorized share repurchase program stands at $1.7 billion, which is expected to be completed by 2020. Considering the Company's market cap stands at only $6 billion, the share repurchase program has the potential to deliver tremendous shareholder value. Consider that shares are potentially undervalued by as much as 38%, every share retired at current prices generates incremental value. The share repurchase program should continue to drive pressure for shares to appreciate, assuming, of course, the fundamentals don't deteriorate further.
In Conclusion
Like many other retailers, Bed Bath & Beyond is struggling to remain relevant amidst the explosion of cheaper, more convenient online offerings. That said, the Company is seeing success with its own online platform and continues to invest heavily in the seamless omni-channel experience, offering an assortment of differentiated products, with promising early results. Transition takes time, which the Company is running out of. However, a healthy balance sheet, robust cash flows, attractive valuation along with a value enhancing share repurchase program makes this one a compelling investment idea.
Disclosure: I/we have no positions in any stocks mentioned, and no plans to initiate any positions within the next 72 hours.
I wrote this article myself, and it expresses my own opinions. I am not receiving compensation for it (other than from Seeking Alpha). I have no business relationship with any company whose stock is mentioned in this article.