Novavax (NASDAQ:NVAX) is a leading player in the field of recombinant vaccines. Using its proprietary technology platform, the company is developing vaccines comprising of protein nanoparticles capable of inducing a strong immune response from patients.
Based on impending result from Phase 3 trial, Prepare, believe that Novavax can prove to be a solid investment opportunity in 2017.
RSV F Vaccine for infants via maternal immunization is a robust short-term growth driver for Novavax
Novavax currently boasts of a late-stage investigational product that has the potential to become a first-to-market vaccine in the largely underserved Respiratory Syncytial Virus or RSV segment. Novavax's recombinant nanoparticle RSV vaccine, which is derived from Baculovirus-Sf9 insect cell, seems all set to take on a multi-billion dollar opportunity.
The nearest milestone for the RSV F vaccine will be data from Phase 3 trial, Prepare, evaluating the efficacy and safety of vaccine in infants up to age six months via maternal immunization, expected to be released in 2H 2017. If this data turns out positive, it can enable Novavax target 4 million people in USA every year.
Currently, around 1.4 million infants annually fall prey to RSV infection, which culminates into burden close to $770 million. It should be remembered that while RSV causes only mild cold symptoms, it can also result in more severe symptoms such as bronchiolitis and pneumonia.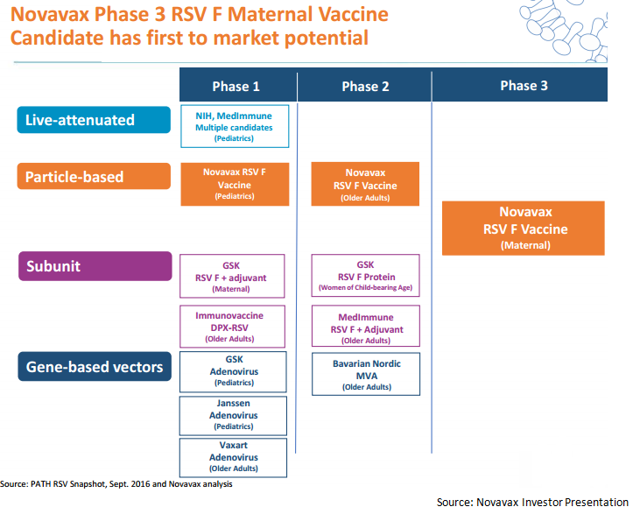 The above diagram is a snapshot of the competitive landscape in RSV vaccine segment. It can be seen that Novavax is the only company with an investigational RSV vaccine in Phase 3 development. Hence, compared to investigational products by peers such as GlaxoSmithKline (NYSE:GSK), Johnson & Johnson (NYSE:JNJ), and Bavarian Nordic (OTCPK:BVNRY), Novavax's investigational product has a higher probability of becoming first-to-market RSV vaccine in USA.
With no other approved vaccine or drug currently available for this condition, RSV F vaccine is expected to play a major role in reducing the number of annual infant hospitalizations, which is currently close to 57,000 in USA.
Phase 2 data has highlighted superior clinical profile of RSV F vaccine
Maternal RSV F vaccine has already demonstrated favorable efficacy in animal models such as cotton rats and baboons.
In September 2014, Novavax initiated Phase 2 trial evaluating efficacy of RSV F vaccine + aluminum as phosphate salt in pregnant women between the age of 18 years and 40 years. The investigational vaccine was administered in the third trimester of the subjects' pregnancy.
Safety is of paramount importance in maternal immunization. Besides mild to moderate and temporary injection site pain, Novavax's RSV F vaccine did not have any other adverse side effect on the tested pregnant women. Further, the vaccine did not demonstrate any adverse event related to infant safety.
The Phase 2 trial also confirmed that healthy amount of antibodies were transferred to the infant in a transplacental manner. Further, the trial also confirmed that the antibodies were capable of protecting infants for at least 90 days.
Phase 3 trial continues to progress at a steady pace
Novavax is evaluating efficacy of maternally immunizing infants with RSV F vaccine for facing RSV infection of lower respiratory tract, coupled with hypoxemia for at least first 90 days of their life, in Phase 3 trial, Prepare. This is a group sequential trial that will be extending for four years. Hence, it will allow Novavax to capture data based on actual events that happen across multiple RSV seasons. After administering the vaccine in 28 to 36 weeks of pregnancy, Novavax will follow the mothers for next nine months. The trial design, however, involves following the infant for one year.
In 2016, Novavax conducted testing under Phase 3 trial, Prepare, at USA, Chile, South Africa, Australia, and New Zealand. To capture data across the various geographies and climates, in 2017, Novavax also plans to add new sites at Argentina, Italy, Spain, and Philippines.
Involving 8,618 pregnant women globally, Prepare, has been progressing at a steady pace without being derailed or affected by any observed safety event. The Data Safety Monitoring Board or DSMB has not suggested any changes or modifications to the trial based on interim data analysis.
All the factors highlight the high probability for Novavax to secure FDA approval for this RSV F Maternal vaccine by 2018.
Novavax's healthy balance sheet is capable of supporting its research programs in 2017
At the end of December 2016, Novavax had $235.5 million cash and cash equivalents on its balance sheet. The Bill & Melinda Gates Foundation has also given a grant worth $89.1 million for Novavax's Prepare trial for RSV F vaccine in infants delivered through maternal immunization.
In 2016, Novavax reported cash burn rate of around $275 million. This includes both cash spent on operations as well as those spent on capital expenditures. In 2017, the company plans to reduce the cash burn rate by $80 million to $105 million on year-over-year basis. Hence, considering the new cash burn rate, the cash currently held by the company on its balance sheet will be sufficient for the next one to one and half year.
In case the company reports positive results from Phase 3 trial, Prepare, Novavax may enter into collaboration deals with major pharmaceutical players. Further, the company can also become an acquisition target for a major vaccine player like GlaxoSmithKline.
Investors should also consider the probability of failure of Prepare trial
While positive data from Prepare trial can catapult Novavax's share prices, it should also be remembered that failure of this Phase 3 trial can result in disastrous effect on the company's stock prices.
We have already seen this happen before in September 2016, when Novavax reported failure of the RSV F vaccine in meeting its efficacy endpoints in older adult patients in Phase 3 trial, RESOLVE.
In January 2017, Novavax initiated a Phase 2 trial to evaluate potential of one and two dose formulations of RSV F vaccine in older adults, both in combination and in absence of Matrix M and aluminum adjuvants. Data from this trial is expected in 3Q 2017.
Novavax also plans to analyze dosage and formulation data obtained from this Phase 2 trial in combination with data generated from previous Phase 2 and Phase 3 trials in relation with RSV F vaccine for older adults. This will then be used to decide the design of Phase 3 trial, whether it should involve the entire older adult population or whether it should be focused towards the high-risk Chronic Obstructive Pulmonary Disease or COPD population.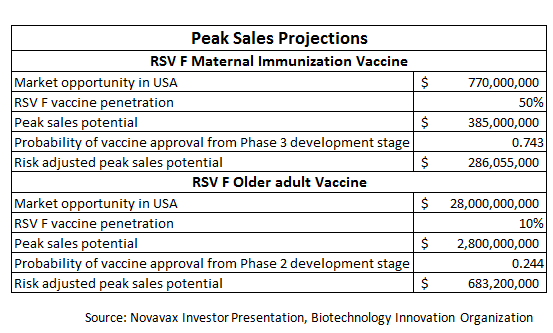 Peak sales estimates
Novavax has projected market opportunity for its investigational RSV F vaccine for maternal immunization and older adults in USA to be close to $770 million and $28 billion, respectively. While commercialization of RSV F vaccine for older adults will not take place prior to 2019, launch of RSV F vaccine for maternal immunization may materialize as early as 2018.
So, let's consider that only RSV F maternal immunization vaccine can reach peak sales up to $385 million due to limited competition in the segment. By adjusting for risk related to FDA approval of vaccine, this value comes close to $286 million. Considering the importance given by healthcare systems to maternal immunization, I believe that Novavax will reach this peak sales value by year 2020.
The value of clinical stage biotechnology company is estimated to be three times of the annual peak sales of its investigational drug. Hence, considering RSV F maternal immunization program, the market capitalization of Novavax can reach $858 million by 2020. With current market capitalization close to $228.1 million, the stock has the capacity to grow around 3.8 times and reach as high as $3.16 by year 2020.
In case Novavax becomes a takeover target in 2017, this price provides an indication of the amount of premium that the company can demand from potential suitors. Assuming that the stock grows in linear fashion from the current $0.84 levels to $3.16 by end of 2020, I believe that the stock can trade at around $1.38 to $1.45 levels at end of 2017 or in early 2018. This translates into annual return on investment in the range of 64% to 73%. This is an over-simplified assumption and is more of an indication of the growth potential of the stock.
In light of its favorable risk-reward profile, I believe that, in 2017, Novavax can prove to be a good investment opportunity for retail investors with above average risk appetite.
Disclosure: I/we have no positions in any stocks mentioned, and no plans to initiate any positions within the next 72 hours.
I wrote this article myself, and it expresses my own opinions. I am not receiving compensation for it (other than from Seeking Alpha). I have no business relationship with any company whose stock is mentioned in this article.
Editor's Note: This article covers one or more stocks trading at less than $1 per share and/or with less than a $100 million market cap. Please be aware of the risks associated with these stocks.