For investors like myself who are looking for clues in regards to where the oil space is heading down the road, there are two main "regions", if you will, of focus: US production and OPEC's joint OPEC and non-OPEC production agreement. While these are very significant in nature, there is one region that we (especially myself) tend to not cover in much detail that warrants attention: China. In what follows, I will look at some data related to the country insomuch as it relates to the oil market and more and give my thoughts on what it should mean for investors in companies like Whiting Petroleum(NYSE:WLL), Chesapeake Energy Corp. (NYSE:CHK), Approach Resources (NASDAQ:AREX), and Legacy Reserves (NASDAQ:LGCY), as well as for the United States Oil ETF (NYSEARCA:USO) and other oil-related ETFs moving forward.
A look at China's oil production relative to demand
Like the US (though the US is moving away from this designation), China is known as a net oil importer. This is due to the fact that, on the whole, the world's second-largest economy requires so much oil and petroleum products every day while only producing a small amount of its overall needs. Take, for instance, the graph below.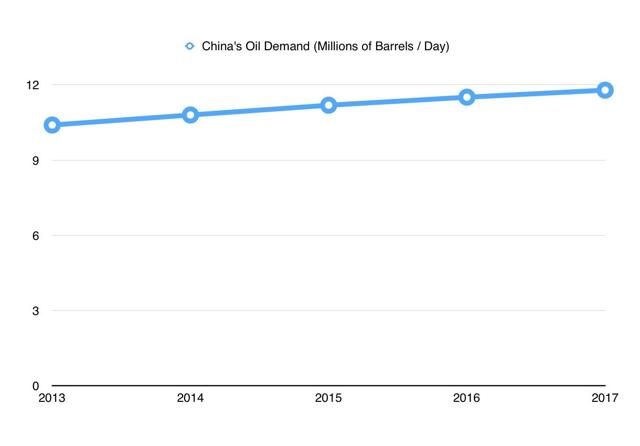 *Created by Author
As you can see by looking at the graph, oil demand in China has soared in recent years. While in 2013 demand came out to 10.4 million barrels per day, last year the figure grew by around 0.32 million barrels per day from 11.19 million barrels each day to 11.51 million. OPEC, in its latest monthly report, expects (and you can see this in the image below) for global GDP to grow more this year than last but China should be a laggard, with growth coming in at 6.2% compared to the 6.7% seen in 2016 relative to 2015. Despite slower growth, oil demand in the nation should grew by around 0.28 million barrels per day from 11.51 million to 11.79 million.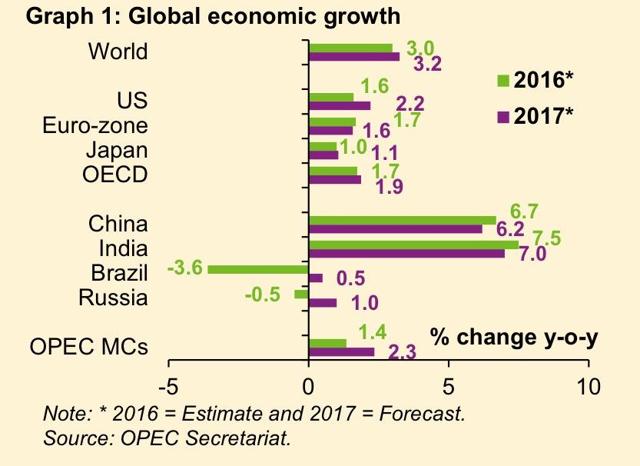 *Taken from OPEC
No matter how you stack it, this is great news for oil bulls because every 0.1 million barrel increase in demand year over year helps, keeping all else the same, address 36.5 million barrels of oil throughout a year. So long as this figure comes in somewhere in the aforementioned range, it's unlikely that China will dip into a recession since there tends to be a relationship between economic growth and oil demand, but there is some risk that if China's economy starts to slide (from its housing bubble, for instance), then we could see some trouble.
Now, regarding supply. Naturally, you would think that if China's oil demand were rising that the country would prioritize increasing output. You would be incorrect. As you can see in the graph below, the nation's production grew from around 4.3 million barrels per day in 2013 to about 4.39 million barrels per day in 2015 but has since been on the decline. In 2016, production was lower by 0.31 million barrels per day to 4.08 million. If the EIA's (Energy Information Administration's) estimates are correct, this figure should drop to around 3.90 million barrels per day this year, meaning a year-over-year drop of 0.18 million barrels per day as low prices have deterred drilling.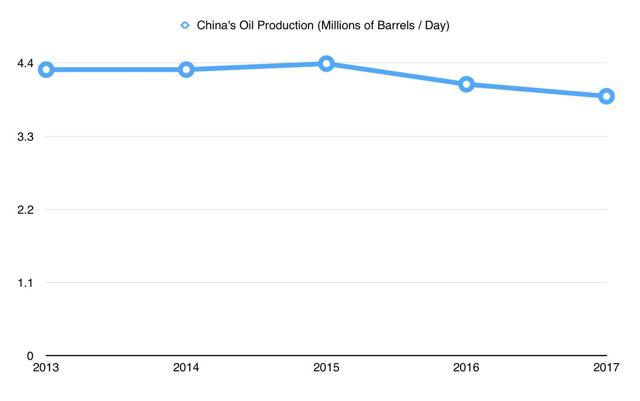 *Created by Author
China should help siphon off extra global production
Seeing all of this data, one logical conclusion is that we might see commercial oil stocks for the country drop to some degree. This has not, however, seemed to have happened. As you can see in the image below, commercial inventories in China did dip from 363.2 million barrels in November to 362.8 million in December. In January (the most recent month for which data is available), though, their data showed a hefty increase, with storage growing to 378 million barrels. At first glance, this appears bullish but we also need to be cognizant of seasonal factors. If you look at January of 2016, inventories in China stood at 380.8 million barrels. This suggests that they are modestly lower than they were a year earlier.

*Taken from OPEC
This may seem peculiar since it doesn't make sense that demand could be rising while production is falling, but the simple answer is that the nation's import activities have soared. In the image below, for instance, you can see that net imports of oil and products in December came out at 8.282 million barrels per day, a month-over-month change of 0.526 million barrels per day. In January, this number grew to 8.326 million barrels per day.

*Taken from OPEC
As an oil bull, I see this change in imports as bullish (though not as bullish as seeing that data along with seeing falling inventory levels). This is due to the fact that not only is the country seeing demand grow while production in its borders falls, but also that every barrel China absorbs is an extra barrel that is being taken off global stockpiles elsewhere. If the year-over-year figure for January's inventories was worse than in 2016, I would feel less comfortable about all of this, but the fact of the matter is that China is serving as a hose to siphon some of the excess global output.
Takeaway
Based on the data provided, it seems pretty clear that the picture facing China from an oil production perspective is rather pessimistic, but this, when coupled with growing demand from the country, will only serve to help the bullish case for crude. I would be surprised to see China single-handedly take care of all of the excess output that's out there today, but between it, the OPEC and non-OPEC deal, and my own view that global demand will probably be higher this year than analysts anticipate, I think this just adds one more positive piece of news to the oil bulls' arsenal.
Disclosure: I am/we are long LGCY, WLL, AREX.
I wrote this article myself, and it expresses my own opinions. I am not receiving compensation for it (other than from Seeking Alpha). I have no business relationship with any company whose stock is mentioned in this article.
Additional disclosure: I own LGCYO and LGCY