Being long Nvidia (NASDAQ:NVDA) doesn't mean that every article we write should be positive towards the company. In fact, this article is a strong bearish sign for Nvidia stock over the long-term.
While it's unknown to most of the readers, Nvidia is facing a new threat, it's Alphabet (NASDAQ:GOOG)(NASDAQ:GOOGL). Yes, the title is right.
Last month, Alphabet released a paper that describes in detail its new TPU product that will be formally discussed by Alphabet at the 44th International Symposium on Computer Architecture on June 26 in Toronto, Canada.
In its paper, Alphabet compared the performance of its Tensor Processing Unit (TPU) with the performance of the GPU and CPU. And specifically, it compared its TPU used in datacenters to Intel's (NASDAQ:INTC) Haswell CPU and Nvidia's K80 GPU. Before talking about the results of this comparison, we should discuss why Alphabet started thinking about building its own processors in the first place.
Back in 2013, when Nvidia was still a gaming-GPU focused company, Alphabet decided that it needs to build its own Application-Specific Integrated Circuits (AISC) for its datacenters using Deep Neutral Network ((NYSEMKT:DNN)), the same architectural method used in Nvidia's GPUs today.
Alphabet's plan was to use the custom made AISC for learning, and GPUs for training (or prediction). By combining the two, Alphabet succeeded in creating the so-called TPU in just 15-months of work.
The TPU's structure is totally different than the GPU and CPU. Instead of depending solely on Convolutional Neural Networks (CNN) like Nvidia and Intel, the TPU depends mostly on Multi-Layer Perceptrons ((NYSE:MLP)), but also uses CNNs and Recurrent Neural Networks ((NYSEMKT:RNN)).
The trick here is that the use of these 3 kinds of Neural Networks in one place distributes the weights of the input data per each function. This means that the data that needs low computing power (less weight) won't pass through the same process that a weight-extensive input data passes through. This saves energy and time, the two most important factors in deciding the capabilities of a processor.
This unique architecture gave Alphabet's TPU the edge over Nvidia's K80 and Intel's Haswell. According to Alphabet, the TPU is about 15x-30x faster in inference than the K80 GPU and Haswell CPU. In addition, the performance/watt of the TPU is 30x-80x that of Nvidia's GPU and Intel's CPU.

Alphabet also illustrated how its architecture is able to achieve the best performance of each layer when compared to the K80 and Haswell.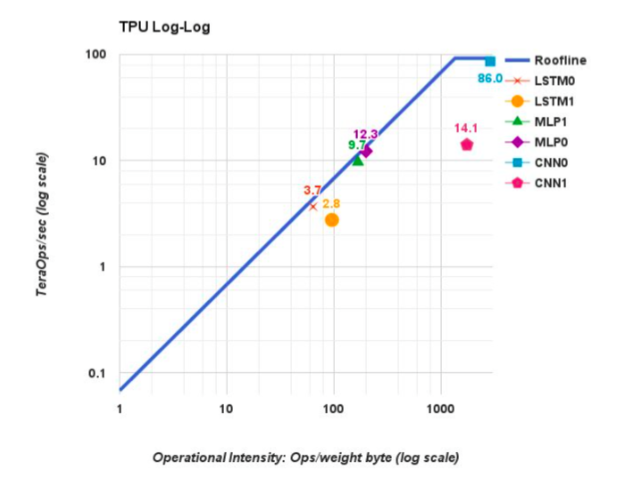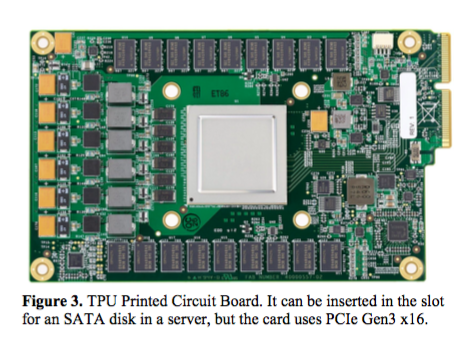 Why Nvidia's investors should be concerned
In its paper, Alphabet made no intentions to use its TPUs outside its datacenters. Assuming that will be the case, it's still a problem for Nvidia over the long-term. The idea that a company which have no history in manufacturing can create a processor that is way faster than Nvidia's processors raises the question about Nvidia's moat. Does that company have any? And if it does in the short/medium-term, does it have any over the long-term? Will other companies like IBM (NYSE:IBM), Amazon (NASDAQ:AMZN), or Facebook (NASDAQ:FB) follows Alphabet's path in creating their own GPU for their datacenters? And if they do, do they have the intention of selling these products?
All these questions must be answered before making conclusions about Nvidia's long-term market standing. All companies mentioned above, and several more unmentioned, have the financial/strategic ability to overtake Nvidia's dominance in the GPU business if they want to.
This threat, even though it's still unclear, should be taken into consideration when buying a stock that is trading at more than 8x sales.
That's why we recommend buying OTM put options when investing in Nvidia. The stock hugely depends on future sales, and any threat to the long-term ability to achieve the needed targets will trigger a huge sell-off in the stock price.
Read also: "Nvidia: What Happened in San Francisco that Few Knew About"
Cautious Investing to All.
Disclosure: I am/we are long NVDA.
I wrote this article myself, and it expresses my own opinions. I am not receiving compensation for it (other than from Seeking Alpha). I have no business relationship with any company whose stock is mentioned in this article.
Additional disclosure: We are also long $80 ST Put Options expiring on January 2018.
Editor's Note: This article covers one or more stocks trading at less than $1 per share and/or with less than a $100 million market cap. Please be aware of the risks associated with these stocks.