By Thomas Hoops, CFA, Head of Business Development, Legg Mason
Following the election of President Trump, U.S. stock markets have increased more than 15 percent. This record-setting "Trump Bump" has pushed equities to historic heights: up, up, up! No one expected it, and can we even explain what caused it? Better still, can it continue?
We are all guessing. Markets have taken turns we largely do not understand. But having become spoiled for the past seven years by one of the greatest bull markets ever, investors who walk in to discuss the performance of a traditional portfolio of stocks and bonds, expecting annual returns over 10 percent but certainly at least 5 percent, are likely to be extremely disappointed.
Annual U.S. economic growth averaged 3.5 percent for the 20th Century, even with recessions and the Great Depression. That means there were a lot of good years, growing at 4, 5 and 6 percent, sometimes more. But now, 2.9 percent quarterly growth counts as surprisingly good news. Most U.S. annual forecasts are in the 1.8-2.2 percent range, perhaps as high as 2.5. That's disappointing, yet some other developed nations expect half that, or less. Japan has been in the doldrums for a decade. China is facing "a soft landing." Emerging markets … who knows.
We must be ready to prepare investors for a world after, one without the "easy money" we have long enjoyed. Interest rates will rise. Exuberance may have run its course, finally. Low-cost passive products designed to ride an index will lose luster when their markets stop going up. If history is any guide, we could face an inevitable tempering. In future markets, it may not be as easy for investors - and financial advisers - to make money.
So now comes the reckoning. For a classic 60 percent equities/40 percent fixed income portfolio, based on falling annual expectations for the S&P 500 and Barclays Aggregate Indexes, Casey Quirk estimates that investors should expect returns that are likely to be more muted.
Taxes, fees and inflation also matter. Under President Trump, capital gains taxes will likely fall but not disappear. Using passive products and exchange traded funds (ETFs) can help. Active products can potentially deliver above-benchmark returns, but the average all-in cost for "normal" retail actively-managed products is 1.66 percent. With inflation projected in the 1.4-1.8 percent range, that could leave investors precious little net to live on.
Fortunately, there are alternatives to the classic 60/40 portfolio strategy - literally. They can offer the prospects of higher returns, often with solid income, but there are trade-offs.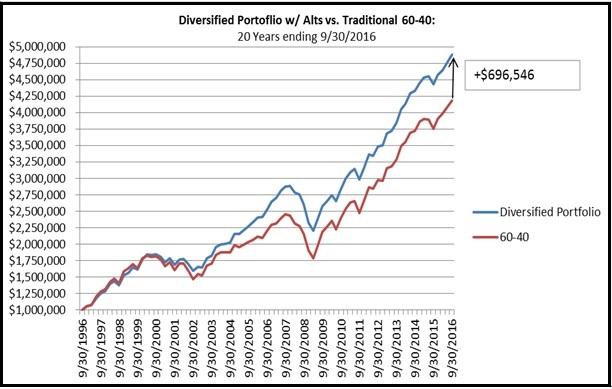 Source: Morningstar; period 10/1/1996 - 9/30/2016
Investors may have to accept increased risk, higher volatility, liquidity constraints, longer time horizons and potentially more complexity. Most retail investors have not faced these challenges during the long bull run, and they are unlikely to make them happy. Yet we must educate them on the benefits, despite moves into passive investing that led them to believe simpler is better.
To achieve their financial goals, investors must become more outcome-oriented in their choices. This may entail multi-asset products. Earning market-beating returns will require stepping outside the classic Morningstar boxes and into alternative products that may not be familiar. But perhaps not for long, given what they can deliver for retail investors.
For example, infrastructure funds have proven track records in Australia, Asia and Europe. They have historically delivered high income and some growth with manageable risk profiles. As they continue to expand in the U.S. (with President Trump's announced $1 trillion "public and privately funded" initiative ready to jumpstart the sector), significant new opportunities will emerge for retail investors, particularly those in and approaching retirement who want steady income.
The same can be said for real estate, a sector that also historically delivered proven high returns and steady income. Both require longer-term investments so liquidity may be a challenge, but that's the kind of trade off investors should be prepared to make: investing with conviction requires patience.
Rising energy prices have once again made Master Limited Partnerships ((MLPs)) more popular, since they are designed to reward investors handsomely when extraction goals are met. Of course these products carry all kinds of pricing, market and political risk, but returns can be attractive.
There should continue to be a place for low cost passive products - which have grown exponentially as markets continue to soar. But, over time, these market-cap weighted indexes become increasingly over-weighted toward what has already done well, the past. Investors can be less exposed to what may be about to do well, the future.
To address this, asset managers have expanded "smart beta" offerings, many designed to manage volatility and downside risk. They are also introducing ETFs that have elements of active management; some more than others, each designed to give investors the insights of top managers' processes at lower costs.
The themes from these examples are novelty, complexity, conviction, low liquidity and risk. They are not for the uneducated investor. Like all investments, they can lose money. And yet well-chosen alternatives may be able to deliver for retail investors the income, growth and security they may not be able to secure in the future through a classic 60/40 portfolio.
This is where investors need to go to secure their financial dreams. We must show them the way.
Tom Hoops is Head of Business Development of Legg Mason. His opinions are not meant to be viewed as investment advice or a solicitation for investment.
©2017 Legg Mason Investor Services, LLC. Member FINRA, SIPC.
Disclosure: I/we have no positions in any stocks mentioned, and no plans to initiate any positions within the next 72 hours.
I wrote this article myself, and it expresses my own opinions. I am not receiving compensation for it. I have no business relationship with any company whose stock is mentioned in this article.