Company Description
Restaurant Brands International Inc. (NYSE: QSR) is a fast food restaurant that oversees operations in over 20,000 locations. As the name suggests, the company operates globally in over 100 countries. Its two large segments are Tim Hortons and Burger King. Tim Hortons is a coffee shop that additionally serves tea, cold drinks, baked goods, sandwiches, and soups. Burger King restaurants focuses on serving burgers, fries, chicken, as well as other fast-food staples. Additionally, the company operates in the coffee roasting business through their facilities in Hamilton, Ontario and Rochester, New York. The Company sells its raw materials and supplies, including coffee, sugar, paper goods and other restaurant supplies to Tim Hortons restaurants. Over the last year, the company's stock price has appreciated 17.6%.
(Source: Yahoo Finance)

Steady Cash Flows
Currently, RBI operates under a business model that franchises 100% of their restaurants. We view this as an optimal model for investors as it allows an accurate forecast of future revenue and cash flows. Additionally, the company is able to keep a lid on their operating costs as franchisee owners take on the burden of most of them. The international business unit has been growing at an increasing rate. This has been largely driven by RBi improving efficiencies with Tim Hortons by cutting costs and automating many processes. We believe that this is a strong indication of things to come, as these improvements will lead to increased shareholder wealth in the near future.
(Source: Company Financials)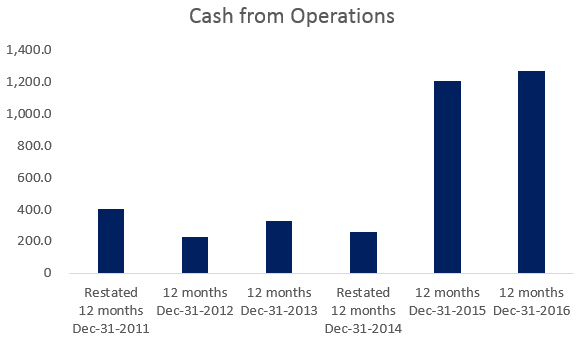 Efficient Cost Structure
Due to its operating model and strong management, the company has been able to effectively reduce its costs and optimize processes. This can be seen in both of their large acquisitions with Tim Hortons and Burger King. This can be exhibited through their industry leading overhead costs and margins. As can be seen from the comps table below, RBI has the highest grows margin at 47.4% and the highest EBITDA margins at 44.2%. This company has become the industry standard that all other companies aspire to be. This will serve them well as they continue to acquire restaurants and applying their cost cutting and growth initiatives to derive more value for shareholders.
(Source: Capital IQ)

Popeyes Deal
Recently, RBI has reached a deal to acquire the fast-food chicken restaurant Popeyes Louisiana Kitchen. The company paid an approximate $79 dollars per share, resulting in the acquisition value of 1.8 billion. RBI will apply their franchising model to these restaurants, allowing for existing management to continue operations as usual, while providing an opportunity to leverage resources available to RBI. Although Popeyes has previously struggled competing with more prominent fried chicken companies such as KFC and Chick-Fil-A, customer loyalty reports have recently suggested that the brand has a strong presence with existing customers. We believe that RBI will be able to implement its cost cutting initiatives and streamline operations at the company in the near future. Similar to the Burger King and Tim Hortons deals, we see this as an NPV positive project that will be beneficial to shareholders and provide support for the current share price.
Our Takeway
Beginning in 2015, EPS growth for RBi has been supported by supply-chain efficiencies in Tim Hortons. These can be seen in the decreased COGS as a percentage of sales has contracted by over 10% since that time. Much of that value has already been accounted for in the current valuation of the company. However, the underlying business is a solid one, and we believe new acquisitions such as Popeyes and international growth will continue to bring value to shareholders. We recommend that investors take a long position at the current valuation.
Disclosure: I/we have no positions in any stocks mentioned, and no plans to initiate any positions within the next 72 hours.
I wrote this article myself, and it expresses my own opinions. I am not receiving compensation for it (other than from Seeking Alpha). I have no business relationship with any company whose stock is mentioned in this article.