Fear that auto sales have hit a cyclical peak and the potential for an auto loan crisis have caused car manufacturers Ford (NYSE: F) and GM (NYSE: GM) to underperform the market over the past six months. Tesla (NASDAQ: TSLA) has been immune to this drop, but I don't think this resiliency makes much sense. It has taken GM and Ford over 100 years to get where they are today and will likely be able to withstand any tough time the auto industry might face. Tesla's sky-high valuation and lack of profitability make it an incredible risk if an auto crisis is actually on the horizon.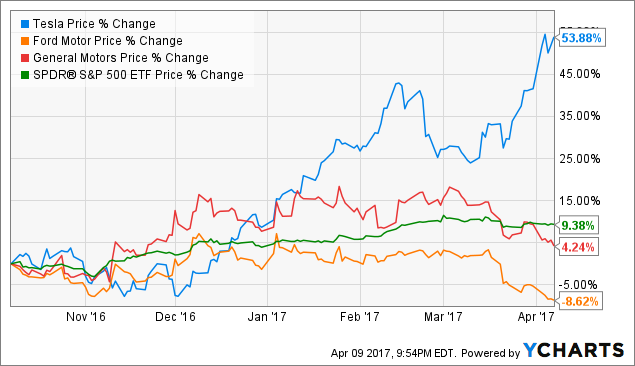 Car Sales:
Tesla delivered 25,000 vehicles globally in Q1 2017, a 69% increase from the same period last year. While the growth is no doubt impressive, in that same quarter Ford and GM sold almost 600,000 and 700,000 cars respectively in the US alone.
Tesla delivered 76,000 cars globally during the entirety of 2016. Ford and GM dwarf Tesla in global sales with over 6,500,000 and 10,000,000 cars sold respectively in 2016.
To fully put the 2016 Tesla delivery number into perspective, 76,000 is the same number of Ford Escapes sold in Q1 2017 in the US alone. Also, Ford sells over 80,000 cars a year in Austrailia, so while 2016 was a record year for Tesla, it isn't even in the same universe as Ford and GM.
Financials: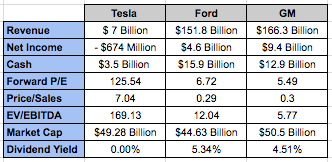 (Source: Yahoo Finance)
The chart above shows financial information for FY 2016. These numbers speak for themselves. Tesla is extremely expensive compared to Ford and GM in every valuation method. Ford and GM produce 20x more revenue than Tesla, which lost $674 million in 2016. Tesla is a younger and faster growing car manufacturer, so paying a premium for that growth isn't surprising, but these numbers are extremely high.
The Tesla Story:
Elon Musk is a great story teller and is selling a vision that both billionaire and individual investors are buying. Last year, billionaire investor Ron Barron disclosed that he owned 1.6 million Tesla shares and commented that he believed the shares would quadruple by 2020 and triple again by 2025.
Even Musk acknowledged recently on Twitter that the company was "absurdly overvalued if based on the past." The vision Musk is selling (and the one it is trading on) is one where Tesla dominates the self-driving and electric car markets. This is far from a sure thing. It is incredibly difficult for a new car manufacturer to gain market share in an extremely competitive industry. A recent study by Navigant Research actually showed that Tesla is lagging both Ford and GM in the automated driving systems area.
(Source: Navigant Research)
Conclusion And My Trade:
Tesla is a story stock, which isn't necessarily a bad thing, but for every Amazon (NASDAQ: AMZN) there is a Valeant (NYSE: VRX) and countless other tech companies that failed in the late 90s. If Tesla pivots to more of a battery company they might have a shot of fulfilling the current valuation, but it is priced way too high to be just a car manufacturer.
As John Maynard Keynes put it, "the market can stay irrational longer than you can stay solvent." As someone who recently graduated college, this thought is especially true for me, which is why I won't be shorting Tesla. One area I will explore is buying LEAP put options with a January 2019 expiration. This would be a long-term bet against Tesla, but limiting my potential downside if Elon Musk can turn his vision into a reality.
Disclosure: I am/we are long F.
I wrote this article myself, and it expresses my own opinions. I am not receiving compensation for it (other than from Seeking Alpha). I have no business relationship with any company whose stock is mentioned in this article.