After strong performance over the last three months and a 57% year-to-date share price increase, a valuation check suggests Vertex Pharmaceuticals' (NASDAQ:VRTX) risk/reward proposition is much less compelling than it was a few months ago.
Thus, in this article, I will focus on a quantitative valuation of the company using a DCF method to demonstrate why I believe it's time to take profits in Vertex.
Base Case
DCF analysis, with inputs slightly above analyst estimates, shows that Vertex isn't trading at an attractive risk/reward.
I used the Excel template offered by Bloomberg, but I adjusted consensus estimates to reflect my view on their cystic fibrosis franchise.
I think that the recent news flow about the successful clinical results for Tezacaftor/Ivacaftor has strengthened the long-term outlook for this franchise. In detail, the company has announced that this combination has showed positive results in two key categories of cystic fibrosis patients, the first one with F508del mutation and the second one with residual CFTR function and one F508del mutation. This news is important for three reasons:
1. For the patients with F508del mutation, the combo tez/iva allows the company to target the patients which have tried Orkambi in the past, but which have discontinued the treatment for the safety profile of this drug (i.e. bronchoconstriction), given that this combo has showed better results in terms of both efficacy and safety vs. Orkambi. In fact, as discussed by EP Vantage:
In Evolve, the first of the pivotal studies Vertex revealed yesterday, tezacaftor plus Kalydeco was tested in this same population, and compared against placebo. The novel combo beat placebo on the primary endpoint, with a four-point improvement in mean absolute FEV1 change at week 24 (p<0.0001).This compares favorably with Orkambi's historic 2.5 to 3.0-point improvement. The real benefit, however, was respiratory tolerability, a problem with Orkambi: 13% of tezacaftor plus Kalydeco patients suffered a respiratory adverse event, versus 16% of placebo recipients. The historic comparison on respiratory AEs is 22% for Orkambi".
2. For the patients with residual CFTR function and one F508del mutation, this is welcome news for the company because it will allow targeting a new category of the patients, which currently was not addressed neither by Orkambi or Kalydeco. As discussed again by EP Vantage:
An added benefit could come courtesy of the second pivotal trial, Expand, in a new use, F508del heterozygotes, also known as patients with CFTR residual function. Here the tezacaftor/Kalydeco combo was tested against placebo and against Kalydeco monotherapy. It showed a difference in FEV1 of 6.8 points versus placebo (p<0.0001), and of 2.1 points versus Kalydeco (p<0.0001).Interestingly, Kalydeco monotherapy also beat placebo in these patients, with FEV1 difference of 4.7 points (p<0.0001). Vertex said it had already been in talks with the US FDA about expanding Kalydeco's label to include F508del heterozygotes, though clearly its primary aim will be to seek approval here for the new combo; filings in both patient groups are expected in the third quarter."
3. Lastly, the positive results of the combo Tezacaftor/Ivacaftor bodes well for the future development of the triple combo approach, which is necessary to protect the Vertex's franchise over the long term from the potential competition of Galapagos (NASDAQ:GLPG), which is pursuing a similar approach, but which is still 12/18 months behind VRTX. In fact, Vertex is pursuing two triples , combining the tezacaftor/Kalydeco regimen with a next-generation corrector (VX-152 or VX-440) and the results of a Phase II trial is expected for H2/2017.
A more comprehensive review of Vertex's business can be found in this interesting article published on Seeking Alpha.
Here are my key assumptions for the estimates of Sales, EBIT Margin and FCF:

Sources: Bloomberg and my own valuation model.
As you can see, these estimates are slightly above consensus in terms of sales growth for 2019-2021, while I assume a similar EBIT margin compared to sell-side estimates.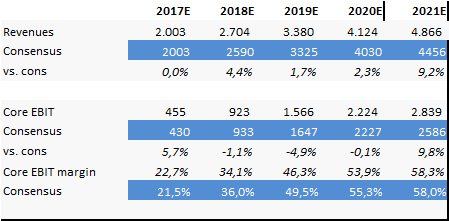 Sources: Consensus comparison vs. my own valuation model.
To generate a DCF Analysis, I used 2 different methodologies.
PERPETUITY GROWTH METHOD:
I used fair assumptions for the perpetual growth rate and WACC. In detail, I used a perpetual growth rate of2%, which is in line with the Bloomberg estimate and I assumed a WACC of 9% that is in line with mid-caps biotech peers.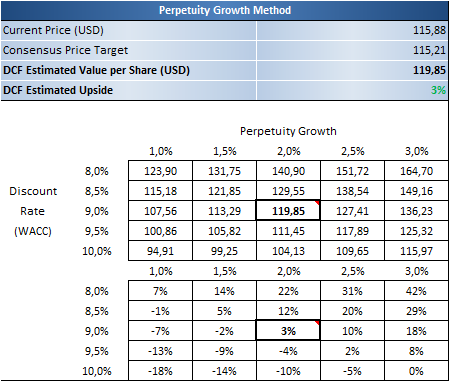 Source: Bloomberg
As can be seen in the table above, Vertex is undervalued by only 3% based on the Perpetuity Growth Model. In addition to that, the sensitivity analysis shows significant upside (i.e. 42%), assuming unreasonable estimates for WACC and a perpetual growth rate.
EBITDA MULTIPLE METHOD
This analysis reveals a similar result for Vertex. The company still looks undervalued by only 7%. I assumed an EBITDA exit multiple of 12X, which is a reasonable assumption because it implies that Vertex's valuation will stabilize in-line with current big-cap EV/EBITDA multiple valuation, as shown by the following table.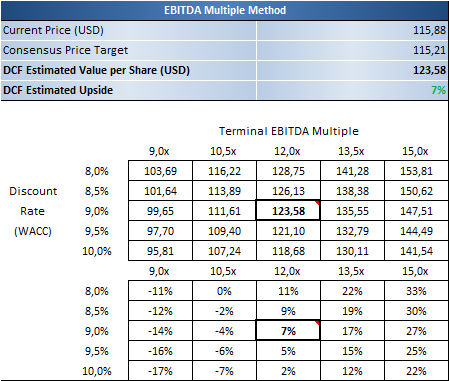 Source: Bloomberg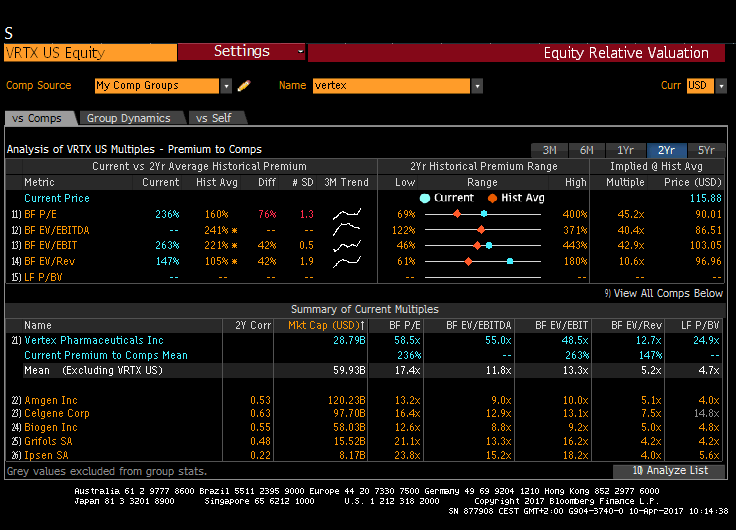 Vertex's Current vs. 5-year average EV/EBITDA (relative analysis vs. peers). Source: Bloomberg.
Lastly, a sensitivity analysis on this EBITDA Multiple Method shows that the implied perpetuity growth in my valuation of VERTEX is about 2.3%, which looks like a reasonable expectation.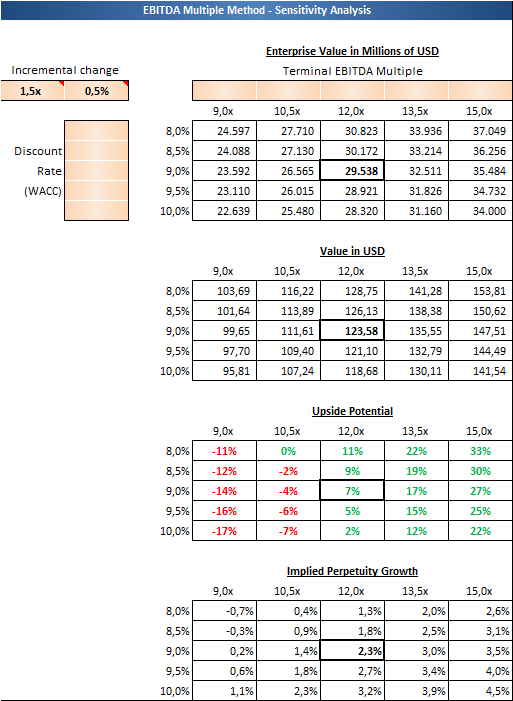 Source: Bloomberg
Bear Case
Lastly, I modeled also a downside scenario. The key differences in terms of assumptions are:
I assume revenue growth of about 1% in 2021-2022, which is below consensus. The key reason behind this assumption is that I consider a worst-case scenario in which Vertex's Cystic Fibrosis franchise will face market share and pricing erosion because the clinical profile of Galapagos' triple combo will result more compelling than the VRTX's one. There is no clinical data to assess how likely is this picture, but I think a bear case scenario should contemplate the assumption that Vertex could not be able to dominate in perpetuity the cystic fibrosis market.
I assume a peak EBIT margin for Vertex of only 45%, which is materially below consensus.
I assume a 0% perpetuity growth rate and 10x EBITDA exit multiple, below Vertex's historical multiple.
As a result of these assumptions, my estimate for 2021 revenue is 15% below consensus and my estimate for 2021 EBIT is 33% below consensus.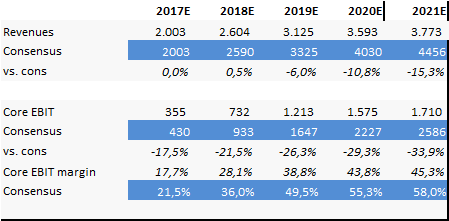 Sources: Consensus Comparison & My Own Valuation Model
Under this worst-case scenario, Vertex is overvalued by approximately 47% (Perpetuity Growth Method) and by approximately 44% (EBITDA Multiple Method), as shown by the following analysis: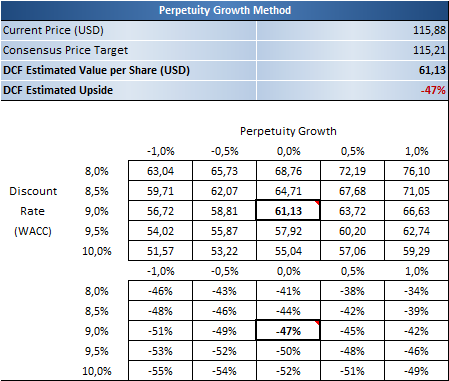 Source: Bloomberg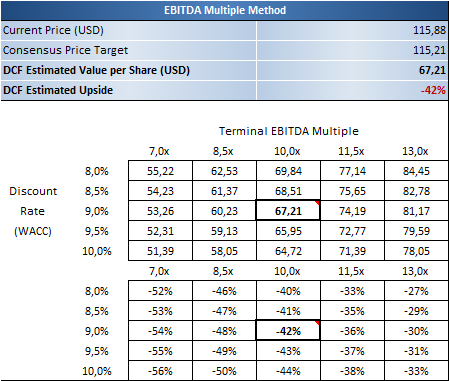 Source: Bloomberg
Conclusion
In summary, as shown by this quantitative analysis, I believe the risk/reward on Vertex is much less compelling than few months ago.
If the management will be able to achieve results at least in line with consensus for the next couple of years, there will be only around 10% upside for the stock.
In a worst-case scenario, with pessimistic assumptions for the outlook of the Cystic Fibrosis market, the downside risk should be around 40%.
Thus, I would take some profit on the stock, waiting for a better (re)entry point later during the year.
Disclosure: I/we have no positions in any stocks mentioned, and no plans to initiate any positions within the next 72 hours.
I wrote this article myself, and it expresses my own opinions. I am not receiving compensation for it (other than from Seeking Alpha). I have no business relationship with any company whose stock is mentioned in this article.
Additional disclosure: Not investment advice