General Electric's (NYSE:GE) struggling share price has stirred up activist investor Nelson Peltz, again. Peltz's Trian Partners got involved with GE in 2015 with a "friendly" intention. Its chart over the last half decade is enticing, but it's still an underperformer. Shares of GE have underperformed the S&P 500 by over 15 percentage points over the last five years.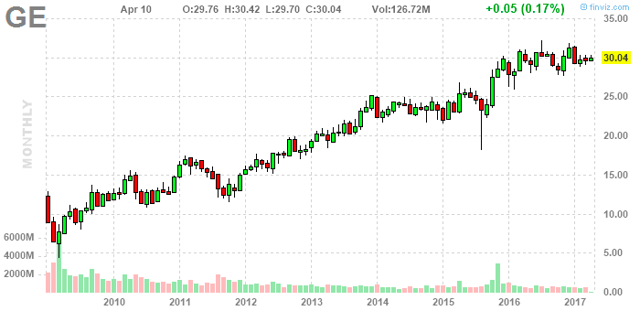 However, the answer doesn't lie in breaking up the industrial giant. Still, Trian has grown impatient. GE has revamped its cost structure in hopes of appeasing Trian and other investors. More promises to cut $2 billion from its budget over the next couple years. It's also revamped its bonus structure. Still, investors are skeptical, and rightfully so.
With that, GE is looking to other areas for unlocking value. This includes selling off the light bulb - its consumer lighting - business. A staple of GE's business for 125 years. It's now looking to sell this business, hoping to get $500 million. Just another step in GE's quest to become a 21st Century company. Last year GE sold off its appliances business.
It's also wound down its exposure on the lending arm, and GE now relies more heavily on aircraft engines, healthcare equipment and power turbines. It's time for GE to drill down into those areas. However, its oil exposure is still an overhang. Its move to combine its oil and gas business with Baker Hughes (NYSE:BHI) means it has made an even bigger bet on the energy sector. GE's slow earnings growth means more calls for a breakup. However, breaking up a $264 billion market cap company is nearly impossible. Selling off the light bulb business - which generates less than 2% of revenues - is a headline getter but not a game changer.
Still, investors know the overhang at GE - it's nothing new and the big reason shares continue to underperform. The company has promised cost cuts, something it has been doing for years. Even if shares remain muted, you'll still get an impressive dividend, yielding 3.2%. However, that still might not be enough. GE can't break itself up fast enough to generate outsized returns.
Disclosure: I/we have no positions in any stocks mentioned, and no plans to initiate any positions within the next 72 hours.
I wrote this article myself, and it expresses my own opinions. I am not receiving compensation for it (other than from Seeking Alpha). I have no business relationship with any company whose stock is mentioned in this article.