Gold (NYSEARCA:GLD) could see quite the increased slope in its uptrend, breaking out of what has essentially been a two week trading range. The key factors to watch this week are going to be the dollar's progress, particularly whether or not it can extend past levels not seen since early January, as well as changing expectations investors have about the French election, the Turkish referendum vote, and Q1 2017 earnings season. The current expectations surrounding these latter three factors warrant investors to be bullish on gold; however, the dollar's strength and continued uptrend represents a large headwind to gold's pricing strength.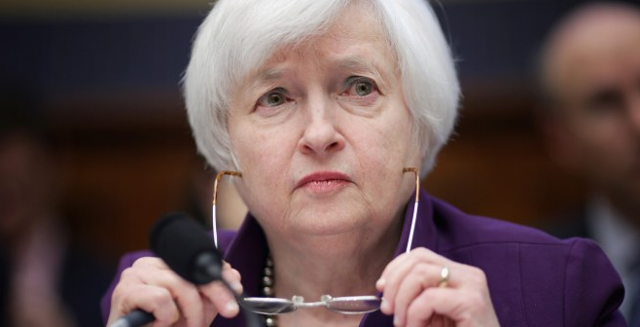 Source: Getty Images
Will The Uptrend Continue?
The amount of moving parts in the macro world continues to increase. After the bell today, Fed Chairwoman Janet Yellen will speak. She'll likely focus on the recent development that the Federal Reserve is looking to reduce the size of its balance sheet by not reinvesting in treasuries, as well issues of mortgage-backed securities, as they become due. Should her tone shift in the slightest manner, we'll see the markets adjust materially. I expect this speech to largely be a non-event, considering that the larger shock came last month when they initially announced the balance sheet would start to be reduced in size later this year. Investors keen on gold really shouldn't place too much emphasis on this speech, unless there's a change in tone.
Gold continued to put in another week of range bound trading last week. The 50 EMA is showing quite the amount of resilience and continues to trend up. It could flatten out if we see a continuation of this range bound trading, but we really should start to see gold break out one way or the other. The 200 DMA has continued to trend down and is now within just a few dollars - a less than 1% move - away of the spot. If gold breaks past its 200 DMA, then investors need to get in front of that trade and be long gold. Unfortunately, a stronger dollar looks like that may not happen and gold could potentially incur some losses this week. If that happens, then we should see gold begin to close the gap between its current level and the 50 EMA. Unless a highly bullish tone enters the market, which could be triggered by the dollar breaching 102, then we could see gold dip as low as 1$,200/oz by mid-Q2.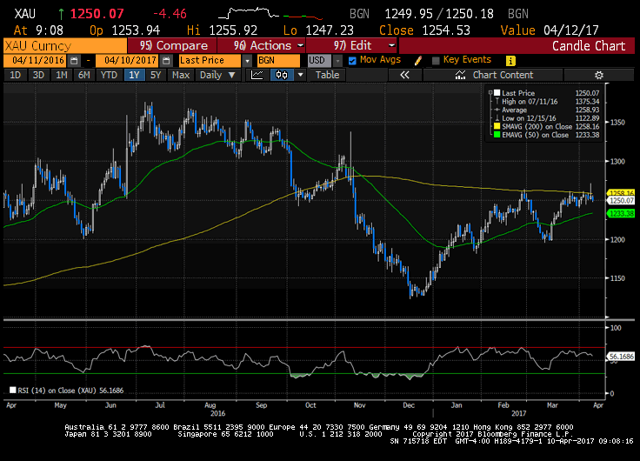 Source: Bloomberg
In terms of the SPDR Gold ETF GLD, we're seeing, again, the 50 EMA provide positive support to gold, but the 200 DMA is tough resistance. Taking a slightly longer perspective into account, gold continues to recover its post-election losses and in Q2, breaking $1,300/oz, or the equivalent $125 in GLD, would be a significant bullish move to the upside and could warrant a trend as high as $130 by mid-summer. Yet, we'd need to see the dollar reverse its current uptrend and for several non-probable outcomes of events, like upcoming election votes, occur for this to be the case.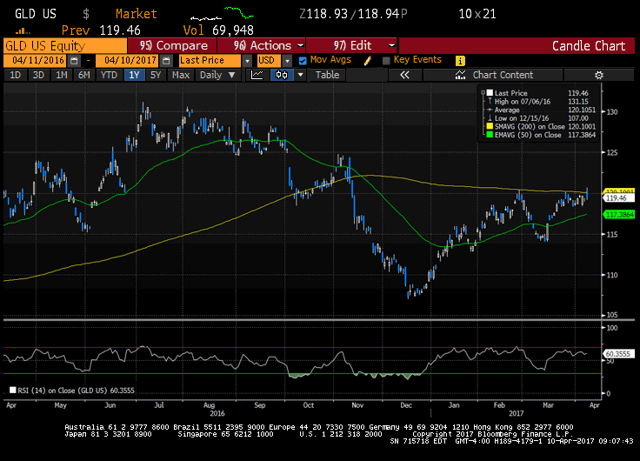 Source: Bloomberg
We also have earnings season dawning upon us. Given that Alcoa (NYSE:AA) tends to kick things off, unofficially, the first major week of reporting will come towards the end of the month. With investors expecting a 9.9% increase in YOY earnings, there's certainly a high bar for the S&P 500 and I'd be looking to sell against this high expectation in the form of being long gold. Continuing to monitor this expectation just prior to the first slew of earnings report will be key due diligence, as this seems rather high, even with how well U.S. equities have been performing. If earnings come under that mark or expectations are too tough to beat, we could see the equity market's valuation called into serious question, lending strength to gold.
Rising global uncertainties also extend to Europe, this week, with the French election just around the corner and if the vote goes against what traders are currently expecting, then we could see an uptick in gold. This isn't out of the question, too, considering that Brexit happened last June, Donald Trump won the U.S. Presidential Election, and Scotland is pulling for another referendum vote. To add some icing to this cake, we've also got Turkey having a referendum vote later this week. The Turkish lira will certainly be the currency to watch, after having depreciated substantially for the five years, seen below. I'd say these political uncertainties warrant investors to be long gold, but they must be viewed relative to the dollar's current uptrend and that traders may be looking to take more risk on in the week ahead.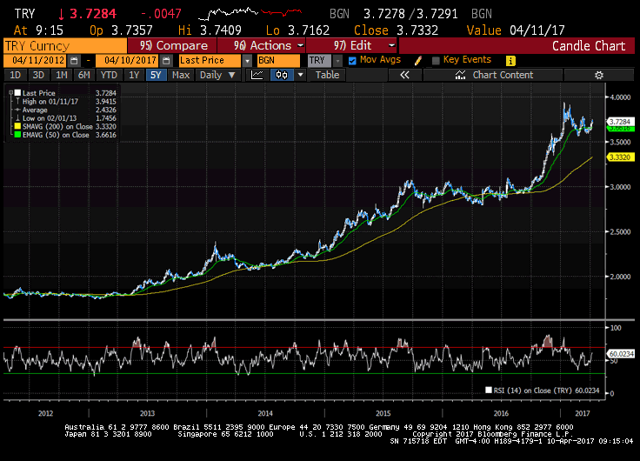 Source: Bloomberg
Observing The U.S. Dollar
As a strengthening USD is a larger driver of selling pressure in gold, investors should keep a careful eye on the dollar this week as the rising global uncertainty is being interpreted in a fascinating way. In early trading Monday morning, the dollar has extended its rally to 101.220 on the back of bullish momentum stemming from the United States' actions late last week. The dollar, right now, has all the signs of breaking past 102 and towards levels not seen since the first trading week of the year. The 50 EMA has been rather flat since the January slide, as investors swapped out of the dollar to hedge against political uncertainty, but we could see it tick up if the dollar extends its rally in the coming week towards 102.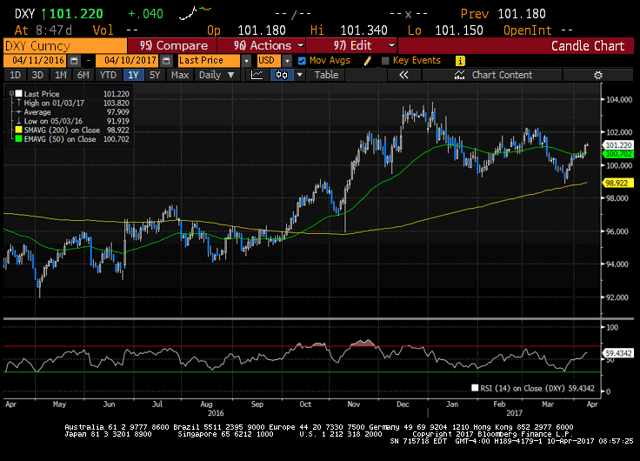 Source: Bloomberg
The real note of bullishness, here, is the fact that the dollar, after breaking below 100 in late March, rallied back above 100, didn't break below its 200 DMA, and is now on track for a larger uptrend above 102. That tells us a lot about what investors are thinking, more so that they're bullish on the outlook for the American economy even with an increasing amount of global uncertainty. However, there is key resistance at 102 and it may be difficult for the dollar to continue to edge higher, as a significant amount of buying will have to step in and justify the stronger dollar. I see 102.50 being the short-term high before the trend reverses back down.
I've said before that it's going to be critical for investors to monitor the changing probabilities of the next Federal Funds rate hike. The probabilities have been moving up, indicating that investors are expecting a rate hike will happen at the June meeting rather than waiting until September. This is a large tone of bullishness for both inflation and the American economy and shouldn't go unnoticed. Just two weeks ago, the probability for the June rate hike was 50%, with the September probability being 76%. So, a three month shift up shows that investors are revising their expectations from more neutral towards bullish - and that constitutes a continued uptrend in the dollar.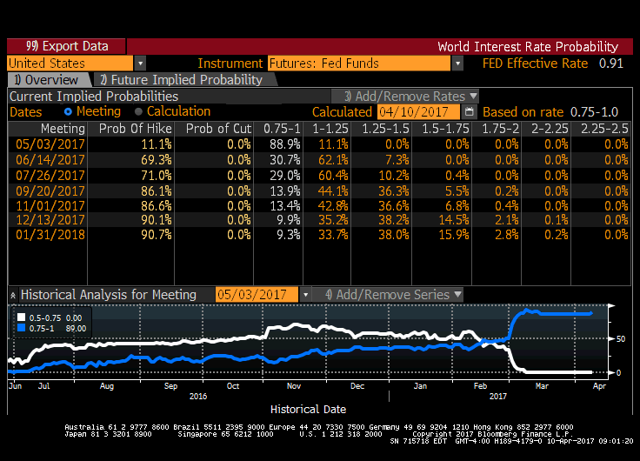 Source: Bloomberg
Conclusion
Gold has several macro factors working against it right now, notably improved expectations on when the next Fed funds rate hike will be and U.S. policy that warrants a higher dollar, however I can see why traders are being indecisive. The resulting range bound trading deals with higher political risk and volatility out of Europe, as well as rising tensions between the United States, Syria, and Russia. A hedge against a diversified portfolio still may be warranted at this time, but it'll be interesting to see if investors take more of a risk-on approach this week and continue last week's trend of sending the dollar up against a basket of global currencies.
Disclosure: I/we have no positions in any stocks mentioned, and no plans to initiate any positions within the next 72 hours.
I wrote this article myself, and it expresses my own opinions. I am not receiving compensation for it (other than from Seeking Alpha). I have no business relationship with any company whose stock is mentioned in this article.