Overview:
This week Goldman Sachs analyst Toshiya Hari initiated coverage of AMD (NASDAQ:AMD) with a Sell rating and a price point of $11 ($14 plus before the recommendation) because he sees strong competitive threats from Intel (NASDAQ:INTC) and Nvidia (NASDAQ:NVDA). That is one of the most upside-down and backward quotes I have seen in a long time. The threat is from AMD towards Intel and Nvidia not vice versa.
The biggest single mistake Hari and others make is the huge size differential between AMD and Intel. Intel sells more in a month ($5 billion) than AMD does in a year ($4.3 billion). AMD only needs to capture a fraction of Intel's revenue to become a blockbuster stock.
In this article, I will explain why Hari is wrong and why AMD remains a strong buy.
AMD sales will more than double if it gets just 20% of Intel's HP, Dell and Lenovo business.
Per Intel's 10 K:
"For 2016, our three largest customers accounted for 38% of our net revenue, with Dell Inc. (Dell) accounting for 15%, Lenovo Group Limited (Lenovo) accounting for 13%, and HP Inc. accounting for 10%"
Intel's total 2016 revenue was $59.4 million so 38% would be $22.5 billion. If AMD gets just 20% that would be $4.5 billion vs. 2016 revenue of $4.3 billion. That does not include any increase in sales from other OEMs such as Acer, HP Enterprise (NYSE:HPE) and Asus. Nor does it include any sales from the Super 7 - Facebook (NASDAQ:FB), Microsoft (NASDAQ:MSFT), Amazon (NASDAQ:AMZN), Alibaba (NYSE:BABA), Google (NASDAQ:GOOG) (NASDAQ:GOOGL), Baidu (NASDAQ:BIDU) and Tencent (OTCPK:TCEHY).
AMD is the only company in the world with high-end CPU (Zen) and high-end GPU (Vega).
With the huge growth potential of VR (virtual reality) and AR (augmented reality) only one company has the ability to build a complete package for customers. According to DigiCapital, the VR market will hit $120 billion in 2020 and AMD will be a big part of it.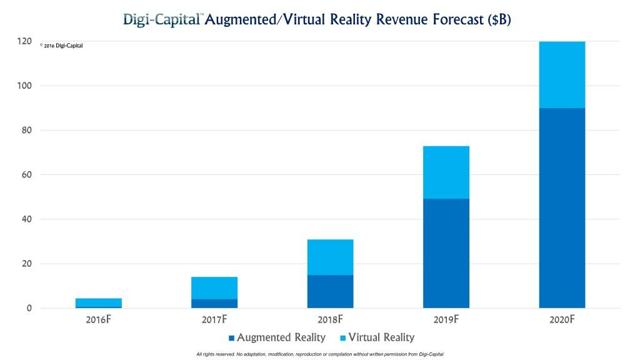 How big is the CPU+GPU portion of that $120 billion? I don't know but it will be a lot more than AMD's $4.3 billion on 2016 revenue.
Nvidia is certainly a formidable competitor in the GPU market but they don't make CPUs and they also don't have experience in the semi-custom SoC (System on a Chip) market. That experience is especially important to the VR market and lends itself to companies that have a need for both CPU and GPU capabilities.
The mobile market offers another huge market for a combined CPU+GPU chip.
AMD's earnings (non-GAAP) in 2017 will exceed .40 not the .02 predicted by GS.
Analysts continually underestimate AMD's earnings potential because they are underestimating their sales potential for 2017. For example, YoY sales for Q1 2017 is estimated to be up 18% and that's without any new products except for the late arriving Ryzen 7, which was only available for the last 4 weeks of the quarter. The 2nd quarter of 2018 will have the Ryzen 7 and Ryzen 5 plus some Vega and Naples server sales. Look for at least a 30% YoY increase for Q2.
Then we hit the big momma, quarter 3. This quarter, which is traditionally the largest, will have full quarter sales of Ryzen 7 and 5 series, Naples servers and Vega GPU. In addition, new game consoles for both Sony (NYSE:SNE) and Microsoft should drive console sales up too. I look for revenue in the 3rd and 4th quarters to be up 50% or more as OEMs release new models with Ryzen and server buyers everywhere start buying Naples servers.
Large PC vendors like HP, Dell and Lenovo cannot wait to get their hands on the new AMD products. For the last 10 years, they have been knowingly paying a premium for CPUs because of Intel's monopoly position in the x86 marketplace. Now that AMD has competitive products, OEMs are going to make sure Intel has serious long-term competition by buying huge amounts of product from AMD.
Dell:
"As the eSports and virtual reality markets continue to grow, Dell is committed to offering cutting-edge technology to enable the best gaming and immersive experiences. We are excited to bring AMD's new high-performance Ryzen processor to select desktop and All-in-One products in the coming months," said Ray Wah, SVP, Consumer Product Group, Dell.
HP:
"Experiences like gaming, eSports, and virtual reality push the performance limits of devices," said Mike Nash, chief technologist, vice president of customer experience and portfolio strategy, HP Inc. "We believe there are a set of customers who will benefit from the new AMD technology and HP is excited to offer those customers devices powered by Ryzen."
Lenovo:
"Lenovo is always exploring and creating new solutions to bring our customers innovative PCs that provide the most immersive computing experiences," said Johnson Jia, senior vice president, Lenovo's PCs and Smart Device Business Group. "We're excited to take our partnership to the next level with the revolutionary new Ryzen processor."
Like I said Intel customers buying $22 billion a year can't wait to take Intel out to the woodshed. And they will do that by buying a large percentage of their CPUs (and GPUs) from a more than competitive AMD.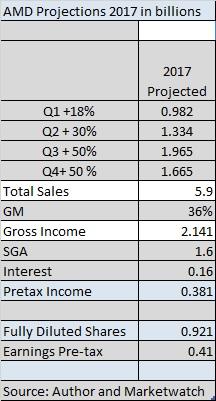 Conclusion:
For 10 years or more, customers of Intel have been paying a premium for their x86 CPUs because the only other source was a woefully underperforming AMD. Since the CPU is usually the highest cost component in a computer, this meant big customers like HP, Dell and Lenovo have paid billions more than they would have if Intel had had some viable competition.
Now that the competition has arrived (via AMD), these very large purchasers of CPUs are going to make sure AMD sticks around. The only question is what percentage of Intel's business will they allocate to AMD? A measly 20% would more than double AMD's sales and I think maybe 30% is more realistic.
And in the high margin server market, AMD will come out of the box with a superior 64-core 128-thread product (see here). I am trying to think of a reason why cloud and enterprise users would not buy this product.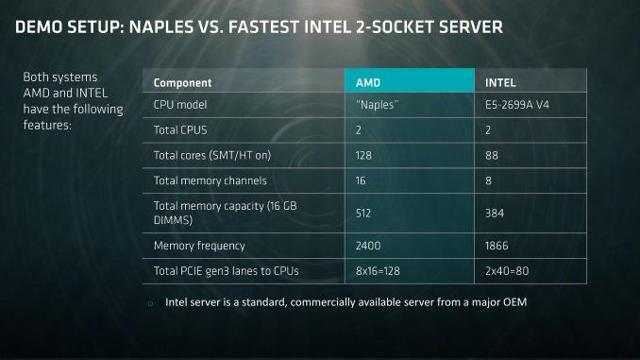 Source: anandtech.com
This is my 4th article on why AMD will be $25 by 2018. In the first one (see here), I gave a calendar of events leading to $25. In the 2nd one (see here), I explained why the AMD critics were wrong, and in the 3rd one (see here), I laid out the next 3 quarter's events and why that would lead to $25. In total those three articles have received more than 75,000 page views.
My price prediction goes like this:
1. By the end of Q1 $15 and it actually hit $15.55 on Feb. 28.
2. By the end of Q2 $18 as the good news of Ryzen, Vega and Naples releases drive the price higher.
3. By the end of Q3 $20 as momentum builds towards a huge Q3.
4. And finally after the blowout results for Q3 are announced in early November, a final surge to $25 through the end of the year into January.
AMD remains a strong buy with a price target of $25 by 2018.
If you found this article to be of value, please scroll up and click the "Follow" button next to my name.
Note: Members of my "Turnaround Stock Advisory" service receive my articles at least 48 hrs. prior to publication, plus real-time updates.
*Anchorite is rated in the Top 1% of all 15,000 analysts rated by Tipranks.com.
Disclosure: I am/we are long AMD.
I wrote this article myself, and it expresses my own opinions. I am not receiving compensation for it (other than from Seeking Alpha). I have no business relationship with any company whose stock is mentioned in this article.