I find the best opportunities for big gains are most often found in small caps and stock that trade for less than $5 per share. I spend a lot of time researching and writing about these types of opportunities and some stocks I wrote about this year have already experienced big gains. For example, in January I wrote about a biotech firm called Catalyst Pharmaceuticals (NASDAQ:CPRX) in an article titled "Why This $1 Biotech Stock Is A Strong Buy For 2017". It now trades for around $2 per share, so it has just about doubled since that article was published, only three months ago. Just days before that article was published, I also wrote a bullish article about another biotech called Immunogen (NASDAQ:IMGN) that was trading for about $1.60 per share and it has more than doubled. Obviously, not every pick doubles in just 3-4 months but this does show the type of potential that keeps me looking for big opportunities in beaten down stocks that trade in the very low single digits. In both of these cases, these companies had plenty of cash on the balance sheet and that greatly reduced the potential downside risks, while the upside potential remained significant even as other investors sold these stocks cheap due to short term setbacks. Right now I see another significant buying opportunity in a little known oil company that trades for just around $1.
I wrote about VAALCO Energy (NYSE:EGY) last month because I believe this is the type of stock that offers a very favorable risk to reward ratio. When I wrote that article, VAALCO Energy shares were trading for $1.07, but due to an earnings "miss", it now trades in the 90 cent range. In my last article, I went into detail about the company, recent events, and the strong balance sheet it has. Now I want to review the 4th quarter results, the recent price action in oil, and discuss why the recent pullback is an ideal buying opportunity.
VAALCO Energy recently released financial results for the fourth quarter of 2016. It posted revenues of $15.3 million and a loss of $3.4 million or 6 cents per share. This should have come as no surprise to well-informed shareholders, because the fourth quarter was heavily impacted by two major short term setbacks. One factor was the significant expense it took to do workovers on two wells that suffered pump failures, and related to this was the fact that without these wells running at full production for the entire fourth quarter, revenues were also significantly impacted. The company has since restored both wells to full production which has added roughly an additional 1,000 barrels of oil to their production. It is worth noting that the average selling price during the fourth quarter was $46.62 per barrel.
In the fourth quarter financials, the company stated that the cost of the workovers for the two wells was $3.4 million. That means that without these workover expenses, this company would have posted break-even results for the quarter. That's impressive considering that oil production and therefore revenues, were significantly impacted by about 1,000 barrels per day, for most of the quarter. If we do some rough math and consider that 1,000 barrels of oil per day, multiplied by 90 days in a quarter, multiplied by $55 per barrel (the current price for Brent crude), adds up to $4,950,000 in revenue that was missing from the fourth quarter. Based on this and with the absence of the $3.4 million in workover costs, it is clear that VAALCO Energy would have been posting a very solid profit in the fourth quarter, if it were not for the failed pump issues which have since been resolved. However, it seems that some shareholders decided to sell off of the headline numbers of a $3.4 million loss and that has created a pullback in the stock as shown in the chart below: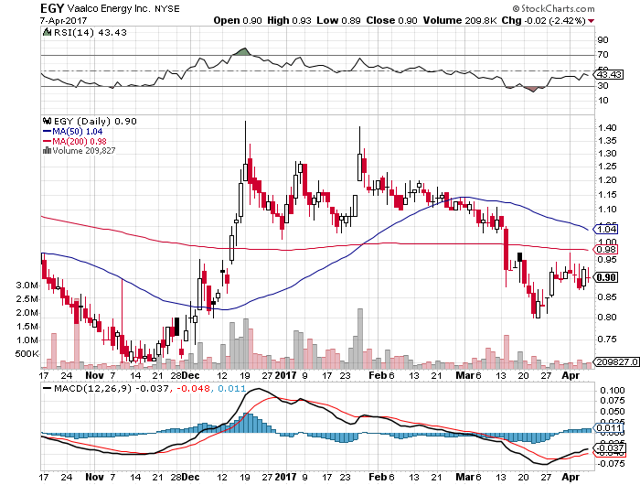 The other factor that helped to push VAALCO Energy shares lower in late March was the drop in oil prices. However, as you can see from the chart below, the price of Brent oil dipped to about $51 per barrel in March, but it has since rebounded back towards the $55 level which is once again very close to the $56 to $57 per barrel price range it was trading at in January and February. Either way, the price of Brent oil only dipped a little to $51, for a very short time and it has since rebounded. More importantly, the price of Brent oil remains significantly higher, when compared to the average selling price (for VAALCO Energy) of $46.62 per barrel in the fourth quarter of 2016. Again, while some shareholders might have sold, due to the blip of a pullback in Brent oil prices we saw in March, informed and longer-term shareholders should stay focused on the fact that oil prices are better now than they were last quarter. Investors should also focus on the fact that VAALCO Energy is a low cost producer that can operate profitably given the current price of oil.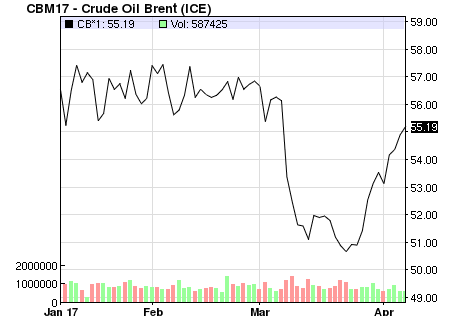 Source: Brent oil price chart courtesy of NASDAQ.com
Based on the fact that oil prices remain at levels that can be clearly profitable for VAALCO Energy and also the fact that the first quarter financials for 2017 should be much stronger, I see the current pullback as a significant buying opportunity. VAALCO Energy should be poised to report a profitable first quarter of 2017. This is based on the absence of the $3.4 million in extraordinary workover expenses that it had in Q4. It is also based on the fact that the company said it was producing about 1,000 additional barrels per day since the workovers were completed late last year. In early 2017, VAALCO Energy issued an update which said that production for the fourth quarter averaged around 3,650 barrels of oil equivalent per day, which was above previously issued guidance ranging between 3,300 to 3,600 barrels of oil. It also said that following the completion of the workover operations on the Avouma Platform in Gabon, production averaged approximately 4,600 barrels of oil equivalent per day. As stated before, the additional 1,000 barrels of oil per day (multiplied by $55 per barrel for the current price of Brent) is enough to add nearly $5 million in revenues to the first quarter of 2017.
This company was essentially breaking even (in the absence of the $3.4 million in extraordinary workover expenses), in the fourth quarter with revenues at $15.3 million. This implies that the additional revenues in the first quarter of potentially around $5 million could flow (almost) straight to the bottom line (divided by about 58.6 million shares outstanding) and therefore allow the company to report a first quarter profit. If that nearly $5 million flows almost directly to the bottom line, the profit could be around 8 cents per share based on 58.6 million shares outstanding. However, I want to be more conservative and factor in some additional production costs which leads me to believe an estimated quarterly profit of 4 to 5 cents per share is a reasonable estimate for Q1. For this calculation, I am assuming there are no extraordinary workover expenses and that other operational expenses remain similar to what was reported in Q4. Regardless of whether the profit for the first quarter of 2017 is 5 cents per share or even just a couple of cents per share, I do not know of any profitable oil stocks trading for just around $1 per share.
I think this stock is one of the very few bargains in this market and I expect it to head much higher in the coming years. In the short term, I expect investors to increasingly realize that Q4 results were quite solid if you take a deeper look and consider the short term production and expense setbacks that are now remedied. I also expect investors to begin focusing on the fact that oil prices are rebounding back towards the high range we have seen for 2017. Finally, I believe that well-informed investors will also begin to see the profit potential this company has for the first quarter of 2017 and beyond. These factors should be more than enough to create a rebound back over $1 per share. There is another very recent event that appears to confirm my view that this stock is a real bargain and that event is new insider buying.
On April 5, 2017, it was reported that Alfred Knapp Jr. (a director of VAALCO Energy) purchased 50,000 shares at an average price of 95 cents per share. Insiders tend to know their companies better than anyone and buying stock can be a great vote of confidence for other shareholders like myself. I noticed that an insider at Transatlantic Petroleum (NYSEMKT:TAT) recently bought 80,000 shares of that stock and it seems to have sparked a rally which has been taking the shares from about $1.10 to over $1.40. That is a big percentage gain in just a matter of days. I think that between the recent insider buying at VAALCO Energy, and the likelihood for a strong Q1, that this stock won't be trading below $1 per share for too much longer. For all of these reasons, I think VAALCO Energy shares are poised to take out the 52-week high of $1.43 sometime in 2017.
If you want updates on this stock in the future or other deep value and contrarian investing ideas, please consider following me.
Data is sourced from Yahoo Finance. No guarantees or representations
are made. Hawkinvest is not a registered investment advisor and does
not provide specific investment advice. The information is for
informational purposes only. You should always consult a financial advisor.
Disclosure: I am/we are long EGY.
I wrote this article myself, and it expresses my own opinions. I am not receiving compensation for it (other than from Seeking Alpha). I have no business relationship with any company whose stock is mentioned in this article.
Editor's Note: This article covers one or more stocks trading at less than $1 per share and/or with less than a $100 million market cap. Please be aware of the risks associated with these stocks.