Since its 2013 IPO, Veeva Systems (VEEV) has had a nice ride with its stock more than doubling. The stock is currently a few points below its all-time high. In this article, I will highlight the reasons I believe VEEV is currently overvalued and why I believe investors should avoid the company.
Veeva Systems is a cloud-based software provider for the life sciences industry. The company serves most of the leading life science companies in the world. It was established ten years ago by Peter Gassner and Matt Wallach. Previously, Peter worked at Salesforce (CRM) as a senior vice president of technology.
Before that, he had worked at PeopleSoft and IBM (IBM). Before starting Veeva, Matt worked for several pharmaceutical companies like Siebel Systems. Veeva competes with companies like Medidata (MDSO), Quintiles IMS (NYSE:Q), Oracle (NYSE:ORCL), BioClinica, Sparta Technologies and Prolifiq among others. The company generates revenues through subscription and professional services.
Veeva's stock has performed well since its IPO. This performance is attributed to several factors. First, the company has a reputation of revenue and EPS growth. It has beat all the Street's predictions since its IPO. Second, the company's main metrics including the number of customers has grown significantly. During its IPO, Veeva had 170 customers.
Today, the company has more than 520 customers. Its revenue, net income, and operating income have also improved as shown below. Third, investors hope the company will disrupt the life sciences industry, and, to some extent, win clients in other fields. Fourth, they are pleased with the company's growing margins. Finally, investors buy the company with hopes that it is a perfect acquisition target.
Veeva's annual revenue and operating income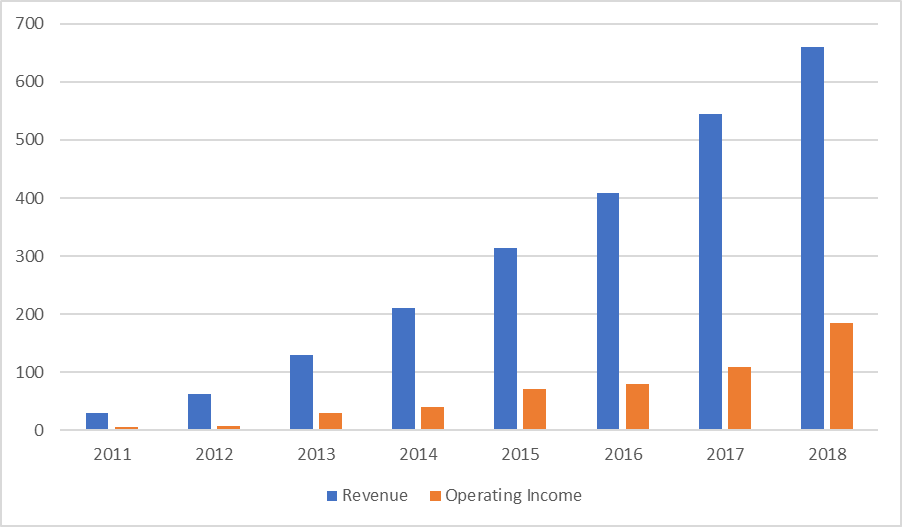 Source: Seeking Alpha
Valuation
Veeva's stock is currently trading at $51.59 giving it a market capitalization of $7.26 billion. Its annual revenue has increased from $29 million in 2011 to $544 million in fiscal year 2017. This year, the company expects revenues to be between $655 million and $660 million. Its net income has increased from $3.9 million to $68 million. This is commendable for a SAAS company keeping in mind that other SAAS companies like CRM, Box (BOX), and Workday (WDAY) have struggled to become profitable.
We are at a period when investors are not investing in companies based on their intrinsic value. I call it story-based investing. Veeva is a good example of this because investors are paying too much for the company. Medidata is one of Veeva's closest competitors. In the table below, I will compare the two companies.
| | | |
| --- | --- | --- |
| | Veeva | Medidata |
| Year Founded | 2007 | 1999 |
| Market Cap ($) | 7.1B | 3.67B |
| Number of customers | 520+ | 850+ |
| Revenues ($) | 544M | 463M |
| Net Income ($) | 68M | 28.9M |
| Operating Margin | 19.85% | 10.84% |
| PE (Forward 1-year) | 53.45 | 41.84 |
| PS Ratio (Forward 1-Year) | 9.0 | 5.64 |
From this table, a few things are evident. First, Veeva has more revenues than Medidata although the latter has more customers. It has achieved these revenues within a very short period as well. Second, Veeva has a higher operating margin than MDSO. Third, based on the forward P/E and P/S ratios, investors are willing to pay a premium for Veeva. Its market value is almost twice that of MDSO.
Potential Risks
Although Veeva's numbers have grown substantially in the past 10 years, I believe investors have not priced in the potential risks exposed by the company.
The company serves more than 520 companies in the life sciences industry. A look at this page shows that the company's clients are the largest pharma companies in the world. In the SAAS industry, the size and scale of the customer determines the revenues and the respective margins. In many cases, Veeva generates more revenue from a company like Pfizer (PFE), which has almost a hundred thousand employees, than Depomed (DEPO), which has less than 500 employees.
Although there are thousands of companies in the sector, the pharmaceuticals industry is dominated by large companies like Sanofi (SNY), Johnson & Johnson (JNJ), and Abbott Laboratories (ABT) among others. These companies are already customers of Veeva.
To continue growth, the company will need to reach out to small life sciences companies. This might mean increasing the sales and marketing expense to reach out to these companies. The company might also continue to come up with new products to upsell its existing product. This might mean increasing the research and development expenses.
Another way for the company to achieve growth is to target non-life sciences companies. It has already started rolling out the Vault QualityOne product, which provides a unified quality management and document control services. The product targets manufacturing companies. The product is in the early days, and in the last quarter, it added two top manufacturing companies. The risk here, though small, is that the company's products might not resonated with customers in other areas.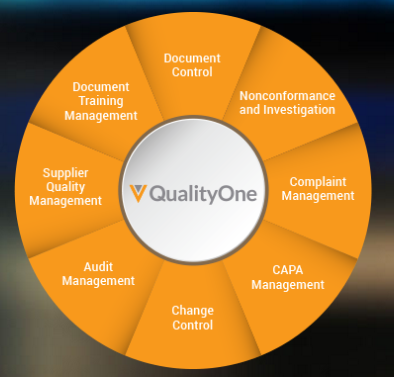 Source: Veeva
Another risk that investors might be ignoring is the company's legal issues. Several companies like Medidata, Prolifiq, and Quintiles IMS have sued the company for violating non-compete agreements and stealing confidential information.
Companies file anticompetitive actions all the time. The difference between most companies and Veeva is that the latter does not deny practicing these actions. The company says the following about non-compete agreements:
If you join Veeva, your responsibility is to return all data to your former employer and never share confidential information. If you do that, in the event your former employer pursues a claim, Veeva will provide for your full legal representation and help make the process as easy as possible. In the unlikely event a non-compete delays or restricts your work at Veeva, you will retain your position and your compensation will continue unaffected.
The company has also started collecting signatures it hopes will help eradicate non-compete agreements. The pledge can be found here.
The three cases are yet to be determined. Going by the recent stock movements, investors believe the company will be vindicated. Veeva also believes that the cases are without merit. However, a number of companies have in the past succeeded in suing their past employees and the new employer. A good example is in the Kallock vs. Medtronic case which ended in the supreme court. Its ruling can be found here. The impact of these cases is that the current and future customers might slow the process of integrating Veeva's products in their companies. Peter Gassner said the following about the lawsuits in the previous earnings call:
Certainly, there is chatter and they want to know about what's going on. So we have to explain it to them. But in our view, the Medidata lawsuit, it's really an attempt to stall our entry into the CTMS and EDC markets. We don't think that will be successful.
Conclusion
Veeva Solutions has had a nice run after its IPO. The company has become profitable in an industry that many companies have continued to struggle. As demonstrated above, I believe investors are overpaying for the company. I believe the company's better days are behind it based on its growth which I expect to slow and the potential disruptions arising from the lawsuits.
Disclosure: I/we have no positions in any stocks mentioned, and no plans to initiate any positions within the next 72 hours.
I wrote this article myself, and it expresses my own opinions. I am not receiving compensation for it (other than from Seeking Alpha). I have no business relationship with any company whose stock is mentioned in this article.