Alnylam Pharmaceuticals Inc. (NASDAQ:ALNY) is a biopharmaceutical company headquartered in Cambridge, MA, USA. Alnylam [Website] is one of the pioneers in discovering, developing, and commercializing novel therapeutics for genetically defined diseases. The company has many strategic alliances, including Genzyme, a Sanofi (NYSE:SNY) company, and agreements with a variety of companies and institutions [Ref]. Alnylam scientists have developed an improved technique for the delivery of RNA interference (RNAi) therapeutics with the help of GalNAc-conjugated ESC-modified siRNAs [Ref]. This novel delivery technology is being employed in almost all of Alnylam's RNAi therapeutic pipeline programs. Alnylam also holds a broad intellectual property protection for a GalNAc-conjugate delivery platform for RNA therapeutics [Ref].
Alnylam focuses on three strategic therapeutic areas: genetic medicines, cardio-metabolic diseases, and hepatic infectious diseases. These categories break down into a focus of 17 different drugs at various stages of development as shown in the figure.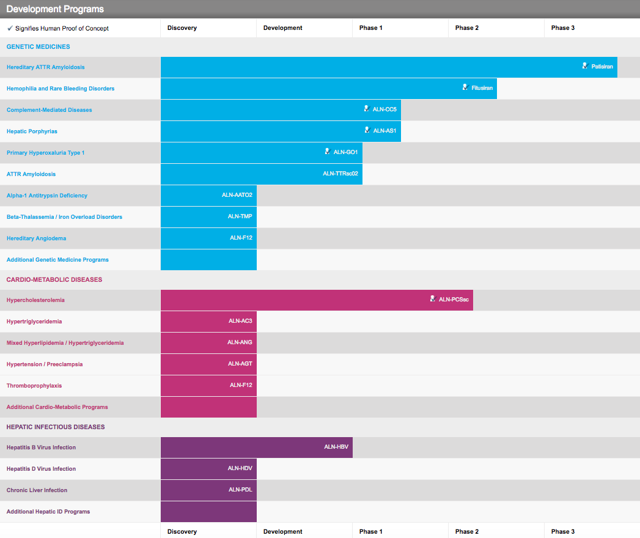 LATE STAGE CLINICAL PROGRAMS
At present, Alnylam has eight active core programs in clinical or pre-clinical development. They are, Patisiran, Fitusiran, Inclisiran, Givosiran, ALN-CC5, ALN- GO1, ALNHBV, and ALN-TTRsc02. Among those, Patisiran, Fitusiran, and Inclisiran are in late-stage development, as seen from the figure [Ref].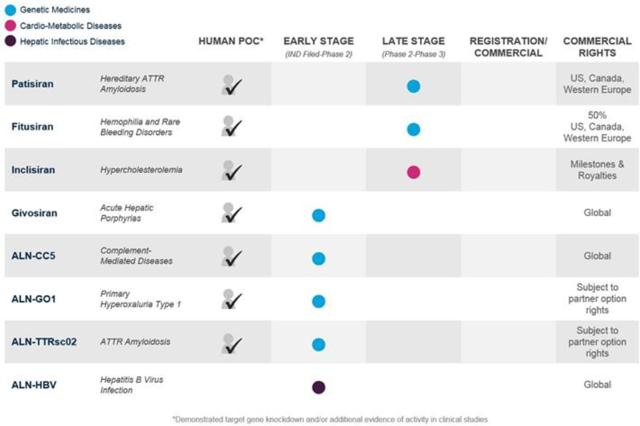 PATISIRAN
Patisiran, also known as ALN-TTR02, is an experimental RNAi therapeutics developed for the treatment of familial amyloidotic polyneuropathy (FAP), or hereditary TTR-mediated amyloidosis (hATTR) with polyneuropathy (hATTR-PN). If untreated, hATTR-PN can cause motor, sensory, and autonomic dysfunction, leading to significant disability and death [Ref].
Patisiran is the first RNAi therapy to enter a Phase 3 clinical trial and may potentially be the first in the market. Thanks to the promising results from Phase 2 open-label extension (or OLE) study of Patisiran, Alnylam is anticipating a positive topline data in September 2017 from the APPOLO Phase 3 trial. Other upcoming milestones for Patisiran include:
The submission of a New Drug Application (NDA) and Marketing Authorization Application (MAA) by the end of 2017, subject to a positive Phase III data.
36-month data from patients of Patisiran Phase 2 OLE study
This general optimism is also reflected in the forecast drug sale of Patisiran as shown in the figure.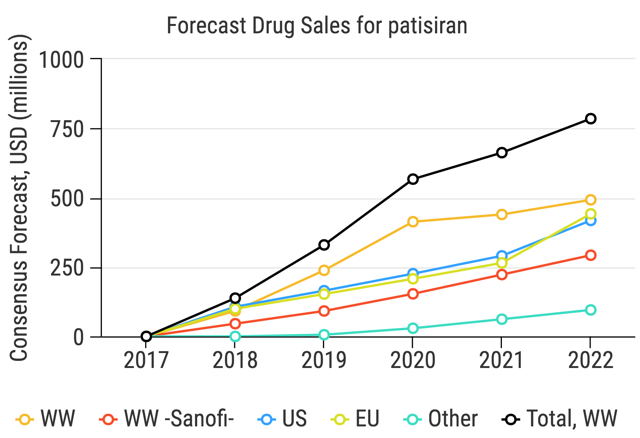 The major strengths of Patisiran lie in its capability of rapid and sustained knockdown of the TTR levels up to 96% in the Phase 2 trials of patients with FAP, the Orphan Drug status for FAP in the US translating to 7 years of exclusivity, and the higher interval between drug administration (need to be done only every 3-4 weeks). The opportunity for Patisiran lies in the existing limitations of liver transplants and the existing restriction of using the only available approved drug Vyndaqel in early stages of the disease.
The weakness of Patisiran includes reported episodes of serious nausea and vomiting, self-limiting cellulitis, infusion-related reactions, and a lack of Phase 3 data for APOLLO.
In spite of the general positivity, investors are being cautious about Patisiran due to the recent abandonment of Revusiran, Alnylam's Phase 3 clinical trial candidate for hereditary ATTR amyloidosis. The fear that this might happen to Patisiran too is not quite unfounded. In addition, other threats to Patisiran includes regulatory risk, competitions from GlaxoSmithKline (NYSE:GSK) and Ionis Pharmaceuticals' (NASDAQ:IONS) drug IONIS-TTRRx, SOM Biotech's SOM-0226, etc., which has an ongoing Phase 2/3 trial for FAP, and the absence of a large market for the disease.
FITUSIRAN
Fitusiran, also known as ALN-AT3, is an RNAi therapeutic research program which is investigational and subcutaneously administered. Fitusiran is intended for the treatment of hemophilia and Rare Bleeding Disorders (RBDs) [Ref]. Sanofi Genzyme has opted in to co-develop and co-commercialize Fitusiran along with Alnylam.
The upcoming milestones for Fitusiran include:
Initiation of ATLAS Phase 3 program in 2Q 2017. The three separate Phase 3 ATLAS trials are ATLAS-INH, ATLAS-A/B, and ATLAS-PPX.
Present data from ongoing Fitusiran trials by end of 2017
INCLISIRAN
Inclisiran, formerly known as ALN-PCSsc or PCSK9si, is developed in collaboration with The Medicines Company (NASDAQ:MDCO). Inclisiran is an investigational GalNAc-conjugated RNAi therapeutic being developed for treating hypercholesterolemia. Hypercholesterolemia causes high levels of cholesterol in the blood, leading to coronary artery disease, which can cause death [Ref].
The upcoming milestones for Inclisiran include
Completion of Phase 2 data by mid-2017
Initiation of Phase 3 studies in mid-2017
DISCONTINUED PROGRAMS AND PARTNERSHIPS
Revusiran: Alnylam was blindsided when its investigational RNAi therapeutic Revusiran had to be abruptly pulled from trials due to the deaths of 18 participants due to heart-related issues [Ref]. Revusiran, which was granted orphan drug status by FDA, was Alnylam's Phase 3 candidate for the treatment of the rare disease hereditary ATTR amyloidosis (hATTR) with cardiomyopathy (hATTR-CM).
Revusiran's Phase 3 ENDEAVOUR trial was discontinued following the recommendation of the data monitoring committee due to the imbalance of mortality in the Revusiran arm when compared to the placebo. Even though no definitive evidence was found for a drug-related neuropathy signal in ENDEAVOUR, the DMC concluded that the benefit-risk profile for Revusiran no longer supported continued dosing. Alnylam continues to evaluate the data from ENDEAVOUR in order to understand the potential cause of these findings [Ref].
ALN-AAT: Alnylam abandoned the development of its RNAi therapeutic drug candidate ALN-AAT, intended for the treatment of AAT deficiency-associated liver disease [Ref]. This decision was made based on the observation of liver enzyme elevation at the highest dose in three patients after Phase 1/2 of ALN-AAT.
The clinical data of ALN-AAT from Phase 1/2 trial indicated that in normal healthy adult volunteers, ALN-AAT was generally well tolerated. There were also no reports of drug-related serious adverse events (SAEs), injection site reactions, or discontinuations due to adverse events (AEs). However, transient, dose-dependent, and asymptomatic increases in liver enzymes were seen in 3 out of 15 healthy volunteers. Since the target patient population suffers from liver diseases, the development of ALN-AAT was stopped.
In lieu of the discontinued ALN-AAT, Alnylam plans to advance a new development candidate ALN-AAT02, to be submitted to regulators for starting a clinical trial this year. This new candidate intends to target a different sequence for further development.
The exit of Novartis: Drug giant Novartis AG (NYSE:NVS) parted way from Alnylam [Ref] citing the ongoing challenges with formulation and delivery of RNA therapeutics. Novartis took this decision based on its evaluation that RNA therapeutics has only a narrow set of potential medical applications.
STOCK PRICE AND VALUATION
Alnylam has a 52-week range of $31.38-$80.11 with an average volume of 999,557 shares and a market cap of $4.17B, which is above the Enterprise value of $3.7B. ALNY has accumulated $193.62M of cash, cash equivalents, and marketable securities, with a current ratio of 5.10. Alnylam has a P/E ratio of (10.13) and EPS of (4.79), which is quote below the consensus analyst forecast [Ref].
When compared to Nasdaq Biotechnology Index (NBI) and S&P 500, Alnylam has consistently underperformed in the last two years as indicated by the figure.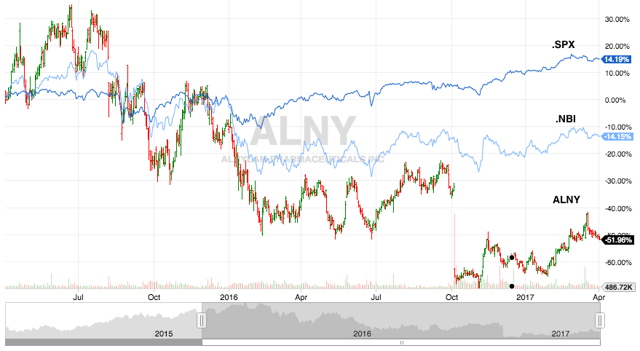 As shown in the figure below, despite the increase in Cash and Cash Equivalent over the years due to strategic partnerships, there was no marked increase in revenue for ALNY. This is attributed to the increase in spending costs and expenses for commercialization, R&D, regulatory approvals, and clinical trials. The EBITDA has also been continuously reducing, with the lack of partnerships and operating losses. In addition, Alnylam entered into credit agreements to finance the building of the manufacturing facility, that provide for a $150.0 million term loan facility, and mature in April 2021.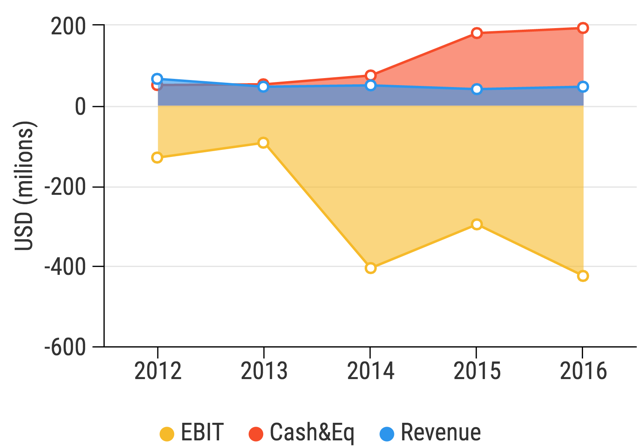 WHAT'S NEXT?
The news of the unexpected halt of Revusiran has already made investors cautious regarding the fate of the remaining drug candidates of the company. Alnylam's future prospects have its share of both positives and negatives.
Positive Aspects:
Increased scope for RNA-based therapeutics for genetic diseases and infectious diseases
The company has already tripled in value in the past five years and has a potential to continue to increase further, thanks to the
o Partnership with Sanofi Genzyme
o Success of Patisiran Phase 2 trials
o Positive results in Phase 1 trials of ALN-TTRsc
A market cap of more than $4B indicates that investors still believe that successful commercialization would lead to more revenues for ALNY.
Major Concerns:
The initial surge in the price of ALNY has crashed along with the biotech bubble and continues to fall further. The fact remains that no FDA approved RNAi-based therapies are currently available for ALNY.
Lack of clarity in the FDA process under the new Trump administration could result in delays in approval. The drug prices are expected to be brought under control, while the fees for the approval process is expected to be substantially higher. This is not a great news for ALNY, which is anticipating the approval of New Drug Application (NDA) for Patisiran this year.
The drugs like ALN-TTR02 and ALN-TTRsc are being developed for orphan diseases FAP and FAC that impacts less than 60,000 people on an average. The profits would also be significantly smaller if the drugs do get finally approved.
Increased competition from other companies, many of them with similar drugs which are also in Phase 2/3 trials.
Decline in partnerships of ALNY due to exit by Merck, Roche (OTCQX:RHHBY), Pfizer (NYSE:PFE) and Novartis. The only major partner for ALNY is Genzyme-Sanofi.
Business partners and insiders are quietly selling off shares of ALNY, indicating their lack of confidence in the RNAi therapeutics.
The reducing strength of dollar is a reason for worry when ALNY tries to seek approval in EU.
Interestingly, the current valuation provided for ALNY is supported by the investment banks that have a conflict of interest. This raises questions about the authenticity of the valuation [Ref].
Despite the many positives for Alnylam, the negatives seem to overshadow the positives. At any rate, the next few months is expected to bring in a lot of volatility in the share prices due to upcoming efficacy and safety data from pipelines of both Alnylam and its competitors.
CONCLUSION
Our overall verdict on Alnylam Pharmaceuticals Inc. is a Strong Sell with price target 25% below its current market price. This translates to a high of $38 and low of $33 in the next 3-6 months.
This conclusion is a result of our systematic analysis of the existing uncertainty in RNA-based therapies, weaknesses of Alnylam's leading compound Patisiran, reducing EBITDA, lack of partnerships, operating losses, increasing competition from other companies, regulatory events in the next 6-12 months, etc.
Even though the FDA approvals of Ionis Pharmaceuticals' Kynamro (2013) and Spinraza (late 2016) have been encouraging signs of acceptance of oligonucleotide drug technologies by the broader scientific community, RNAi-based therapies have faced a quite strong resistance by FDA. This makes the promise of RNA-based therapies highly uncertain, as recently Arrowhead Pharmaceuticals (NASDAQ:ARWR), under collaboration and licensing agreement with ALNY, ended development of three drug candidates based on worries about the safety of its RNAi delivery system [Ref].
Alnylam is facing increasing completion from other companies. The companies like Ionis and Glaxo which have RNA-based therapy in late stage development that competes with Alnylam's amyloidosis polyneuropathy (TTR-PN). In addition, Pfizer's Vyndaqel (Tafamidis in the US), as well as generic drug Diflunisal, could also reduce Alnylam's sales.
Alnylam is still several years away from profitability despite strong data in clinical trials to date and expanded alliances with Sanofi.
The steep cost associated with RNAi-based therapies may limit payers. Payers may become increasingly unwilling to pay the six-figure price tags associated with such therapies as these markets become more competitive.
Lack of clarity in the number of patients. Even though Alnylam targets rare disease indications with the hope of introducing transformational therapies, there is no guarantee that the firm will be able to locate significant numbers of patients who would benefit from the therapy.
Patisiran's success is not guaranteed, neither are returns. Even with an 80% probability of success for Patisiran's ongoing Phase 3 trial with familial amyloidotic polyneuropathy, the drug will reach the market only in 2018 and is expected to achieve a peak market share of 25%.
Past failures and lack of partnerships. The failure of Revusiran in October 2016 during Phase 3 clinical study and other disappointing data and milestones had abruptly ended partnerships with Novartis and Merck. There are no new significant strategic alliances or partnerships being formed. All these will definitely weigh on any further clinical development and R&D expenses.
Reducing EBITDA, higher expenses. The company has suffered a very negative trend in EBITDA over the past 5 years, indicating a low profitability. In addition, clinical trials, regulatory approvals, and commercialization have also increased the spending costs and expenses.
Even if Alnylam is able to get positive pivotal results for its therapeutics, the regulatory environment is unpredictable in the orphan drug space. The weaknesses of the dollar would also be detrimental in case Alnylam seeks approval in EU.
The uncertainty about the upcoming changes in FDA regulation under Trump's rule [Ref]. In view of the proposed funding cuts for FDA, higher user fees, and other changes, there might be a longer than anticipated delay in filing for NDA for Patisiran in 2017. In case the changes in FDA result in faster drug approvals, Patisiran's NDA will get approved quickly. However, there will also be an increased competition from other similar approved drugs making it harder for companies with genuine breakthrough treatments to separate their products from phony ones, thanks to the drive to promote biosimilars. At any rate, the upcoming months are expected to be volatile for Alnylam share prices.
Despite high dividend yields, Pharma and Biotech sector is facing a lower appeal from a macro perspective due to the rising bond yields.
The current stock price of Alnylam has already weighted the drugs which are under clinical investigation. But the price does not reflect possible negative outcomes, which means that the stock prices will take a tumble in the case of negative or lesser than anticipated trial results. Overall, despite small tailwinds, there seems to be no let-up in the significant headwinds to Alnylam, making it a candidate for Strong Sell for the near future.
Disclosure: I/we have no positions in any stocks mentioned, and no plans to initiate any positions within the next 72 hours.
I wrote this article myself, and it expresses my own opinions. I am not receiving compensation for it (other than from Seeking Alpha). I have no business relationship with any company whose stock is mentioned in this article.