There was a nice trade in silver off the December lows into the end-of-February peak. Even if longs held through the correction in early March, the rebound move back to the February high took only two weeks. As of close on Friday, April 7, 2017, the picture changed, and it might be worth taking a close look at what some of the potential implications are for silver.
As the chart below shows, iShares Silver Trust ETF (NYSEARCA:SLV) put in a large, bearish reversal candle Friday. After attempting to break out on the Syrian bombing and the less-than-expected NFP data 1, SLV reversed lower and closed below its 200-day simple moving average: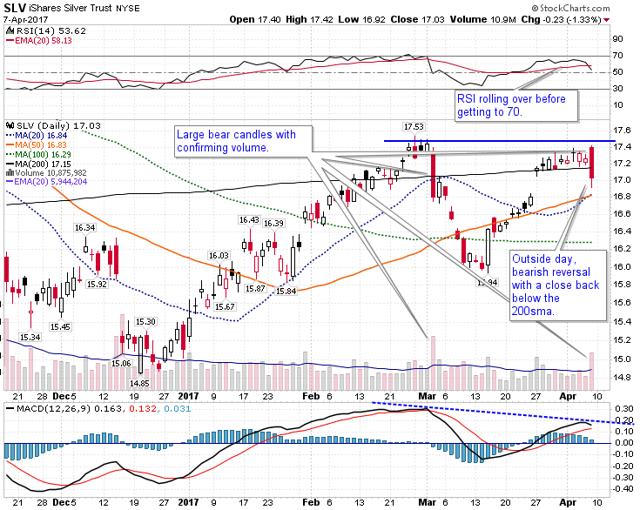 Source: StockCharts.com as of April 7, 2017
Zooming in on the daily SLV chart to look at the past 30 days exposes the outsized reversal day on Friday, April 7, 2017, that encapsulated the prior 9 trading days. A failed bullish upside breakout, only to reverse and close lower, sends signals I can't ignore.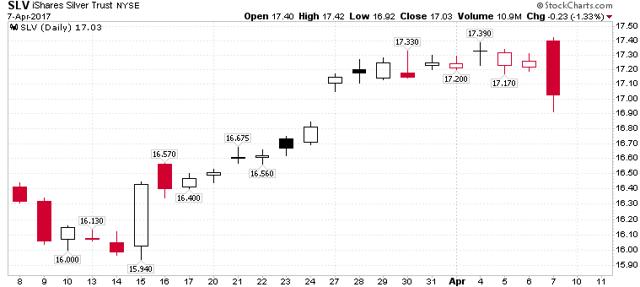 Source: StockCharts.com as of April 7, 2017
The chart below shows that SLV sentiment is hitting "excessive optimism" levels. Optix is a proprietary measure of investor sentiment and is usually a contrary indicator. When investors, as a group, are leaning too far in one direction, either bullish or bearish, one must take care of not getting caught by a counter move in the opposite direction: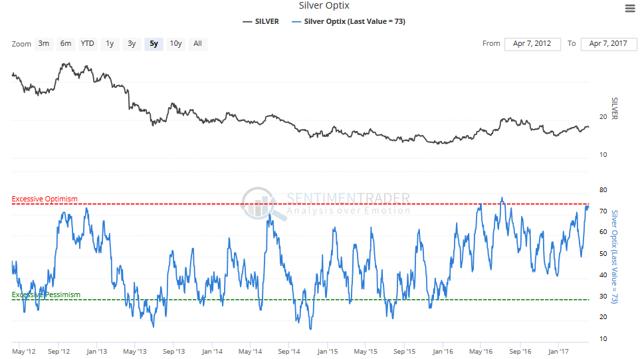 Source: SentimenTrader at April 7, 2017
Looking at things from another angle, a report I follow closely having been a futures trader on the floor of the CBOT, is the Commitment of Traders report. The chart below shows that Commercials are at a new 52-week-high in the number of net short futures contracts they hold, while Large Speculators (aka managed money and hedge funds) are at an 52-week-high in the number of long contracts they hold: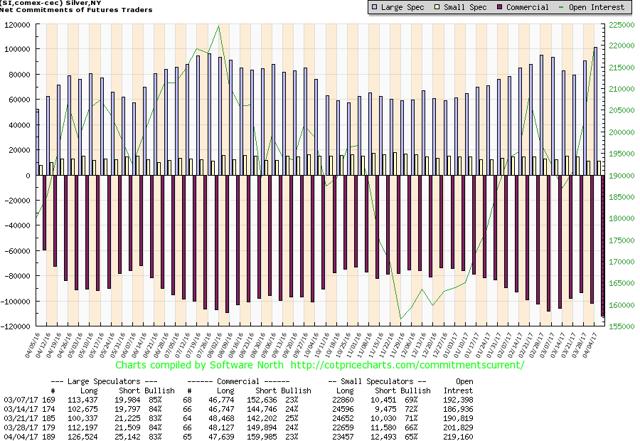 Source: cotpricecharts.com as of April 4, 2017
Commercials, often referred to as the "smart money," are hedgers that deal with the underlying commodity as part of doing business. Commercials are large operators with very deep pockets, and they are exempt from position limits and are allowed to post smaller margins (i.e., they are able to use more leverage). It's important to note that this snapshot of commercial positions is as of the close last Tuesday, April 4, 2017, and are reported by the CFTC on Friday afternoon of the same week.
When watching COT levels each week, what is important to me is the trend in the positions that Commercials and Large Specs hold. But what is also important to me is when extreme positions occur. Looking at the chart below we see commercial positions back to 1993, and what jumps out at me is the fact that the current commercial short position of 112,346 short contracts is a record short position.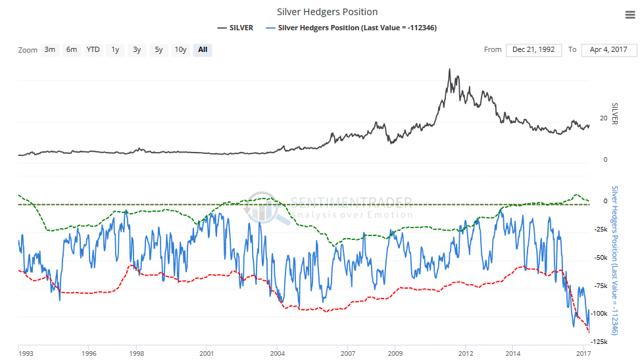 Source: SentimenTrader as of April 4, 2017
The bottom line is that investors are excessively optimistic while Commercials are at a record level of bearishness. The price chart is suspect and looks to me like it is set up for a decline, or correction at a minimum. What is unknowable is whether a pullback will be short and shallow or something long and deep. I plan to watch from the sidelines and will wait to see some change in the COT posture, or a signal off the price chart, before looking to make a trade in either direction.
Disclaimer: Past performance does not guarantee future results. The views and opinions expressed herein are those of the author's as of the date of this commentary, and are subject to change without notice. This information is for information purposes only and is not intended to be an offer or solicitation for the sale of any financial product or service or a recommendation or determination by Sprott Global Resource Investments Ltd. that any investment strategy is suitable for a specific investor. Investors should seek financial advice regarding the suitability of any investment strategy based on the objectives of the investor, financial situation, investment horizon, and their particular needs. This information is not intended to provide financial, tax, legal, accounting or other professional advice since such advice always requires consideration of individual circumstances. The products discussed herein are not insured by the FDIC or any other governmental agency, are subject to risks, including a possible loss of the principal amount invested. Generally, natural resources investments are more volatile on a daily basis and have higher headline risk than other sectors as they tend to be more sensitive to economic data, political and regulatory events as well as underlying commodity prices. Natural resource investments are influenced by the price of underlying commodities like oil, gas, metals, coal, etc.; several of which trade on various exchanges and have price fluctuations based on short-term dynamics partly driven by demand/supply and also by investment flows. Natural resource investments tend to react more sensitively to global events and economic data than other sectors, whether it is a natural disaster like an earthquake, political upheaval in the Middle East or release of employment data in the U.S. Low priced securities can be very risky and may result in the loss of part or all of your investment. Because of significant volatility, large dealer spreads and very limited market liquidity, typically you will not be able to sell a low priced security immediately back to the dealer at the same price it sold the stock to you. In some cases, the stock may fall quickly in value. Investing in foreign markets may entail greater risks than those normally associated with domestic markets, such as political, currency, economic and market risks. You should carefully consider whether trading in low priced and international securities is suitable for you in light of your circumstances and financial resources. Past performance is no guarantee of future returns. Sprott Global, entities that it controls, family, friends, employees, associates, and others may hold positions in the securities it recommends to clients, and may sell the same at any time.
Disclosure: I/we have no positions in any stocks mentioned, and no plans to initiate any positions within the next 72 hours.
I wrote this article myself, and it expresses my own opinions. I am not receiving compensation for it. I have no business relationship with any company whose stock is mentioned in this article.