Welcome to the Ultra edition of Energy Daily!
Ultra Petroleum
Ultra Petroleum (UPLMQ) announced the pricing for $1.2 billion two-tranche offering of senior notes.
The first tranche is for $700 million 6.875% senior unsecured notes due 2022, and the second tranche is for $500 million 7.125% unsecured notes due 2025.
On March 15, Ultra has already announced its 2017 capex budgeting and production guidance. The company is targeting 290 to 300 Bcfe for 2017.
Through the reorganization, Ultra is now targeting just $1.83/Mcfe to $2.04/Mcfe in total operating cost. Interest expense will be $0.30/Mcfe to $0.34/Mcfe of the total cost.
For calendar 2017, the company has hedged 50% of its production at an average price of $3.17/MMBtu or $3.34/Mcf.
Since last year, Ultra's shares have recovered remarkably to $7.52 a share.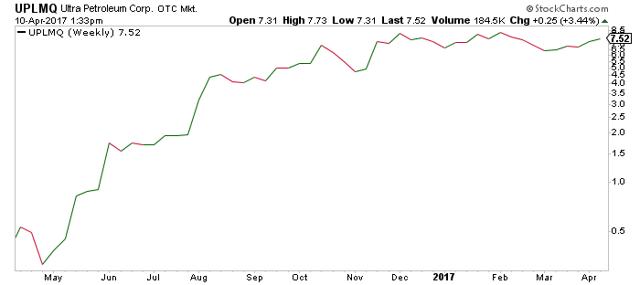 The question to ask now is, is now a good time to buy the shares?
We had always known that Ultra had excellent acreages, but the debt burden on the stock made it unattractive during the commodity downturn. With debt concerns out of the way, we see the newly formed Ultra possessing the potential to participate in our bullish natural gas thesis. The company's new low all-in cost structure will see it growing production year after year, and we think the incentives are aligned for shareholders to make money.
We will be covering Ultra Petroleum in more detail in our premium service. You can read about it more here.
Libya
Conflicts in Libya's Sharara oil field is shut in again as pipeline to the export terminal is blocked again.
Conflicts in Libya are once again flaring with the Haftar forces attacking UN-backed airbase. Russia's forces are likely supporting Haftar's move, and the retaliation could be Russia's way of sending a message to US's latest Syria attack.
We look to cover this more in our oil markets daily today.
Sinopec Canada
Sinopec Canada has engaged Sayer Energy Advisors to assist it with the sale of some non-core Western Canadian assets. The properties are producing 664 boe/d net to Sinopec. The divestiture is a small amount to Sinopec's overall production.
Hedge Funds Bullish on Natural Gas
The latest money manager position disclosure shows an optimistic return to the natural gas market with net-long positioning hitting the highest since 2014.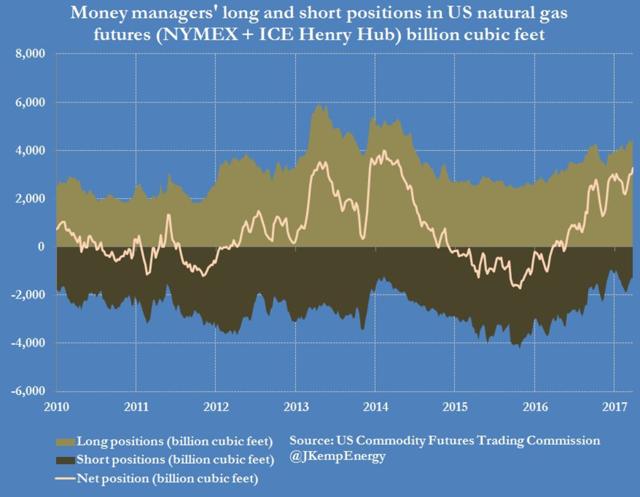 Source: John Kemp
We will be covering more of this in our natural gas daily.
HFI Research
If you enjoy the quick snapshot summary, please be sure to follow us for real-time alerts. HFI Research also offers a premium service that is exceptionally valuable to energy investors. For more details, see this.
Disclosure: I/we have no positions in any stocks mentioned, and no plans to initiate any positions within the next 72 hours.
I wrote this article myself, and it expresses my own opinions. I am not receiving compensation for it (other than from Seeking Alpha). I have no business relationship with any company whose stock is mentioned in this article.
Editor's Note: This article discusses one or more securities that do not trade on a major U.S. exchange. Please be aware of the risks associated with these stocks.