"The inevitable hallmark of bubbles is a death of risk aversion." -- Howard Marks, Co-founder and Co-chairman of Oaktree Capital
We have truly lived through a "market of stocks" over the last month rather than a "stock market." While the S&P 500 (NYSEARCA:SPY) only dropped about 0.75% since March 10, we have seen some big winners -- such as Akorn Pharmaceuticals (NASDAQ:AKRX), Tesla (NASDAQ:TSLA), and Apple (NASDAQ:AAPL) -- balanced out by big losers, such as Valeant (NYSE:VRX), General Motors (NYSE:GM), and many U.S. banks. Rising stock dispersion tends to be linked to the latter stages of a bull market and has been found to be followed by an increase in unemployment and economic recessions. It may therefore be prudent to start taking some profit if you were lucky enough to own some of the big winners and build up a cash position. However, I still find that the overall picture still looks good for risky assets and that calls for a substantial market correction are premature at best.
Red Flags to Watch For
In a previous article, I pointed out that high yield credit spreads were very tight - reaching just 3.55% on March 2. Tightening credit spreads are normally a good sign as they reflect investor optimism. However, spreads can get too tight as optimism turns into careless exuberance - just like stock market valuations can get too rich.
Spreads have widened since the beginning of March and I am now watching to see if they widen beyond the 4.16% level recorded on March 22, 2016. This would be a strong signal for me that high yield investors are no longer as confident as they were and that this cautionary or even fearful sentiment could quickly spread to other risky assets. If we also see lower lows in the iShares iBoxx $ High Yield Corporate Bond ETF (NYSEARCA:HYG), or even break the 40-week EMA, then investors would be well-advised to reduce risk exposure.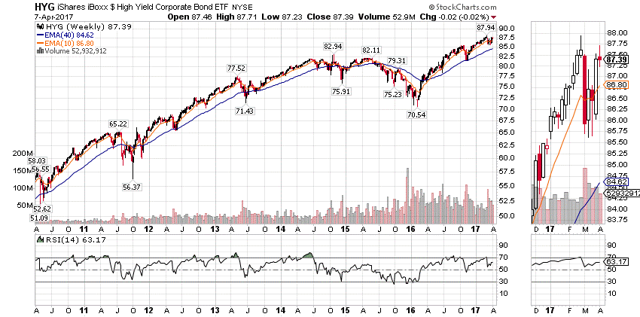 Another red flag I am watching for is lower lows in the iShares Russell 2000 ETF (NYSEARCA:IWM). This would likely signal that investors are changing their minds about the likelihood and/or potency of economic tailwinds in the U.S. and the extent to which they can help small and mid-cap companies. Note that small and mid-cap companies are more economically sensitive than larger cap companies, which is why indices like the Russell 2000 tend to be reliable "leading" indicators for the broader market indices.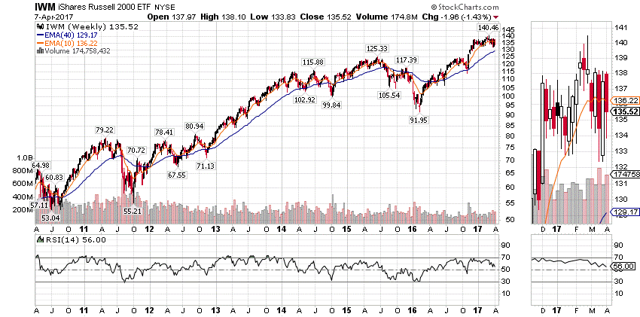 Finally, I am watching various breadth measures closely, particularly the percentage of NYSE stocks trading above their 200-day moving averages. Lower lows in this measure indicate that investors feel fewer stocks are worthy of being in an upward trend, which carries negative implications for the economy and stock market as a whole. This is why divergences between this measure and the S&P 500 tend to be reliable leading indicators of a substantial correction in stock prices.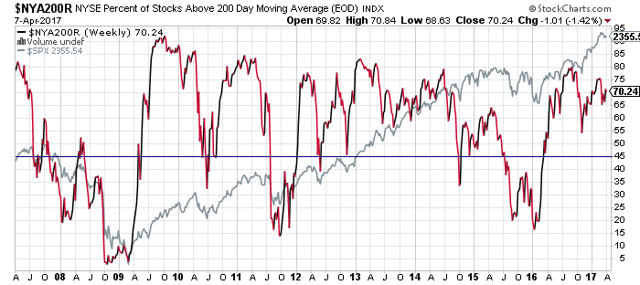 Big Picture Still Looks Fine
Some have pointed to quotes from the latest Fed minutes, charts of the stock vs. bond ratio or the idea that the Fed is "tightening into weakness" amid escalating political tension as cautionary signals that investors should heed. While all these authors present excellently articulated and valid arguments, I find that the big picture still looks healthy and that risk appetite is strong enough to push stock prices to new highs.
The main chart I use to gauge risk appetite is a relative strength chart plotting the S&P 500 versus the total return of 10-year U.S. treasuries. As long as it is above its 40-week EMA (i.e., U.S. stocks are in a trend of outperformance versus treasuries), the message from this signal is that risk appetite is healthy.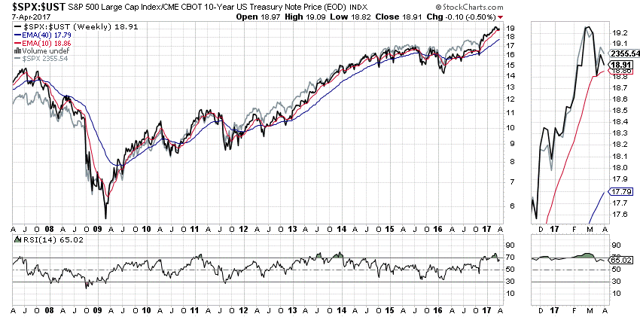 Of course, we should watch several risk appetite indicators and invest according to a "weight of the evidence" approach. Nevertheless, a simple interpretation of this chart provides a useful summary of risk appetite and helps us understand that, at this moment, investors remain largely positive on the prospects of stocks in the near term.
Appetite for ex-U.S. stocks also remains healthy given the upward trend in the relative strength chart of the Vanguard FTSE All-World ex-U.S. ETF (NYSEARCA:VEU) vs. 10-year U.S. treasuries. In addition, credit markets continue to confirm the enthusiasm among equity investors given that the trend of outperformance in high yield corporate bonds versus investment grade corporate bonds (NYSEARCA:LQD) remains intact.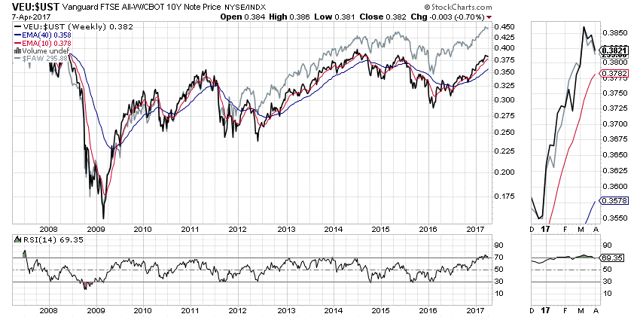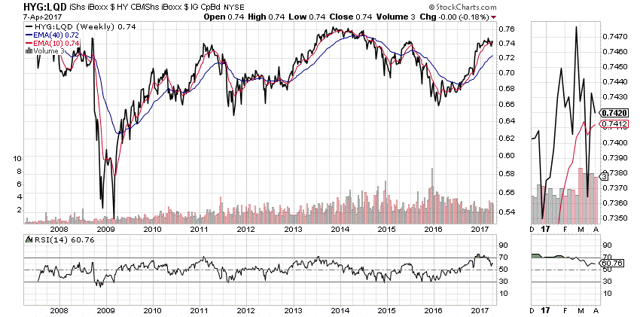 Focus on companies trading at a discount to their DCF value and which have seen insider buying
Given that risk appetite appears healthy and that we should therefore look to buy the dips, why should we invest? I believe two of the qualities that will prove most rewarding in the near-term are: a discount to a company's DCF (discounted cash flow) value (based on consensus analyst estimates) and insider buying.
The Fed has indicated that it expects to raise interest rates three times this year as long as the health of the US economy doesn't deteriorate considerably. Accordingly, I am more inclined to focus on companies that trade well below their DCF using consensus analyst estimates as they are less sensitive to analysts raising the discount rates in their valuation models.
That said, consensus analyst estimates are not always right so stocks that trade at a discount to their DCF value are not guaranteed to eventually converge to estimates "fair value." Hence, another factor I am looking for is insider buying. Since the market appears broadly overvalued based on several meaningful valuation measures, I find cases of insider buying particularly interesting. Focusing on these two qualities helped me buy into stocks like Allergan (NYSE:AGN) and Jazz Pharmaceuticals (NASDAQ:JAZZ) at $195 and $110, respectively -- two of my biggest winners this year.
The unfortunate truth, however, is that opportunities presenting both these qualities, as well as a favorable risk vs. reward setup, are increasingly thin on the ground. The only exception is the energy sector, which I recommended buying into in a recent article. Until recently, Bristol Myers Squibb (NYSE:BMY) and Qualcomm (NASDAQ:QCOM) also offered attractive entry points following substantial declines. A pull-back in either of these stocks should interest investors who have not already obtained exposure at these potentially favorable levels.
Other companies that are trading at attractive valuations and which could be interesting in the event of a further decline include Express Scripts (NASDAQ:ESRX), McKesson (NYSE:MCK), and CVS (NYSE:CVS). These three companies also boast favorable business models and other factors that should help protect their margins and grow their earnings into the future. Another stock on my watch list is Gilead Sciences (NASDAQ:GILD), but I am waiting to see insider buying because of all the uncertainty surrounding the company's future earnings outlook and the fact that there just doesn't seem to be a sensible floor to the share price.
Conclusion
"Far more money has been lost by investors preparing for corrections or trying to anticipate corrections than has been lost in corrections themselves." -- Peter Lynch, ex-portfolio manager of the Magellan Fund
Simply put, I do not see enough "euphoria" to suggest that risk assets are in a bubble. Moreover, we don't even have what I call "unjustified optimism" in equities -- a situation in which broader stock market indices like the S&P 500 climb higher as breadth measures, high yield and small-caps start to show clear signs of weakness.
For now, I am still looking for good companies to invest in or attractive trading opportunities like the one I recently outlined in the energy sector. At the same time, I am also watching to see if the red flags I identified at the beginning of this article start to appear. After all, bubbles are always easier to see after they've popped and almost impossible to call in real time. It is therefore easier to try and react quickly as they are popping rather than trying to anticipate the burst and sell at the absolute highs.
Disclosure: I am/we are long BMY, QCOM, MCK, ESRX.
I wrote this article myself, and it expresses my own opinions. I am not receiving compensation for it (other than from Seeking Alpha). I have no business relationship with any company whose stock is mentioned in this article.