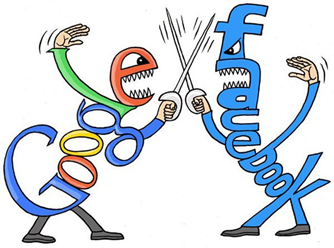 The global advertising industry has been shaken up by the explosive growth in digital advertising (online media). Magna Global research has found that while the whole advertising industry grew 5.7% in 2016 to $493B, global digital advertising grew a remarkable 17% to $178B. Two subdivisions of digital advertising contributed to nearly 90% of global advertising revenue growth in 2016:
Search has been around for a while and has been dominated by Google (NASDAQ:GOOG) (NASDAQ:GOOGL) with its AdWords program. About half of all digital advertising revenue comes from Search. Social is advertising on social media platforms such as Facebook (NASDAQ:FB), Instagram, Twitter (NYSE:TWTR), and Snapchat (NYSE:SNAP). Facebook dominates social media advertising due to its large active user base, ROI measurement metrics, and a greater targeting/feature set for advertisers. Currently, Google and Facebook control around 54% of total digital advertising spend. A year ago, they controlled around 44%. Will this trend continue or do Twitter and Snap have a chance to win over advertiser budgets?
Social vs. Search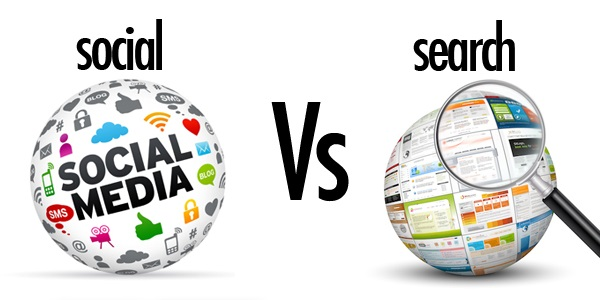 The easiest example of Paid Search advertising is those text adverts you see near the top of your search engine results page (SERP) on Google. These advertisements are performance driven, meaning the goal is generally focused on ROI rather than brand recognition. Social advertising, on the other hand, is often much more graphical and interactive. On Facebook and Twitter, for example, you can directly respond to most advertisements and engage with advertisers. And on Snapchat, the users themselves often are the ones pushing advertisements to other users through geofilters and sponsored lenses.
When viewed this way, it may seem Google has the short-end of the stick. Don't be fooled, however. Generally speaking, people are less likely to be consumers when on social media than when they are searching explicitly for a product or keyword on Google. As a result, Google is often better for businesses where the lifetime customer value is higher. This means higher priced goods/services such as automobiles and businesses that target other businesses (B2B) will find itself better off with AdWords in general. On the other hand, businesses focused on consumers (B2C) and who want to build a brand plus have higher ad recall (memorability) may find more success with social advertising.
Is it really a question of which though?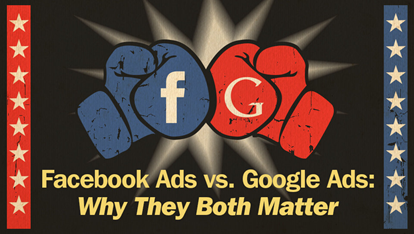 Source: Good article that gives basic summary of Google & Facebook
However, many businesses, both big and small, have budgets that expand across multiple platforms. We don't see them advertising exclusively on Google, Facebook, Twitter, or Snapchat, but rather a combination of these. Generally speaking, the first question a business has to answer is whether or not it should advertise on Google or Facebook. The answer isn't always simple. Facebook often has lower cost-per-click (NYSE:CPC), better targeting, and more brandability (even than Google's Display Network, although YouTube is competitive in branding). However, as mentioned previously, Google often offers better CTR and conversions as a result of the targeted audience generally being more ready to consume. Quite a bit of time can go into answering whether or not to advertise on Google or Facebook for small & medium businesses (SMB).
Here's the issue for Twitter and Snap: After a business chooses Google or Facebook first, its second choice will almost always be the one it didn't choose originally. This is especially true for a subset of advertising called retargeting. Retargeting is where ads are displayed to users who have already viewed a business's landing page or interacted with the business in some way, but didn't buy. Because Facebook and Google have the greatest reach, retargeting will be much more successful using both in tandem (Facebook reaches over 60% of internet users while Google reaches over 90%). Twitter and Snap are often relegated to being a third choice for advertisers, and a bulk of their advertising budgets are already spent at this point.
For Twitter, it gets even worse. Digital advertising dollars spent outside of Google and Facebook are usually referred to as an "experimental budget." Snap, aware that it is near impossible to displace Google or Facebook, has been pitching to marketers to spend their experimental budget on them rather than Twitter. Since Twitter has had years to prove its worth and has found itself instead with relatively flat user growth and lower engagement in terms of DAU/MAU ratio, marketers are making the switch. Let's talk about the prospects of each potential company moving forward.
Google - Hail to the King
Google is the undisputed king of digital advertising with approximately 40% market share of digital ad spending. No other company has even come close to challenging Google's authority in search engines; Baidu (NASDAQ:BIDU), Yahoo (YHOO) and Bing (NASDAQ:MSFT) are all in single digits of market share. More importantly, Google is able to address over 90% of the internet. In every nook and cranny of the internet, you're likely on some website that is part of Google's massive AdSense network. What I'm trying to say is that Google's economic moat is more like an ocean: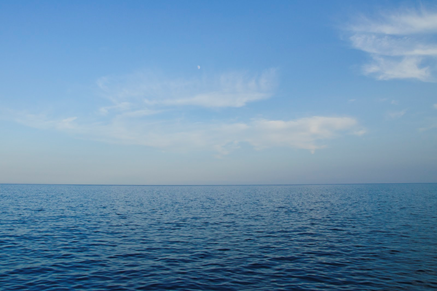 Graphic depiction of other digital advertisers gazing at Google's economic moat
Part of what I find so alluring about Google's advertising model is that it is indestructible. How is it indestructible? It is nearly impossible for any other company to build an ad exchange the size Google has. The sheer size of the marketplace alone is its biggest allure. It gathers millions of publishers into one place with millions of agencies and businesses. Since the reach is so extensive, publishers get the best prices as they target more agencies and businesses with their inventory and businesses get to purchase premium ad inventory that suits their needs best. It is an entire ecosystem that is near impossible to replace, hence the ocean rather than a moat.
Given its exceptionally high market share for search engines (70-80% globally), it commands a much healthier auction place for bidding on keywords. It is my opinion that this core business will never disappear. There is no threat of new entrants or changes in the industry. This is one technology that I never see being replaced, even with the likes of Voice Search and social media. Competitors that have tried to build their own search engines, like Microsoft, have found limited success despite tons of money being spent on developing the product. In an interview with Bill Gates and Warren Buffett back in 2005, Gates makes the struggle in competing with Google clear (MSN/Live search back then).
We can't forget YouTube either, which is growing at a rate of over 50% a year according to several equity analysts. Mobile video is the fastest growing segment of advertising and YouTube is the clear leader here. Despite the recent controversies, advertisers will come back eventually as they realize YouTube is one the best places for brand advertising. More importantly, YouTube responded by implementing a minimum 10,000 lifetime views requirement before placing ads against contributor videos and a manual review process for new partners (although I don't see this manual review process lasting long given the sheer volume of requests they'll have to process). I almost find it ironic Pepsi (NYSE:PEP) withdrew their ads given their own advertising fiasco this past week.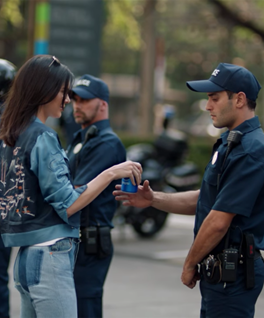 Source: Pepsi's controversial ad
The reason I stress all this is to emphasize Google's dominance in digital advertising. Most advertising budgets will find space for both Paid Search and Social, so Google is almost always part of a company's marketing spend. Also, important to note is that while Google does see significant traffic from mobile (over 50% as of 2014/15), they still generate much of their revenues through desktop. This also supports what I was saying earlier that Google is better for higher lifetime customer value businesses. How many of you make purchases in excess of $500 on your phone? Most of you may even delegate research on such items to desktop mainly. Hence, Google has a strong advantage here as over 75% of most social advertising comes from mobile.
That said, Search used to be a more dominate field in digital advertising. Now budgets have shifted over to a mix of Search and Social. Most of this is shifted from other below-the-line options which are harder to track, but there is no doubt that Search has lost advertising dollars to Social. As such, Google will not enjoy the 40%+ top-line growth that Facebook/Social advertising has enjoyed given the maturity of its business and size of its revenue base. However, Google has Maps as an avenue for potential explosive growth in the future.
Facebook & Instagram
Facebook's competitive advantage over alternate forms of advertising (e.g.: Search) and other social platforms is its extensive targeting capacity driven by how much data it collects on its users. You can literally target your campaign to green moms, with grade school kids specifically, that plan to travel to Spain and spend more than average in high-end retail online stores. You may struggle to find anyone that fits that description, but at least you can try! Seriously though, it is such an advantage that advertisers are practically throwing their money at Facebook: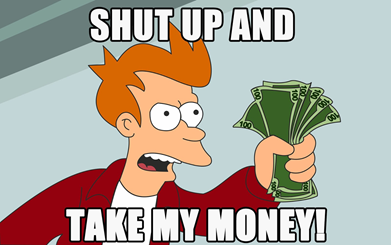 It is the combination of these targeting tools, the size of Facebook's addressable audience, and ROI focus that Facebook has control of around 70% of all social advertising dollars in the US and a similar story worldwide. There is yet another advantage Facebook has over Google generally speaking: Cost. For B2C models, Facebook can yield better results with lower CPC. This is because of both Facebook's superior targeting and the increased engagement between businesses and consumers.
Instagram, another property of Facebook, is also killing it, with eMarketer forecasting revenue of around $3b for 2017, up from $1.6b last year. The focus with Instagram is its appeal to the younger demographic. Last year, almost 70% of Instagram's user base was younger than 35 years old. Facebook's demographics, as you may guess, lean to an older audience.
Instagram is also attempting to engage in social commerce. This is an area that many have struggled in as users simply do not like being direct consumers on social platforms and many also have trust issues with the security of purchasing through social media. Instagram has wisely chosen to allow these "Shop Now" buttons to mainly direct to a brand's website, rather than purchasing directly through the platform. There is no promise that Instagram will be successful here (I expect success in certain products like fashion), but it offers another venue for potential growth.
Twitter - The Ugly Duckling
Oh Twitter, how the mighty have fallen. Barclays mentioned in its coverage initiation of Twitter recently how the platform is more of an information network than a social network. Essentially what this means is that the focus on Twitter is almost entirely centered on "supernodes," such as Donald Trump, rather than your average Joe (called "edge nodes"). Average Joe isn't exactly building a network of friends on Twitter, but rather a group of famous people he likes to follow.
Here's the issue. When browsing the timeline, users skip a significant amount of content because they aren't as engaged with users aside from the ones they follow. Note how this contrasts to, say, Facebook's newsfeed where users are much more engaged with one another. Users are more blind to advertisements on Twitter and it isn't driving the same amount of success for advertisers as other platforms are.
My opinion is that Twitter is using the wrong business model and it is too late to change. The value of Twitter is clearly in the celebrities, which I don't believe Twitter adequately monetizes. I also think that organic advertising on Twitter makes more sense than paid in most cases, which doesn't benefit Twitter at all. The biggest weakness in Twitter is its weakness in direct-response advertising, which is how most SMBs advertise: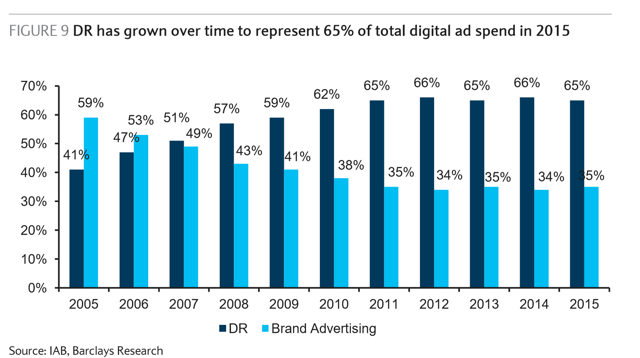 Direct-response marketing on Twitter is mostly driven by its promoted tweet formats along with campaigns to increase followers and engagement. In its recent shareholder letter, Twitter made clear that these formats are not doing as well as expected. Now the platform is focused on video advertising, a format which has tons of competition from Google, Facebook, Instagram, Snap and "outside" players such as Amazon (NASDAQ:AMZN). In general, I find myself the least bullish on Twitter because they have had time to prove their business model and done very little to prove it is adequate. Note that advertising, especially on social media, is a business with significant operating leverage. This works great for companies like Google and Facebook, but not so well for Twitter which is expected to see a decline in revenue this year.
Snap
Snap is the new kid on the block and arguably the one investors are most excited about. Their business model is remarkably sticky and seems likely to succeed, even if the valuation is atrocious currently. While Snap Ads (which are essentially full-screen video advertisements that you can swipe to learn more) are akin to more traditional advertising, the sponsored lenses and geofilters are revolutionary. The most attractive part of their proposition is that users themselves are doing the advertising as they send their friends goofy snaps like this one: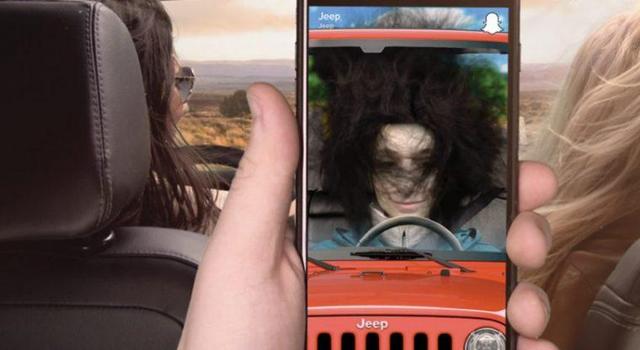 Jeep Hair Don't Care 4x4 sponsored lenses advertisement
This turns the advertising business on its head. How much better does it get than having consumers advertise for you? These sponsored lenses can run as expensive as $750,000, but they generate a huge number of impressions and are great for brand advertising. The issue is scalability. Right now, Snap is creating the sponsored lenses for the brands interested in having one through a variety of tech and creative companies. What this means is that these brands aren't able to, say, come to Snap with their own design and have it launched whenever. Snap is the curator, or the gatekeeper if you will, which naturally limits the flow of advertising dollars.
The other issue with Snap right now is that while sponsored lenses are remarkable branding tools, it is a lot less clear how they drive performance. It also isn't really accessible to SMBs, which means Snap is missing out on the direct response market similar to Twitter. As we discussed above, this is a significant portion of ad dollars (65%). Snap tries to capture some of this market with its geofilters, but again, how much performance these drive is questionable. A small JP Morgan study suggested engagement is rather low: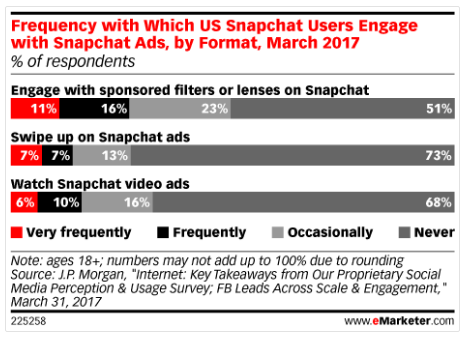 Source: JPMorgan Equity Research and eMarketer.com
This study, however, was very small and I find it tough to extrapolate the results to the entire population of Snapchat given potential selection biases as well. The important takeaway here is that pricing is generally on a cost-per-mille (CPM) basis rather than on more performance based metrics such as click, downloads, website visits, product downloads, store visits, etc. While you can optimize ads based on performance, you aren't paying that way and it makes calculating ROI harder for advertisers. Hence, attracting direct response dollars has been difficult for Snap. However, I believe Snap has a better chance of monetizing this market than Twitter did due to its much more social and sticky network.
Relative Valuation and Final Thoughts
I want to close the article with a brief look at the relative forward multiples of these companies, so we can see how investors are pricing these investments:

Source: Bloomberg
I have chosen the forward three-year multiples for P/E and EV/Rev to be more fair to Twitter and Snap. Despite this, these two companies are being priced between 2 to 4 times more expensively on a relative earnings basis than Google and Facebook. Hence, I do not see Twitter or Snap as strong investments at this time. Interestingly, Facebook has the highest multiple to revenue which reflects its high margins. On a whole, Facebook is still the place to go if you want to invest in social advertising, especially given it is much less risky. Google has lower multiples than Facebook, which is expected given that Social is growing at a much faster rate than Search (40-50% growth per annum vs. ~15%). Google is less of a pure play than these other companies given a little over 10% of its revenue comes from non-advertising sources, so that affects multiples as well (depends on investor confidence in Cloud / Hardware / Play growth vs. Other Bets expenses).
Overall, I conclude that Google and Facebook remain the strongest investments not only for businesses looking to advertise, but also investors looking for return. Until the multiples on Twitter and Snap relax a little, I would stay on the sidelines with these two. With Twitter in particular, I wouldn't touch it until they prove they can achieve the scale required to take advantage of their operating leverage. I would consider Snap if it proves capable of becoming an attractive direct response advertising platform, as this would address the major concern of scalability. Until then, you can get pseudo exposure through Facebook with Instagram. Best of luck to those of you investing in the strong growth field of digital advertising.
If you found this analysis useful, consider following by clicking on the follow button at the top/bottom of the article or on my profile page. This will help you stay notified when I publish new analysis and it goes a long way to helping me know you like my work. I look forward to your thoughts in the comments. Thank you for reading.
Disclosure: I/we have no positions in any stocks mentioned, but may initiate a long position in GOOG over the next 72 hours.
I wrote this article myself, and it expresses my own opinions. I am not receiving compensation for it (other than from Seeking Alpha). I have no business relationship with any company whose stock is mentioned in this article.