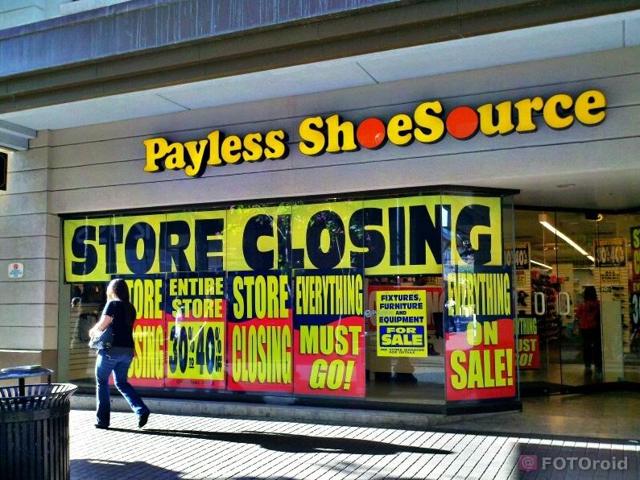 I've long considered Realty Income (NYSE:O) one of the best high-yield dividend growth investment you can own, a true core holding and Sleep Well At Night or SWAN stock.
However, many commenters have brought up concerns that Realty Income's underlying business model could be under threat from the rise of e-commerce, specifically Amazon's (AMZN) decimation of numerous retailers.
Let's take a closer look at just how big a threat e-commerce poses to triple net lease REITs such as Realty Income, to see if Amazon's rise could derail this dividend favorite's "buy and hold forever" status.
E-Commerce Does Pose A Major Threat To Retailers...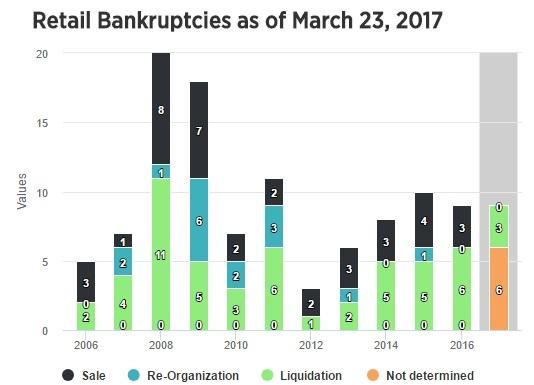 Source: Alixpartners Analysis, CNBC
Despite slow but steady economic growth, rising wages, low gas prices, and the highest consumer confidence in 16 years, in just the first four months of 2017, no less than nine retailers have declared bankruptcy including Sports Authority and Payless Shoes.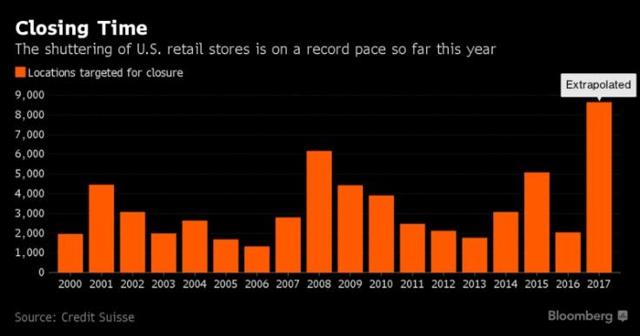 Worse still is that numerous other retailers such as J.C. Penney (JCP), Macy's (M), and Sears (SHLD) are struggling to avoid going under and announcing hundreds of store closings. This is putting 2017 on pace to be the worst year for store closings in decades, worse than even the great recession.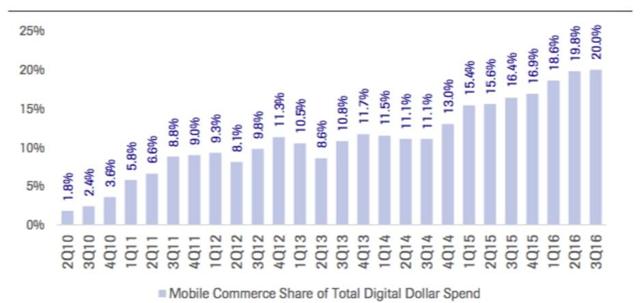 Source: Cowen Research
The reason for this apparent retail apocalypse is multifaceted.
First, the rise of mobile online shopping, made possible by ever better mobile wallet apps and consumer friendly ways of buying goods online, pioneered by dominant leaders such as Amazon (AMZN), has resulted in more and more consumers choosing the convenience of e-commerce.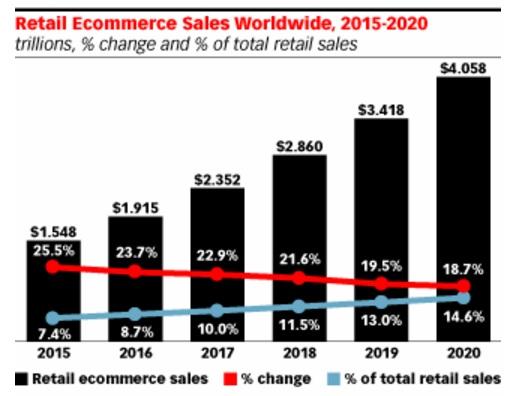 Source: eMarketer
In fact, according to analyst firm eMarketer, this trend is only set to continue, with e-commerce sales soaring and making up 14.6% of all global retail sales in 2020. That would mean e-commerce could double its retail market share in just five years.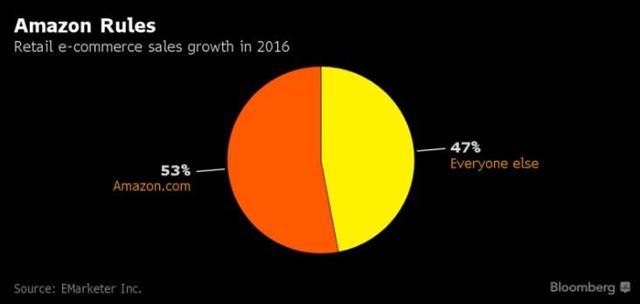 And as you can see, Amazon continues to dominate the online shopping environment, accounting for 53% of 2016's e-commerce growth.
Further fueling the tsunami of store closings is the fact that so many retailers were bought out by private equity firms, which loaded up their balance sheets with high debt levels. This means that as stores have to compete with online offerings in a race to the bottom on price, losses are forcing accelerating store closings and bankruptcies.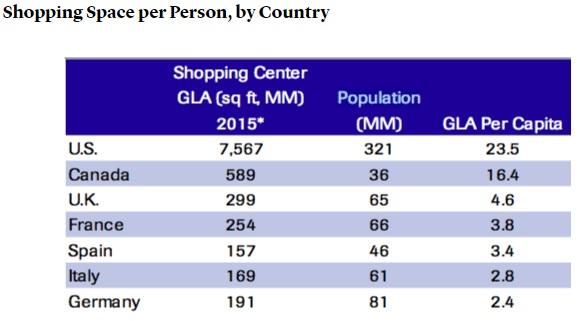 Source: Cowen Research
In addition, we're currently seeing the bursting of the US mall boom, which has been almost 50 years in the making. That's because between 1970 and 2015, the amount of mall retail space grew twice as fast as America's population. This resulted in incredible overcapacity, as much as 10 times more retail space per capita as other developed countries.
Finally, traditional retailers are facing a major change in consumer spending habits. For example, since the 1990s, spending on clothes is down 20%, while travel and dining out is booming like never before.
All these factors mean that many retail REITs are likely to face increased pricing pressure courtesy of lower occupancy rates in the coming years. But how about Realty Income? How much should investors worry about "the monthly dividend company"?
...BUT Realty Income's Exposure Is Very Low...
Realty Income's has proven extremely resilient to the mega-trend shift away from traditional retail. In fact, since its IPO 25 years ago, the company's occupancy has never fallen below 96.6%.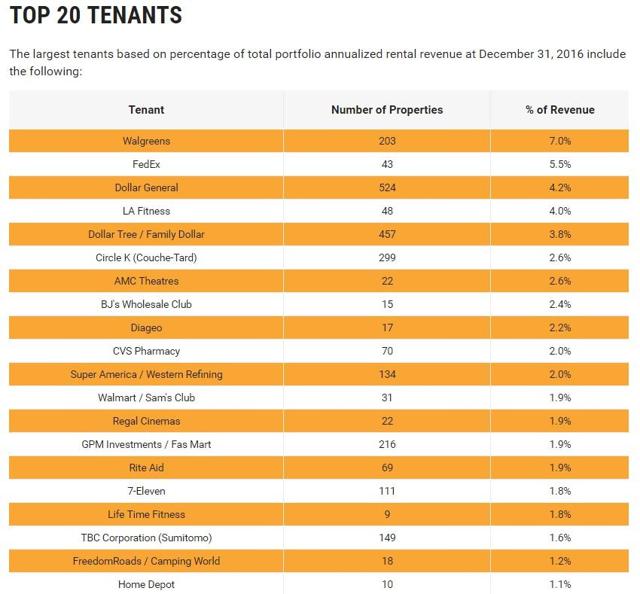 This is largely due to the REIT's business model, which is focused on free standing stores which have largely avoided the bloodbath faced by Malls.
In fact, as you can see, 53.4% of Realty Income's revenue is derived from its top 20 tenants, very few of which have had to announce recent store closings. That's because it operates in businesses that are relatively immune from Amazon's epic conquest of the retail space.
For example, Home Depot (HD) has been able to maintain its market share because its business model is increasingly focused on top notch customer service, services, and education. Similarly, AMC Theaters (AMC), is investing hundreds of millions into improved customer experiences, including La-Z-Boy style reclining seats and improved and larger food selections. In other words, creating a greater focus on an improved and premium customer experience.
Meanwhile, FedEx (FDX) is actually benefiting from the rise of e-commerce and Realty Income's convenience based clients, such as: CVS Health (CVS), Walgreens (WBA), Dollar General (DG), and 7-11 will likely remain immune from Amazon because customers are concerned with fulfilling immediate needs.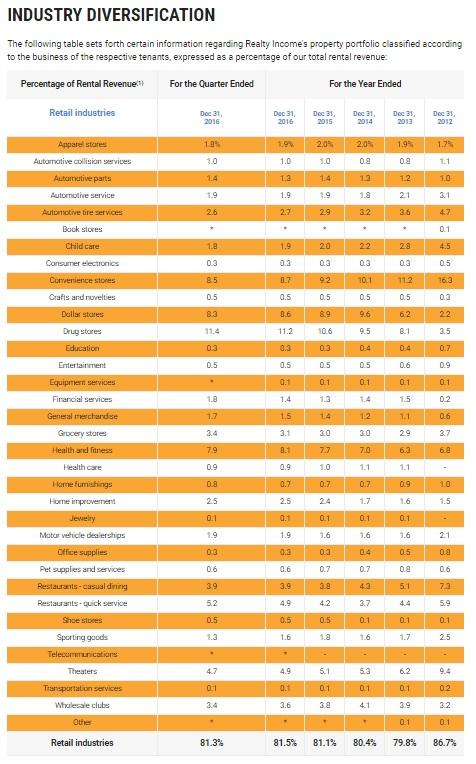 In fact, when we look at the REIT's exact industry breakdown, we can see that only 7.9% of its total sales are in at risk retail industries.
In fact, over the past few years, Realty Income has made good progress in diversifying its business away from retail properties entirely.
...And Management Is Adapting The Business Model To Ensure Strong Growth Ahead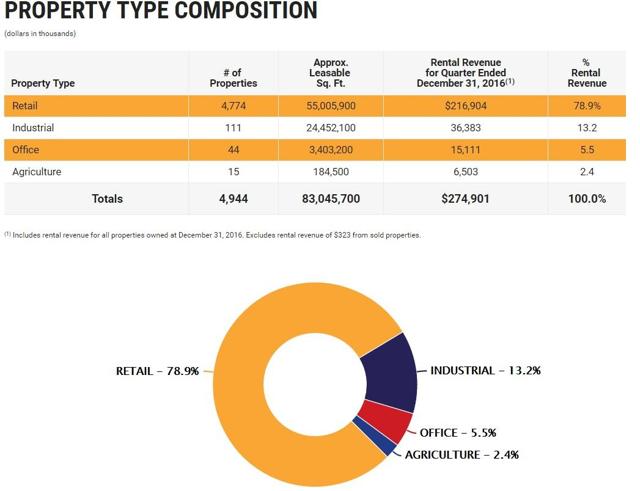 Just five years ago, Realty Income derived almost 87% of its revenue from retail, but today that is under 80% as the REIT branches out into industrial, office, and agricultural properties.
The logic behind this strategy is three-fold. First, it decreases the risk of overall business disruption, via diversification into more of the US economy.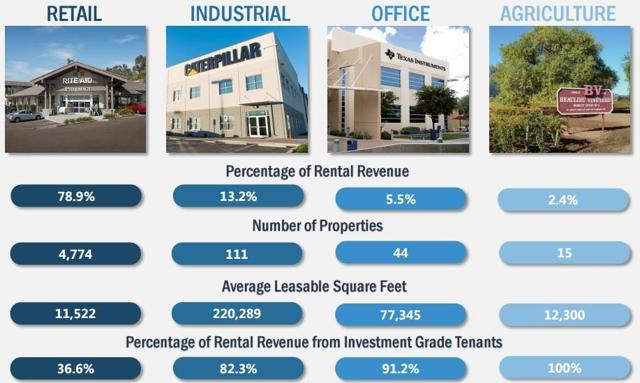 Source: Realty Income Investor Presentation
Second, the quality of Realty Income's non-retail tenants is far higher, with 86.7% of its non-retail tenants being investment grade. That should mean more stable cash flows in the future, which is needed for safe and steady dividend growth.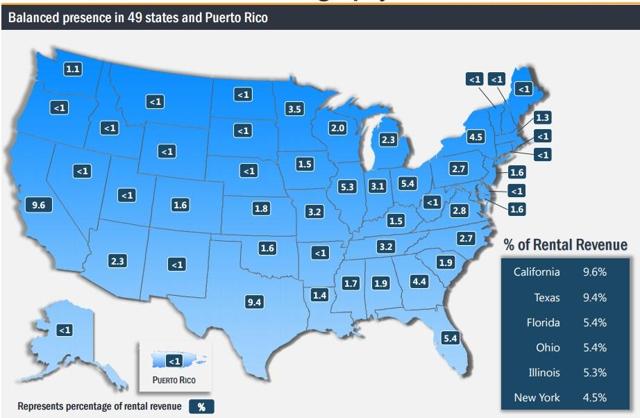 Speaking of which, we can't forget that Realty Income is already America's largest triple net lease REIT, with almost 5,000 properties spread across the entire country.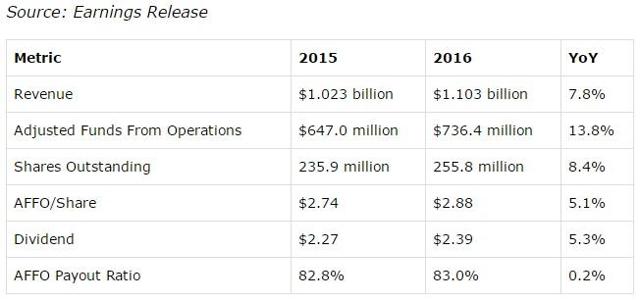 However, that large number of properties means that it takes more to move the needle in terms of growth. Fortunately, Realty Income's world class management team is more than up to the challenge. For example, in 2016, the REIT added 406 net properties to its portfolio, an increase of 8.9%. That was courtesy of a $1.86 billion in acquisitions. And given that Realty Income's total potential liquidity is currently $1.88 billion, that means that Realty Income has the potential for another very strong growth year in 2017.
And since the industrial REIT industry is a $1 trillion highly fragmented market, this means that Realty Income's new strategy creates a very long-growth runway. One that could provide decades of solid 5% to 5.5% dividend growth.
That's especially true given that Realty Income's deleveraging over the past few years has resulted in its ability to borrow at extremely low interest rates (weighted average interest rate of 3.77%) which has created one of the lowest weighted average costs of capital (4.3%) in all of REITdom.
And given that 2016's acquisitions were purchased at cap rates of 6.3% and industrial properties generally have cap rates of 7% to 8%, this means that Realty Income is potentially set to accelerate its AFFO/share growth in the coming years.
Sources: GuruFocus, Simply Safe Dividends, FAST Graphs, FactSet Research, Multpl.com, Moneychimp.com
| | | | | | |
| --- | --- | --- | --- | --- | --- |
| REIT | Yield | TTM AFFO Payout Ratio | Projected 10 Year Annual Dividend Growth | 10 Potential Annual Total Return | 10 Year Risk Adjusted Potential Total Return |
| Realty Income | 4.2% | 83.0% | 5.0% to 5.5% | 9.2% to 9.7% | 24.9% to 26.2% |
| S&P 500 | 1.9% | 39.5% | 5.9% | 9.1% | 9.1% |
Combined with Realty Income's generous and rock solid current yield, that creates one of the best risk adjusted potential total returns of any stock you can find on Wall Street.
Other Risks To Consider
While the rise of e-commerce may not hurt Realty Income's business that much, nonetheless there are two major risks to consider.
First, like all REITs, Realty Income is required to payout 90% of its taxable income as qualified dividends, meaning it retains very little earnings to fund future growth.
This means that Realty Income is dependent on external debt and equity markets for growth capital. While its access to cheap debt is likely not to be a problem, even in a rising rate environment, (courtesy of its industry leading BBB+ credit rating), the same isn't necessarily true of equity markets.
In other words, while Realty Income has enjoyed very low costs of equity (4.74% right now) due to a strong share price, Wall Street is a notoriously fickle mistress.
That means that, when the next correction, bear market, or market crash occurs, it's ability to grow quickly could be curtailed by a low share price, and much higher cost of equity.
That's because triple net lease REITs are some of the most interest rate sensitive stocks you can own.

Source: Hoya Capital Real Estate
That's due to the fact that REITs are one of the most popular "bond alternatives". And like bonds, the amount of rate sensitivity is dependent on their duration, or specifically the average length of leases, which for Realty Income is 9.8 years.
Why is this? Simply put, because the longer the rental agreements, the less protection triple net lease REITs like Realty have against rising inflation.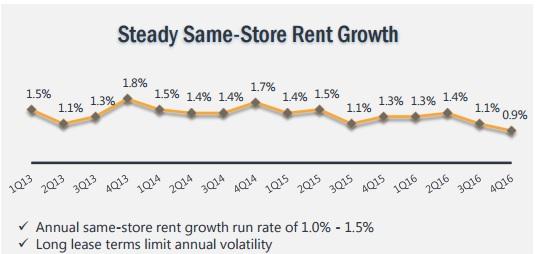 That's especially true given that very low inflation rates in the past decade have locked Realty Income into very low annual rental rate escalators. If inflation increases to 2% to 3% in the coming years, then Realty Income's inflation adjusted same store cash flow will actually be decreasing, at least for the next few years until it can renegotiate the majority of its leases.


Source: Hoya Capital Real Estate
All of this explains why for each 1% increase 10 Year Treasury yields, Realty Income's dividend yield increase by 1.56%.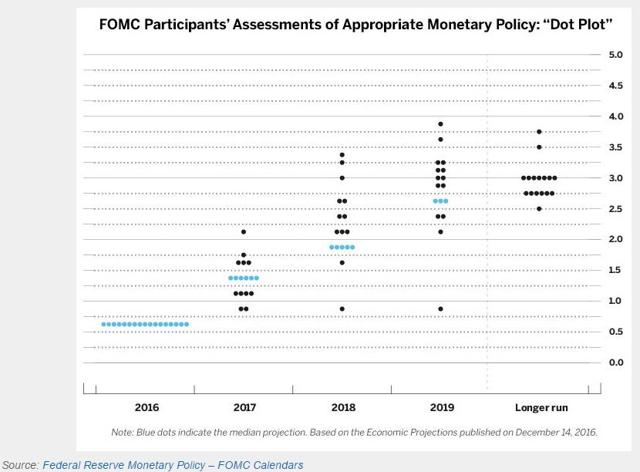 And with the Federal Reserve expecting to raise its Fed funds rate by 2.25% in the next few years, plus reducing its bloated balance sheet starting at the end of 2017, investors might be able to enjoy much higher yields on Realty Income shares in the coming years. That means potentially as much as 5%, 6%, or even 7%.
Sources: Earnings Release, Gurufocus
| | | |
| --- | --- | --- |
| Dividend Yield | Share Price | Cost Of Equity |
| 4.5% | $56.22 | 5.1% |
| 5.0% | $50.60 | 5.7% |
| 5.5% | $46.00 | 6.3% |
| 6.0% | $42.17 | 6.8% |
| 6.5% | $38.92 | 7.4% |
| 7.0% | $36.14 | 8.0% |
And while that may make for some fantastic future buying opportunities, it would also mean much cost costs of equity that could make it harder for Realty Income to raise large amounts of cheap capital in order to grow quickly.
Bottom Line: While America Is Overstored, Realty Income's Property Portfolio Remains Strong And Its Prospects Bright
While traditional brick and mortar retail is likely to continue to struggle against the relentless onslaught of e-commerce, Realty Income investors need not worry.
Our top notch management team has built a stable business model that has minimal exposure to the fallout from Amazon's relentless quest to disrupt the industry. Meanwhile, the potential for massive diversification into: industrial, office, and agriculture means that this beloved dividend growth blue chip remains a "buy and hold forever" high-yield, dividend growth SWAN stock.