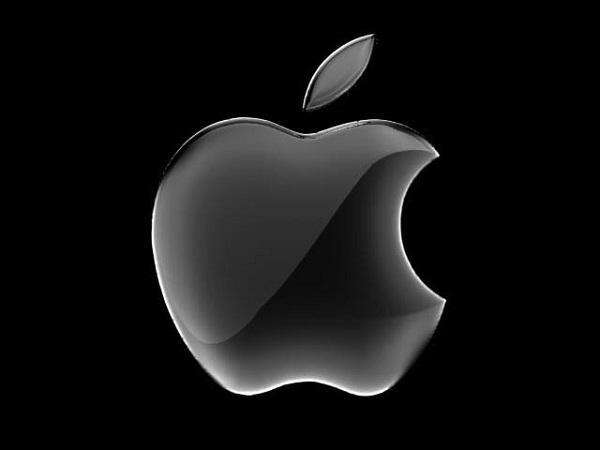 Share buybacks are often seen as the opposite of dilution, and in a way they are. But that doesn't make them a good thing. In fact, buybacks can be one of the most insidious ways of destroying shareholder value.
For example, many tech companies desperately rely on employing the best talent. To attract and retain the best minds, firms often award employees with generous stock options and other share-based compensations.
Stock buybacks can be used to mask the dilutive pressures of these options being cashed in.
Does that sound like a good use of shareholder value? Buybacks sound good on paper. But over the long term, they don't necessarily help stockholders and may make the company worse off.
Also, note that, with so much cash sequestered in marketable assets overseas, Apple (NASDAQ:AAPL) partially relies on debt to generate liquidity in the United States. A potentially debt-funded buyback doesn't sound value accretive.
Apple's long-term debt is ballooning at what looks to be an exponential rate. And unsurprisingly, the increase in debt mirrors the decrease in shares outstanding.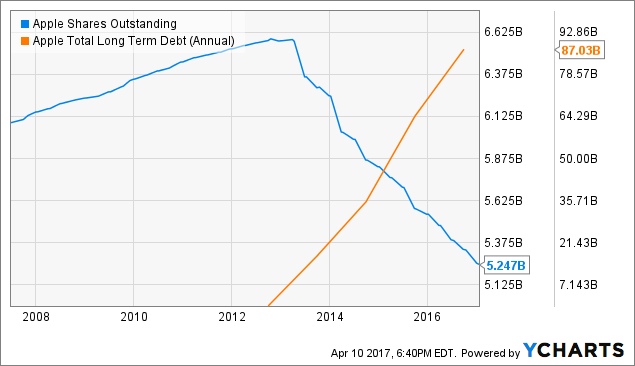 AAPL Shares Outstanding data by YCharts
Apple's revenue is stagnating, and it's clear that the company's flagship - the iPhone - is near its peak in the product lifecycle.
While acquisitions are certainly not a magic bullet, they would probably be a better way use billions in debt compared to buying back stock at these historically high prices.
Share buybacks are an investment like any other, and like any other investment, they should be evaluated on their ROI.
Obviously, if the stock price goes up, the ROI of buybacks will be positive (albeit in a somewhat intangible way). But how can the stock price grow when funds that could have been used to grow revenue were used to buy back stock instead?
At a P/S ratio of 3.5 (while this may seem low compared to younger tech firms) Apple still has a revenue growth multiple compared to other smartphone companies. Note, Apple's sales multiple is extremely high in the historical context.
Apple's P/S multiple is greater now than it was at the time of the Dot-Com bubble. So we think it is safe to say that the market still expects growth from this $750b company.
Is it Time to Short Apple?
As we all know, Apple's business has become dominated by a single product. The company spends billions every year in R&D but has not managed to create any groundbreaking innovation to carry on the torch of its previous successes.
In the 2016 10-K, every single international segment, except Japan, was in decline. Every single product segment, except services and "other," also was in decline. This is not the topline profile of a company with a P/S of 3.5.
Granted, there is no doubt that Apple will remain competitive in 2017 and far into the future. But we also must consider the company's diminishing returns on investment into its existing product categories like phones and computers.
As time goes on, differentiation in the industry will continue to reduce, and each dollar Apple's spends trying to improve its existing products will return less and less.
Apple's total R&D expenditure isn't impressive compared to other names in the industry. Samsung (OTC:SSNLF), Google (NASDAQ:GOOG) (NASDAQ:GOOGL) and Microsoft (NASDAQ:MSFT), all outspend Apple in terms of R&D.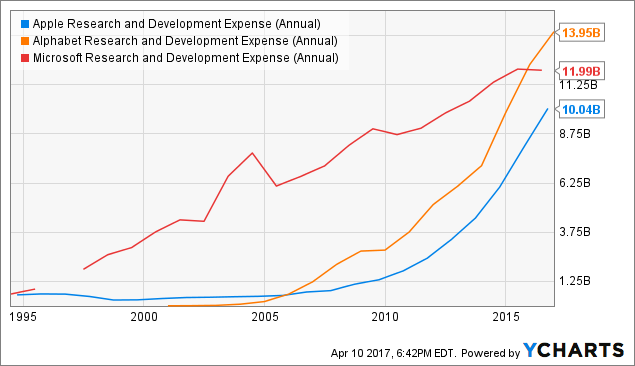 AAPL Research and Development Expense (Annual) data by YCharts
Tax Reform and Repatriation
Tax reform is one of the biggest challenges to the short thesis against Apple. Many expect Donald Trump to help Apple, and other American firms, repatriate cash stored overseas without having to pay onerous taxes on it.
While tax reform and repatriation are certainly potentially bullish catalysts for Apple, they don't do much to change the fundamental problem with the company. Investors must ask what Apple plans to do with the money it brings back to the United States.
Will the money be used for more buybacks or an acquisition? Because, as it stands, Apple, is perfectly capable of using its debt for a high-profile acquisition right now if it wants to. The company is choosing to issue debt for buybacks instead.
Apple doesn't have to wait for repatriation to create value.
We believe the biggest fear for short sellers is a special dividend. And we believe investors may want to wait after Apple's cash is repatriated before moving to short the stock.
Conclusion
Apple is turning to massive share buybacks to deliver "value" to shareholders. But we do not believe this is a good use of the company's capital. Apple's buybacks appear to be funded by debt. And if the stock price doesn't increase, these investments will have a negative ROI.
But how can Apple's top line regain its growth trajectory when its cash is not being used for high profile acquisitions?
Acquisitions are not a magic bullet, but with sales declines all over the globe Apple needs to do something big if it wants to maintain its high P/S multiple going forward.
Apple's stock buybacks will pretty up its EPS numbers and improve dividend sustainability, but they will have no effect on total revenue or the company's P/S multiple. We believe Apple needs revenue growth. And Apple can't find a better way to use its cash, it may be time to short the stock.
That being said, short sellers should wait until the issue of repatriation is settled before making a move.
Follow Short Only
Disclosure: I/we have no positions in any stocks mentioned, and no plans to initiate any positions within the next 72 hours.
I wrote this article myself, and it expresses my own opinions. I am not receiving compensation for it (other than from Seeking Alpha). I have no business relationship with any company whose stock is mentioned in this article.