Foreword
Saludos de Miami, la puerta de los Estados Unidos a Sudamérica. This is the first article in a set focusing on South American economies that many investors may not consider. Today, we focus on the long, narrow strip of land at the end of la Cordillera de los Andes: Chile.
Copper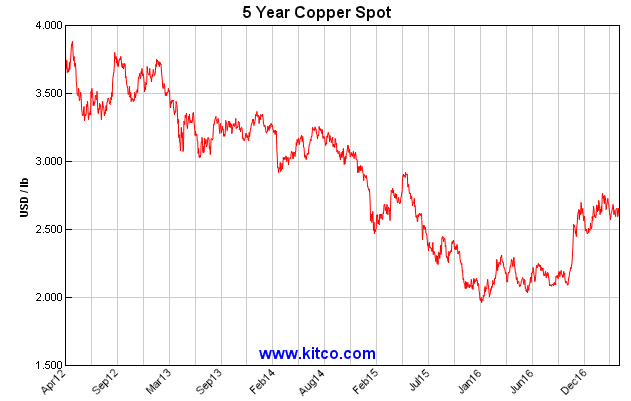 Where copper goes, so too goes Chile. So to begin understanding the country, we should first investigate the commodity that drives it. As the world's leading copper producer by a healthy margin, it's easy to draw conclusions that higher copper prices yields a wealthier Chile. But while prevailing conditions caused a spike in the price of copper in November, namely Chinese demand hitting an all-time high, a 43-day-long strike at BHP Billiton's (NYSE:BHP) Escondida mine in Chile itself, a month-long strike at Freeport McMoRan's (NYSE:FCX) Grasberg mine in Indonesia, and Trump's pledge to massively increase infrastructure spending in the U.S., these headwinds may be not as strong as originally thought. In a March report on the commodity from Bank of America/Merrill Lynch analysts state,
"Given the current fundamental backdrop, we see limited scope for sustained copper price increases near term. Having said that, there is scope for stronger demand seasonally and a tightening of the physical market, especially in China, a key reason we maintain our mid-year price target of $6,600/ton ($3/pound)."
However, in their analysis, they may have just overestimated the material impacts of the strikes at Escondida and Grasberg as at that time they had no idea that their resolutions were just around the corner. The strike at Escondida, despite lasting for a month and a half (02/07-03/23), is expected to have a less than previously estimated impact on Chilean copper production with expectations for 2017 shrinking to 5.4 million tons from 5.5 million tons in 2016 with a supposed return to growth in 2018. And while the Indonesian Grasberg mine remains under a concentrate export ban as Freeport negotiates a new operating licence and ownership agreements with the Asian nation, copper concentrate production has resumed.
The Trump "Reflation" narrative has also come into question as of late as agreements on legislation have been stymied by delays and disagreements within the Republican party. While it originally aided in the November spike in the price of copper when the plans for increased infrastructure were unclear, it is now expected to have little impact on the demand for copper, should it even ever occur.
A mildly slowing Chinese demand for copper imports is also a slight cause for concern. Figures from Barclays show a 23% monthly drop from January to February and a 4% YoY drop. Multiple reasons outside of usual seasonality exist including increased Chinese production of copper and a reduction in total new home construction as the Chinese government attempts to reel in a red-hot housing market. In a quote they stated,
"While a degree of seasonality and volume import declines are expected for January and February, given the New Year holiday in China, the 4% y/y decline is a matter for concern. In our opinion, this may be an early sign that demand is not as strong as assumed and that demand expectations in 2017 may be too optimistic, skewed to the upside by the surprisingly strong performance of 2016."
But from a Chilean viewpoint it's not all bad, with copper prices at their highest since early 2015 and with no immediate signs of them falling significantly, the country should be in a good position to grow given that upcoming contract negotiations at other mines in the country go well.
Diversification and Fiscal Policy
There is a reason why Chile is South America's most secure economy and it has little to do with the fact that it produces one third of the world's copper supply. In fact, Chile has recently been attempting to diversify its mining sector in addition to strengthening its copper production capabilities. This is mainly because the country has historically been hurt by volatility in global copper price swings that by extension contribute to instability in unemployment and inflation. One study indicating that a 1% price change in copper generates a 0.16% change in total Chilean GDP. Learning from the Dutch disease that has infamously plagued its northern neighbor Venezuela, the country has been expanding its mining industry into "white petroleum" or, as it is more commonly known, lithium. Currently holding more than half of the world's "economically extractable" reserves of the metal, investments have poured in for mines and more exploration, mainly from the Chinese.
Impacts from a changing price in copper have been historically controlled by a tight countercyclical fiscal policy that accumulates wealth during periods of high copper prices and increases spending during down periods. Monetary policy is currently loosening as we have seen two 25bp rate cuts already in 2017 leaving the interest rate at 3% with one more cut expected later in the year. Beyond that there doesn't seem to be much more room for additional cuts as it remains to be seen if reflationary policies will have the desired effect on a rising unemployment rate and stagnating mining activity.
Projections
In terms of growth, Chile actually saw the lowest economic growth last year (a measly 1.6% out of a long-term target of 3%) since the recession of 2009 with major contractions coming in the mining and manufacturing sectors due to "worse than expected temporary factors in the mining industry late in the year", as described by Chilean Finance Minister Rodrigo Valdes. A recent report from Scotiabank trims their GDP forecast for the rest of this year to 1.8% due to repercussions from the Escondida strike with expectations turning higher later in the year and for 2018 at a lukewarm 2.4%. All in all, the balance of risks remains on the downside for the first half of the year, while it looks neutral for the second. It should also be noted that while Standard and Poor's does have Chile at a AA- sovereign bond rating (the strongest among all South American countries), it has also set a negative outlook for the time being along with Fitch. Inflation is also expected to be relatively stable at 2.8% (2.7% in 2016), but with all things holding equal, current reflationary monetary policy should push it higher later in the year.
Politics and a Broken Pension System
Election season hits Chile later this year with partial Congress elections and the first round of presidential voting coming in November followed by an all but certain run-off vote in December. While we have learned this year to be careful of what the polls tell us, the most likely scenario is a runoff between a center-right, former president Sebastián Piñera and a social-democratic, left-leaning Senator Alejandro Guillier. Early polling suggests a lead for Mr. Piñera, but with several months left it is nearly impossible to tell. Either way, this election conveys a fair amount of risk as the potential to affect certain economic variables (labor market, public policies) is higher than usual.
I would be remiss in my duties should I fail to mention the political hot topic that is the Chilean pension system. Chilean pensions are privatized, requiring workers to pay 10% of their income into private companies known as AFPs that manage pension funds. While this initially helped raise millions out of poverty, stagnating wages have resulted in that 10% not being enough for later in life, with the average monthly payout now only $300 (less than the monthly pay for a minimum wage job). Conflicts have also arisen over the disproportionately high fees that are claimed by these private AFPs as investment returns have averaged more than 8% while net returns are closer to 3%. Either way, the next president will be forced to implement a solution to this problem which may have significant financial consequences for the country.
ETF
If you've made it this far, then you deserve to know how all of this information can impact your potential investments. The ETF that most closely tracks Chile is the iShares MSCI Chile Capped ETF (NYSEARCA:ECH).

Source: (ETFdb.com)
Surprisingly enough, basic materials a.k.a mining products only comprise 11% of the ETF while utilities and financials make up a more substantial chunk at 27% and 17% respectively. This shows a more conservative allocation that should be in a good position to track Chile as a whole without being caught up with the fluctuations in the price of copper.
However, the long-term price of copper corresponds well with the performance of the ETF for obvious reasons. The ETF is relatively strong with a P/E ratio of 18.08 and a P/B ratio of 1.71, but with a 3yr beta of .87 (as compared to the S&P 500), it might not be the strongest way to diversify outside of the United States. In terms of technicals, it has breached its 50 and 100 day moving averages of $41.50 and $39.70 respectively and also appears to have just reached its five-year trendline with quite the move up in the last 3 months, likely due in-part to a jump in the price of copper. Where we go from here will likely be decided in the coming weeks, either bouncing off the long-term trend line and hovering in the $40 range or continuing its current screaming trend upwards. From a strictly technical standpoint, it may pay to hold off on investing until we get a clear sign or to watch carefully if you are already invested.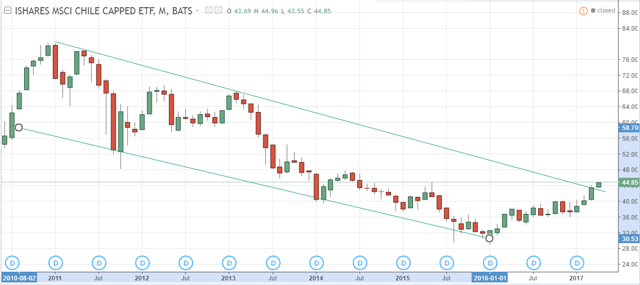 (Source: Tradingview.com)
Takeaways
Chile will continue to be the strongest economy in a South America plagued by corrupt governments and poor economic policies, but it would pay to be attentive in the coming months.
The prognosis for Chile in the short to mid-term is mild at best, but if all else holds equal, growth should be back at target rates by the end of the year, if not by 2018.
Copper prices and upcoming labor negotiations should be monitored as potential areas of concern.
With all of this being said, these are just points to think about, don't get caught up in the Keynesian beauty contest and always do your own due diligence before investing. Suggestions, differing opinions, and questions are always welcomed in the comment section.
Disclosure: I/we have no positions in any stocks mentioned, and no plans to initiate any positions within the next 72 hours.
I wrote this article myself, and it expresses my own opinions. I am not receiving compensation for it (other than from Seeking Alpha). I have no business relationship with any company whose stock is mentioned in this article.