Lumber is a commodity that trades on the Chicago Mercantile Exchange. Each contract represents 110,000 board feet of wood, and the contract quote represents the wholesale price for 1,000 board feet. The lumber market attracts little if any speculative interest. Total open interest or the number of open long and short positions in the lumber futures market stood at 5,824 contracts as of April 7. The all-time high in the metric that is an indicator of market liquidity was at 14,403 contracts in 2008. Average daily volume in the lumber market is around 500 contracts. In NYMEX crude oil futures, average daily volume is around one million contracts, and open interest was around the 2.2 million contract level. In COMEX gold futures, around 200,000 contracts trade each day, and open interest is currently just under 435,000 contracts.
CME lumber suffers from both low volume and open interest, in the wood futures market these metrics are even lower than in the frozen concentrated orange juice market. The limited liquidity is a reason why I have never dipped a toe in lumber on the long or short side over the past thirty-six years as a futures trader. However, lumber is a market on a daily basis as the price of wood is a sign of economic activity and industrial health in the United States and around the world. As the economy grows, lumber demand and price tends to increase, and as it contracts, the price often declines. Lumber is often a harbinger of changes in the U.S. and global economies, and since September 2015, lumber has been a beast. This week, lumber did something it has not done since way back in 2005. The price moved above the $400 per 1,000-foot board level.
New highs
On Monday, April 10 lumber finally broke through the $400 level, a momentous occasion for the wood market as those two by fours have not been trading at such a lofty level in over a decade.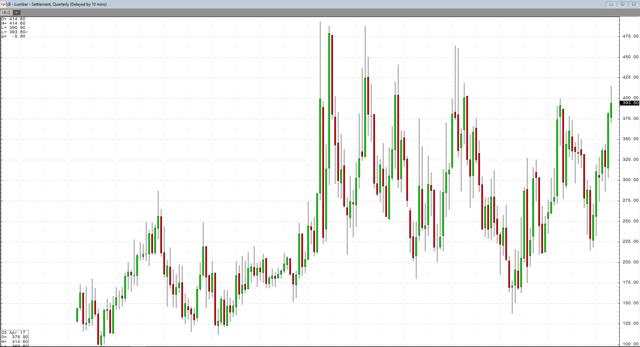 Source: CQG
As the quarterly chart of lumber futures dating back to 1972 highlights, lumber traded to a high of $414.60 per 1,000 board feet on Monday. The next level of technical resistance is now at the 2005 highs of $418.50 less than $4 above this week's high. Above there, $461 stands as a target followed by the 1996 highs at $488. The all-time peak at $493.50 dates back to 1993.
Lumber has been making higher lows and higher highs on the quarterly chart since 2009 when the price moved to $137.90 in the wake of the global financial crisis. These days, lumber is telling us a great deal and confirming that the U.S. economy is in the best shape in many years.
Economic growth and infrastructure rebuilding
There can be little argument that economic conditions in the United States, and around the world, are in a lot better shape today than over recent years. In America, the central bank has increased the Fed Funds rate three times since December 2015, and it looks like at least two more hikes are coming in 2017. During her most recent testimony before Congress, Janet Yellen told legislators that the economy continues to grow at a moderate pace, optimism is at the highest level in years, and the Fed believes that inflation is on the rise.
The new administration in Washington D.C. has pledged to introduce legislation for the biggest infrastructure rebuilding project since the Eisenhower Administration in the 1950s. On the campaign trial, President Trump promised to rebuild the crumbling roads, bridges, tunnels, airports, and rails and to construct a massive security wall along the southern border of the nation. With both houses of Congress from the same party and the opposition's interest in spending for infrastructure projects, it is likely that we will see an increase in government expenditures and construction projects over the years ahead. When it comes to construction, lumber is a staple and demand for wood is likely to increase. The lumber futures market is currently anticipating a rise in wood consumption for construction projects, but demand has already been growing from the boom in real estate prices over recent years.
New home construction and fewer regulations
Demand for new homes in the U.S. has been expanding. Shares in home building companies have been moving to the upside and since 2008.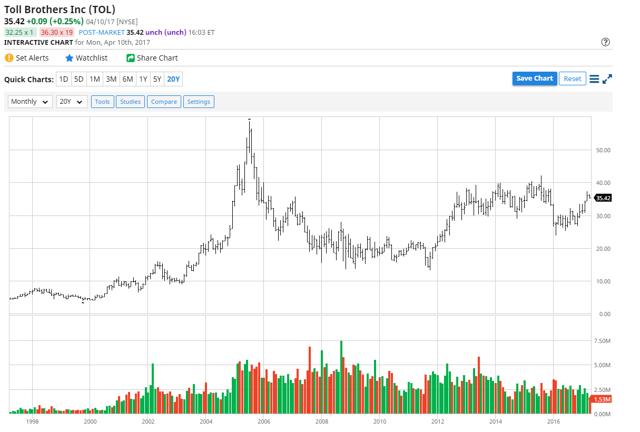 Source: Barchart
Shares in Toll Brothers (NYSE:TOL) are up over 160% since November 2008 when they traded at $13.55. On April 10 TOL closed at $35.42.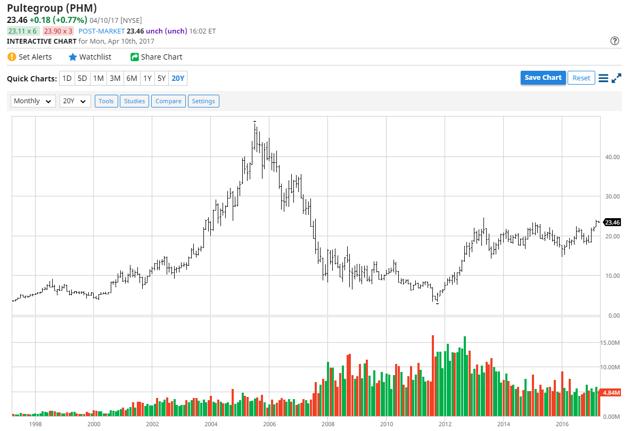 Source: Barchart
PulteGroup (NYSE:PHM) has moved from $3.29 per share in October 2011 to $23.46, an increase of over 610%.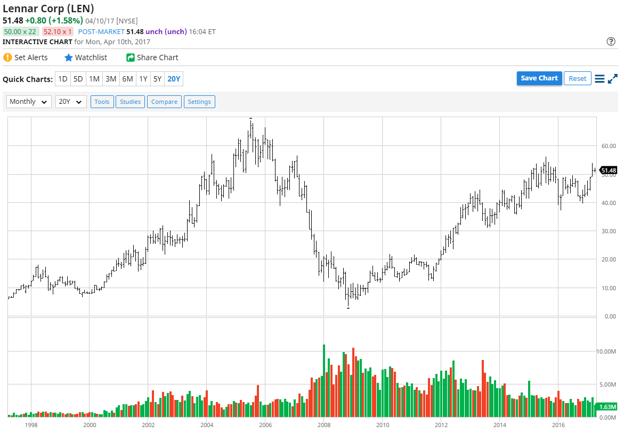 Source: Barchart
Lennar Corporation (NYSE:LEN) has moved from $3.42 per share in November 2008 to close Monday at $51.48, over 1400% higher. Meanwhile, most homebuilder stocks have exploded as the new home construction business has thrived with interest rates at historic lows. Each one of these companies and more are consumers of wood, and that is not likely to change soon. Even though short-term rates have increased to 1% in the United States, that level remains very low encouraging more new home buyers every day. Moreover, with regulatory changes coming soon, there is likely to be even more new home buyers supporting these companies.
Changes to the Dodd-Frank legislation under the new administration are likely to loosen lending and associated capital restrictions on financial institutions. While the mortgage crisis of 2008 was the result of banks lending without abandon to those with weak credits, the regulatory environment changed to the opposite extreme. Banks denied many suitable home buyers because of the regulations. However, shifts in the lending environment are likely to broaden the addressable market for new homes which is bullish for homebuilders and the price of lumber.
Trade with Canada
Another significant reason for the rise in the price of wood is the potential for changes in U.S. trade policy. President Trump has stated that he will seek more favorable trade agreements for the U.S. and will strive to negotiate with other nations on a bilateral rather than multilateral basis. The trend of arrangements like NAFTA appears to be over, and the new administration will be tougher with trading partners than in the past. When it comes to the lumber market, the U.S. imports lots of the commodity from Canada and part of the reason for the rise in the price of lumber is concern over protectionist trade policy and the response from traditional trading partner nations, like the Canadians.
All-time highs may be on the horizon- WOOD, and CUT
Lumber is looking bullish here, and I would not be surprised to see a new all-time high in the commodity over the months ahead. There are several ways to play the wood market these days, but the futures contract is one that I would avoid at all costs because of the lack of liquidity.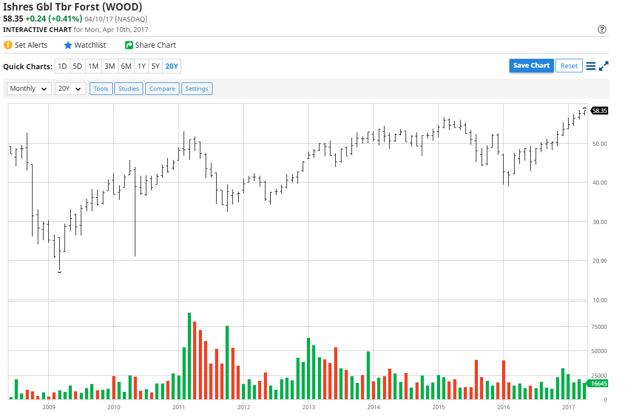 Source: Barchart
WOOD is the iShares Global Timber and Forestry ETF product which has a high degree of correlation with the price of lumber.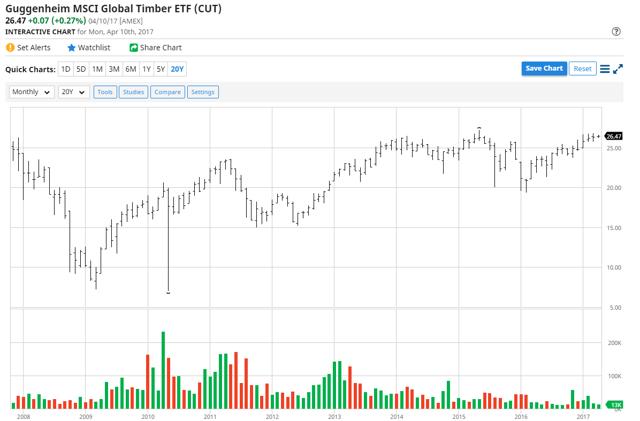 Source: Barchart
CUT is the Guggenheim MSCI Global Timber ETF product.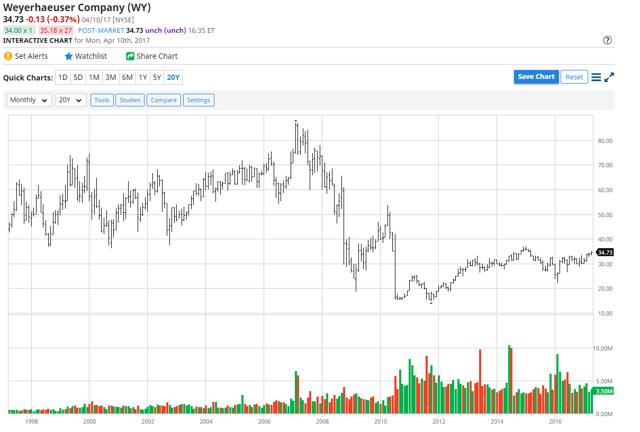 Source: Barchart
Weyerhaeuser Company (NYSE:WY) is a real estate investment trust which owns timberlands in the U.S. and has licensing agreements in Canada.
The trend in lumber is clearly higher, and infrastructure building, demand for new homes, changes in bank lending policies and uncertainty over trade agreements are likely to keep the wood bull charging in the months ahead. WOOD, CUT, and WY all have high correlations with the price of lumber and the prospects for these investment vehicles are looking good.
I would not buy lumber-related vehicles on a rally. The bull market has been a series of higher lows and higher highs. Therefore, buying on any price weakness or corrective moves in the lumber market over the coming weeks is likely to offer the optimal approach to establishing a long position. Lumber has a lot going for it these days, and a new all-time high above $500 per 1,000 board feet is not out of the question. Lumber is a beast and the trend your friend in the wood market which is one of the hottest industrial commodities out there these days.
I want to inform you about an upcoming price increase for The Hecht Commodity Report. On May 1, we are raising our price for the first time. Current subscribers and anyone who signs up before April 30, 2017, will lock in our legacy price. For any new subscriber, I am offering a two-week free trial for the report. The Hecht Commodity Report features a detailed report on the major commodity sectors, covering over 30 individual commodity markets, with analysis on the technical and fundamental state of each market. I also share ways to play those conditions. Sign up for The Hecht Commodity Report and have a look before the price goes up!
Disclosure: I/we have no positions in any stocks mentioned, and no plans to initiate any positions within the next 72 hours.
I wrote this article myself, and it expresses my own opinions. I am not receiving compensation for it (other than from Seeking Alpha). I have no business relationship with any company whose stock is mentioned in this article.