If you follow my posts, you know that I've been very bullish on the Trump rally, but after turning somewhat neutral, I've been recently calling for a correction to about 2200 on the S&P 500 (NYSEARCA:SPY). But, the markets have been very resilient (NASDAQ:QQQ) (NYSEARCA:DIA). Are we going to get this correction?
So, let's ignore the bullish/bearish narrative related to future expectations. Let's ignore the fundamental information related to high valuations, economic data, and even the Fed.
Let's try focusing strictly on the actions of decision makers, or large institutional investors that decide when or if the correction actually happens.
So, before a major correction, these large investors are likely to: 1) increasingly hedge their stock portfolios with put options, and 2) engage in asset class rotation from stocks to risk-free assets or Treasury Bonds (NYSEARCA:TLT).
Thus, by following the VIX term structure, and the yields on Treasury bonds, we could potentially get the insights into "what the smart money does."
So, I have two indicators that I daily follow: 1) the spread between the front month VIX futures and the next month VIX futures, so-called F1-F2 VIX Spread, and 2) the 2.30% yield support level on 10Y TBond.
I can report this: The F1-F2 VIX spread is turning more negative, now standing at -3.4% (as I write), even as the market tries to rally. Not only that, the front month VIX futures F1 is getting close to the third month VIX futures contract F3. This clearly indicates the increased portfolio hedging by smart money, even as the markets show resilience and try to rally. Thus, the correction pressure is clearly building (NYSEARCA:VXX).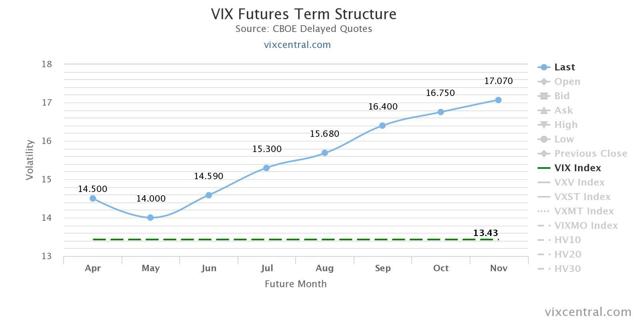 Further, the 2.30% support level on T-Bonds remains within the striking distance, the current level is 2.36%. So, forget about the subjective analysis, I will report what I see, and right now, the "smart money" appears to be positioning for a correction. If the front month VIX futures collapse relative to the F2 and F3 months, I will report accordingly, and update my correction diary. Please click the follow box to get the updates more efficiently.
Disclosure: I/we have no positions in any stocks mentioned, and no plans to initiate any positions within the next 72 hours.
I wrote this article myself, and it expresses my own opinions. I am not receiving compensation for it (other than from Seeking Alpha). I have no business relationship with any company whose stock is mentioned in this article.